Looking for some fun recipes to make while in quarantine?! This is a perfect time to play in your kitchen, share fun treats with your family, and relish in the little things as you hole up at home together!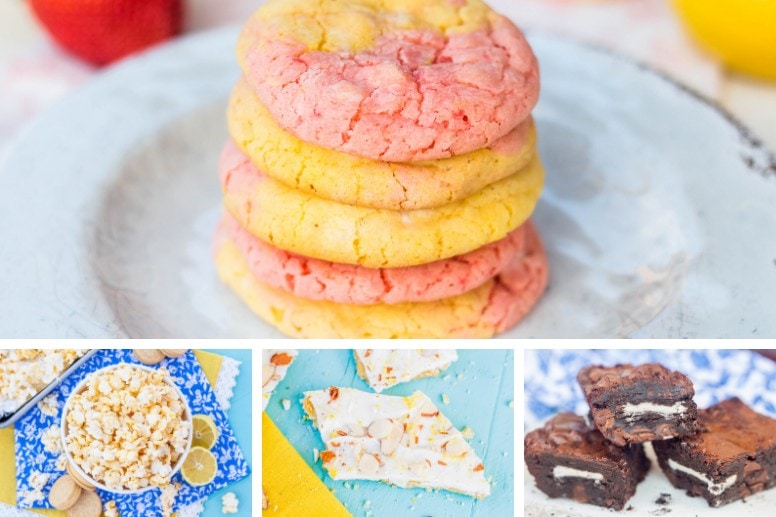 As challenging (and just plain odd) as this time is during the Coronavirus, as many of us practice our social distancing, I feel like most are looking at it as an opportunity to try new things at home, spend some uninterrupted quality time (they're not used to having!) with their families, and enjoying some of life's littlest things that we're often too busy to notice otherwise.
And you know what helps me enjoy the little things? Good food.
Fun Desserts to Make During Quarantine
Whether you're looking for a distraction, an excuse to perfect a new recipe you can bring to a gathering when it's finally safe to all socialize together, or something fun to enjoy with your family while you're cooped up together, here's a compilation of my FAVORITE sweet treats to make & enjoy!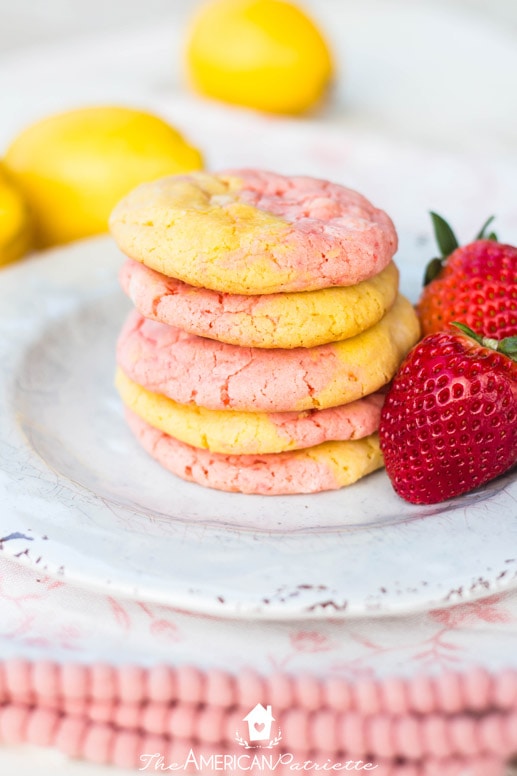 Hands-down, one of our absolute FAVORITE cookie recipes EVER. And with springtime-y flavors, these cookies are perfect for this time of year!
You only need a small handful of ingredients to make them: 2 boxes of cake mix (one strawberry, one lemon), butter, eggs, and white chocolate chips. Oh, and if you want to give them that crinkly effect, just a little bit of powdered sugar.
These strawberry lemonade cake mix cookies are INCREDIBLY moist, oh-so-chewy, and they freeze well, so if you don't want to eat them all at once (let's get real: you WILL want to eat them all at once, but if you decide that wouldn't be the best idea…) then you can nibble on some with your fam and freeze the rest for later.
They're also some of the easiest cookies you'll ever make, so they're a perfect option if you want to get kids busy in the kitchen, too! Go snag the strawberry lemonade cake mix cookie recipe – I know you're gonna love it!
This recipe is relatively new for me, so I only have photos of these in Christmas form, but you can make this sugar cookie recipe + the frosting to go along with it for ANY season! (And now's the perfect time to experiment with it at home, right?!)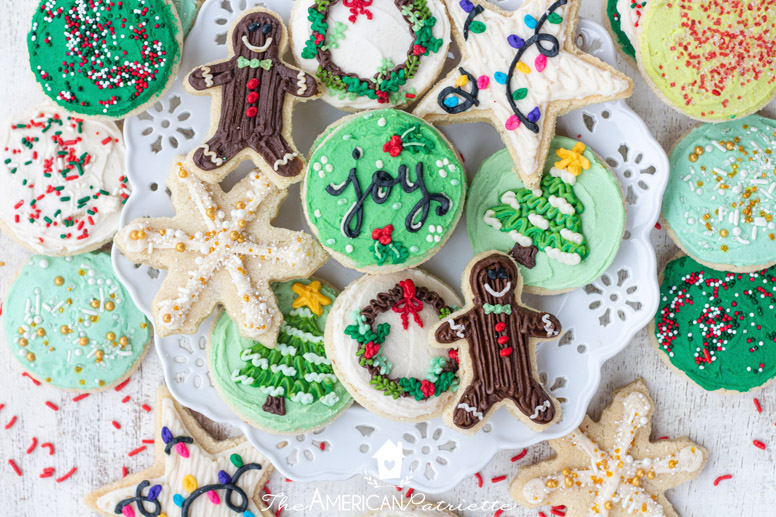 It was a little before Christmas last year (2019) that I FINALLY nailed what I felt like was the perfect CHEWY sugar cookie recipe AND the perfect buttercream frosting to go along with them. And then I went a little crazy with them during the holidays – cookie palooza! I've had several people reach out to me and tell me they've loved these recipes, too, so I know I'm not the only one!
I'm very particular with my sugar cookies. I don't care for hard or brittle cookies. I'm just very biased toward chewy cookies. And, I'm picky about the icing, too. Yes, royal icing is pretty, but it's lacking in the flavor department. Plus, there's just nothing quite like the texture of buttercream.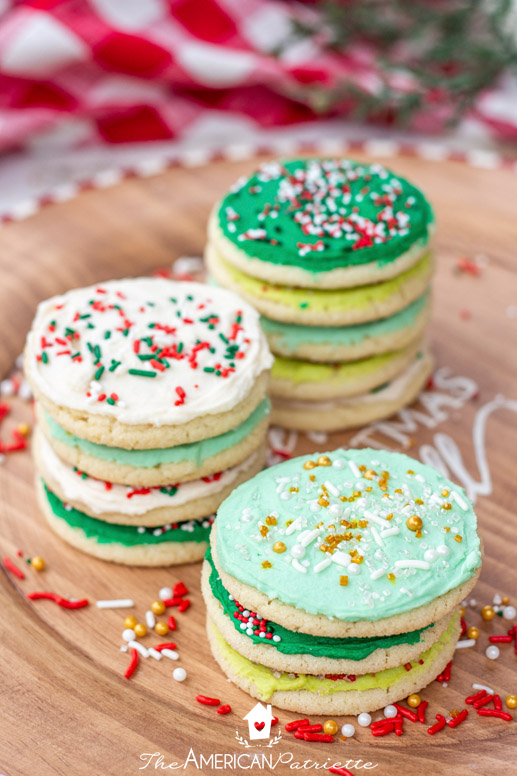 But, buttercream frosting doesn't typically harden well, so I experimented a ton in my kitchen to see if I could make buttercream that still tasted good but also hardened enough to make these cookies more transportable.
Which, for the time being, isn't really relevant since we're hanging out at home with no where to go, but now's the perfect time to nail down this recipe and practice your cookie decorating skills!
I promise you, this sugar cookie recipe + the buttercream to go along with it will absolutely go in your "frequently used recipe" arsenal! Use this time to have fun making springtime-themed cookies, decorate them like Easter eggs, have fun with different colors, etc.
With all this time on your hands, you might even find a new hobby in cookie decorating! 🙂
Here's a tutorial I created for how to perfectly decorate sugar cookies like a pro (without fancy equipment)! HAVE FUN!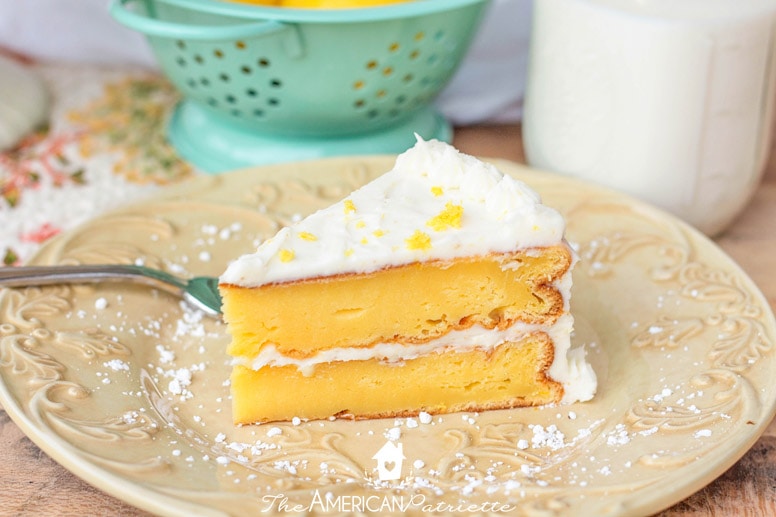 I just can't even tell you how tasty this is. It's sinfully good. Which is maybe why I always make it for Easter – we need redemption from this cake.
I'm actually making this cake with my munchkins later today or tomorrow – I bought all of the ingredients last week to make it for our small group, which as we all know, won't be happening this week (or perhaps for weeks to come depending on this crazy virus!) – and now they're just sitting in our pantry & fridge, begging to be used to make this cake.
If you haven't already tried this lemon cake recipe, I'm telling you what, sister – you're just not going to know what hit ya! Your family is going to LOVE you for it! It'll feel like spring in your house in no time after you make this yummy cake! 🙂
If these don't make you look forward to vegging out inside, I don't know what to tell you, other than you're crazy. Or, you just have an amazing amount of willpower.
So decadent. So moist. So chewy. So good.
These are fun to make and eat! My absolute go-to brownie recipe!
Sopapilla cheesecake: also just a super fun & delicious recipe! There's nothing too special about the process of making it – it's REALLY simple.
You might want something more challenging to make since you've got extra time on your hands, but I still had to include this recipe, because it really is one of our absolute favorites! It's so fun to share with others!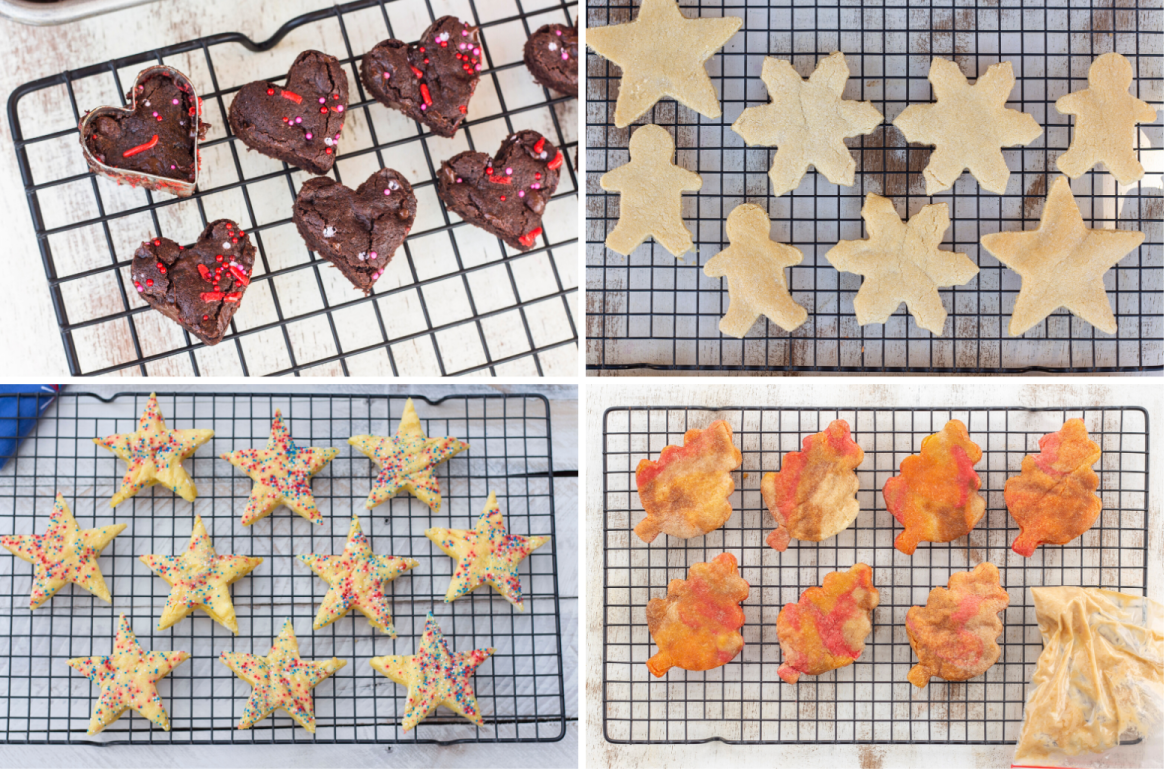 Dust off your cookie cutters and have fun making these cookies! You can use pretty much any cookie recipe you want to make cut-outs like these, it just needs to be a cookie recipe that isn't typically brittle (i.e. this probably wouldn't work really well with shortbread or another type of crispier cookie recipe).
And, as you can tell, you can get really creative – with sprinkles, with food coloring, with different icing…etc! Once you learn the super simple technique for how to cut out cookies with just about any dough, the sky's the limit on themed cookies you can make.
If you have potential gatherings coming up later in the spring (when hopefully we're out of all this mess!) – maybe graduation parties, Memorial Day parties, end-of-school parties, etc. – you can practice with different cookie recipes with this technique now, and then you'll be ready to go when we're all (SO READY) to gather again!
Springtime favorite! If you haven't entered into the world of making saltine toffee, let me be the first to welcome you into it.
And you'll never want to leave it! Just like with those cookies just before these, the options are virtually endless for how to make different flavors of toffee. I'm a big fan of recipes you can twist and tweak for different season. This lemon almond toffee is our favorite "warm weather" version.
You & your family will have fun with this!
I'm getting a little carried away with the lemon desserts here, but even though this particular recipe calls for lemon, you really can make it all sorts of ways with whatever you have on hand.
Add in nuts, crushed cookies or graham crackers, marshmallows, sprinkles…raid your pantry and see what you've got!
Once you get the basic popcorn recipe down, you can pretty much make it however you want. And, you could make it with milk chocolate vs. white chocolate, especially if you already have popcorn & chocolate chips on hand in your pantry.
No rules here. Well, one rule: have fun!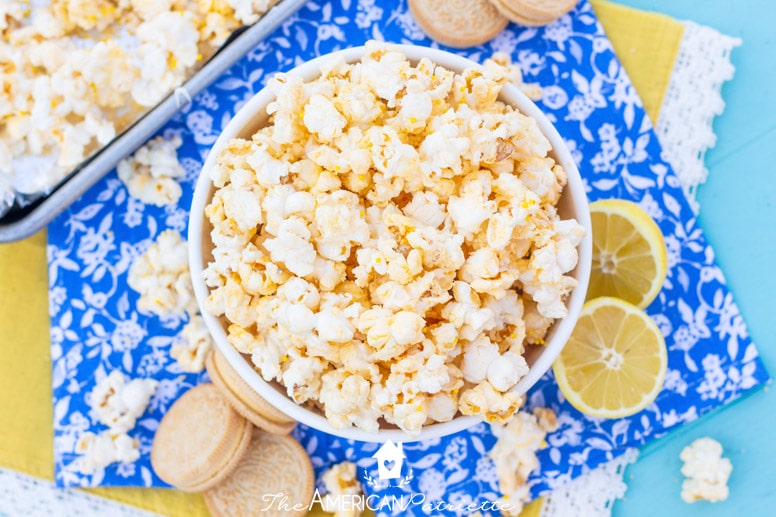 Hope you enjoy spending some extra time in your kitchen & with your family during this crazy season! What are some of your favorite go-to recipes?! Share 'em in the comments below – I'm always looking for new ones to try! 🙂