EASY White Chocolate Popcorn Recipe
This simple tutorial walks you through how to make EASY white chocolate popcorn that you can easily customize for any occasion! Perfect sweet treat for a crowd at celebrations and gatherings!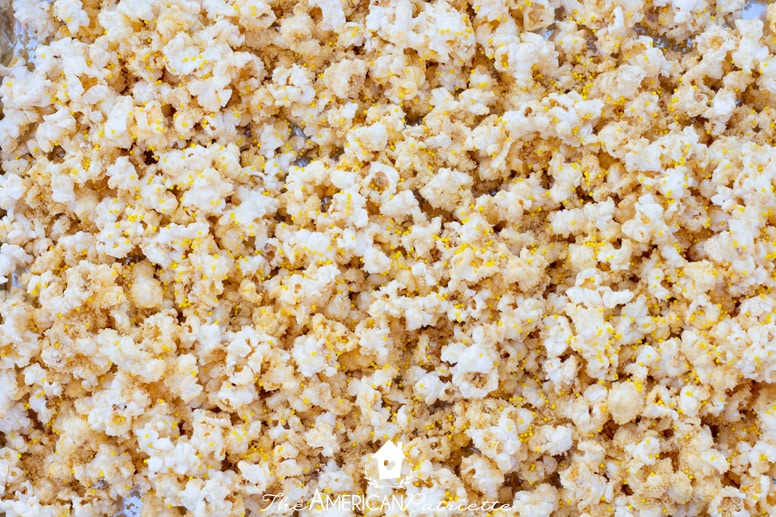 Welcome to Day 9 of the 12 Days of Christmas Baking Tips!
I have a few different variations of white chocolate popcorn recipes on my blog (and a million more in my head!), but for today's tip, we're going back to the basics and I'm talking you through the details of this REALLY easy 2-ingredient recipe, that way you can become a pro at making it & customizing it, too!
Once you know exactly how to make the basic recipe, you'll never need to look up a white chocolate popcorn recipe again – you can so easily customize it with toppings and add-ins that you think up yourself.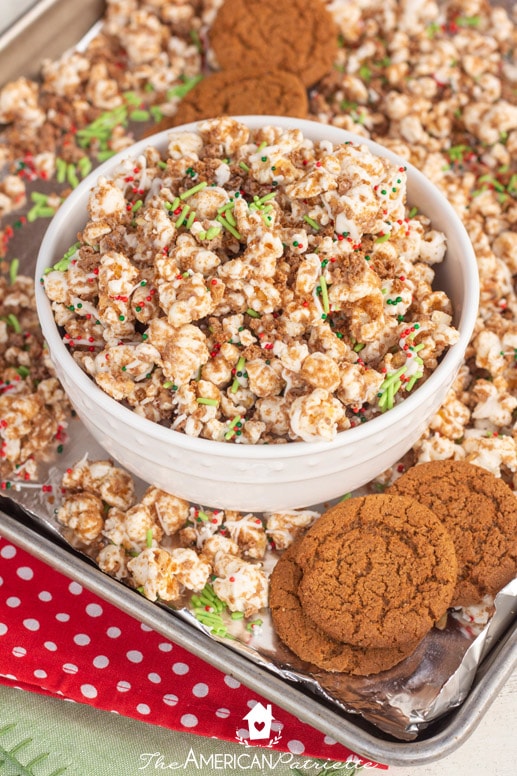 In this post, I'm walking you through my best practice tips for how to make a perfect batch of white chocolate popcorn every time, and I'm also answering common questions about the recipe, that way this can become one of your go-to recipes when you need the perfect sweet treat for gatherings and don't want to spend a lot of time making it.
I make basic white chocolate popcorn several times a year (and then vary it up with different toppings) for so many different gatherings and occasions, and it is always a HUGE hit with the crowd. I don't think people realize just how simple it is to make!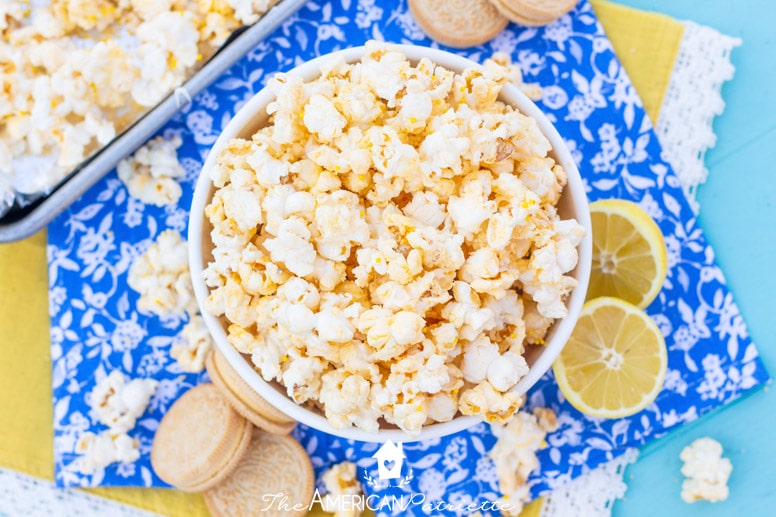 Not that you need my rationale for why I have such an affinity for making this sweet snack, but, I actually think these are all really helpful to know.
Here's the deal: this may seem so insignificant, BUT, having recipes like this in my "recipe arsenal" makes my life so much easier in the kitchen.
It's not like this white chocolate popcorn is part of my weekly meal planning (we eat a little healthier than this on a regular basis ?), but, having a collection of recipes in my head – ones that I don't have to write down, ones where the ingredients are really simple and I probably already have on hand, and ones that are perfect for whipping up REALLY fast for an occasion – really does make things easier when I just don't have a ton of time to spend at my kitchen counter, but also still want to provide a YUMMY, people-pleasing dish.
And, I want you to have that, too!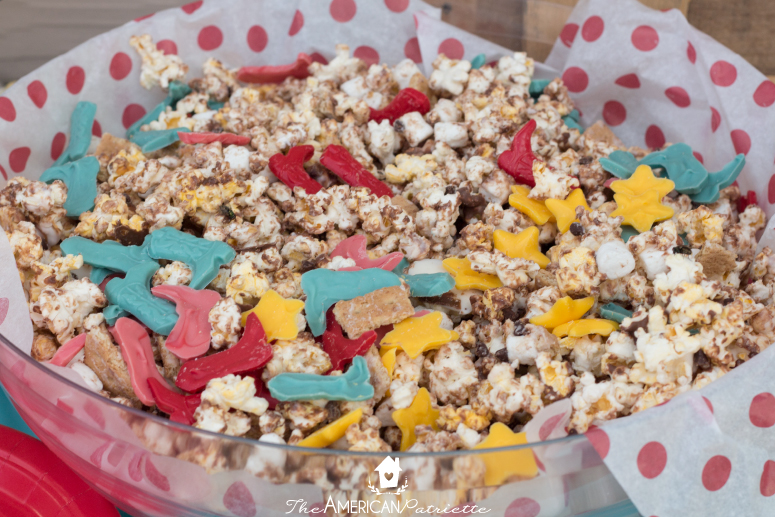 Here are reasons I love this white chocolate popcorn:
It doesn't take very long to make – the hands-on time for this recipe is probably about 10 minutes. 15 max. And, you don't need a ton of dishes to make it happen!
I almost always have the ingredients in stock – two ingredients. Two. That I pretty much always have in my pantry. Plus, considering the toppings for this are virtually endless, if I need to make this last-minute, I can easily conjure up something from my pantry to add to it (peanuts, cookie crumbles, sprinkles, spices like cinnamon and nutmeg, etc.)
It doesn't require a recipe – it's just one more thing I don't have to go look up! Once you know the basics of how to make this, you can make the perfect batch every single time without having to look up a thing!
Super easy to customize – I really do make this several times a year; I make it every time for my kids' birthday parties, for different seasons & holidays (for sure during the Christmas season, and then often for Easter, 4th of July, and Thanksgiving), and then for other random gatherings and potlucks throughout the year. I can customize it for ANY of those gatherings with the types of toppings I use, whether I just change up the color of sprinkles, change up the color of M&Ms I use, switch out different cookie crumbles, etc.
It's really easy to transport – just store your batch in a couple of gallon-size zipper bags and you're ready to go!
It's fuss-free and gives off a really casual feel – sometimes making cakes or pies for certain occasions seems a little over the top, ya know? Other desserts like cookies or brownies don't usually feel too fancy, but again, they just take a lot longer to make than this white chocolate popcorn. So, I love that this is a casual sweet treat and that it's just so darn easy to make.
It's really inviting! People LOVE this stuff and are drawn to it! Sounds a little dramatic, but I feel like this recipe really sparks some great conversation, just by virtue of people gathering around it and snacking on it together.
And for all these reasons, it's one of my most frequent go-to recipes, so let's walk through the steps for making it & talk about some best practice tips, so that way it can become one of your go-to recipes, too!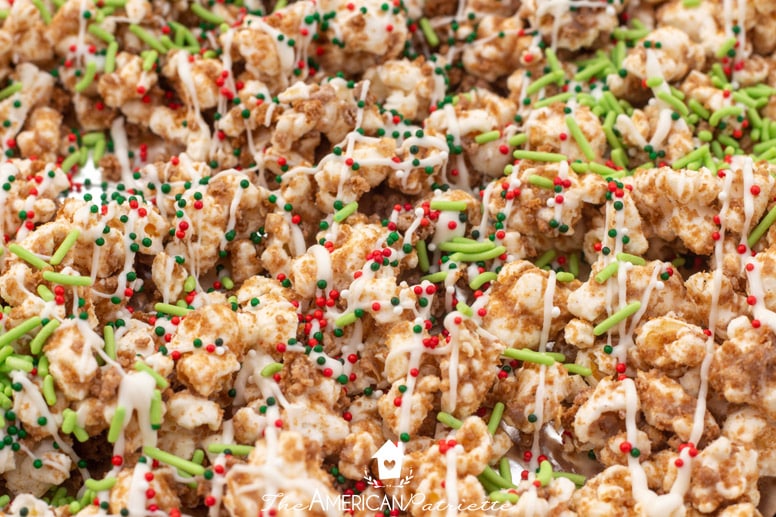 Here's what you need for the basic popcorn recipe
Just as a note: I would triple this recipe (i.e. 18 oz of baking bark + 3 bags of microwave popcorn) if you're making it for a gathering of some sort. I *always* make 3 bags of popcorn when I'm making it to share at a gathering or celebration, but I want to give you the ratio of white chocolate to popcorn so you have it, that way you can adjust how much you make for your gatherings.
6 ounces of white baking bark (also called white almond bark, white candy bark, or vanilla-flavored candy coating). I'll talk more about this in a bit, but I would ABSOLUTELY recommend baking bark vs. white chocolate chips for this.
1 bag of microwave popcorn, light butter flavor
Large mixing bowl
Microwave-safe bowl – for melting the baking bark (white chocolate)
Large spatula or spoon – for stirring the popcorn & baking bark (white chocolate)
Foil-lined rimmed baking sheet
Optional toppings – anything you want to add in (cookie crumbles, sprinkles, colored candy coating, peanuts, M&Ms, sweet spices like cinnamon and nutmeg, etc.)
Let's get started!
How to Make White Chocolate Popcorn
Step 1: Get your ingredients out & then pop the popcorn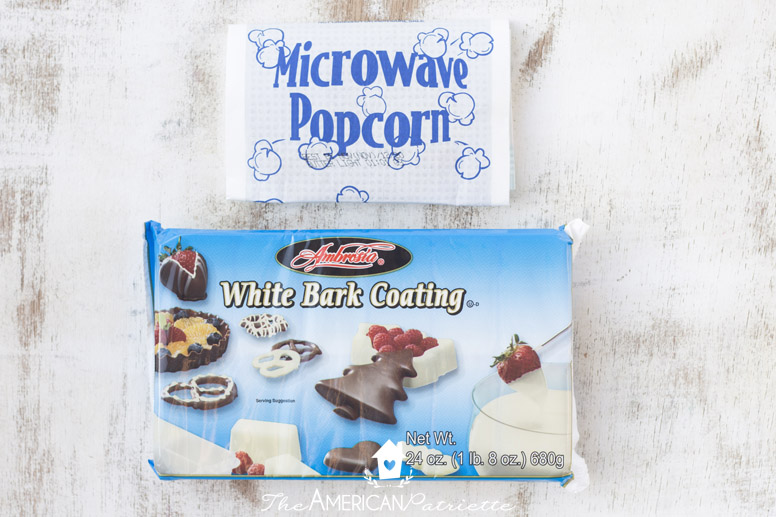 That Ambrosia brand is what I always use when I'm wanting to do any kind of candy coating (i.e. this white chocolate popcorn, truffles, etc.) – it melts SO well, it's really easy to work with, and it has a great flavor. I've been using it for years, and people always comment on how tasty it is!
Pop your first bag of popcorn like you normally would in the microwave, and then set it aside.
(If you're wanting to make as much as I usually do for a batch, I typically pop all 3 of my bags in a row, that way they're done.)

Step 2: Melt the White Chocolate (Candy Bark)
If you've always wondered, "How do I melt white chocolate so it stays creamy instead of getting clumpy?" Believe me, I've had my fair share of clumpy candy coating and white chocolate from not knowing how to properly heat it. Thankfully, this is actually a REALLY easy process, and now I never have any issues. Lemme talk you through this!
This is how I always melt my baking bark: I put 3 of the cubes at a time into a microwave-safe bowl.
Make sure the bowl you're using works well in the microwave. As in, don't use a bowl that gets really hot really fast. Some of my ceramic bowls get SO hot in the microwave. I've had these blue cereal bowls for years, and they've always worked for me in the microwave, and they also don't have any grooves at the bottom of the bowl (it's completely smooth), which makes it easy for me to use a spatula to scrape the bowl and get any extra melted chocolate out of there.
So, the blue bowls you see in the photos are what I always use when I'm melting a few cubes at a time of the baking bark. The reason you want to make sure you're using a bowl that works really well in the microwave is, if you use one that gets hot really fast, it could unevenly heat up the baking bark and cause it to get a little clumpy instead of melting really smoothly.
Start out by microwaving 3 cubes at a time for 45 seconds.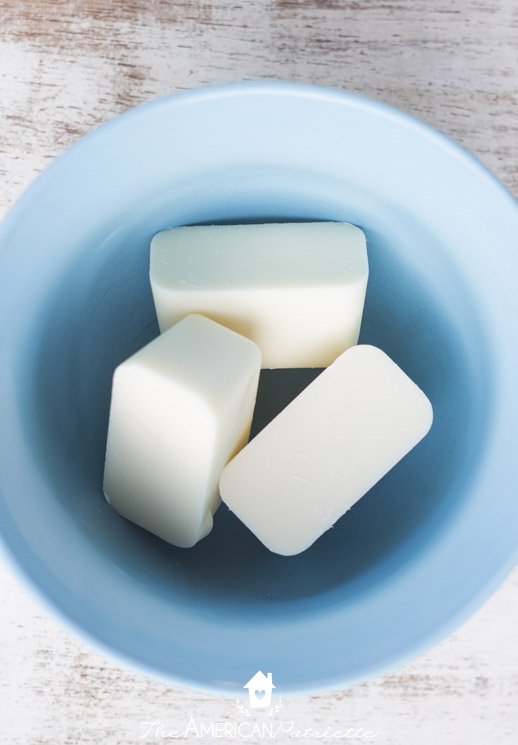 Then, remove from the microwave, stir, and then put back in the microwave for 30-45 seconds. This is what the baking bark will likely look like after about 45 seconds in the microwave: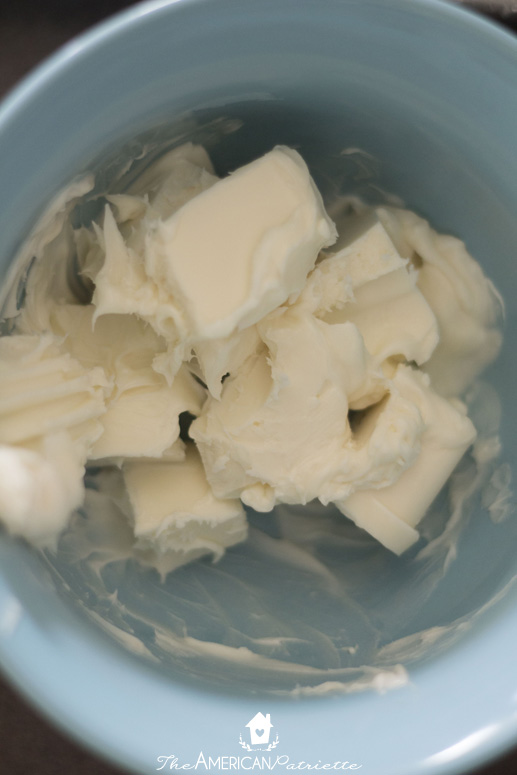 You ALWAYS want to make sure to stir between those microwave increments. This ensures the chocolate will melt smoothly!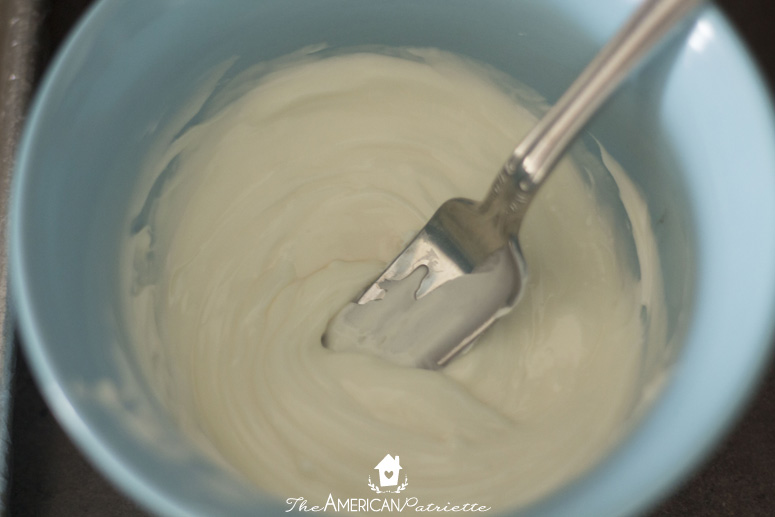 Then, once it's all melted, you're ready to add it to the popped popcorn!
Step 3: Put 1 bag of popcorn in your mixing bowl, careful to avoid the unpopped kernels
Super helpful tip: don't just pour the bag of popcorn straight into the mixing bowl! Doing so will make those unpopped kernels go right along with the popped ones, and then they stick to and camouflage within the white chocolate, which is just not a fun surprise for your teeth when you take a bite.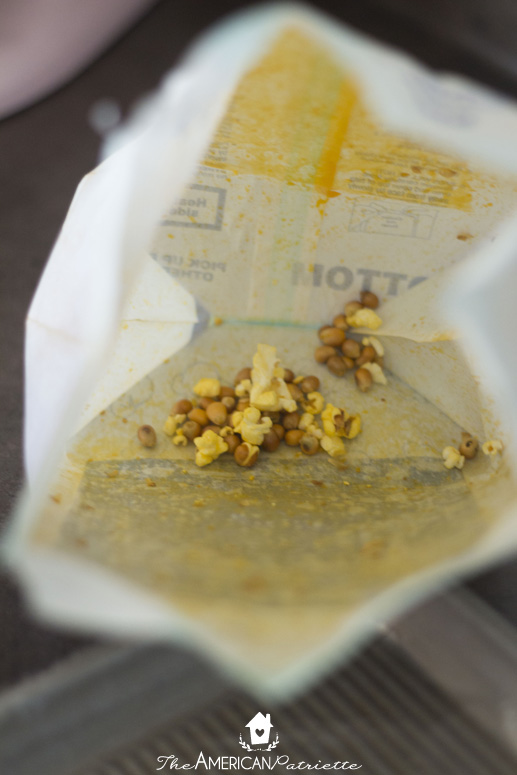 Instead, shake the bag up and down for about 5 seconds before opening it. This helps those unpopped kernels to make their way to the bottom of the bag. Then, using your hand, scoop out the popped kernels into the mixing bowl until you've gotten them all from the bag, doing your best to avoid those unpopped kernels.
Step 4: Pour about half of the white chocolate onto the popcorn & stir

Give it a light stir, working to start coating all of the kernels with that sweet baking bark.
I had 3-year-old hands helping me with this popcorn recipe a while back. All things considered, she did a pretty good job! 🙂

Step 5: Pour the remainder of the melted chocolate onto the popcorn and continue to stir
Continue to stir until the popcorn seems to be pretty evenly coated with the white chocolate.

***If you're going to coat your popcorn with cookie crumbs (like Oreos or Gingersnaps) or add nuts to it, go ahead and add those to the popcorn while it's still in the bowl. Those toppings are easier to stir in with the melted chocolate and popcorn, rather than waiting to sprinkle them on after you've poured the popcorn onto a baking sheet.
If you're only going to add sprinkles or mini M&Ms, you can wait to add those until you've poured the popcorn out onto the baking sheet in the next step.
Step 6: Pour coated popcorn onto a foil-lined rimmed baking sheet
Use a spatula or a spoon to gently spread it out across the pan. You're going to want to try to separate it a bit, just so when the candy coating hardens, it doesn't create huge clumps of popcorn.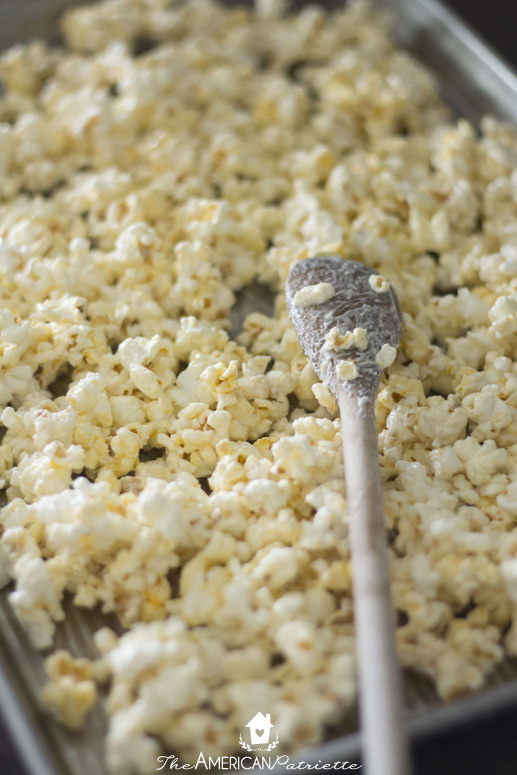 Tip: A foil-lined pan definitely makes removing the popcorn from the pan a lot easier. You can just pick up the foil from both ends and then somewhat funnel the popcorn into the plastic container or zipper bag where you're going to eventually store it.
If you're adding sprinkles or another topping, this is where you'll start to do so. Just sprinkle onto the popcorn, give it a little stir with the spoon, and sprinkle one more time.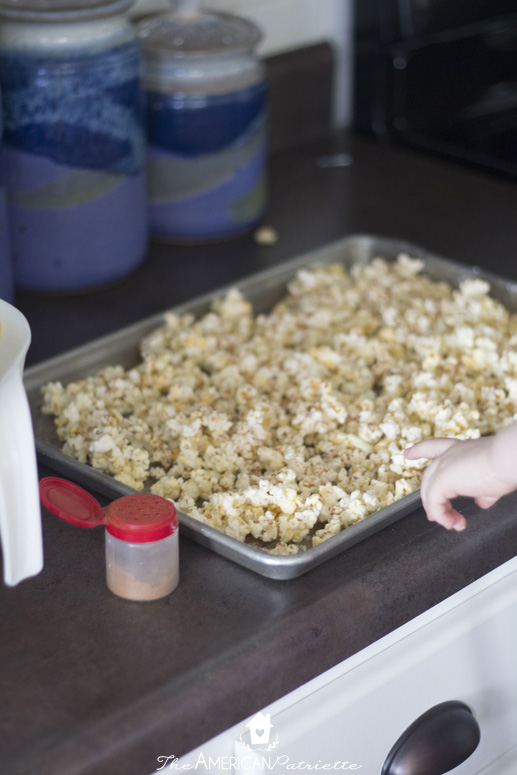 Now, once you've finished coating (and perhaps adding toppings to) your first bag of popcorn, you're going to repeat those same steps with the remaining two bags of popcorn.
All in all, especially if you pop the popcorn before you really begin this process, coating the popcorn and putting it on the pan shouldn't take more than about 10 minutes. Make sure when you add the additional coated popcorn to the pan, you continue to give the entire pan of popcorn a little stir, just to prevent big clumps of popcorn from forming.
Step 7: Store the pan of popcorn in the fridge for about 15 minutes to allow it to set
While the melted chocolate on the popcorn will eventually harden on its own if you leave the pan out on the counter, I always just put mine in the fridge for about 15 minutes to allow it to quickly and completely harden.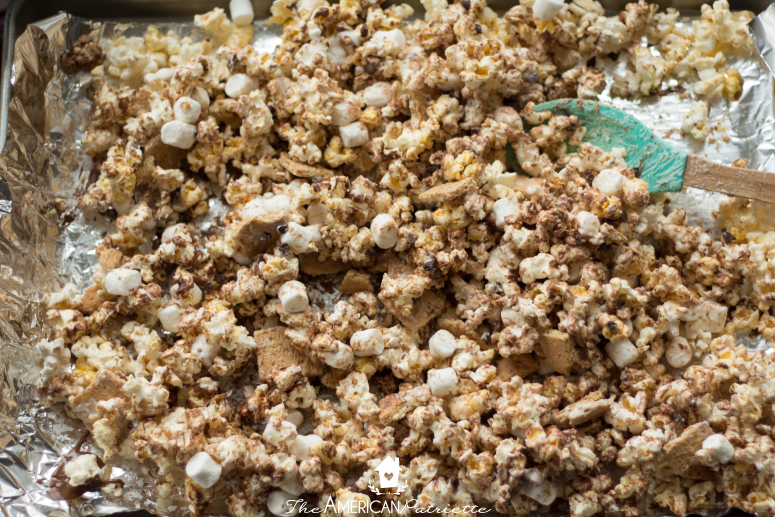 Once you've done that, you're ready to pick up both ends of the foil and funnel the popcorn into a storage container, or into the large serving bowl you're using at your gathering.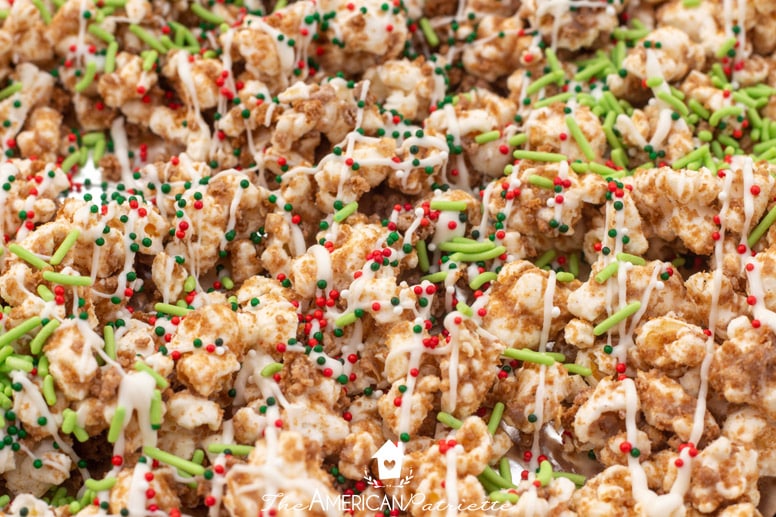 Everyone is just going to love this stuff! And I can't wait for you to try out so many different customizations!
Before I leave you to go make this recipe on your own, let me go over a few questions you might have:
How far ahead can you make the white chocolate popcorn?
You can make it about 2 days ahead of time. You won't notice a difference in quality or taste after a couple of days, and while it's still certainly very edible (and enjoyable!) on the 3rd and 4th days, it's probably best to serve it within about 2 days of making it.
How long does candy popcorn last?
For pure snacking purposes, as long as you've stored it in an airtight container, you can eat on this for probably up to a week after making it. After about 4-5 days, though, you'll notice the popcorn kind of loose its crunch and get a little softer. Still tastes good! It just looses some of its crispness. So, if you're just enjoying it at home, you can make it last longer. But, if you're serving it to others, I would stick to that 2-day rule I already mentioned.
What toppings have you tried on white chocolate popcorn?
SO MANY! Any kind of crushed cookie works well – different flavors of Oreos, Nilla Wafers, Gingersnaps, etc. Seriously – you just can't go wrong!For a plain but super tasty version (say, you want to make this just for fun and not really for any kind of themed or seasonal celebration/gathering), just add some salted peanuts to it. It's absolutely delicious!I've also used M&Ms several times, but I almost always use sprinkles, just because I often want to add colors that go with the party where we're having it or for the season.

If you want to add even more color, you can drizzle some other colored candy melts on top (like you see in my gingersnap popcorn).

And, I've even made this into a s'mores popcorn – complete with melted milk chocolate, crushed graham crackers, and mini marshmallows. Yum!

The options are virtually endless!
Have fun making this! And have even more fun eating it and serving it up at your fun gatherings!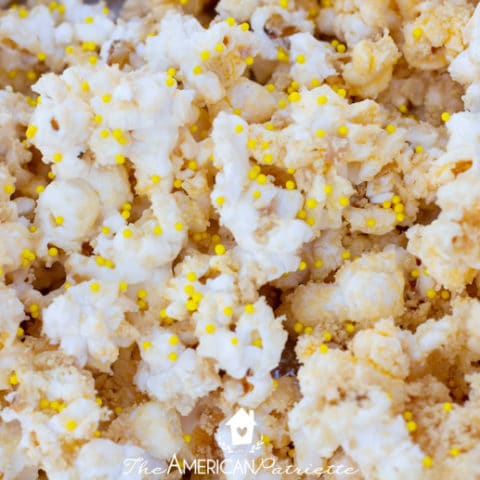 EASY White Chocolate Popcorn Recipe
Additional Time:
15 minutes
This simple tutorial walks you through how to make EASY white chocolate popcorn recipe that you can easily customize for any occasion! Perfect sweet treat for a crowd at celebrations and gatherings!
Ingredients
18 oz white candy bark (also known as vanilla candy coating or almond bark)
3 bags of microwave popcorn, light butter flavor
Instructions
Pop each bag of popcorn as you normally would in the microwave.
We're going to work just one bag at a time right now: Transfer the popped popcorn from one bag to a large mixing bowl, doing your best to avoid pouring unpopped kernels into the bowl* (see my notes on this!)
In a microwave-safe bowl, add 6 ounces of the white candy bark/white chocolate and place in the microwave for 45 seconds. Remove, stir, and repeat for another 30-45 seconds. Stir, and if you need to add it to the microwave one more time, just try it for about 20 seconds. It'll likely be fully melted after the 2nd round in the microwave, though!
Drizzle about 1/2 of the melted candy bark onto the popcorn in the mixing bowl, stir, and continue drizzling the remaining melted candy bark and stirring until the popcorn is evenly coated.
At this point, if you're adding larger toppings such as peanuts, M&Ms, or even crushed cookies, go ahead and add them to the mixing bowl, stir, and then follow the next step.
Line a large cookie sheet with foil and then pour the candied popcorn onto the foil. Spread it out with the spoon/spatula you used to stir it.
If you're adding sprinkles to the popcorn, go ahead and add them now, stirring after the first coat and then adding a little more.
Repeat steps 2-7 with the remaining popcorn and white chocolate/baking bark. When you add the remaining 2 bags' worth of coated popcorn to the pan, make sure you continue to give the pan a little stir, just to prevent large clumps of popcorn from eventually forming after the candy hardens.
Once you've finished coating all of the popcorn, place the baking sheet with popcorn in refrigerator for about 10-15 minutes to allow the candy bark to fully harden on the popcorn. It will eventually harden on its own if you leave the pan out on the counter, it'll just take a while!
Remove from fridge, pull up both sides of the foil to make somewhat of a funnel and pour the popcorn into your serving dish(es) or into your storage bags/container if you're eating it later.
Enjoy with family and friends!
Notes
Super helpful tips when making this popcorn:
When you're moving the popcorn from the bag to the bowl, first, lightly shake the bag of popcorn up and down to help any un-popped kernels fall to the bottom of the bag. Then, using your hands, move the popcorn from the bag to the bowl so you can keep those kernels at the bottom of the bag and avoid transferring them to the bowl.
You'll definitely want to melt the chocolate using the process I suggested - microwave for a short time, stir, repeat. If you don't microwave in short increments, and if you don't stir between increments, the white chocolate/baking bark doesn't melt correctly. It just gets clumpy!