35 Creative Potluck Themes + free potluck printables!
If you're looking for creative potluck theme ideas, you're in the right spot! You'll get some great inspiration to host a super fun potluck with the theme ideas below! Be sure to grab my FREE Perfect Potluck Planning Blueprint to help you plan your next potluck!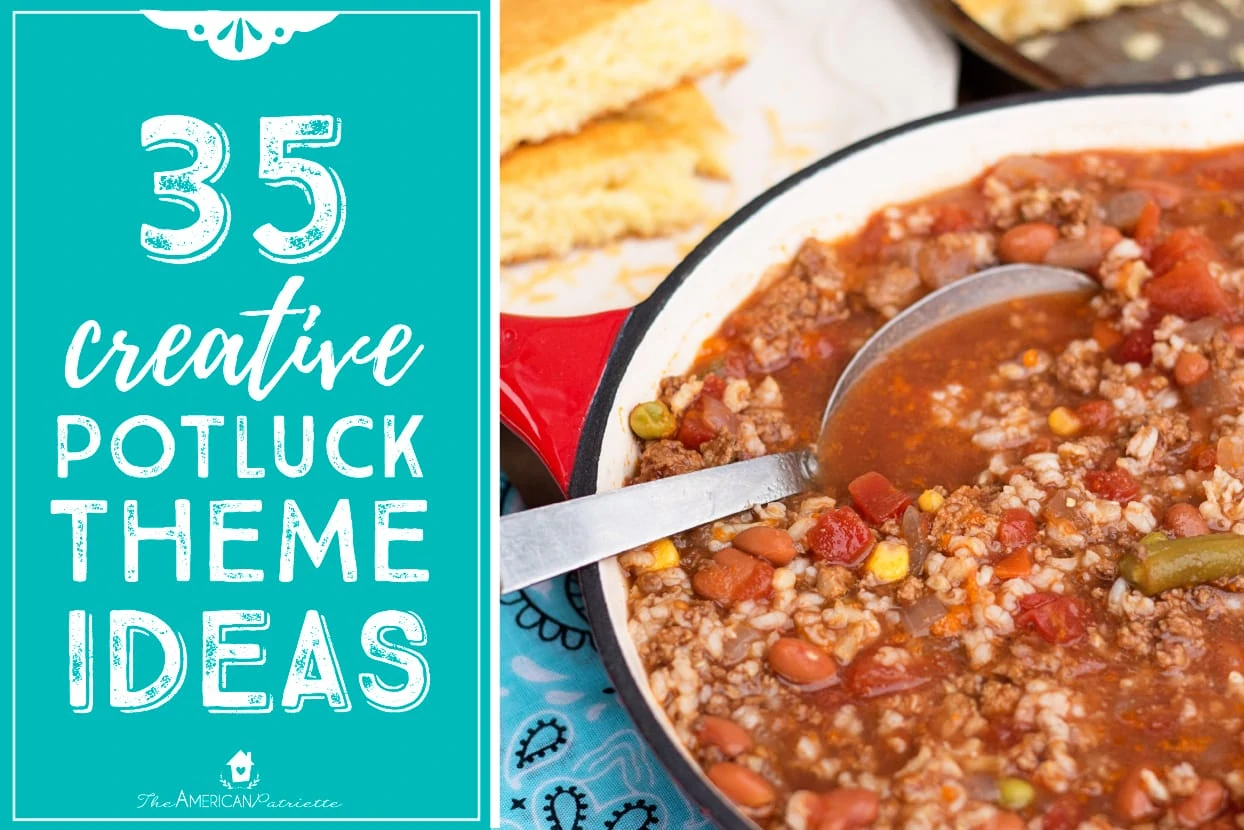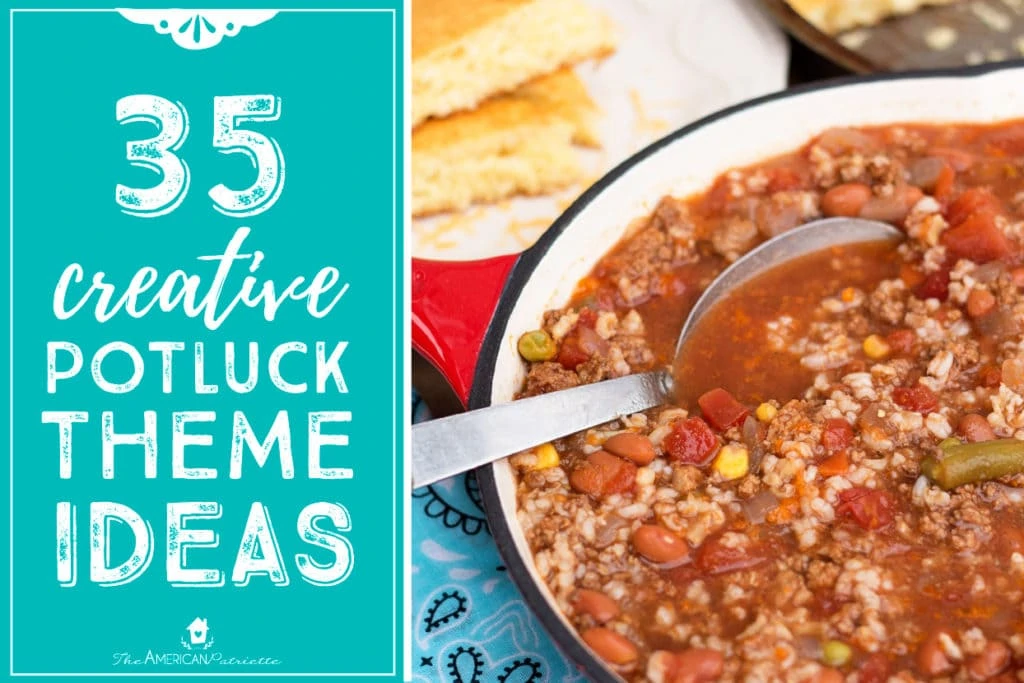 Note to you: if you're here looking specifically for potluck themes related to seasons or holidays, I've been building up a collection of those! Check out these posts for seasonal inspiration:
Creative Potluck Theme Ideas
But, if you're here looking just for a fun and creative potluck theme that isn't necessarily season-specific, you're in the right spot. You'll love this list!
It is no secret around here that I love potlucks, especially when there's an excuse to get creative with recipes, so I had a lot of fun putting together this list of 35 creative potluck themes. I love potlucks for several reasons – for one, it means a group of people are getting together, and that just makes me really happy.
Two, food is a magnet for conversation, so when there's a lot of it (and a lot of different kinds of it, especially when you follow a unique theme!), there's so much to talk about and rally around. The fun and interesting recipes themselves, the experience you had cooking, and the enjoyment of trying new recipes are all conversation catalysts.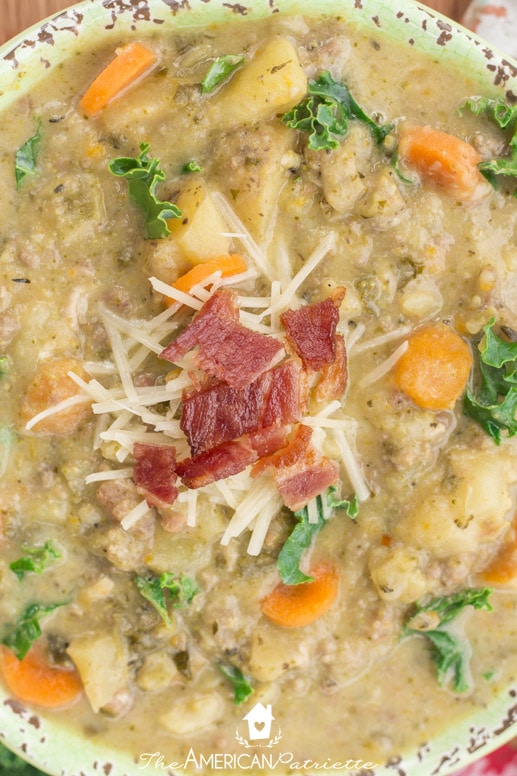 Three, food is a common denominator. No matter who you are, how old you are, or where you're from, everyone has to eat! When we share meals together, it helps us to connect with others and foster relationships. There's so much community to build over a meal!
And four, I don't want to get overly symbolic here, but with potlucks, I love that everyone contributes to a main shared meal; just as in life, we all have something to bring to the table. We all have something different to offer, and when we all bring our offerings to together and share them with one another, it creates a bigger picture and helps us really appreciate each other!
After you look through these themes, be sure to grab your FREE PERFECT POTLUCK BLUEPRINT! It includes 5 of my most popular potluck themes PLUS menus to go along with them! And, some super helpful menu planning tips to help you get started!
Tons of Creative Potluck Theme Ideas:
1. Restaurant Re-creations
Attempt making a dish from one of your favorite restaurants (homemade Pizookies from BJ's are the best!)
2. Family Favorites
Make a food that is a must-have at your big family gatherings (when we did this theme, almost everyone brought something yellow – cornbread, mac & cheese, king ranch chicken, cheesy potato casserole…needless to say, the meal was DIVINE)
3. Rookie Cookie
There's something out there we've all been wanting to try making but haven't done yet!
4. Throwback Night
Bring a food that reminds you of childhood (yes, chicken tenders, Fruit-by-the-Foot, and push pops were all acceptable cuisine the evening we did this theme).
5. Southern Fare
Mmm-mmm, cornbread, fried chicken, mashed potatoes, cheesy grits…you just cannot go wrong with food from the South.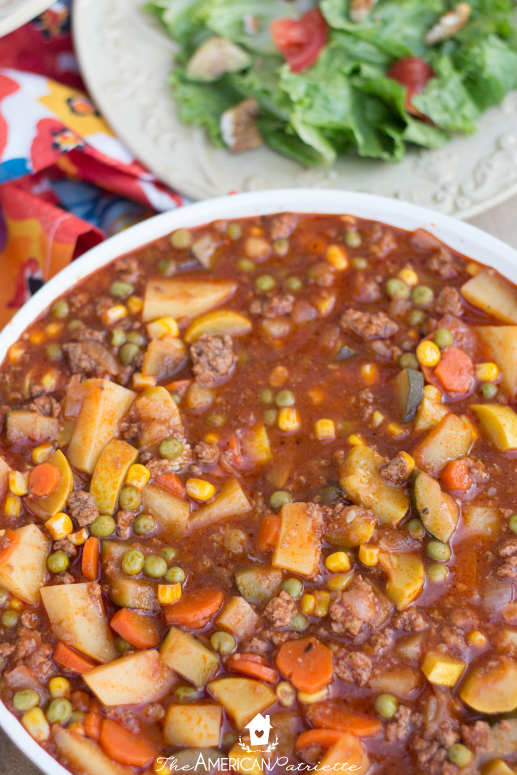 6. Movie Meal
Bring a dish that reminds you of your favorite film (A friend of ours – a potluck regular – was planning to come the evening we did this theme, but he ended up having to work. He decided he still wanted to stop by and bring food, so he ran into our apartment, dropped off a platter of chicken, and ran out, saying the food was from Chicken Run. Hilarious.)
7. The VeggieTable
Everything, even the dessert, has to contain a veggie (when we did this, a friend of ours made chocolate fondue and she made everyone try to guess the veggie culprits in it…I don't know if any of us guessed correctly – pureed avocado and carrots! You couldn't even taste them!)
8. Leftover Grub
Make something from food you've already got on hand in your fridge or pantry (and yes, there are rules: 1) The food cannot be expired, and 2) The food has to be for humans – dog food does not qualify as an option)
9. Country Cuisine
Bring a dish from a country you've visited (when we did this, we had some ridiculously good food – pierogi from Poland, crepes from France, potato pancakes from Germany, and qabili pilau from Afghanistan. We also had some food from Mexico and Spain, and I'm certain they were delicious!)
10. Brinner
Breakfast for dinner. Possibly tied with Southern food as the best meal ever! You can my my absolute favorite breakfast casserole for this!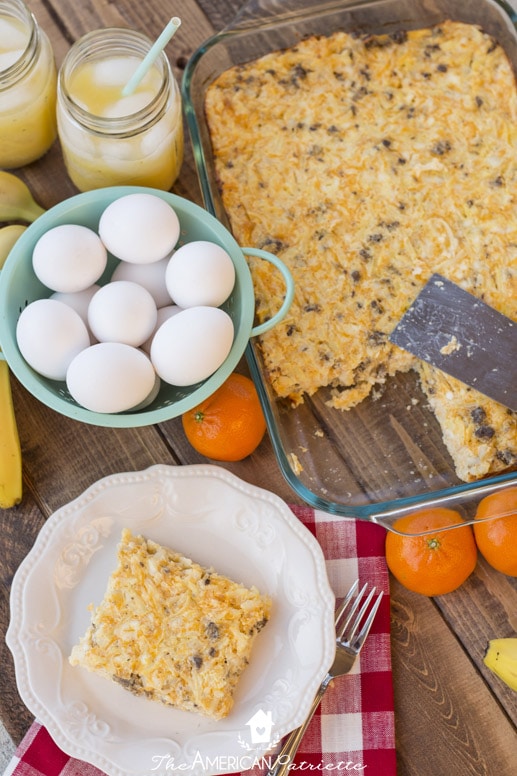 11. Scrumptious Salads
Get creative! Chicken salad, pasta salad, tuna salad, egg salad, side salad, garden salad, Caesar salad, fruit salad, strawberry spinach salad, quinoa salad, etc. And don't forget the dessert salad – Watergate salad, strawberry cheesecake salad, apple fluff salad…and because the desserts are salad, they're healthy! (That is how that works, right?)
12. Backyard BBQ
Make it feel like the relaxed pace of summer by hosting a BBQ potluck – grill some burgers and hot dogs, make BBQ pulled pork, have folks bring potato salad, baked beans, and watermelon, and don't forget the popsicles!
13. Tuxedo Platter
Get dressed up in your fancy pants and have a black and white dinner: white chicken chili, black bean enchiladas, black olive cheese bread, white chocolate mousse, etc. Could your entire meal consist of Oreos? If you're hosting it at my house, the answer is yes.
14. Hometown Eats
If you're hosting a potluck with folks from a bunch of different areas, have everyone bring a food that reminds them of their hometown. My hometown happens to love breakfast tacos. I also happen to love breakfast tacos, so if you invite me to your potluck, sign me up for those.
15. Home State Sustenance
Similar to Hometown Eats, if you're hosting a potluck with folks from a bunch of different states (we did this when I was in grad school – people were from all over!), have everyone bring a food that represents their state. I absolutely love Texas cuisine, but if I were hosting this again, I'd make sure to invite someone from Maryland and ask them to bring crab cakes. (If you need some Texas recipes, you can go find some of my favorites here!)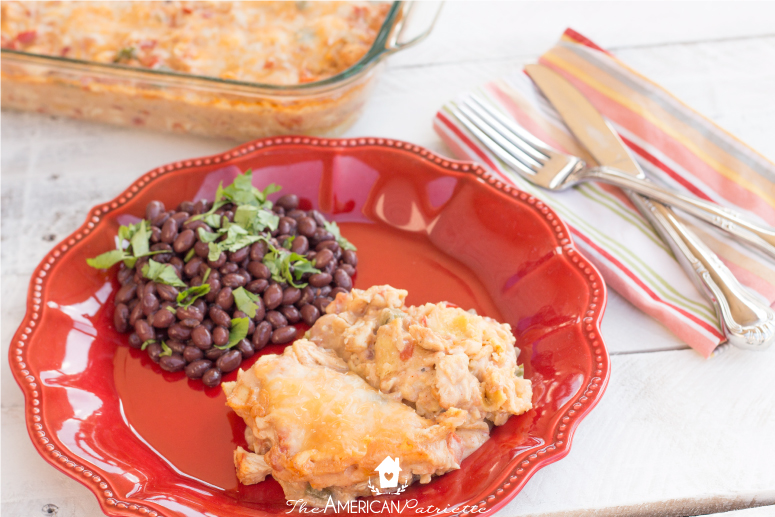 16. Campout Cuisine
Have some fun by asking everyone to bring a dish that could easily be served on campgrounds. If you really want to get authentic, maybe you can even build a little campfire in the backyard and cook in a cast iron and/or foil packs. Do NOT forget the marshmallows, graham crackers, and chocolate.
17. Nautical Nutrition
Bring main dishes and side dishes that have some kind of seafood in them. Hop on Pinterest to get some nautical dessert ideas (void of actual seafood, of course…), or make these gorgeous, realistic-looking candy seashells to top some cupcakes or brownies!
18. Cook Book
Have everyone bring a dish that represents their favorite book – foods that may have been served in the book, or perhaps foods from the setting's locale and time period.
19. Potato Bar
Bake a batch of potatoes and have guests bring creative toppings to load 'em up and bring a whole new meaning to "loaded potatoes." One of my husband's favorite places to eat in college was Potato Shack – you could order all sorts of crazy combos on a baked potato! For dessert, make a delicious loaded sweet potato casserole – lots of pecans & brown sugar, please!
20. Taco Bar
Similar to the potato bar, have a ton of fun with different tacos and toppings! Have different tortillas – flour, corn, spinach, spicy; different meats – chicken, beef, pork (I'm always a fan of creamy chicken tacos!); and different toppings – lettuce, pico de gallo, guacamole, salsa, sour cream, cheddar cheese, cojito, Feta, queso, black beans, etc. If you type in "dessert tacos" on Pinterest, have a napkin or handkerchief handy because you're going to start drooling. You could also make one of my faves – sopapilla cheesecake (MUY BUENO), or make these apple dumplings and call them apple tacos!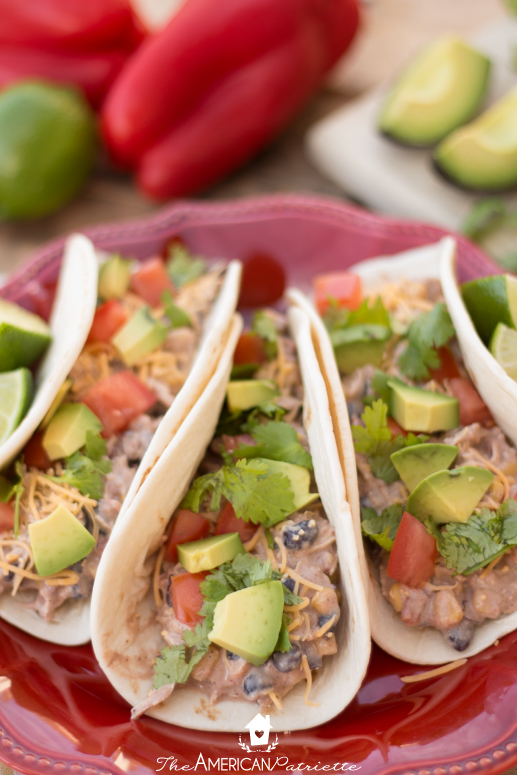 21. Picnic Party
Have everyone bring a picnic-friendly favorite – sandwiches, watermelon, pasta salad, cookies, etc. Invite everyone, but leave the ants off the invitation list!
22. State Fair Fare
Have everyone make a dish that could easily appear at a state fair. Make sure everyone knows they cannot all bring chocolate-covered bacon.
23. Diner Dinner
Make the menu reflect that of an old fashioned diner's – hamburgers, meatloaf, chef salad, malts, milkshakes, apple pie, and buttermilk pie!
24. Alliterative Appetite
Choose a letter of the alphabet and everyone has to make a dish that starts with that letter (tip: if you plan on hosting several potlucks, maybe 26, maybe don't start with the letter X). When we did this, I think we used the letter "P" – pasta puttanesca (extra points for the double "P" dishes!), pear salad, pistachio pudding cake, etc.
25. Jazzed-Up Classics
Think up some simple, classic foods – macaroni and cheese, pizza, grilled cheese, burgers, salads, chocolate chip cookies, etc. – and have everyone make them with some unique twists. Spinach, artichoke, and green chile mac & cheese? Yes, please!
26. Fancy Food
Put on your chef's hat and have everyone try to create a dish you'd find on the menu at a fancy restaurant. The harder it is to pronounce, the better!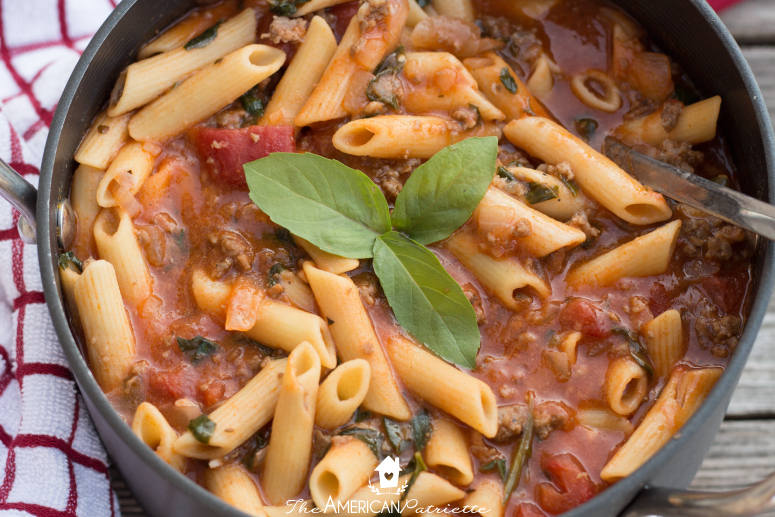 With almost 200 countries in the world, the options for regional foods to assign to a potluck theme are endless, but here are a few ideas to get you started!
27. All American
Have everyone bring a classic food from the good 'ole USA (have a baseball game on TV or the radio in the background to really set the mood). You can't have this potluck without apple pie or these delicious patriotic lemonade cookies!
28. Mexican
Enchiladas, chalupas, fajitas, beans and rice, and Mexican ice cream could be some delicious options. Sign me up!
29. Mediterranean
Greek chicken, couscous, falafel, tabouli salad, baklava, etc. Yum!
30. Asian
Maybe you want to focus on a particular country, or have a smorgasbord of options from different Asian countries. Either way, I'm sure you'd come away with some tasty new recipes.
31. Middle Eastern
My husband's favorite food in Afghanistan was qabili pilau with naan – we'd do this theme just so he could make that food. I bet you'd find some really interesting recipes with fun-to-try ingredients!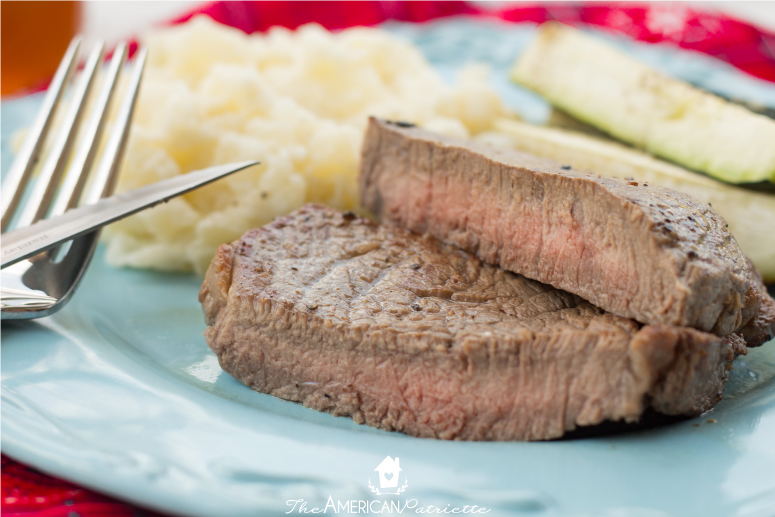 32. German
Brats, kraut, potato pancakes with apple sauce, cucumber salad, apple streusel, German chocolate cake – das gut!
33. French
Go pick up a copy of one of Julia Child's cookbooks and I bet you'll find a whole host of French dishes worth suggesting to your potluck attendees.
34. Italian
Spaghetti, Manicotti, lasagna, penne, fettucine, linguine, pizza…are you salivating yet?
35. Tropical
Strap on your aprons and have all of your potluckers choose one of the zillions of main dish, side dish, and dessert recipes that include coconut, mangos, and pineapples to make.
Be sure to snag your free Perfect Potluck Blueprint to help you plan your potluck!
Save these fun ideas for later! Be sure to pin this to your favorite Pinterest board!