Follow this super easy tutorial for how to make gorgeous realistic-looking candy seashells! Perfect to top cupcakes, cake balls, truffles, or other desserts for a beach-themed shower or party!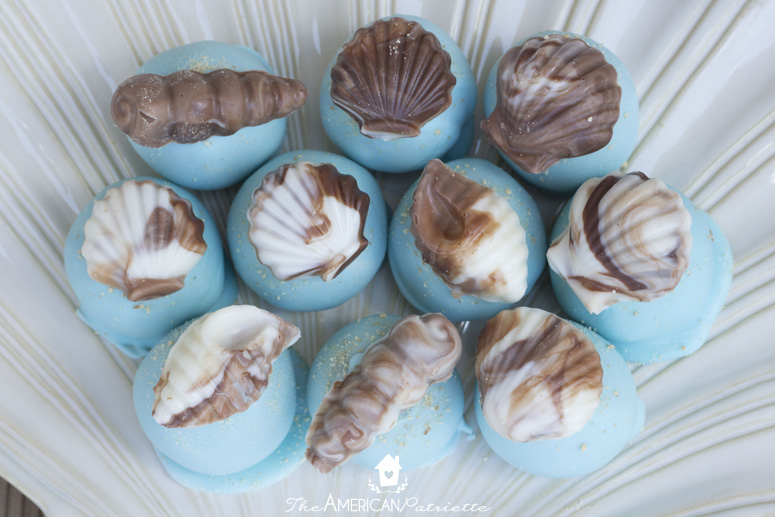 If you're planning any kind of beach-themed party or shower, or just want to provide a cute snack as you spend time with your toes in the sand with some friends and family, then I just have to share with you how to make candy seashells!
I experimented with these when I was throwing a beach-themed baby shower for one of my dear friends, Lisa, who absolutely loves everything related to the ocean. She's far braver than I am (i.e. she loves scuba diving, and I'm pretty sure I hyperventilated the first and only time I ever went snorkeling where the water was only a few feet deep), and she loves everything related to travel and adventure, especially when water is involved, so I thought a beach-themed celebration was in order for her and her baby!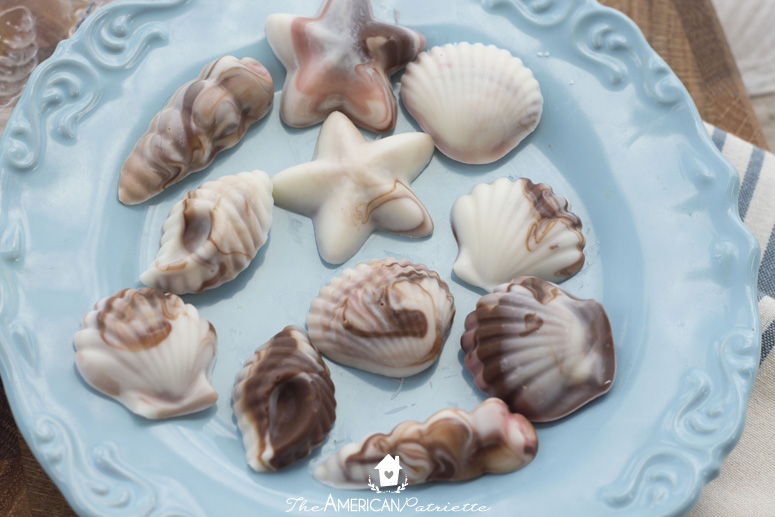 These candy sea shells turned out to be INCREDIBLY easy to make, they're actually really tasty, and y'all, THEY LOOK REAL! I can't even believe it! I'm so excited to share this little trick with you!
This post contains affiliate links for your convenience. You can read my full disclosure policy here.
Here's what you need:
White candy bark (white chocolate chips will do, but I really prefer this candy bark because it melts so easily and it has a great flavor)
Chocolate candy bark (or milk chocolate chips, I don't have a preference on this one, but I tend to use candy bark when I'm making things in candy molds)
Pink (or red) candy melts (you can use red and then mix them with the white to make pink if you want)
Glass microwave safe bowls for melting & mixing the candy
2-3 spoons
Plastic seashell candy mold (this is the one I have)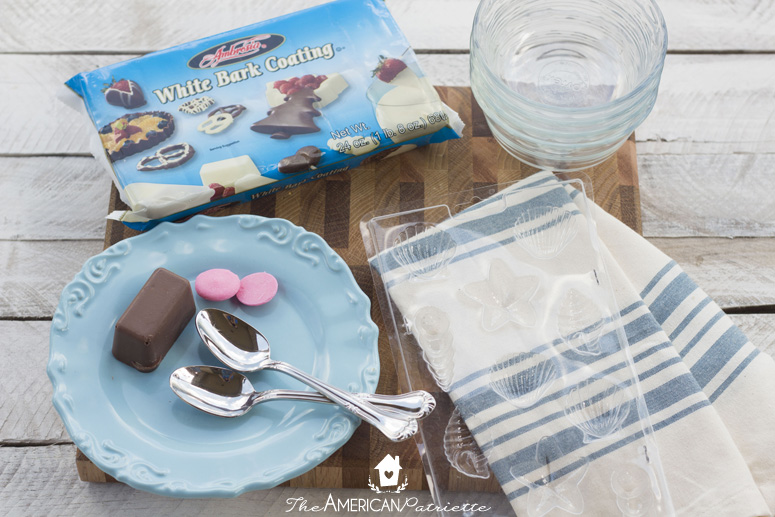 (Working from home = children's noses are in everything. Working from home = "Bring Your Kiddo to Work Day" is Every Day.)
When I bake for my blog, my daughter probably thinks I have the best job ever.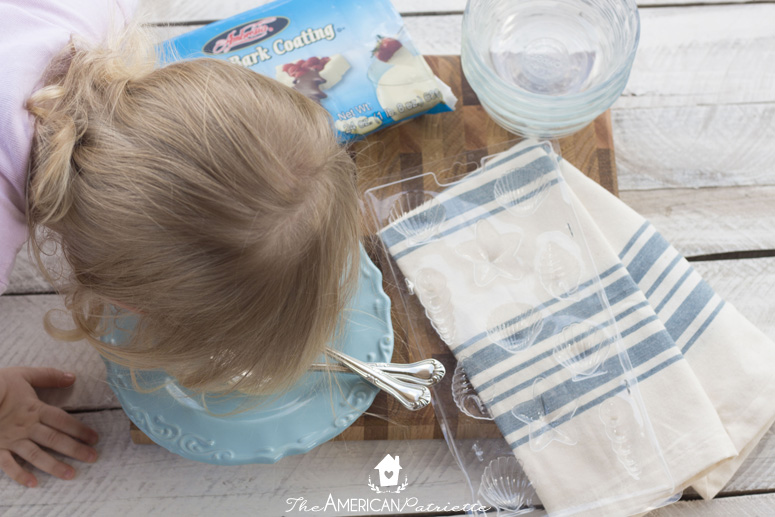 And she'd be right! (I also probably have the most interrupted job ever.) This is her making sure I knew where to put the chocolate. "You needta put sum dis right dere."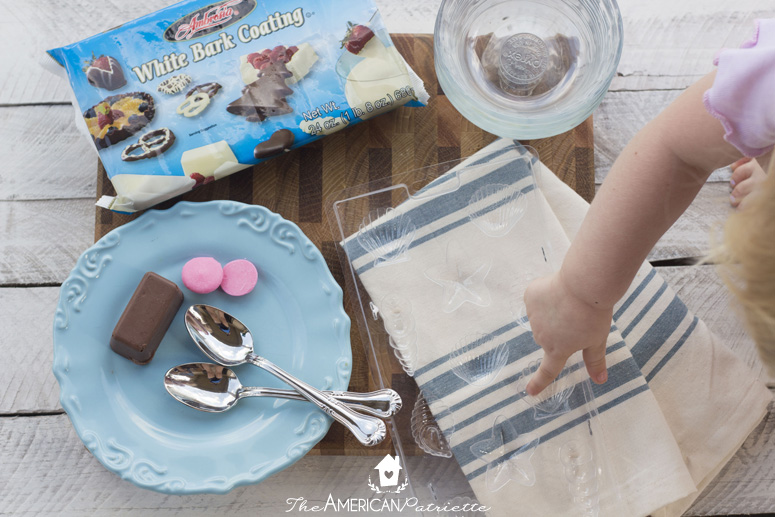 Now that we have instructions from Elizabeth, I'm now able to provide you with the rest of this riveting tutorial!
First, you need to melt each candy color in the microwave. How much candy bark you use is up to you – I used 2 white cubes, 1 chocolate one, and just a couple of circles of the pink candy melts and filled up this entire seashell mold and had a little bit of candy left over – probably enough for 2 more seashells.
When you melt the candy, place the bowl in the microwave with the candy in it for 45 seconds. Remove it, stir it, and put it back in the microwave for another 30-45 seconds. It is imperative that you take it out and stir it before putting it back in the microwave. It'll get clumpy if you don't, and I don't know about you, but clumpy seashells sound kind of crummy. Or clammy. 🙂
Depending on how much candy you're melting at once, you shouldn't need to put the bowl in the microwave more than 2-3 times.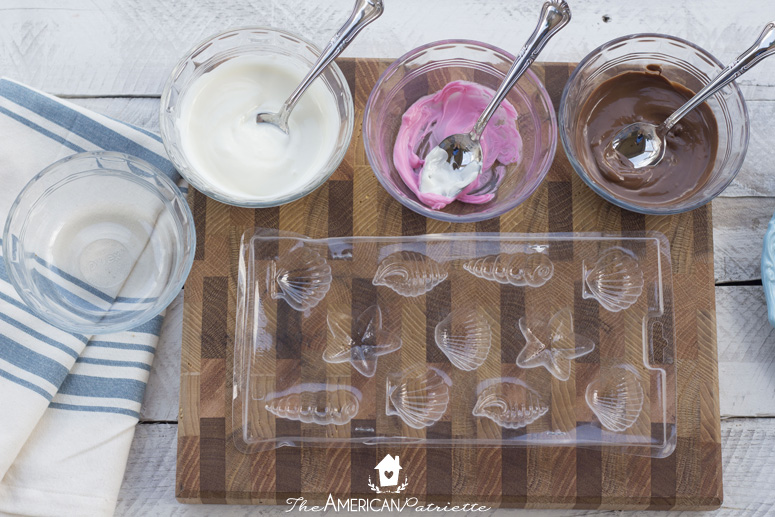 Then comes the fun part – mixing! You can tell I added a little bit of brown to the pink to dull it down a little bit. And then I added all 3 colors, the white being the most prominent, into an empty bowl.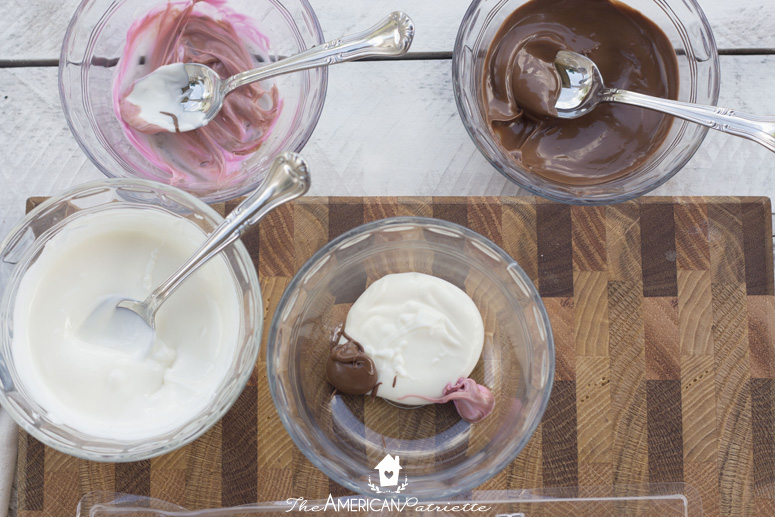 Then VERY lightly swirl with the spoon. Just a couple of swishes will do it.
Then get a glob of candy on the spoon and dip it into the candy mold.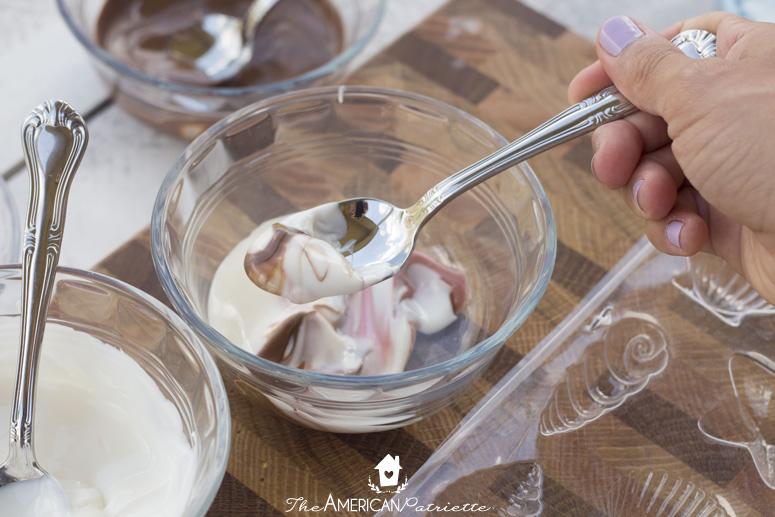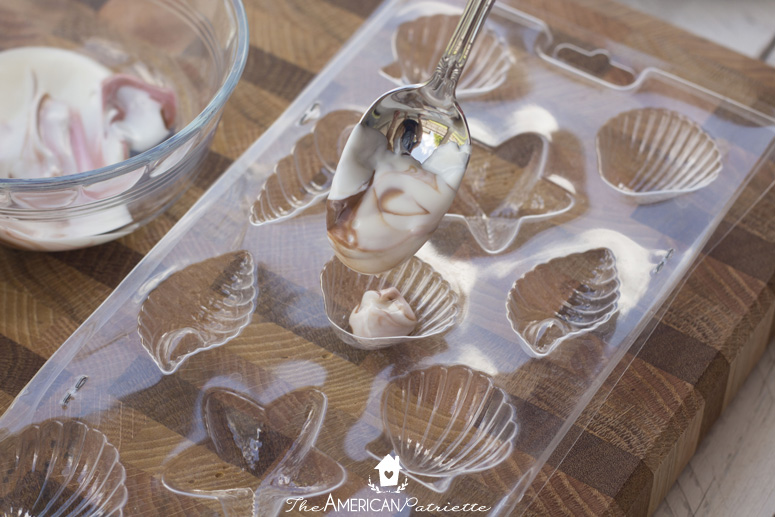 Once you fill up the candy mold, spread it out just a little bit so the candy reaches the edges.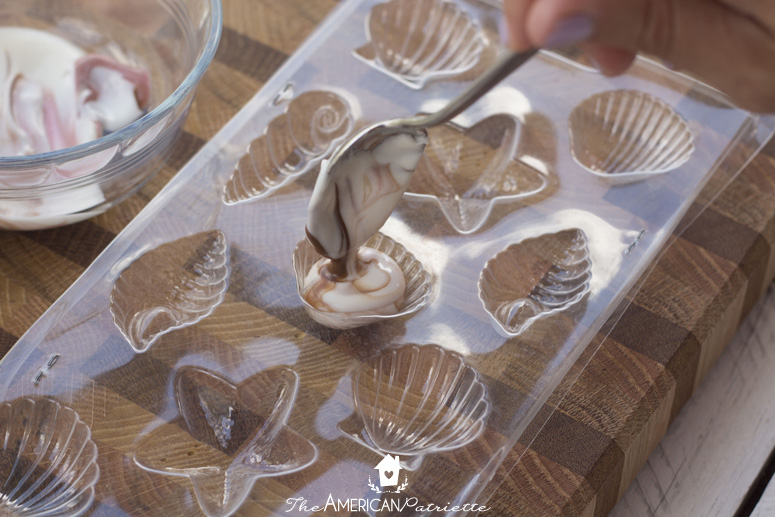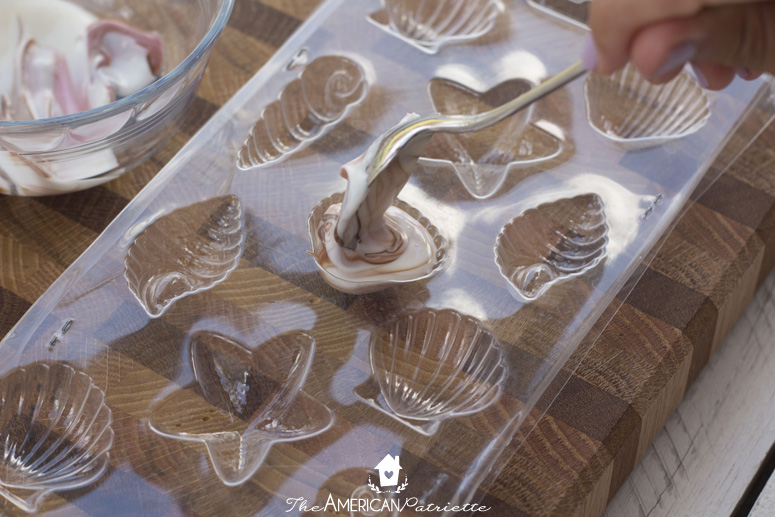 And just keep going!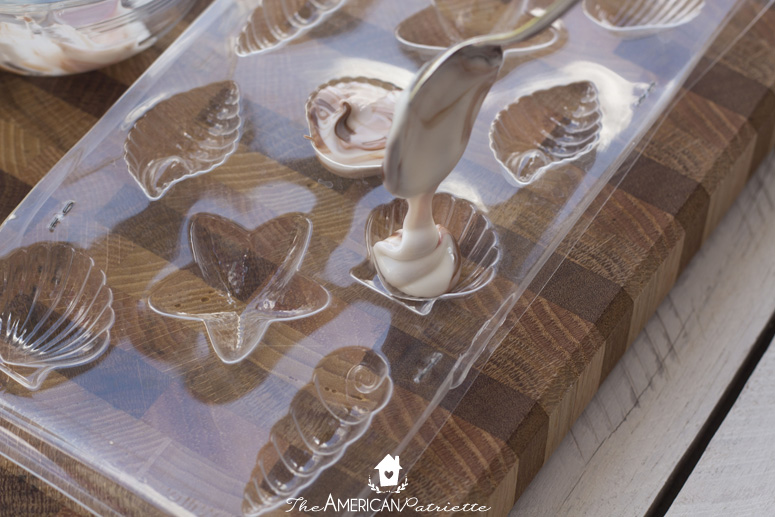 Add a little more melted candy to the bowl, swish once or twice, and continue.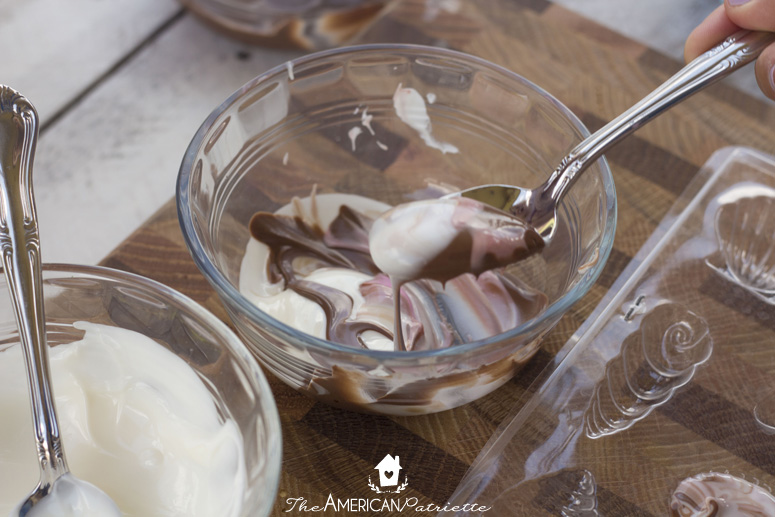 And there you have it! Once you've filled up each seashell, place the tray in the freezer (make sure it lays flat in there so the candy doesn't move) for about 15 minutes or until the seashells are completely set.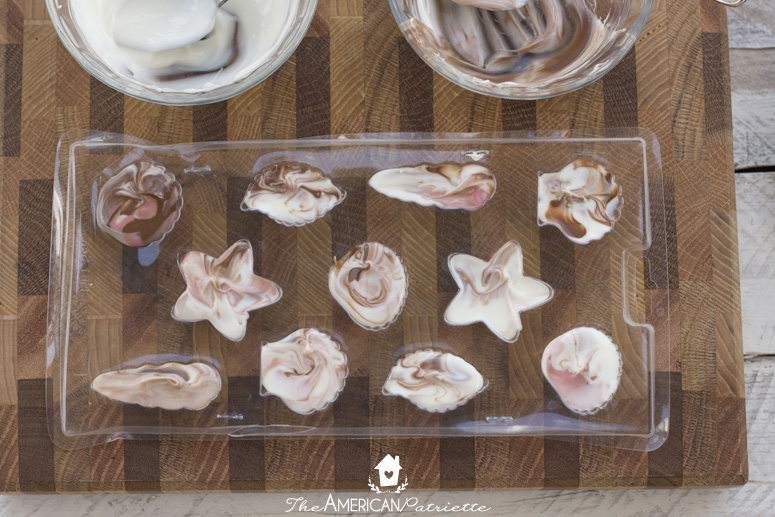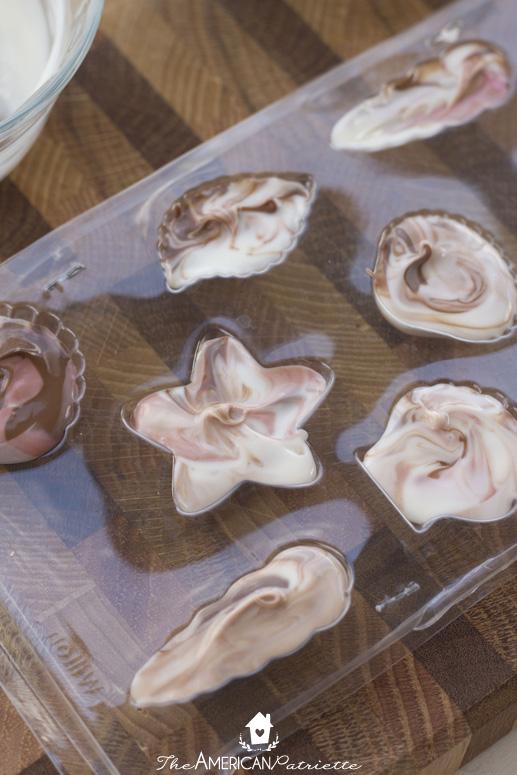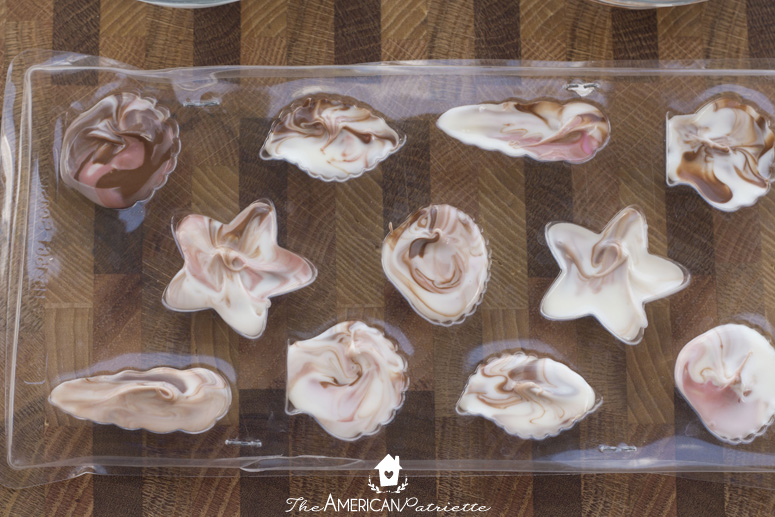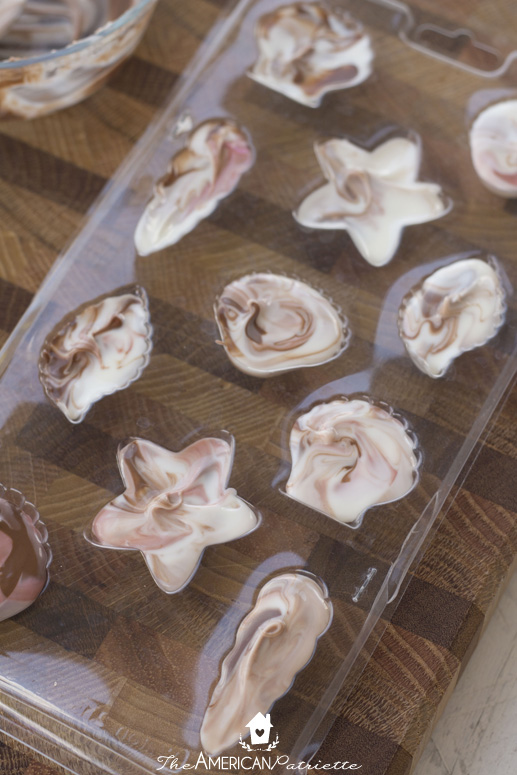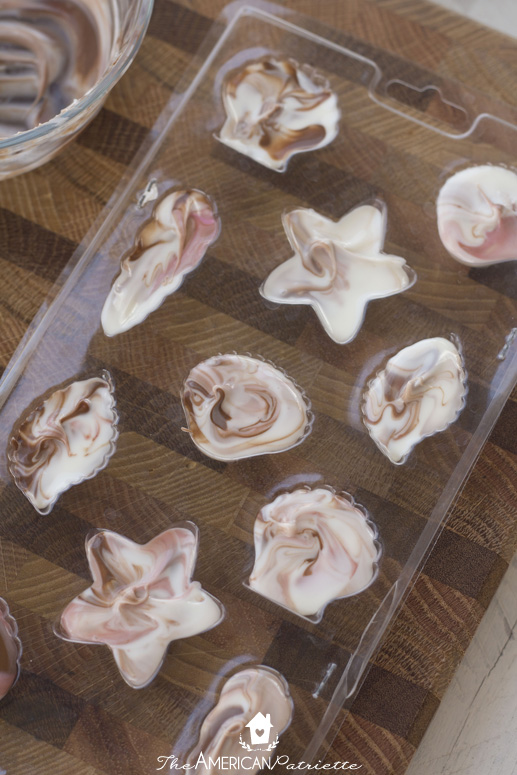 Once you take the candy mold out of the freezer, just turn it upside down and the candy seashells should literally just fall right out. Should be rather effortless!
Look how pretty! You can play around a little bit with colors if you'd like, but I think using these three colors makes them look pretty real and natural!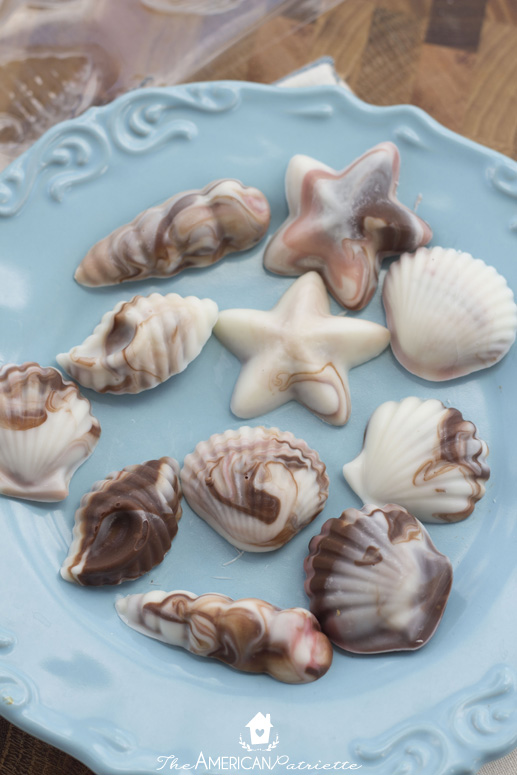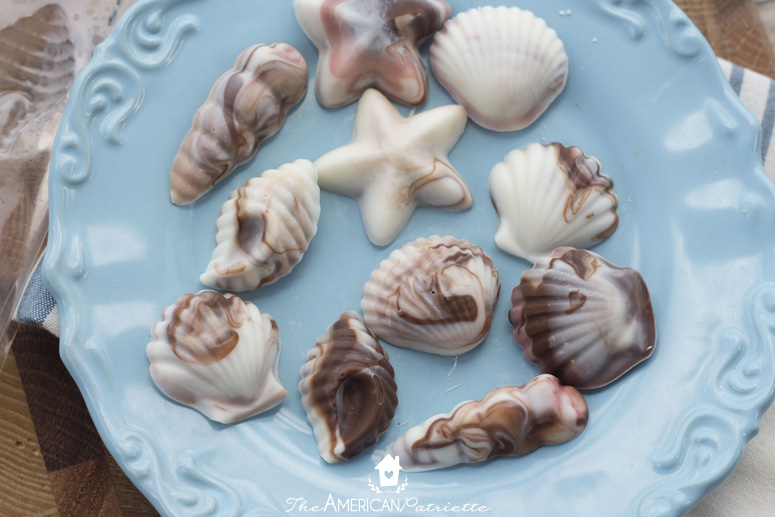 I made truffles, sprinkled on some graham cracker crumbs, and then topped the truffles with the candy seashells. So lovely!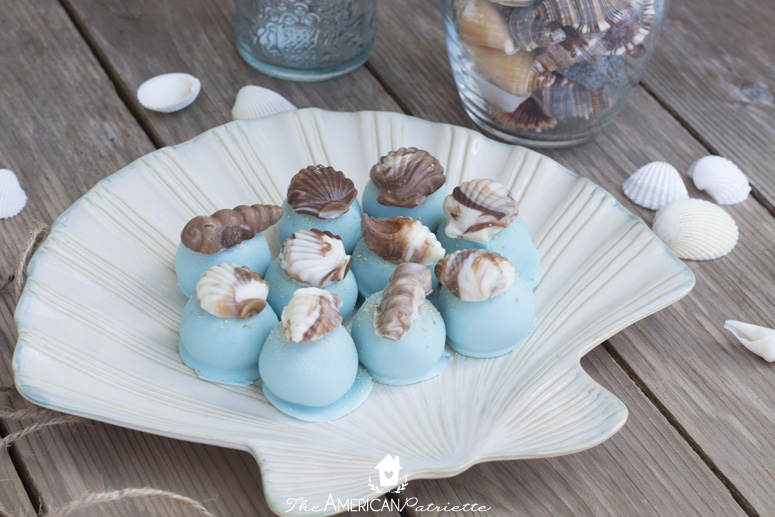 They look so elegant, yet my gracious – you saw how easy they were to make!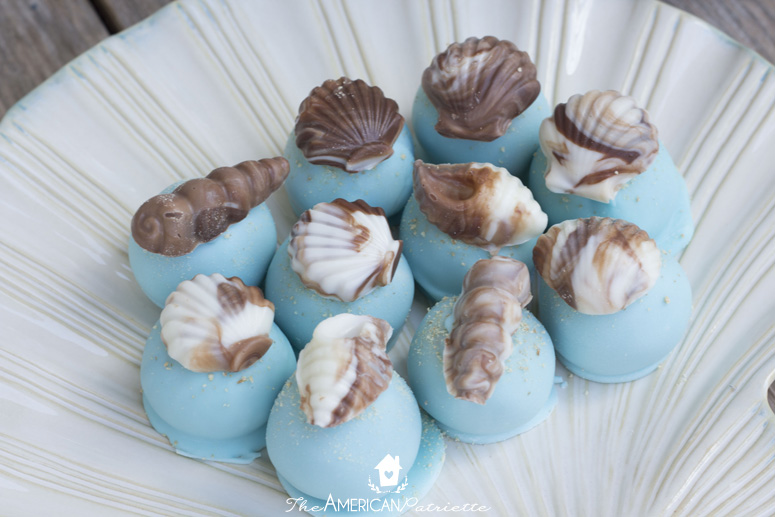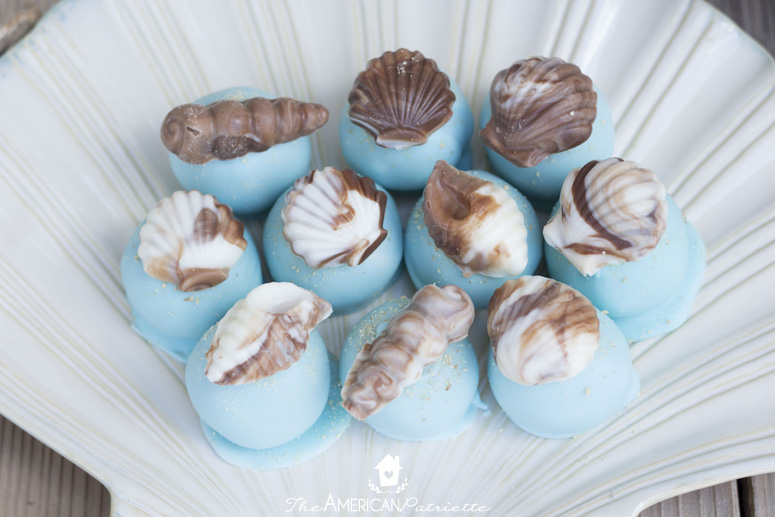 I hope you have some fun celebrating someone by making these for a beach-lover, or perhaps to just relax and enjoy some sweet treats and time well-spent with some dear friends and family!
Want to remember this fun idea for your next beach-themed party or shower?! Be sure to save this to your favorite Pinterest board!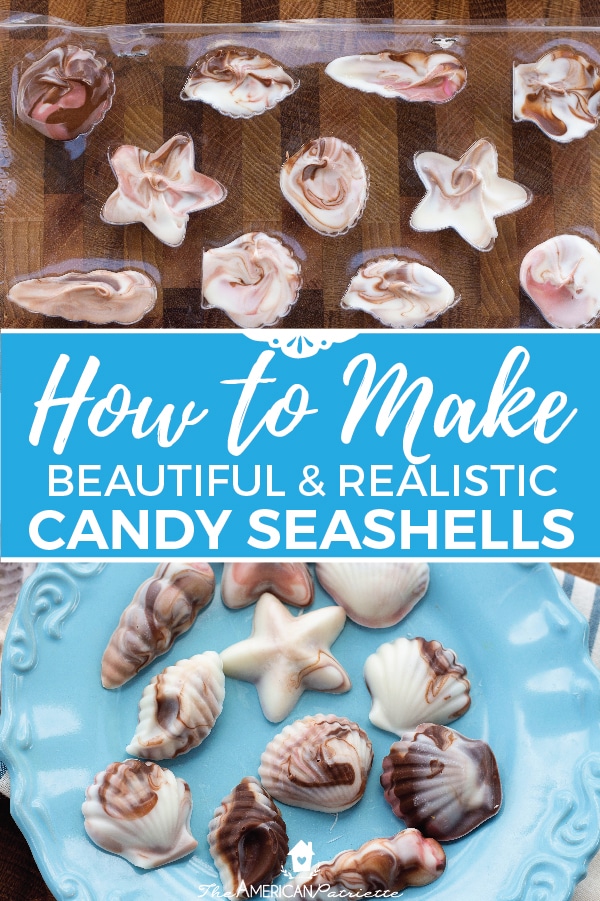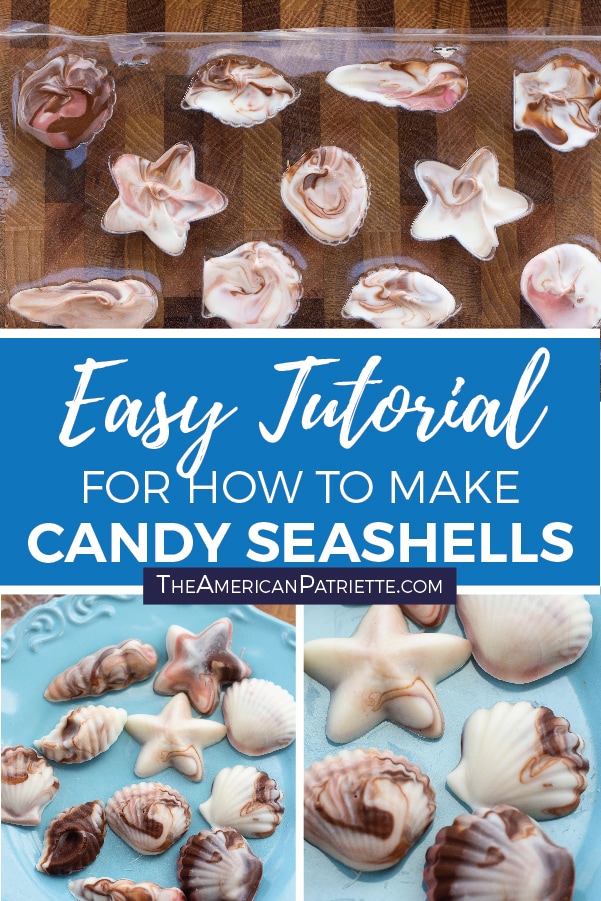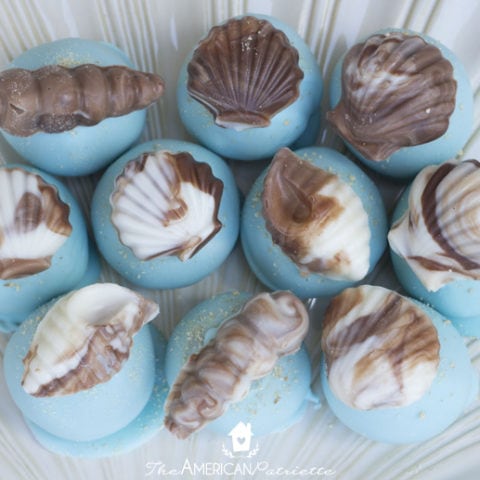 How to Make Candy Seashells
Ingredients
White Candy Bark (at least 4 oz)*
Chocolate Candy Bark (at least 2 oz)*
Pink or Red Candy Melts (about .5 oz)**
Instructions
In 3 small, microwave-safe bowls, place one type of candy in each bowl and microwave for about 45 seconds.
Remove from microwave, stir, and if necessary, place back in microwave for another 30-45 seconds.
Using a spoon, scoop out some of each color and place in empty glass bowl. Swirl colors once or twice with spoon to create a marbled effect.
Spoon out the marbled candy into candy mold. Fill to top and use spoon to level out candy.
Repeat until you fill each vessel of the candy mold.
Place candy mold flat in freezer for 15 minutes or until candy is completely set.
Turn candy mold upside down over a plate, slightly twist, and the candy seashells should fall right out.
Notes
*There's no strict requirement on how much of each color to use, but I think they look the most natural when you use mostly white. If you're making more than 13 of these seashells, adjust the amount of chocolate you use accordingly. You can easily store leftover melted chocolate in a plastic baggie. It'll harden, so you can just remove it from the baggie, place it in a microwave-safe bowl, and easily melt it again.
**If you use red candy melts, you can mix them with extra white to make a pink hue.