Looking for some rustic cottage farmhouse Christmas decor ideas?! You've come to the right spot! Get some easy and gorgeous inspiration for adding that lovely country charm to your home for the holidays!
I've written several "ideal list" posts like this for different seasons, and while this one is going to be similar in nature, I also feel like I'm taking a fairly unconventional approach to typical home tour posts.
This isn't a cottage farmhouse Christmas home tour.
Home tours have their place in the online space – I LOVE looking at other's spaces. But, I don't do home tour photos for a couple of reasons: one, because my entire house isn't home-tour worthy, and I am totally ok with that. I absolutely love our home – as builder-grade-and-in-a-cookie-cutter-neighborhood as it is; we've done A LOT of work on a small budget to fix it up to where we love it.
Lots of projects we still have yet to get around to doing, but, I love our home, but just because it looks pretty to us and when others come over and enjoy it with us, a lot of it just doesn't photograph well.
And two, sometimes those home tours are intimidating and it's hard to glean realistic examples for how we can apply those gorgeous home decor tips to our own homes!
And my goal is always to HELP YOU figure out some new and fun ways to decorate YOUR own home!
I've finally figured out ways to really dress up our builder-grade home with that lovely country cottage charm I love, decorate with sentimental items that actually mean something, and by adding pops of color and seasonal elements throughout our main areas.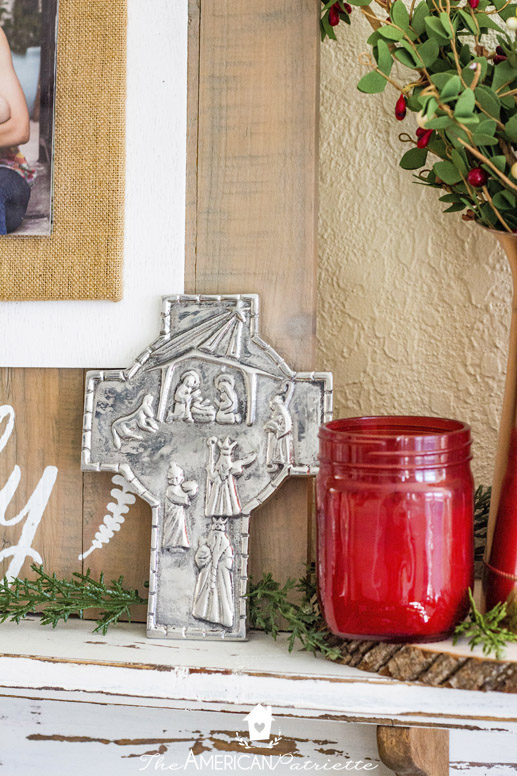 So many of us love making our home feel warm, welcoming, and a space we're so proud and grateful to share with others. So, that's always my mission. 🙂
That all being said, let me show you some simple ways you can add that gorgeous country farmhouse charm to your home for the holidays!
1. WREATHS
I know, so obvious, right? Why am I bothering? Wreaths at Christmas. Duh.
But, I want to show you how to decorate with wreaths in a few different ways – they're not just for front doors anymore! And, tastefully adding some in here and there really helps to give your home that lovely rustic cottage feel!
Here are some different ideas for types of wreaths, as well as where to display them in your home:
Entryway wreaths – especially on mirrors!
Love this beautiful evergreen wreath on that white cathedral mirror from Hobby Lobby!
It adds some interest and texture to kind of this awkward cut-out space we have in our entryway.
And here's another example of an entryway wreath – I added some pine cones and berries to this everyday magnolia wreath on this mirror that you see right as you enter in our home. We don't normally have a wreath on this mirror, but I'm liking this look – I might have to do it beyond Christmas!
Those magnolia leaves give off such a cottage farmhouse vibe, don't they?! SO easy to make this feel a little more Christmas-y by adding in those 5 pinecone wreath accents.
And, in line with my goal of loving seasonal decor without having to store a ton of stuff, doing this enables me to have a pretty Christmas wreath AND everyday wreath – I can easily remove those holiday accents after December and it turns into a wreath I can display any other time of the year.
Accent Wreaths
These simple white berry wreaths were a perfect (and EASY!) addition to those farmhouse corbels on either side of this bookcase.
Normally I have different accents hanging from those simple corbels, but it was really simple to switch them out with some smaller accent wreaths.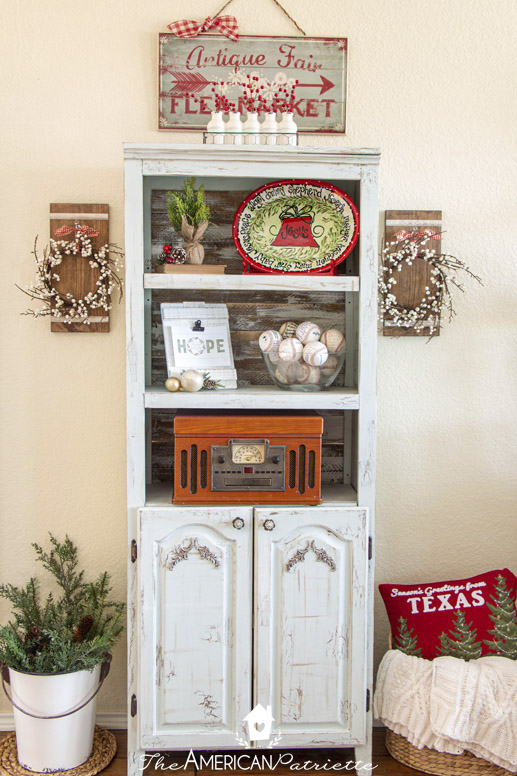 Sometimes it's a bit much to hang up a full-sized wreath inside. These mini wreaths are perfect for other spaces!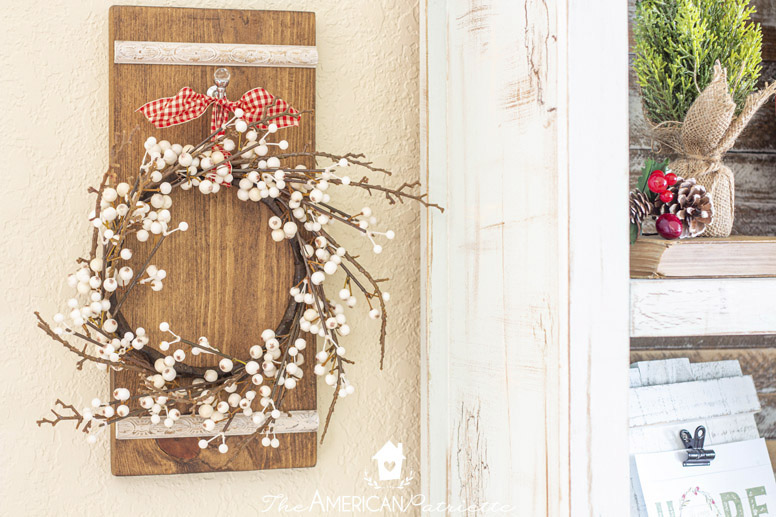 Wreaths on the mantel
This simple evergreen and holly berry wreath is another smaller-than-average wreath that I love to hang on this rustic wooden cathedral frame on my mantel.
This space actually looks a bit bare without a wreath hanging from the cathedral frame, so I have a different small seasonal wreath hanging on there all year long.
Once again, just like that awkward entryway space we have, a wreath is a great solution to help fill in some gaps in your decor without looking too cluttered.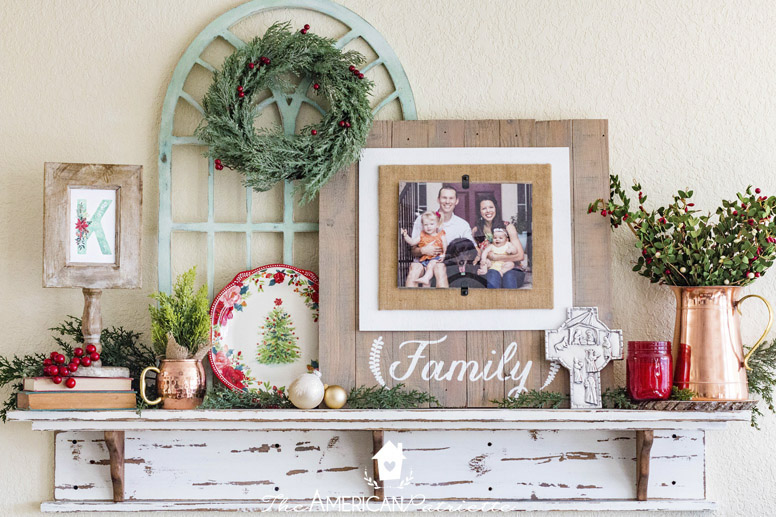 Kitchen Wreaths
I love hanging a seasonal wreath on this home(made) sweet home(cooked) sign above my oven!
Apparently I have a think about filling awkward spaces, because this was yet another awkward space I wanted to fill – that long and skinny sign was a perfect fit for here, and then framing out that "sweet" with a little wreath seemed like a perfect fit.
Even without a sign like this, you can easily decorate with wreaths in your kitchen – on cabinets, hanging from an empty space above your stove/microwave, on a pantry door, or hanging from a hutch shelf.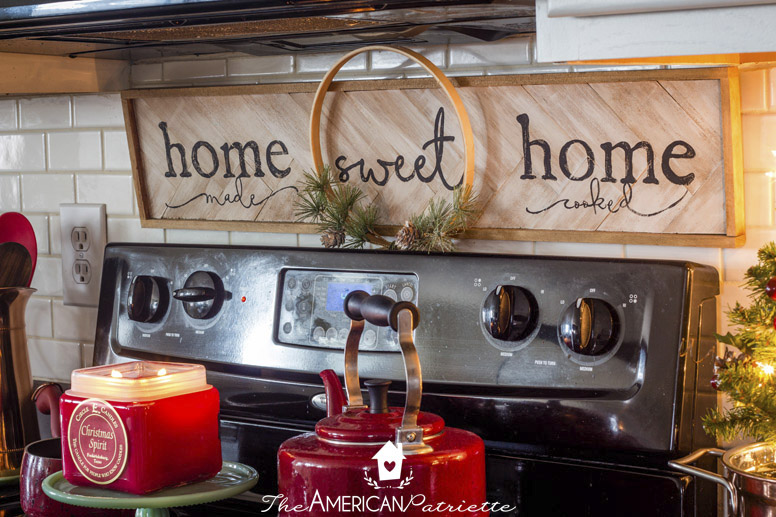 2. CANDLES
I take candles seriously around my house, and I have a hunch you feel the same way!
Instead of making candles a means to an end for creating a yummy smell in my house, I've started creating little vignettes with them, and the cozy factor just went WAY up.
I always have a seasonal candle in the middle of my kitchen table in that simple centerpiece, one on my bar next to a seasonal printable, at least one or two in my entryway, and at least one or two in my kitchen.
While I'm pretty particular to my beloved Circle E Candles (made in TX, and they remind me of my Granny and my aunts who got me hooked on them, so they're very nostalgic for me!), I'll pick up a candle every once in a while at Hobby Lobby or Home Goods if I find a scent I really like and if it comes in a pretty jar that I can display.
Pretty & home-y smelling candles definitely give off a cozy farmhouse feel!
3. CHRISTMAS PRINTABLES
You see these cottage farmhouse style printables all throughout this post, but I wanted to put a special highlight on some of them here to show you just how much cheer, personality, and warmth they add to your home!
By the way, if you love the idea of decorating with these GORGEOUS Christmas printables as much as I do, you can get access to every single one of them in this post + literally hundreds more for other seasons in The Home & Gather Toolkit!
I struggled for years to find the type of colorful decor I liked in stores, so I just decided I'd see if I could design some things on my own to bring that welcoming cottage charm in my home.
And then I got totally addicted. To both designing and decorating with these printables! I've made collections for just about every season, and since I know many others are looking for the same decor solutions for their home, I decided to put all those designs into the Home & Gather Toolkit so other ladies like you could have access to them, too!
Here are some of the ones inside the Christmas Collection:
Christmas Scripture Printables
Love how these bring beautiful truth in our home!
Meal Planning Printables
Probably the most practical printables I have! I LOVE these – they make my meal planning so much prettier and way more organized.
I was finding that, I'd create my meal plan for the week, write my ideas down on my grocery list to help me think through the ingredients I'd need to buy at H-E-B, and then once I finished shopping, I'd toss my list and then would often forget a meal or two I was planning to make.
I don't have the wall space in our open kitchen to have a big meal planning board (nor do I really like them that much…they're kinda clunky!).
So, I came up with this solution – an adorable menu board clip frame made from a cutting board.
I love displaying it because it goes right along with my other cottage farmhouse décor, and then I just keep a stack of those seasonal meal planning printables clipped to it so I can write down (and finally remember!) my meal plan for the week.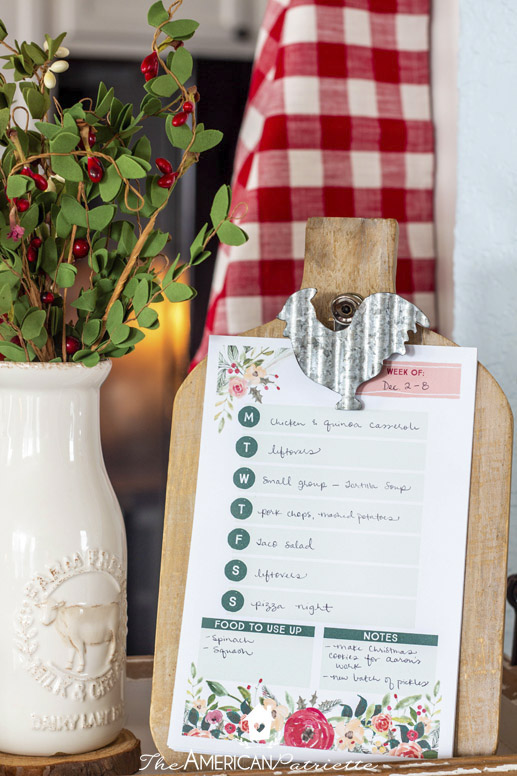 It's the little things in life, right?
If you're loving this idea, go check out this really easy tutorial for how you can piece together your own DIY menu board clip frame (we're talking like 15 minutes!) and you can display the same thing in your kitchen!
Christmas Hymn Printables
Anyone else absolutely love listening to the Pentatonix holiday station on Pandora?!
For one, I just love the style of Christmas music they play on there, but I also love it because the majority of the songs they play are the classic Christian-inspired Christmas songs on there.
Love me some Gloria in Excelsis Deo. Oh man, that reminds me! I need to create a printable for that!
But, here are three gorgeous printables I did create based on some of those beloved, classic seasonal tunes:
Noel – Born is the King of Israel
Inspired by "A thrill of hope; the weary world rejoices"
And of course, Joy to the World!
Seasons Greetings Printables
I don't really know what else to call these, but that's just what these are! I wanted a welcome sign I could use all year long but still make it seasonal – this rustic pallet clip frame was my solution! 🙂
You're starting to catch onto how much I love being able to easily decorate with beautiful things without having to keep a bunch of storage bins on hand for every season, aren't ya? ?
Anyway, I made 3 different versions for the holidays…as much as I don't love lots of storage bins, I'm NOT a minimalist and I love variety, which means I love providing variety, too. So, you get multiple options in the Toolkit.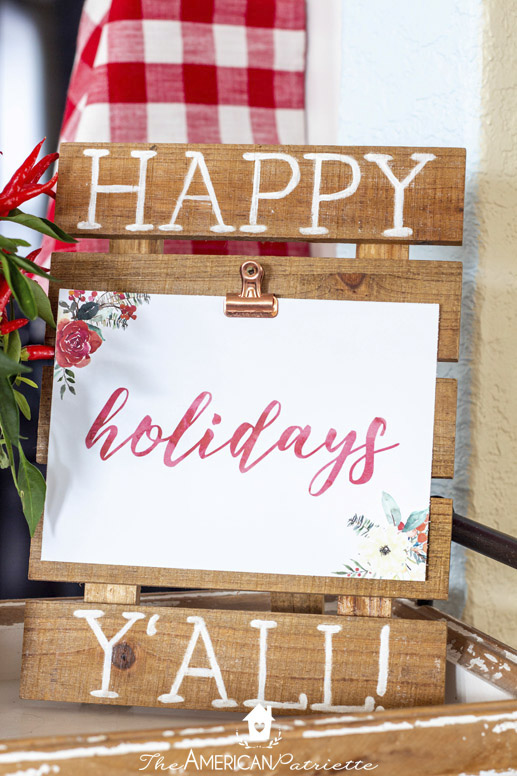 Home Printables
Here's the "home" collection for Christmas – these are so perfect for your entryway!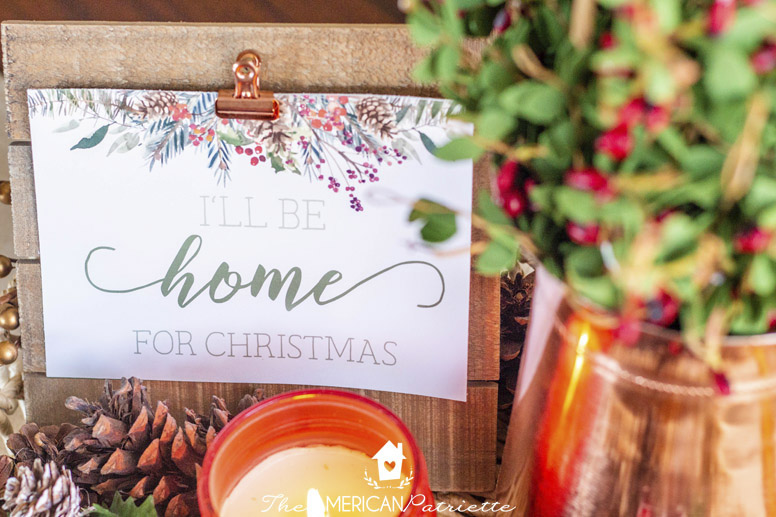 Kitchen Printables
Really, all of these Christmas printables would go just fine in your kitchen, but I'm head over heels to share this one in particular for your kitchen with you:
If you're a baker, if you love puns, and if you love this floral farmhouse style, are you not just drooling right now?
Create an adorable little Christmas vignette in your kitchen with this printable, a cookie cutter or two (this heart one was my grandma's – so sweet, right?!), and Christmas cupcake liners & sprinkles!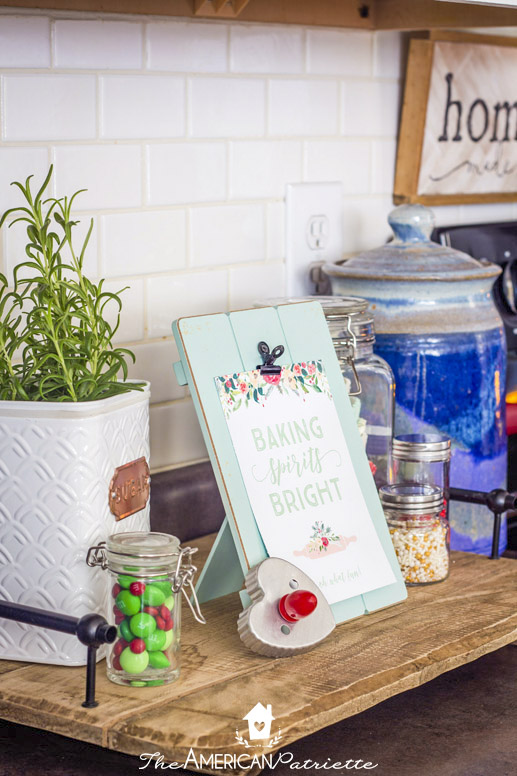 A-D-O-R-A-B-L-E on your kitchen counter, friend!!
Monograms
I love that these can add an even more personal touch to your home décor with your own initials!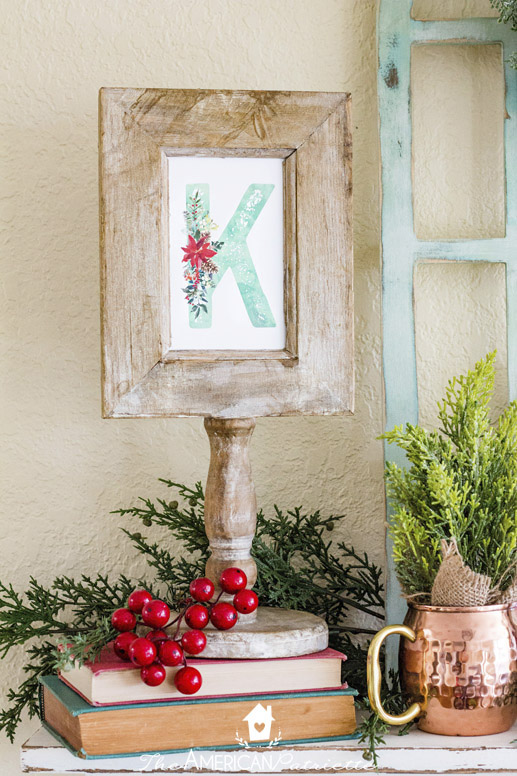 Yes, I have gorgeous monograms just like this one (and another design, too!) in every letter of the alphabet + the ampersand, all available in the Toolkit in both 5×7 and 8×10 sizes. 🙂
4. RUSTIC CHRISTMAS GREENERY & ACCENTS
Ok, let me talk you through some ideas here for how to bring in some farmhouse charm with rustic Christmas greenery!
Gorgeous Garland
For one, you need to get yourself a gorgeous, full piece of Christmas garland. I get mine at Hobby Lobby when they're half off (which is like all of October, November, and December…!).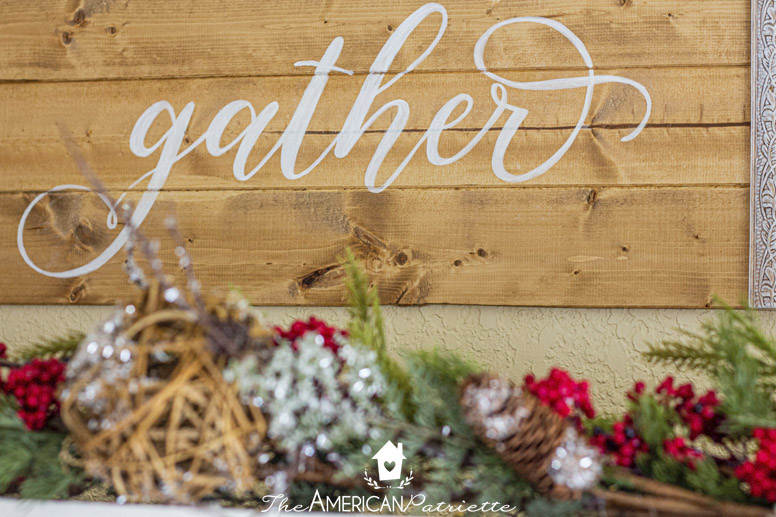 I have a few places where I put garland in my house – my favorite is on top of this hutch.
You could also put it on a staircase (which we don't have), a fireplace mantel, and to line the back of another piece of furniture like I do here in my entryway.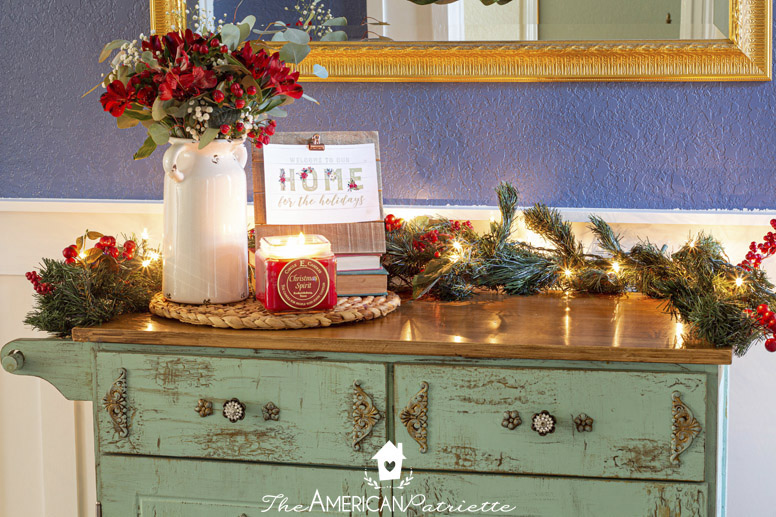 I also line the back of my nativity scene with garland – this rustic garland really helped make it feel…warmer?
I don't know, but all I know is, I wish I would've thought to do this sooner!
Evergreen Branches
Instead of decorating with a house plant (does anyone else have problems keeping them alive?!), toss some faux rustic-looking evergreen branches into a farmhouse-style bucket and voila! Easy way to spruce up an area!
Spruce.
Get it?
If so, you're welcome. ?
And, you can see how adding some really simple faux evergreen branches to the mantel makes a HUGE difference. I just took one faux evergreen branch and broke it apart so I could just lightly intersperse branches/leaves on my mantel (which is too small to hold a full piece of garland).
Here's my mantel this year: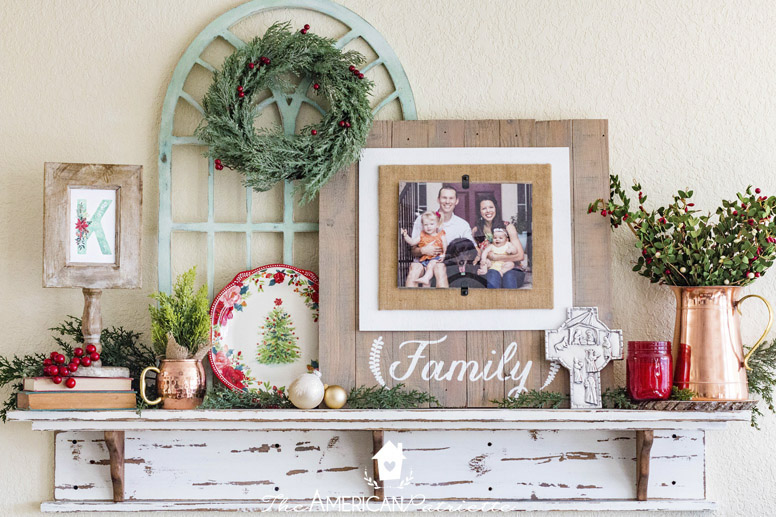 And here's how I had it last year:
I went back to update my free printable Advent Calendar post from last year, and I flinched when I saw my photos. I've been decorating with faux seasonal greenery this year on my mantel, and it's made a huge difference! I forgot how bare it looked without it!
(By the way, you can get free access to that gorgeous free printable Advent calendar! Go to the free printable Advent calendar post I created – you can get access to it there & also see how easy it Is to assemble!)
Repurposed Christmas Wreath Accents
Go peruse the wreath-making aisle at Hobby Lobby and you'll find a plethora of beautiful elements you can use for far more than wreaths!
I'll display them in a container the same way I would some flowers…
…and to just add a "pop" to another piece of décor.
You'll notice I do that a LOT in the photos throughout this post! Such an easy way to decorate!
Pinecones & Ornaments
I'll use a mixture of pinecones and ornaments (and often those same wreath accents) to as ways to fill displays like a bowl:
Or a centerpiece:
And, as you've seen throughout a lot of these photos, it's easy to add a vintage-looking ornament or two to a display. I particularly love these here on my mantel:
5. MINI RUSTIC-STYLE CHRISTMAS TREES
A perfect way to dress up a shelf or add some extra holiday cheer to some other decor elements!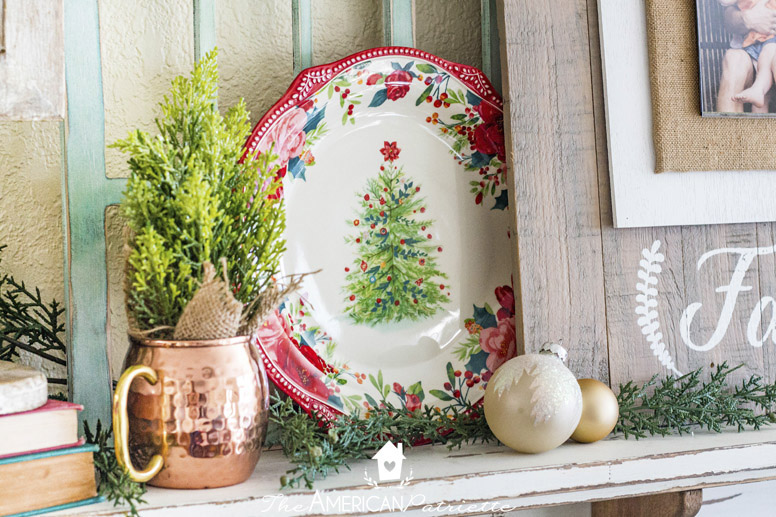 I have a few different mini Christmas trees throughout my house (and by mini – they really are small!): in our entryway, on the bar of our kitchen counter, on my mantel, and on my hutch & bookcase.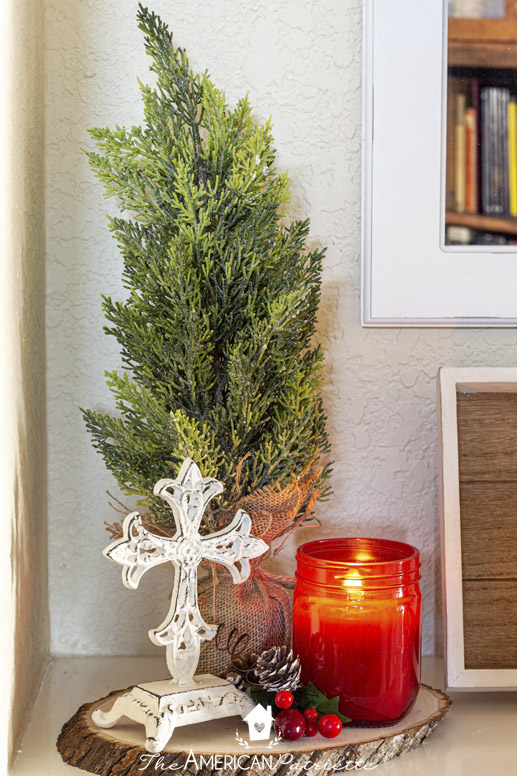 And when they're this small, you can even use them as a centerpiece on your kitchen table!
I really hadn't thought of decorating with miniature Christmas trees before a year or two ago, but now that I have some, I absolutely love using them! If you love florals like I do, they're a great alternative to faux florals this time of year, aren't they?!
6. DECORATE WITH "USEFUL" ELEMENTS
In other words, you can easily repurpose some things you have in your house to help you do some seasonal decorating.
I love doing this for a few reasons:
Several of these items are ones we all likely have on hand anyway!
This is SUCH a great way to decorate with sentimental items. For instance, that copper vintage tea kettle isn't too functional as a kettle, but it's PERFECT for display, and my grandma's red flour sifter – it doesn't work very well any more (there's no telling how old it is, and I just love that!), so I realized I could use it as a vase. How many sentimental, nostalgic things do you have in a box in your attic that you could bust out and start using for decorating?
For some reason, the functionality of all these pieces gives off a cottage farmhouse vibe. I can't quite put my finger on it, but after figuring out creative ways to display useful items (whether or not they're still useful for what they were originally intended) rather than using ONLY items you'd find on a home décor aisle of a store, I feel like my home just really helps tell a story. And, well, I think those of us who like that cottage farmhouse have strong ties to our family stories, ya know?
Canisters, Pitchers, & Kettles
I mentioned this before, but repurposing canisters, pitchers, and kettles are perfect for vases! You can see how I do that here: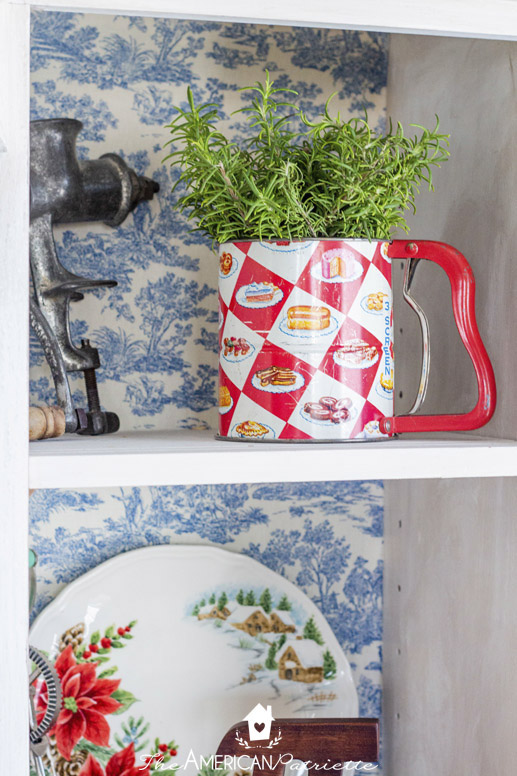 Collander + Cookie Cutters
For a couple of years, I put a small Christmas tree up in my kitchen next to my coffee maker and turned it into a way to display K-Cup ornaments.
The Christmas tree with those reusable K-cup ornaments was SO CUTE (and functional!) – if you have a K-cup coffee maker, you might need to check out this tutorial for how to make a K-Cup Christmas Tree!
However, we've since gotten rid of that coffee maker (it was such a lemon – I would definitely not recommend that brand anymore!) and now just have a regular 12-cup coffee maker instead of a side-by-side carafe + single-cup maker.
So, since I no longer-needed a K-cup Christmas tree in my kitchen, I started thinking about how I could create a different kitchen-themed Christmas tree for my counter with the same tree.
There's only about a 17" space between our counters and upper cabinets, so I can't have a very big tree on my counter, which also means I'm limited on what I can put on it – I tried doing some adorable baking-themed ornaments, but they just dwarfed that tree!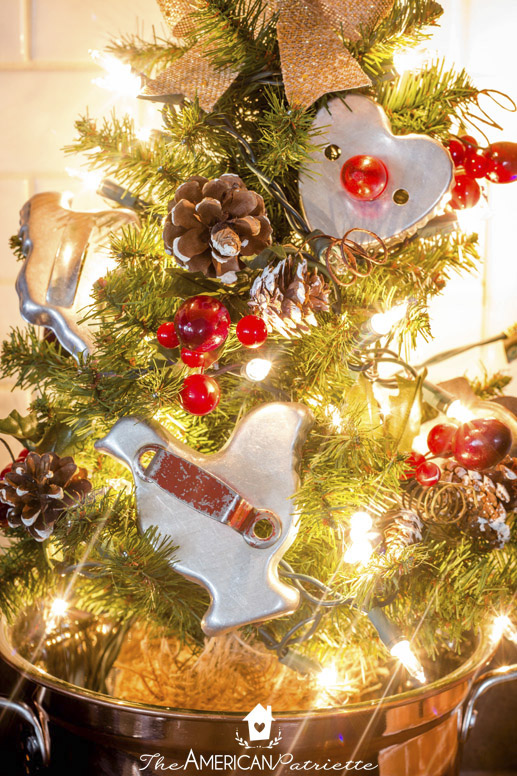 Then, that little lightbulb went off in my head and I started wondering what it'd look like to display a Christmas tree in a colander & add some of these vintage cookie cutters from my Grandma to the tree.
They've just been sitting in a box in my pantry – DING, DING, DING! We have a winning combo!
So, you basically need to go do this too. Go get a copper or vintage-style colander if you don't have one, scrounge up some nostalgic cookie cutters, and have fun!
Towels
I love to use dishtowels to add some seasonal flair in my house!
They're beautiful and functional! I get most of mine at Home Goods – they almost always have some cottage farmhouse-style towels for each season!
The towel that has the printed recipe on it – that's my Granny's original apple pie recipe in her handwriting.
I know, how sweet is that?! It was quite simple to make – go check out this tutorial for how to make a DIY handwritten flour sack towel.
If you love these ideas – decorating with functional pieces throughout your home – you can get more inspiration for post-Christmas decorating in some of these posts: Cottage-Style Valentine's Decor, Rustic Spring Decor, and Cottage-Style Patriotic Farmhouse Decor.
7. CHRISTMAS FLORALS
As much as I enjoy poinsettias, sometimes they're a bit big for certain areas I want to display flowers.
Plus, we're going for that rustic cottage charm – throwing in some other florals help to get us that look!
I found this ADORABLE chili pepper plant when I was grocery shopping one day. It was $5. I had to get it!
And then a beautiful bouquet of flowers with different hues of reds, greens, and whites – always a great way to add in some fresh color!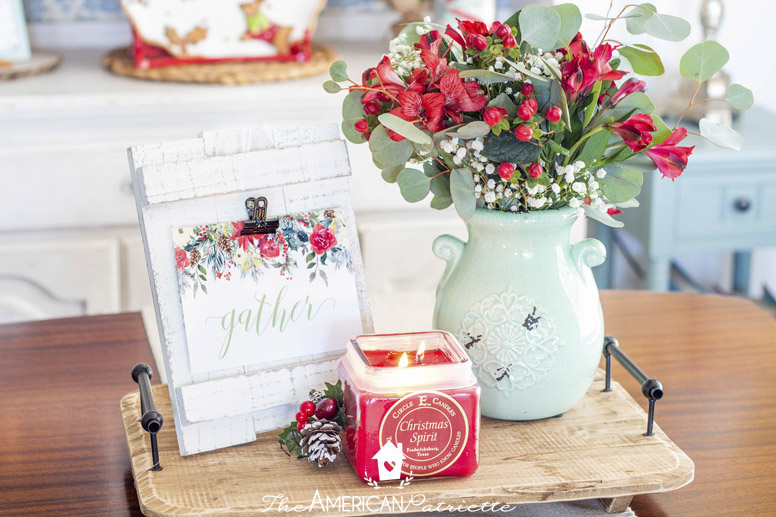 And, you don't always have to add flowers for freshness. This bunch of fresh rosemary adds a gorgeous pop of green to my hutch, and I had some in my kitchen for a while before it was time to plant it outside.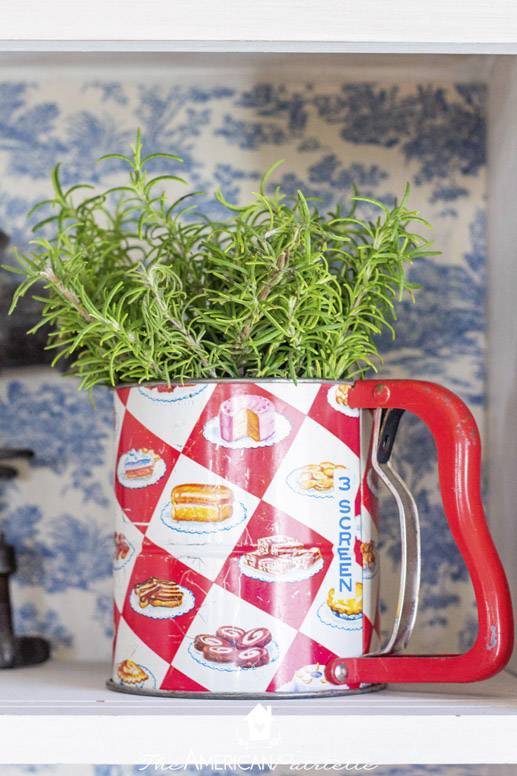 8. CHRISTMAS PLATTERS
Along the same lines of decorating with useful elements: friend, get those Christmas platters you keep stored just to use for bringing Christmas cookies to a party and actually display them!
I got this Cookies for Santa platter (LOVE the country look of it!) as a gift – it originally came from Cracker Barrel. So, there ya go if you're looking for one similar in style to that one!
And I got this Jesus platter – just one of my favorite Christmas items ever – as a gift, too. These are just too pretty to only use when I need to bring cookies or brownies somewhere during December! It's fun to give them the spotlight.
And then this simple farmhouse-style Merry Christmas Y'all platter was one I made to display Texas Christmas cookies, but it's also a great little accent piece for my kitchen counter when I'm not using it to hold those cookies: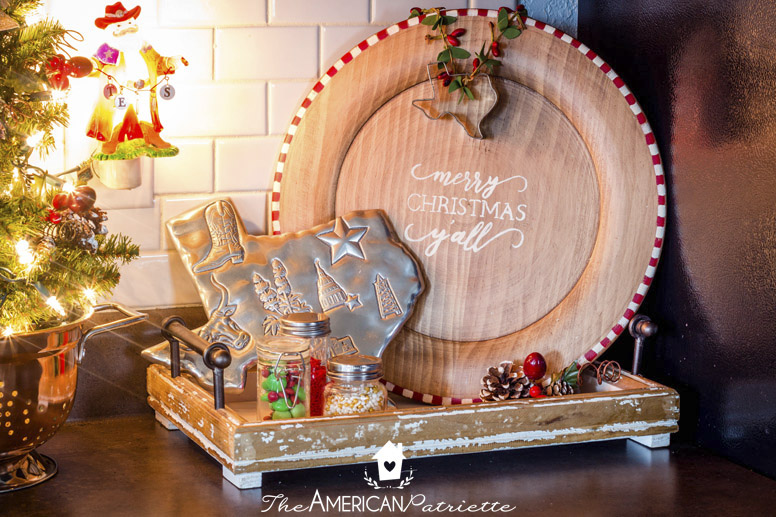 I hung my Texas cookie cutter on it with a couple of faux berry branches I got from one of the other pieces in my house.
Here's what the Merry Christmas platter looks like in use:
So fun, right?! If you want to make the same thing, I have the full tutorial for how to make this farmhouse-style Christmas cookie platter – I show you how you can easily customize the "greeting" to your region of the US, and yes, I even found links to a cookie cutter for every state! (Well, except Hawaii – those cookies would be a little challenging. But, a pineapple!)
I know I have a bunch more ideas up my sleeve, but hopefully that gets you started with some inspiration for how you can easily add some country farmhouse charm to your house for the holidays!
Happy decorating! And, if you just can't wait to decorate with some of those printables, you can access all of them in the Home & Gather Toolkit!
Merry Christmas! Have so much fun gathering in your home this holiday season!