12+ Easy & Colorful Rustic Patriotic Farmhouse Decorating Ideas
Looking for some inspiration for decorating with cottage charm for Memorial Day & July 4th? Check out these easy and colorful rustic patriotic farmhouse decorating ideas. Get some fun & simple tips for an Americana twist on vintage floral farmhouse style!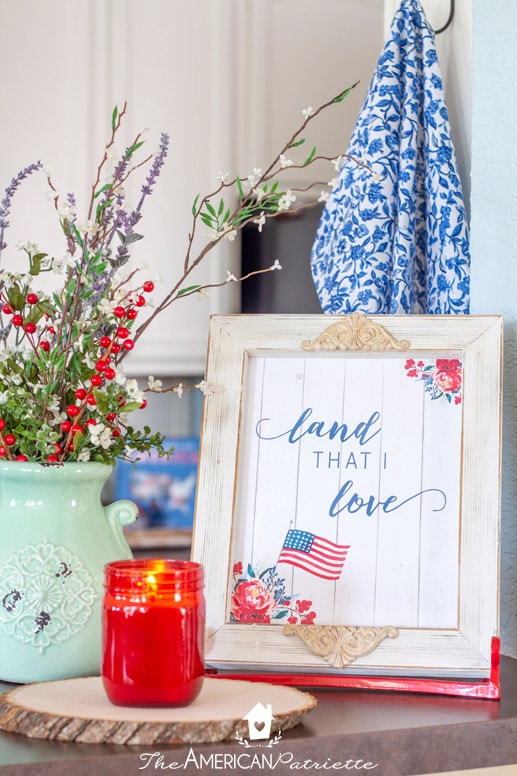 Do you just love decorating with a cheerful, cottage farmhouse look?
ME TOO, and I cannot wait to walk you through some tips on how to stay true to that rustic and colorful style you love and spruce up your house a little for the patriotic holidays! (Without having to spend an arm & a leg on more decor!)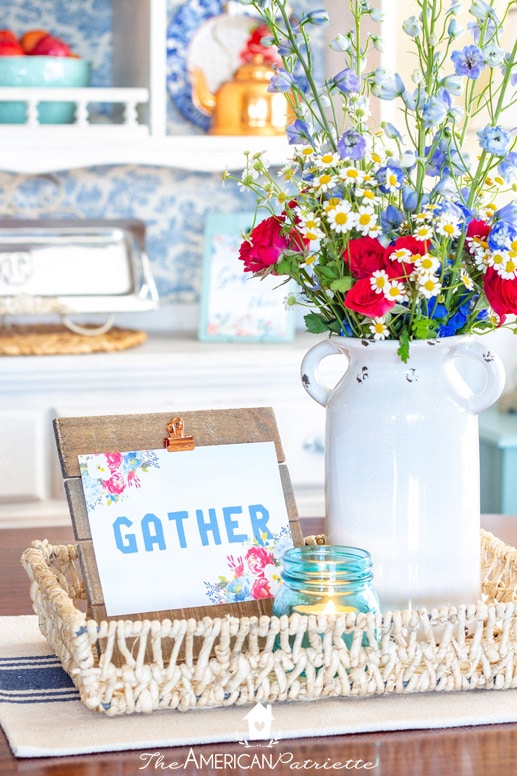 So, if you're looking for some inspiration on that Americana look without having to buy a bunch of extra pieces, find room for zillions of decor-collecting storage bins, and without it taking too much time, you're in the right spot.
In fact, let's see if we can find some things you already have in your house and make 'em shine!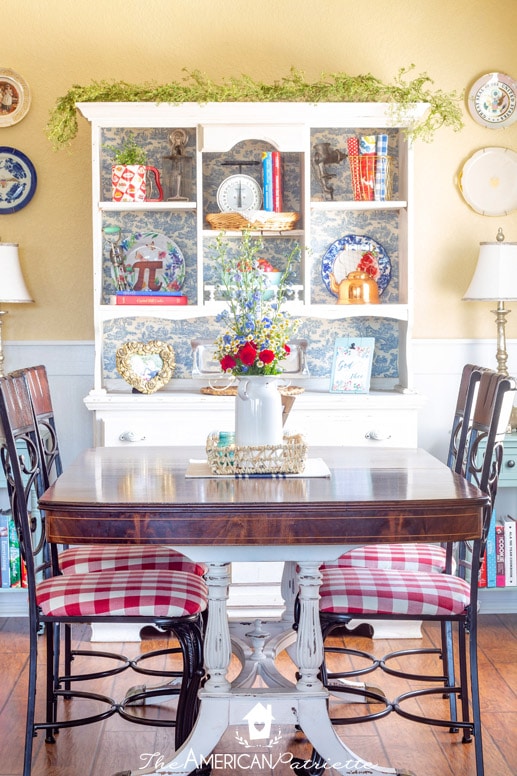 I know how much you love to decorate and fix up your home, especially because you spend a lot of time in it with your fam, and because you love feeling confident and excited to open your doors to welcome others in.
And since Memorial Day & July 4th are prime seasons for gathering, let's spruce up your space and make it a fun place for gathering with your people!
Yay, ok, friend! Let's get onto those DIY decorating ideas!
Colorful & Rustic Patriotic Farmhouse Decorating Ideas
Let's chat about how to add in gorgeous patriotic color without it being over-the-top, how to add in sentimental pieces, how to decorate with things you might already have on hand, and tips on a few extras you can get that won't cost you tons or take up a bunch of space!
Yay! Are you as excited as I am?!
1. Decorate with colorful, rustic Patriotic printables
Honestly, this is BY FAR one of my absolute favorite ways to decorate for the seasons (and really, in between the seasons) these days. I struggled for so. darn. long to find the type of decor that really adds in a big pop of color and florals without it being too modern, too cheesy, and too over-the-top.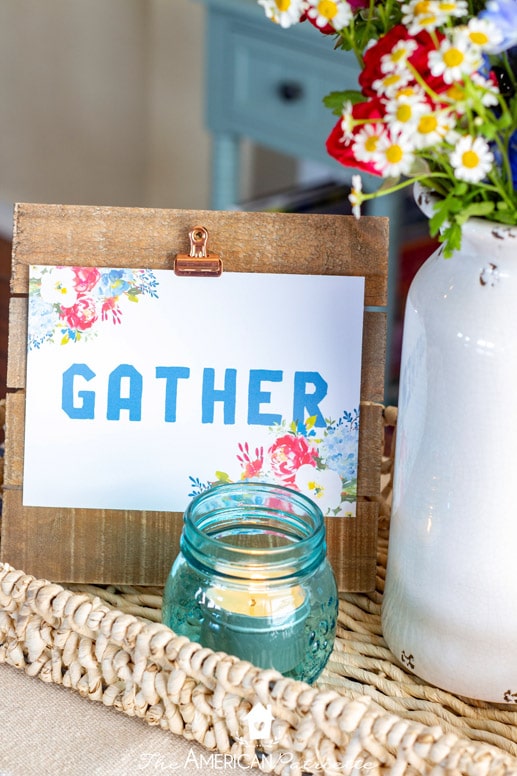 Plus, I just really love for my decor to make my home feel warm and welcoming, while also feeling really FUN.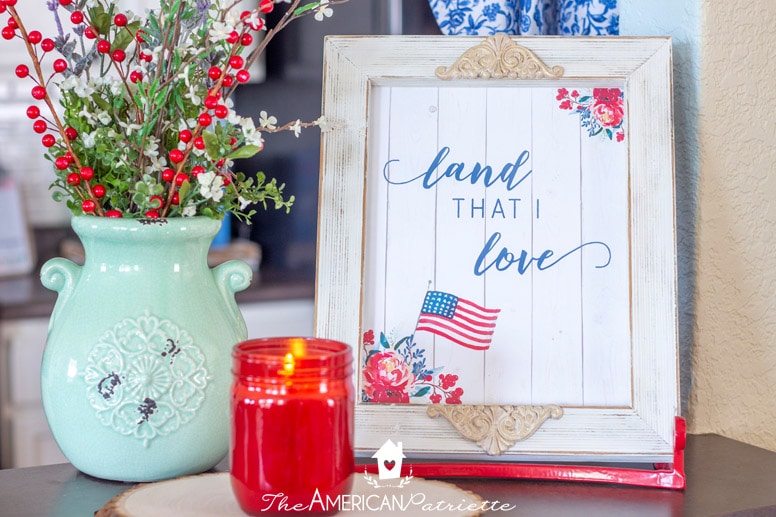 Well, as a DIYer yourself, I know you can relate to this: since I couldn't find exactly what I was looking for in stores, I up and decided one day, I need to just solve this problem by making things myself!
So I did, and, per usual, I got really carried away with it, and now I have a huge collection of gorgeous printables that I rotate – a few at a time – to really add that colorful cottage look I'm going for.
(And a not-so-secret: you can get that gorgeous look, too, by getting access to that constantly-growing collection of decor printables!)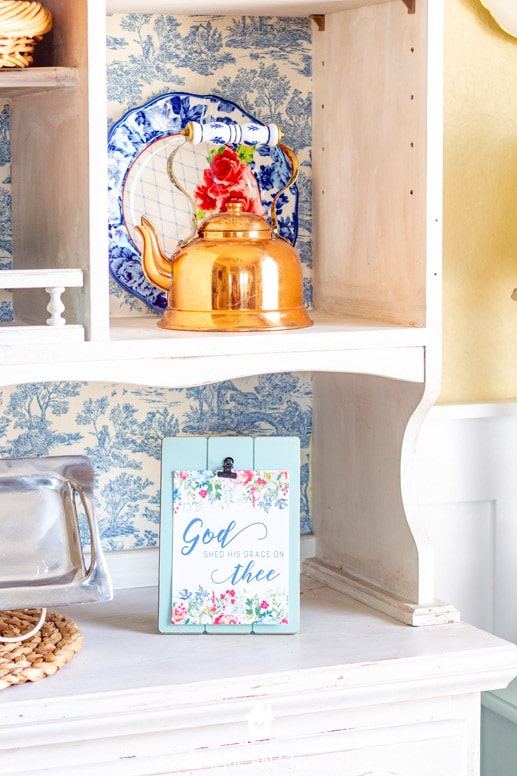 All of these decor printables are located in my Home & Gather Printables Toolkit – they're colorful, flowery, and oh-so-quaint-patriotic!
You can see there's a mix of some general "welcome" and "gather" signs with an Americana-flair, but then there are some that are more overtly patriotic with classic lines from America-based songs.
One thing I love so much about decorating with printables is the ability you have to customize how you want to decorate with them – you can style them in so many different ways!
I have mine displayed all over the place in my house – my entryway, my kitchen table, and in our main gathering area (our house is not that big, friend, so if yours isn't either, join the club!), but you can pick a couple of places to highlight some seasonal elements – maybe your entryway and dining table, or maybe a main gathering space in your house and your mantel.
I love this one next to my bowl of baseballs from my dad – doesn't get much more all-American than that, does it?!
You can display these in regular frames or on clipboard frames. If you want a more rustic look, go for a more primative frame. If you want a sleeker or a more glam look, just change up the frame!
I have a feeling you're a variety-lover, too, and while that can totally get me in trouble sometimes, this is one of those times it's pretty fun. 🙂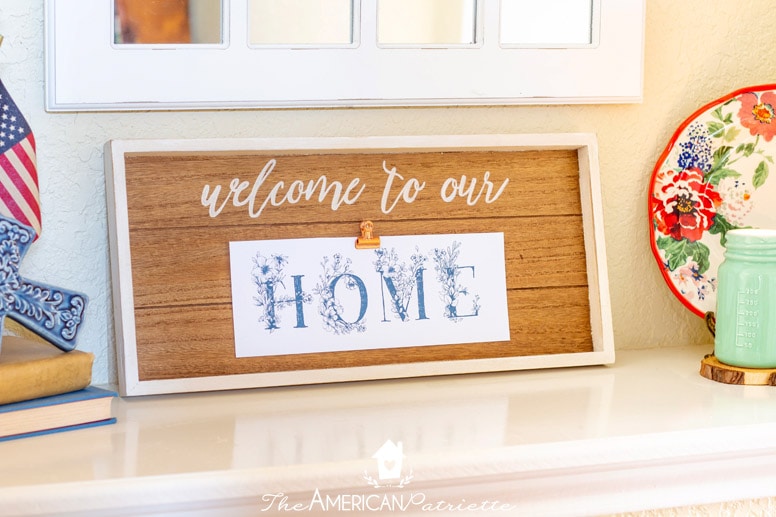 I even have monograms in the Toolkit! Look how fun! Add even more personalization to your home decor.
I'm all about our decor helping to "tell our story," if you will. Ya know? It's just really special to make it feel really personal, and I think it makes family feel even more at home, and makes guests who come into your home just feel like they're being invited to share in someone else's story.
Also, total bonus: these printables take up zero storage space. HIGH FIVE for cutting down on clutter!
2. Decorate with some fresh flowers
I know. They don't last forever. But good golley Miss Molly, fresh flowers sure do shout "HAPPY!", don't they?!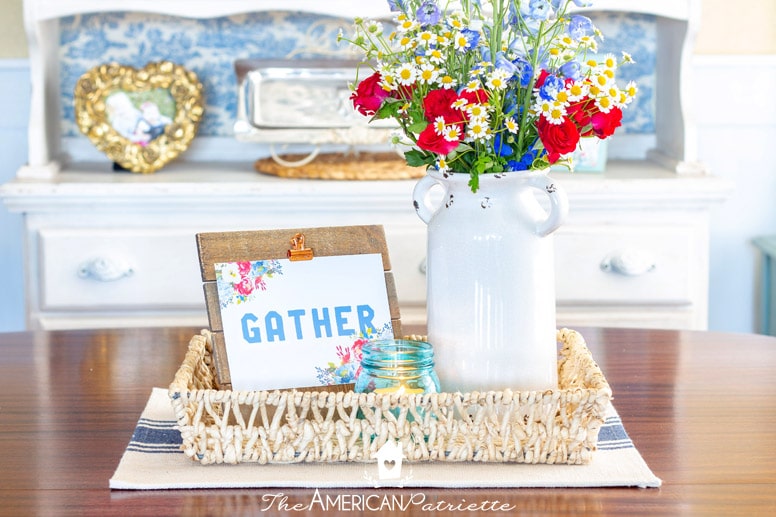 While I rarely give myself the luxury of fresh flowers, they're so fun every once in a while, and you can totally piece together an inexpensive bouquet from some smaller bunches of flowers.
And, they make your house so happy. Which makes you happy. Which makes your family happy.
And a happy momma is way better than a grumpy one. (At least, that's what my kids always tell me!)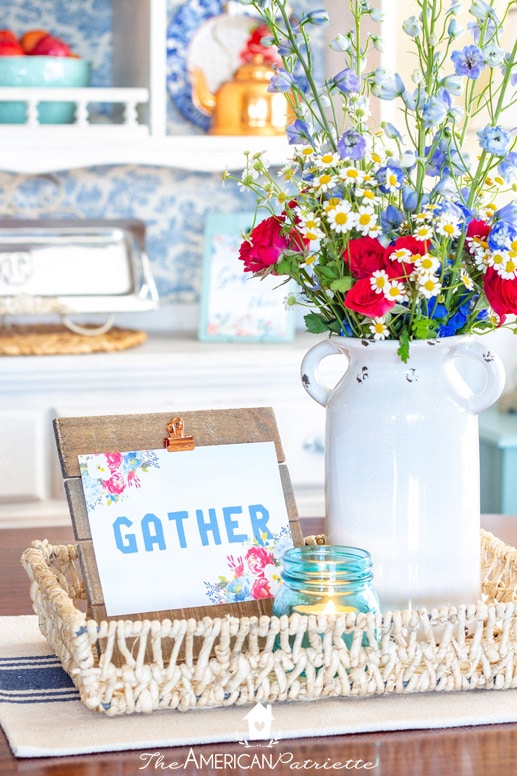 I'm a big fan of messy, asymmetrical, colorful bouquets. They just feel more fresh and cottage-like to me. So, if I do splurge a little, that's the kind of bouquet I get (or assemble myself) for my kitchen table.
But, here's a little hack for spending less on fresh flowers but still getting that fresh & colorful feel!
Use small blooming plants from the grocery store! The small ones I get at our grocery store (my beloved H-E-B) are always less than $5.
Depending on what you get, they'll typically keep their blooms for at least a week or two – longer than a bouquet of fresh flowers.
My favorite little plants to get are kolanchoes. So much color on one tiny plant!
They didn't have kolanchoes in stock when I was looking for the perfect little plant this go-round, so I got some verbenas instead.
But kolanchoes are still my fave. Here's the deal:
When they start loosing their blooms inside and they're looking a little sad (the same way I feel when I really need some sunshine!), just go plant them outside where they can get some sun. I have a big hanging basket outside of all the kolanchoes I've purchased and displayed on my kitchen counter.
So fun, right?!
3. Decorate with red & blue cloth napkins
Napkins are such an easy way to add a pop of patriotic color to your kitchen. I have a hutch in our dining area that I use to display some of my favorite kitchen pieces, and I realized I could oh-so-easily change out napkins each season to make it feel more festive.
And, just like those printables, the napkins take up like NO space.
You can buy them in really inexpensive packs of 4-8 at places like Home Goods or TJMaxx, or you can get them as singles at places like Hobby Lobby, Pier 1, and World Market. I also have a few napkins from the Pioneer Woman line at Walmart. (LOVE!)
And, you don't have to buy new ones for each season. You can easily use some of these napkins for different seasons – you just come up with different pairs, and voila! Looks perfect for fall or Valentine's Day!
Let me show you just how versatile it is to decorate with napkins:
Here's a list of easy fall decor ideas for your kitchen, and here's inspiration for easy kitchen decor ideas for Valentine's Day – you'll see how I just easily change out the napkins to give a whole new look for different seasons! You can do this, too!
And, like I said, you can buy them really inexpensively. Sometimes I'll get an entire pack of 4 at Home Goods if I really love the pattern, but I almost always buy them as singles. So, for $1-3 a piece, it's really such an inexpensive way to add seasonal color.
Look how well they help both add color & help bring out other colors in my hutch:
I know, you're totally hooked, aren't you? Go run out and get yourself a cute wire basket (mine is from Home Goods) and some cloth napkins!
4. Decorate with seasonal towels
And, just like I love decorating with seasonal napkins, I also love decorating with beautiful seasonal towels!
And for a gorgeous, classic Americana look, you just can't go wrong with a blue and white floral pattern, can ya?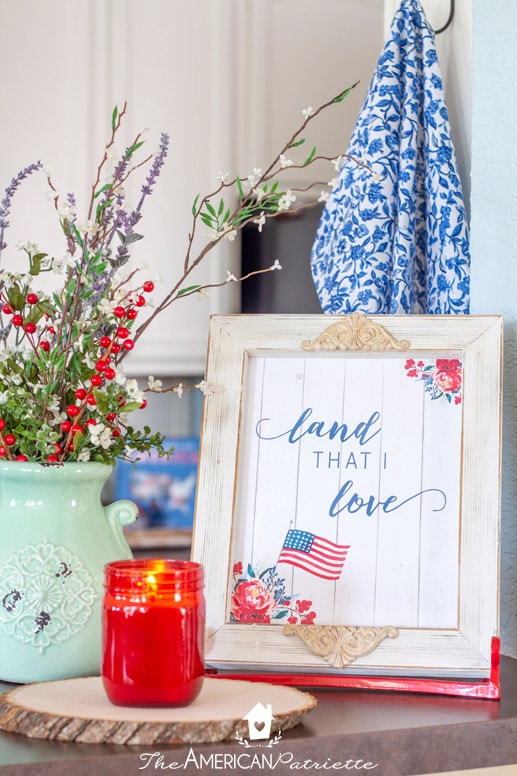 I get almost all of my hand towels from Home Goods or TJMaxx. Such fun selections & so inexpensive!
And, you guessed it: one reason I love them is because they take up hardly any storage space!
5. Mix in some Americana elements
Honestly, this tip kind of comes to you accidentally: I use these two items in my decor year-round, but I realized they're more emphasized and seem a little more seasonal when they're next to other patriotic decor.
So, get yourself a cute flag and display it in a pretty, quaint vase:
And I mentioned these baseballs before – they're always on display in this little hutch, but they seem to feel a little more festive next to that patriotic printable.
I bet you have some things in your house that can easily give off that Americana vibe when placed next to other patriotic elements!
6. Tie in some red, white, blue, or turquoise antique/vintage pieces
Here's where I'm hoping a lightbulb will go off in your head: I'm sure you have pieces in your house that you can EASILY use for this step!
When you combine pieces within that range of patriotic colors, you can easily help give off that patriotic look.
Here's an old red flour sifter from my Grandma:

A turquoise bowl (part of a Pioneer Woman set at Walmart) that is always on display in my hutch:
A yummy, gorgeous red candle:
A mint-colored vase I almost always have on display somewhere in my house:
A farmhouse style white vase I also almost always have on display in my house:
See how it all comes together? I've really learned a lot about how to love using items I already own, rearranging things, and making areas of my house feel so much more festive and seasonal.
I'm starting to share more tips like this, because it's been so helpful for me!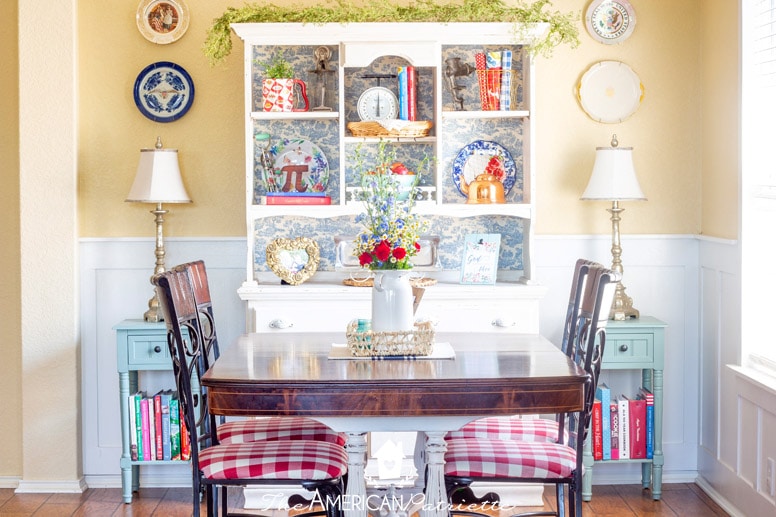 7. Decorate with colorful floral plates
Yet another of my very favorite ways to decorate with a seasonal floral look! Plates!
I have a small stack of plates I keep on an upper shelf in one of our kitchen cabinets. Several of them can be used for different seasons (goes back to that principle of just pairing them with other colors that make sense for that season), and I just LOVE THEM.
I almost exclusively decorate with the Pioneer Woman plates – they're just my favorite – but when I find one I like elsewhere, I usually snag it up. They're rarely more than $5!
I got this one with the bluebonnets on it from H-E-B.
And see how gorgeous they look on a mantel?! Look at what an easy way to bring in some color and some florals.
And here's one in our entryway to help bring some color to that little enclave:
You can use plates as a backdrop for other decor, or display them on a plate stand front and center. I usually opt for the backdrop, just because doing so saves some space.
8. Decorate with Cookbooks
Yay! Another creative way to decorate with items you probably already have!
I talk about decorating with cookbooks pretty regularly – they're just so easy to use, and you can simply switch them out each season.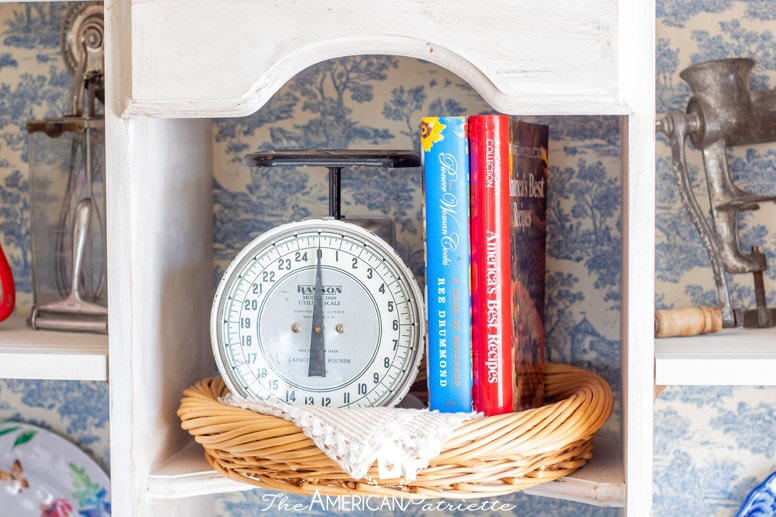 You can go strictly by color, or you can also go by the "theme" of the cookbook.
I love this United Cakes of America cookbook – I feel like it was written just for me! 🙂
Plus, it's fun to decorate with cookbooks since food is such an essential part of gathering, you know?
It's so fun to talk about recipes and eat good food together!
9. Decorate with seasonal candles
Are you a candle addict, too? Get some fresh, summer-y scents in colorful jars that go along with your patriotic decor!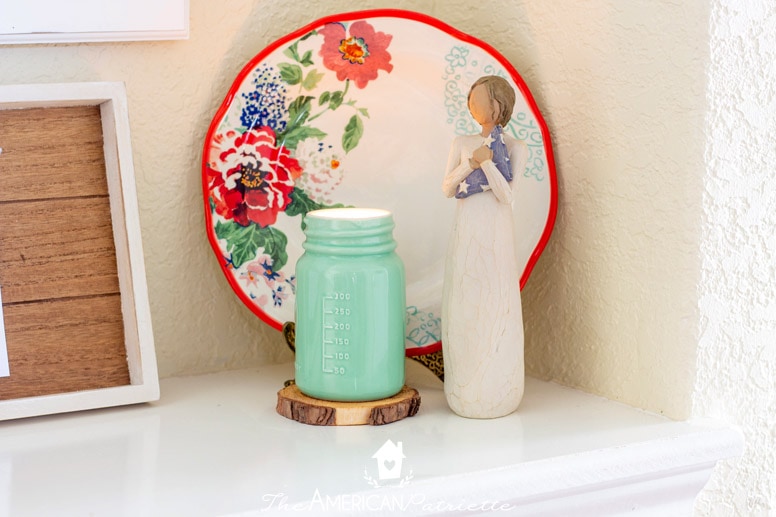 What's your favorite candle brand? I'm quite partial to my favorite: Circle E Candles (they really are just the best), but I'll get some candles at TJMaxx, Home Goods, or Hobby Lobby on occasion, especially if they're on sale, I like the scent, and they're in a pretty container.
For scents this time of year, think: Lemon, lime, fresh apple, peach, cilantro, and pineapple.
I know, I may as well have just told you, "Think summer foods, and then get candles based on those."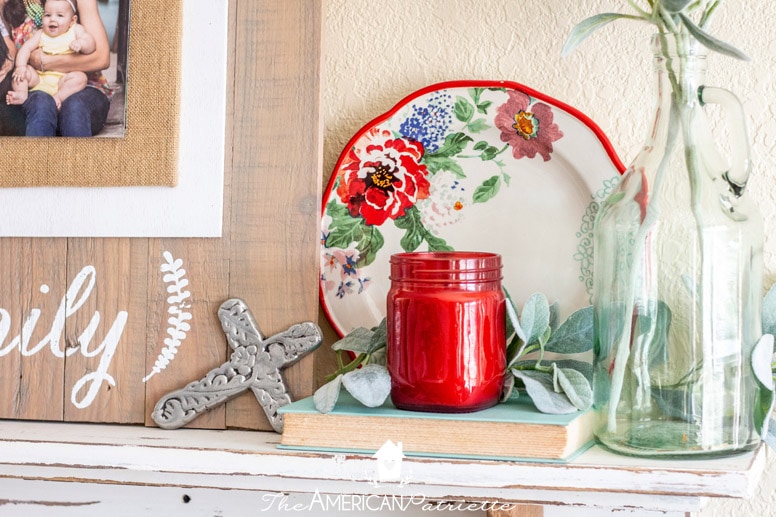 See how they add just a fun pop of color, and help make a space feel cozy and inviting?
But who am I trying to convince? You love candles, too!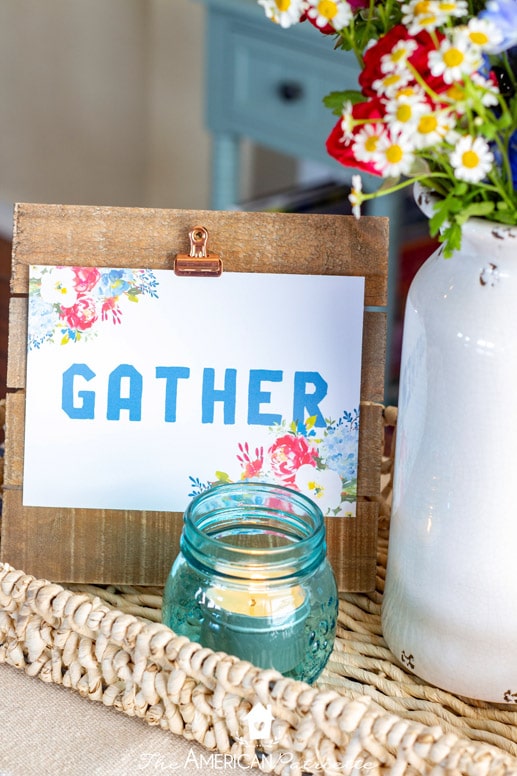 10. Decorate with rustic frames
Picture frames go a looooong way to help give off that rustic, cottage farmhouse look.
Even if you have a very builder-grade house like we do, you can absolutely get that rustic charm you're looking for with some tweaks here and there, and pretty farmhouse frames definitely help. 🙂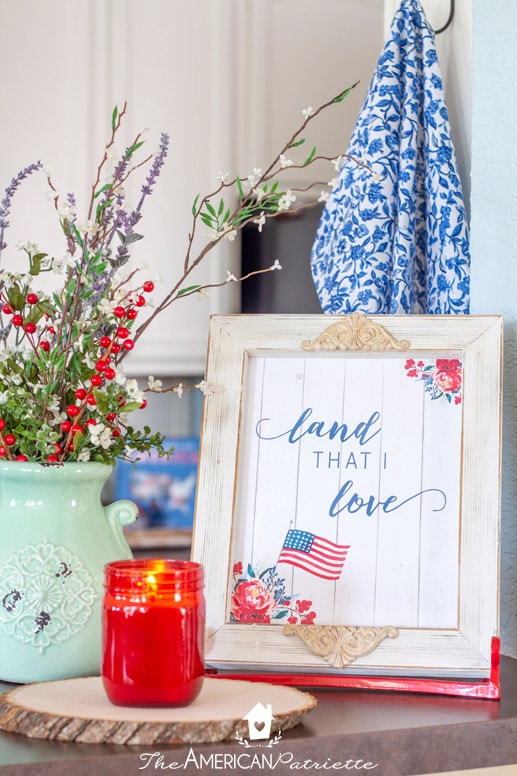 Most of my rustic frames came from Hobby Lobby, but some of them I've fixed up myself.
Including this ADORABLE clipboard frame. What a fun way to display your weekly meal plan – complete with a patriotic floral flair – in your kitchen, right?!
Here's another frame I made myself: this rustic-looking cathedral window frame. I think I bought it unfinished for about $15 at Hobby Lobby, and then I just put in a little bit of elbow grease to give it a neutral-ish pop of color.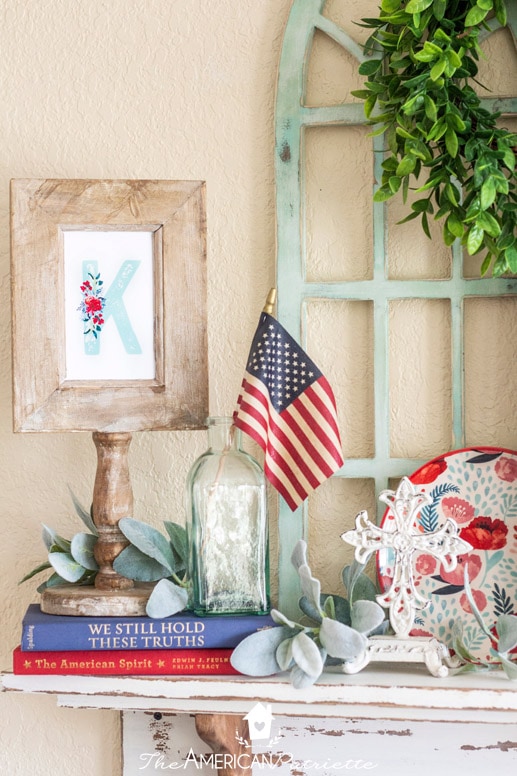 See how rustic frames really do make a difference? Especially when you pair them with some other elements, they help give off that quaint, antique feel, and feel very classic Americana!
11. Decorate with books
I'm not sure what books you have on hand, but we have quite a few that I mix and match for different seasons. I really hadn't ever considered decorating this way with books, but using them for their color and to add some dimension to my decor really makes a difference!
Go shop your own bookshelves and see if you've got some things that work as patriotic-esque decor. Look for ones that are different reds (even maybe some pinks), different blues, and shades of gold, silver, or tan.
Here's a little tip: take the paper cover off of hardback books, and often times they'll look much prettier!
Maybe I'm the last person to think of that tip, but seriously – it's so smart! Looks a lot more vintage and a lot less cluttered. 🙂
And, if you don't love the binding of a book but you love the color, just turn it around and display it with the pages facing forward.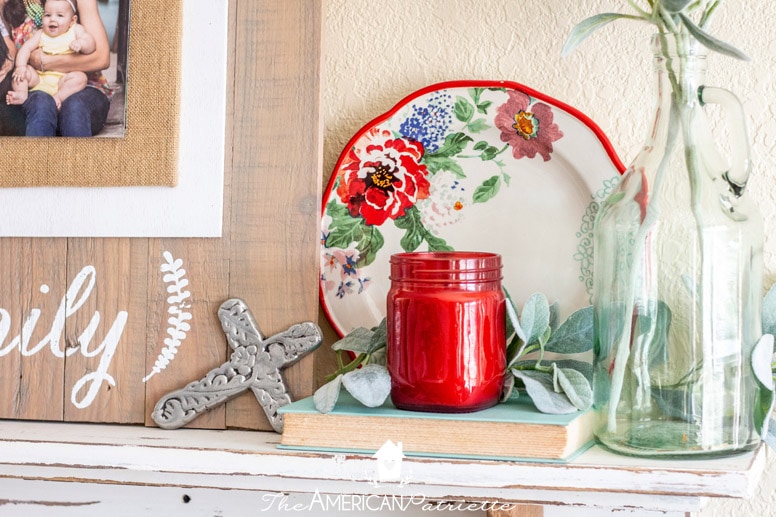 If you love old books, check with your local library to see if/when they do big clean-out sales. We bought a big bag full of vintage books for $5 at our library's annual clean-out sale. I bet you have one near you that does one, too!
12. Decorate with memorial items
This tip is a little different than my prior ones, and it's a bit more somber – we have this little display up year-round. It's in our entryway, and it's really, really important to us. And, while I have a lot of big reasons I love to decorate with American-esque type decor year-round, it's definitely one of the biggest. You might have a similar reason to put up something like this in your home (and maybe you already do!).
I'd love for you to meet Chris – he's the guy in the middle in that framed photograph. My husband, Aaron, is the one standing on the left (Chris's right).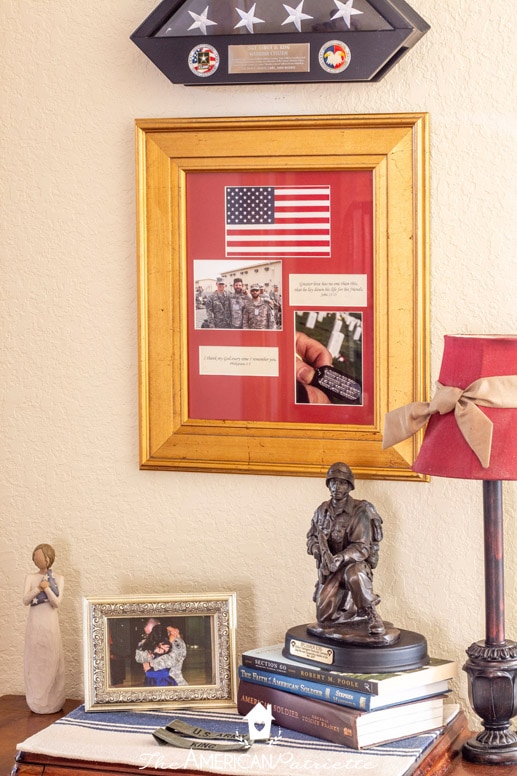 Chris and Aaron were on a 2-man Intelligence team in Afghanistan in 2009. Chris was killed by an IED, 2.5 weeks into their deployment. Needless to say (and what words do you actually use?), it was absolutely heartbreaking.
It's really important to us to remember and honor Chris, and this serves as a little memorial to him in our home. We love to "introduce" him to people, to remember the cost of what he did, and to talk about the incredible organization his family has created in his honor: Catch-A-Lift.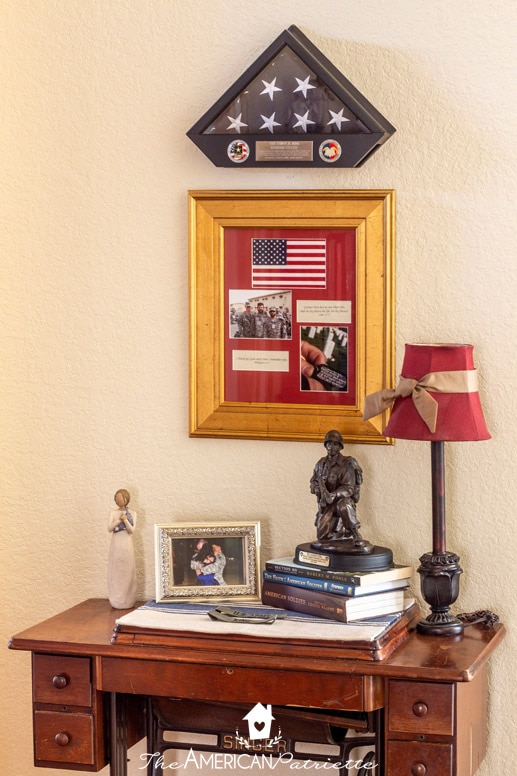 Chris is buried in Section 60 of Arlington Cemetery, along with so many other veterans who were deployed to Iraq and Afghanistan.
At this point, I feel like I could walk to his grave blindfolded – we've been there so many times. (If you ever plan to visit DC and want a specific grave to visit and honor, let me know – I'll be thrilled to help you find Chris's!).
My dad got us a copy of this Section 60 book – so special for us to have a copy of it and add it to our display!
So, here's one of the really real reasons I love to decorate for the patriotic holidays, and one of the main reasons I'm just so proud of my country and the people who protect the sweet privileges we have, you know?
So, as much as I love doing some *extra special* decorating this time of year, some things are definitely worth celebrating and honoring year-round. 😉
I hope those tips were so helpful to you! Happy decorating, and Happy Memorial Day & 4th of July! 🙂
Love these ideas and want to remember them later?! Be sure to pin this to your favorite Pinterest board!