Looking for some simple fall decor inspiration? Check out these 10+ easy fall decor ideas for your kitchen – they're simple, practical, and inexpensive ways to bring in some seasonal autumn color and elements! Welcome people into your cooking space (and likely a place where you spend a lot of time this time of year!) with some easy-to-create colorful fall beauty!
Howdy, friend, and HAPPY FALL! If you're looking for some simple but lovely colorful fall decor ideas for your kitchen, you've come to the right spot! While I don't necessarily think of myself a minimalist, considering how much we use our kitchen and dining area, I try to strike a balance between having beautiful decor and making our decor very practical. I'm sure you're the same way!
I'm constantly in my kitchen prepping food to feed someone (we are hungry people), and we use our kitchen table for just about everything – eating, of course, but it's also my 3-year-old's perpetual watercolor and Play Doh station, and it's where I do the vast majority of my computer work. Let's just say my dining table is rarely as neat and tidy as it is above. 🙂 That being said, I still love to decorate, so I just try to find that happy medium of making areas pretty but also making them functional!
After figuring out some simple ways to decorate my kitchen area for fall, I thought I'd share some inspiration with you in case you're looking for some fresh, practical and lovely ideas to do the same!
Here are 10 easy fall decor ideas for your kitchen – let's get decorating!
This post contains affiliate links for your convenience. You can read my full disclosure policy here.
Idea 1: Decorate With Plates
Decorating with plates is a super simple way to incorporate fall colors and patterns. And, it's a great way to bring in a fun fall "kitchen-y" element into, well, decorating your kitchen! I decided to layer these plates because that smaller salad plate seemed to be a bit dwarfed in that spot, but I'm actually loving the layered look because that orange plate helps to break up the pattern between the fabric backing of the hutch and the pumpkin plate, as well as help bring out some of the other fall colors in the hutch decor. See what I mean?!
I get the majority of my colorful napkins from Pier 1 and World Market. I will often just get one napkin and don't bother with a set, that way I can get a few different kinds for decorating purposes without spending much money!
Idea 2: Decorate With Towels
Kitchen towels are so inexpensive and one of my absolute favorite ways to decorate my kitchen year-round. Just like decorating with plates, they're such an easy way to incorporate color and patterns into the decor without being too over-the-top. And, because they're towels, they're so easily interchangeable, so you can easily change them out for every season.
You can see in both of these places where I decorated with towels, I layered them – for the one with the blue pumpkins, I wanted to add more color to that space, so I used a non-fall towel that coordinates with the pumpkin one, and then for the floral one below, it's not a fall towel, but by adding that mustard yellow towel behind it, it sure looks like it could pass for fall decor!
If you're a floral pattern lover, you're in good company. I have serious issues when it comes to decorating with flowers…I just love 'em!
Another reason I love decorating with towels year-round is because cute ones are so easy to come by. Even Walmart has upped its game with cute towels! (Anyone else obsessed with the Pioneer Woman's line there? #obsessedwithflowers)
You can also find some adorable and beautiful kitchen towels at stores like Home Goods, TJMaxx, Marshall's, and Ross – I'm almost always guaranteed to find some cute ones when I go to any of those stores. Check – I bet you'll find some good deals!
Here are some fun Pioneer Woman towels to bring color into your kitchen:

Idea 3: Decorate With Pumpkins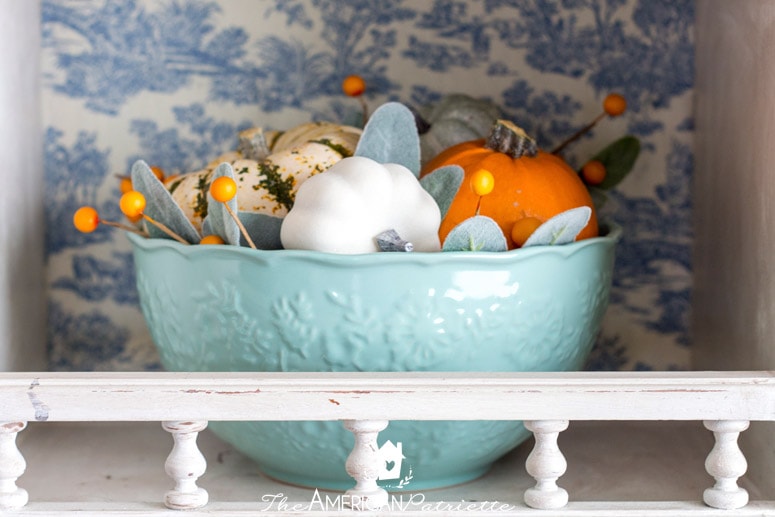 I know, such a no-brainer for fall, but you can get so creative with decorating with pumpkins! As you can probably tell, I decorate with both faux and real pumpkins. I love adding in the real ones to bring in a little mother nature and natural color to my decor, but I love decorating with the faux ones because they enable me to decorate with different colors (turquoise!!), and I can use them year after year.
I usually decorate with the smaller pumpkins inside – remember, I'm trying to decorate while also not taking up too much space. If you're looking for that same solution, those mini pumpkins are perfect. You can find creative ways to display them, too!
Idea 4: Decorate With a Fall Kitchen Wreath
I am in LOVE with this fall hoop wreath! While I'm personally not a seamstress (my sewing machine and I really don't get along very well…let's just say it's probably more me than the sewing machine…), and while I'm not really one to jump on bandwagons, I have to admit…these embroidery hoop wreaths that are all the rage right now are super, super cute.
So, jumping I go! I'm fine riding this bandwagon! And, while sewing isn't personally a hobby of mine, it's actually pretty sentimental to decorate with an embroidery hoop – I have several ladies in my family who absolutely love to sew, and they're all pretty darn special to me, so I think of them when I see my fall floral embroidery hoop wreath!
A dear friend of mine gave me those adorable copper molds, and I've been racking my brain for so long trying to figure out how to use them. I realized they'd be perfect for fall, and how perfect to use to make a wreath for the kitchen! Love! If you have a pantry door or other door in your kitchen, you can easily hang a fall wreath to add some personality to the room!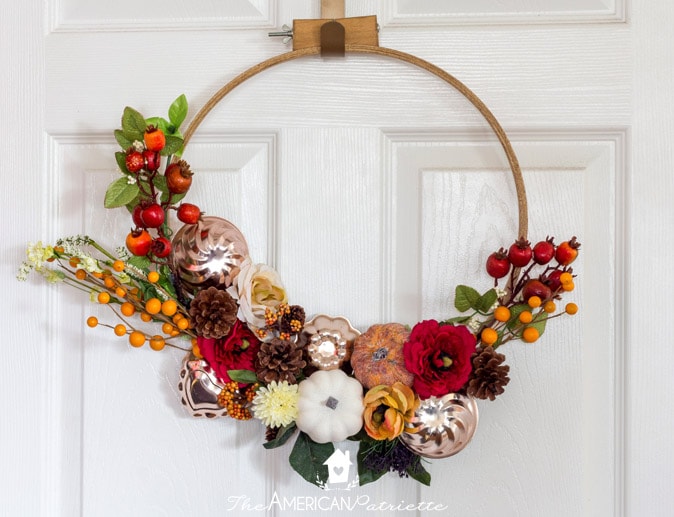 Idea 5: Decorate With Fall-Colored Napkins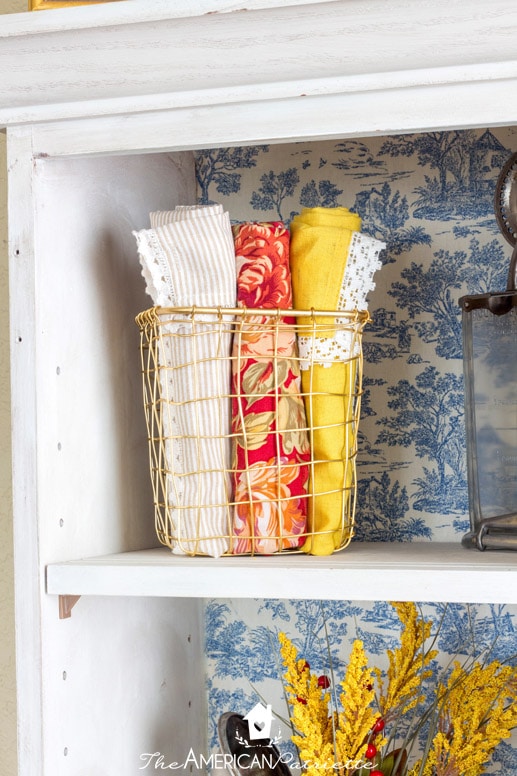 Look how adorable these napkins are in this gold wire basket! Want to know a secret? None of those are fall napkins! They're just fun and colorful! I have a bunch of colorful napkins in one of my kitchen drawers, so I just dug through the drawer and pulled out the most "fall-ish" colors, rolled 'em up, and voila!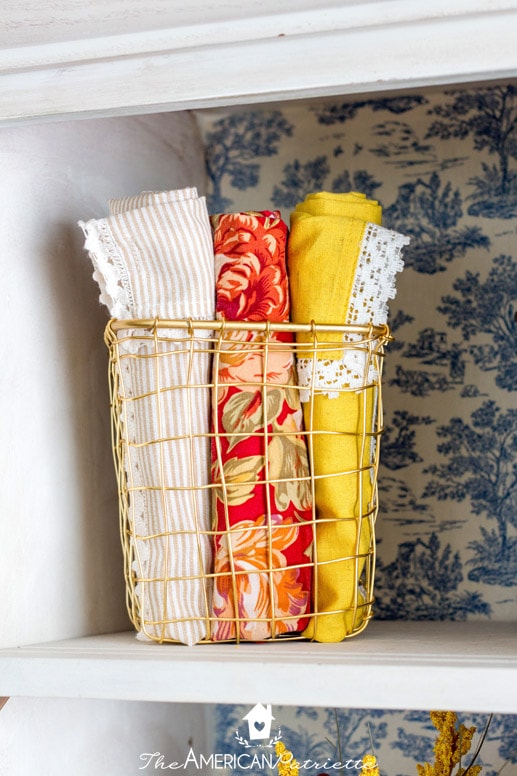 How easy is that?! Just like the hand towels, cloth napkins are so inexpensive and easy to find, and they're perfect for decorating! Look how pretty they look on display:
Here are some pretty options from Pier 1:

Idea 6: Decorate With Colorful Cookbooks
I've heard of people "shopping their house" to decorate, but it wasn't ever something I thought I could do myself…until I tried! Y'all, it is not that hard!!! You can totally do this, too! (And it's really fun!) I looked at my cookbook collection (you can see some of my cookbooks in those little tables on either side of my hutch), played around with a couple of combinations, and since I love to decorate with both red and turquoise (I know, not so surprising, huh?), and since I've figured out how to incorporate turquoise and red in my fall decor, I figured they'd be perfect to display in the hutch.
I added that napkin in the basket (again – I just shopped my own house) to pull out some of the yellows and oranges in the cookbook covers. So easy! (This was also an experiment. I don't know what I'm doing – I just play around and move things around A LOT until I like what I see.) So, shop your house. See what cookbooks you have. I bet you have some that would work great for this!
Idea 7: Decorate With a Fall-Themed Sign
I am such a sucker for indoor wreaths. Ever since I assembled this easy DIY boxwood wreath for our garage door to hold my keys & sunglasses, I've become addicted to indoor wreaths! We now always have one in our kitchen (the fall embroidery hoop wreath replaced our "multi-seasonal" one for now) hanging on our pantry door, and then I had the idea of making a sign to display over this awkward blank spot between the stove and the microwave.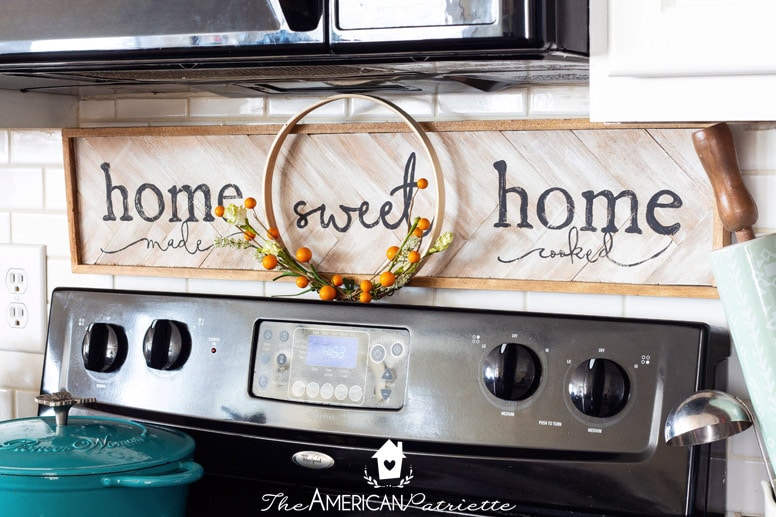 I also really love decor that I can easily change out for each season, so I have to say that this sign + wreath was inspired by my welcome "Howdy" sign for my front porch that has interchangeable seasonal wreaths on it. If you love decor you can easily transfer from one season to the next with just a simple change, make something along these lines and do the same! (I'm thinking about putting up a tutorial for how I made that herringbone sign – let me know if you'd want the details on that!)
Whether you make something similar to this with a fall wreath or actually make a fall-themed sign, this is such an easy (and fun…because we all love a good DIY project every now and then, huh?) way to bring some fall into your kitchen.
Idea 8: Decorate With Flowering Plants or Fall-Colored Flowers
Home decorating tip I've discovered that's totally worth sharing: if you love color & fresh greenery but can't justify spending the money on fresh flowers all the time (#dream), flowering plants are an AWESOME way to go. I decorate with kolanchoes so often, and I usually get them for $3 at our grocery store. The flowers last for about 3 weeks…as much as I love a gorgeous fresh flower arrangement, you can't beat that!
Adding in some seasonal color with a house plant is such an easy and inexpensive way to do so! (I could've gotten orange, but, well, that red was just calling my name…)
But, if you're really wanting to make things special, sometimes you just need that gorgeous arrangement! Seriously, if you're a color lover when it comes to decorating, you've really come to the right spot…girlfriend, I just can't get enough! Anyway, fresh flowers = such a gorgeous + fun + joyful way to decorate for fall in your kitchen and on your dining table!
Idea 9: Decorate With Faux Fall Florals & "Natural" Stems
I know this might be a given, but adding in some faux fall stems is suuuuuch an easy way to decorate. And, you can use them to decorate year after year! One of the things I love about the more "natural" stems is that they actually look pretty natural. At least, the wheat looks fairly real! But, these are so easy to use – you can just use canisters you already own (again: shop your house!) and make them fall-themed with some autumn-ish stems in them. So easy!
I know they're not stems, but pinecones are also a great natural fall element to use for decor. They make great fillers, and they make for just adding in a "spruce of seasonality" here and there. And again, you can use them year after year. Bonus!
(Spruce of seasonality. I like that phrase. Can I claim it?!)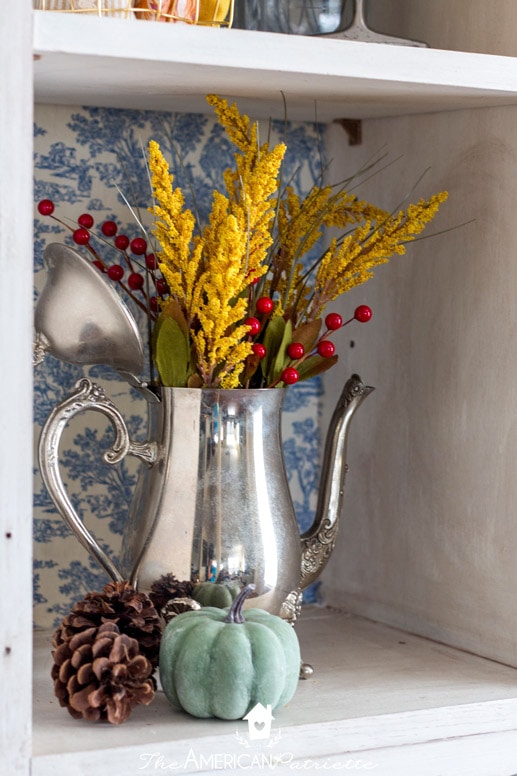 Idea 10: Decorate With Fall Candles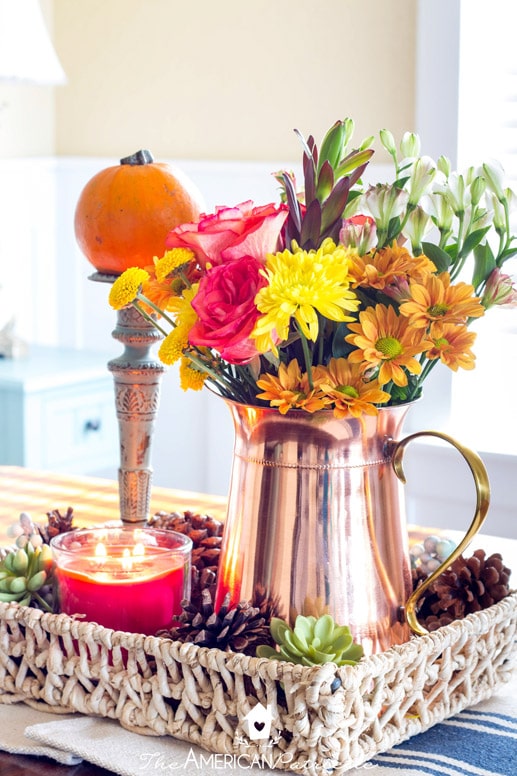 I have a feeling you and I might be kindred spirits…I'm going to go out on a limb and make a guess that you're a big candle lover, too.
Am I right?
Solidarity, sister! I LOVE candles and I burn them year-round, but I especially love the scents this time of year. If candles could spell, they'd spell out "H-A-P-P-Y." I'm sure of it! But, again, candles are such an easy way to decorate for fall, and goodness they'll make your house smell like it, too! So cozy!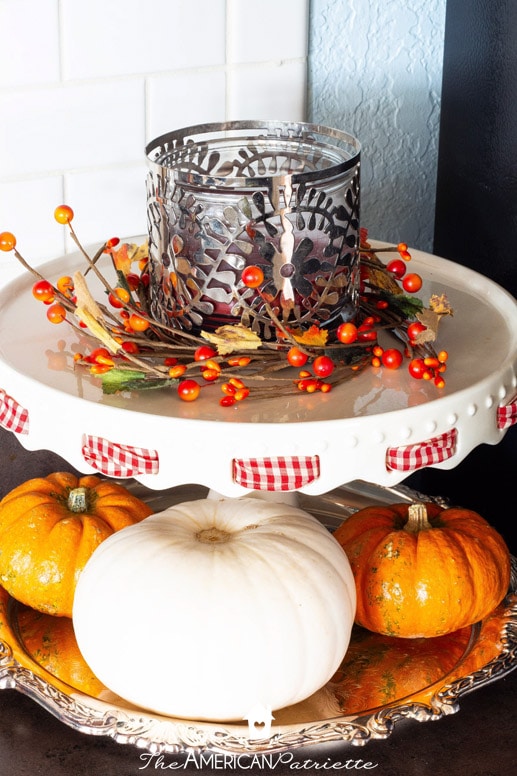 I'm sure I'll be back with more tips the more I think about easy ways to decorate for fall with kitchen items, but I surely hope these 10 tips helped you get some inspiration you're looking for! Remember, shop your own house for some items that you can easily bring out of cabinets and drawers to use for a season – you'll surprise yourself with how well some of your things can help you decorate!
Happy cooking, eating, and gathering in your fall-themed kitchen! I hope you, your family, and all of your visitors feel blessed by the "spruce of seasonality" you add to your space! 🙂
Love these easy fall decorating ideas?! Be sure to pin this to your favorite Pinterest board to remember later!