Easy Farmhouse-Style Valentine Home Decor Ideas for your Kitchen
Get some inspiration from some easy farmhouse-style Valentine home decor ideas for your kitchen! Here are some simple ways you can decorate to get that country chic cottage look, including some pretty free rustic-style Valentine's printables. Don't forget to snag yours at the bottom of the post!
It's so fun to decorate for seasons and holidays, but we don't want to spend a ton of money on new things, nor do we want to have to have multiple storage bins full of seasonal decor that we have to lug out and put back each time a new season rolls around. Are ya with me?!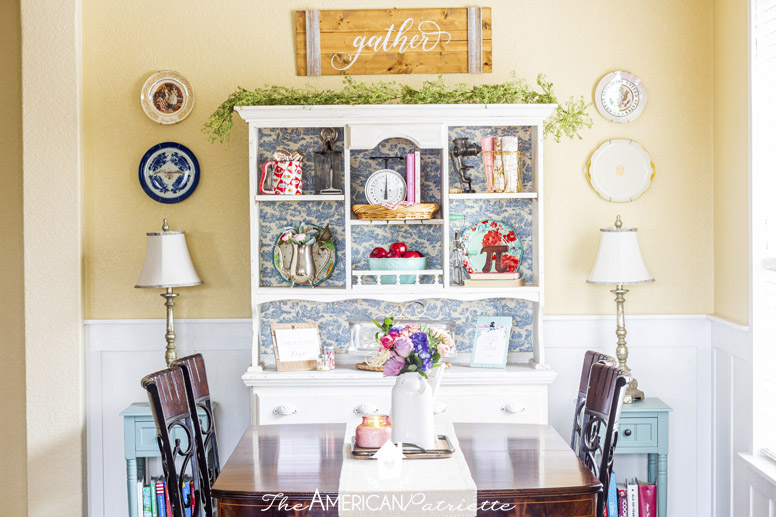 I've figured out some really easy ways to change out some decor elements to give some of my main areas a little seasonal "refresh," and because they've been so helpful for me, I can't wait to share some of them with you to help you give your home a little "Valentine's Day" touch!
I'm going to show you how you can re-purpose and rearrange some things you may already have on hand, as well as show you some really inexpensive (and super easy-to-store) items you can use that really help your space just feel seasonal.
I started decorating more for Valentine's Day last year, and I just absolutely loved it – it was fun to have those little splashes of color throughout my house, and it was especially enjoyable to do a little themed decorating considering how depressing it is to take down all the Christmas decorations!
I followed the same "blueprint" for decorating this year as I did for last year, but I switched out a few elements, so you'll see that throughout the post.
I actually follow this same template for decorating for pretty much every season – makes it so easy to spruce things up without spending tons of time & effort!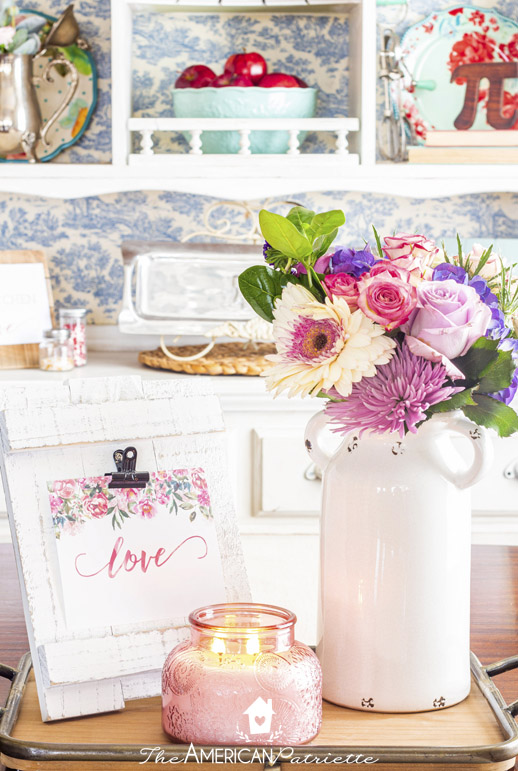 If you love a colorful farmhouse decor style, you're going to love these decorating tips for adding some cottage chic Valentine touches to your kitchen and dining areas! Let me show you how you can easily decorate, too!
Oh! And don't forget to snag your pretty 5×7 Valentine home decor printables! You can grab 'em after we walk through this little decorating tour together. Can't wait to help you give your home a farmhouse-y Valentine's flare. 🙂
Farmhouse Style Valentine's Day Decorating Ideas for your Kitchen
Okie doke, let's get on with it…we've got decorating to do!
Tip 1: Decorate with Pink, Red, & Cream Cloth Napkins
When I realized I could decorate with napkins like this, my brain went wild – this is SO EASY, right?!
These napkins aren't even Valentine's-y, but you pair them together, along with some other pink and red elements, and they immediately give off that seasonal appearance.
Go through your cloth napkins to see if you can make some coordinate, or you can go snag a couple from a place like Home Goods, TJMaxx, or Pier 1. I get a lot of my cloth napkins at Pier 1 on clearance – I can buy them individually, so I don't have to buy an entire set in order to get the look I'm wanting.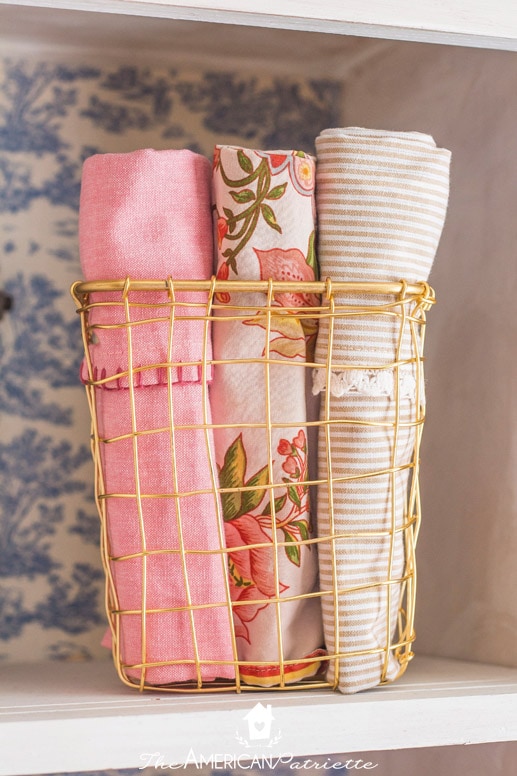 Tip 2: Decorate with Seasonal-ish Cookbooks
Along the same lines as decorating with the cloth napkins, you can peruse your cookbook collection to see what you might be able to use particularly for Valentine's Day.
I don't have any "Valentine's Day cookbooks," but I do have a few cookbooks that, once again, can give off that Valentine's vibe when paired with other pieces of seasonal decor.
I dusted off a pink cupcake cookbook I have, and realized my red-bound "Deep in the Heart" cookbook would be perfect for my dining room hutch!
(And – another way to decorate with cloth napkins along with the cookbooks: see how I incorporated that little "peek of pink" by adding in the cream and pink-striped napkin in that basket? Helps to tie everything together! You can do that, too!) 
On my kitchen counter, I put my new Reese Witherspoon cookbook, Whisky in a Teacup, on display. That gorgeous pink, especially right next to some beautiful pink flowers, was a perfect way to bring in some Valentine color into my kitchen!
(And seriously y'all, if you love all-things "simple southern hospitality," YOU NEED THIS BOOK! It has been so fun to read!)
Tip 3: Decorate with Pretty Farmhouse-Style Valentine's Printables
Seasonal printables are suuuuuch an easy and inexpensive way to add some seasonal color and flair to your home! They take up almost zero storage space (seriously, isn't that such a big deal?!), and they're so easy to change out.
I made my own Valentine printable collection because I love that floral farmhouse/colorful country cottage chic look. Check out how easy it was to decorate with printables!
(Don't you just LOVE this one?! You can snag this 5×7 one, along with a few others for free at the bottom of this post! I want to help you decorate your home, too!) 
You can get access to ALL the *gorgeous* decor collections for every season in my Home & Gather Toolkit (whew, that thing is getting fuuuuull of good stuff!)
This is a frame I always have out on the bar of our kitchen counter. It normally displays a framed quote, but I just added the Valentine printable on top. So easy!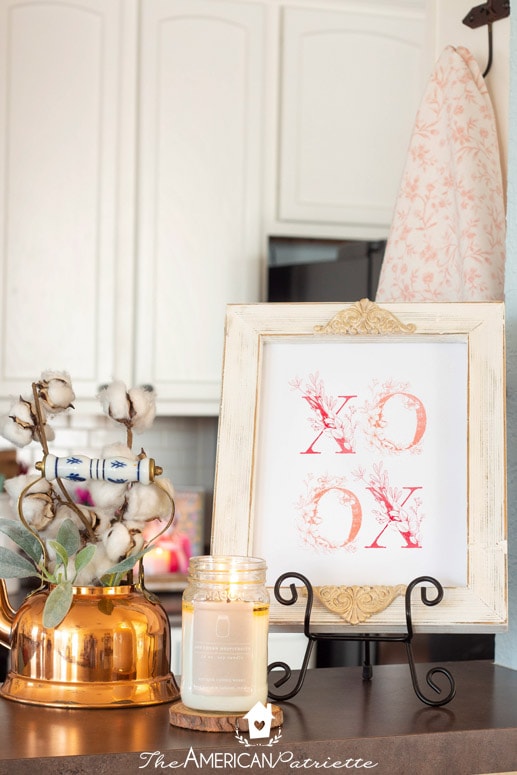 You can add printables to centerpieces, too – I just added this gorgeous "gather" one to the centerpiece tray I have on our kitchen table.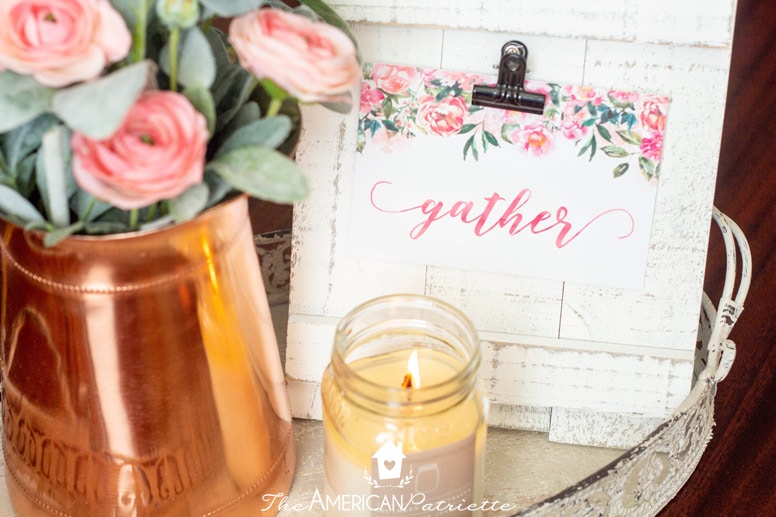 This is such an easy centerpiece with it being on a tray – it adds some color and a welcoming element to our dining table, but I can also just easily move the tray when we're having people over and need to put food in the center of the table.
Here's the one I put up this year:
Printables are such an easy way to add some Valentine color and charm. 🙂
This one is particularly fun for the kitchen, especially since I love to bake!  (And if you do, too, but you don't spell "Momma" the same way I do, I created a "Mama" version!)
I also have a more generic version, as well. 🙂
And, in all the seasonal collections in the Home & Gather Toolkit, I've been adding seasonal Scripture printables, too, like these:
Love decorating with words of Truth!
Keep reading to get more easy decor ideas, and don't forget that you can snag some of the free 5×7 printables to add some fun, seasonal, farmhouse-charm to your kitchen too at the bottom of this post!
Tip 4: Decorate with Red or Pink Fruit
Especially since apples are so long-lasting, you could easily incorporate different red and pink apples into your decor. What a "kitchen-y" thing to decorate with, right? And functional, too. 🙂 Who doesn't love some edible decor?!
You could also go the faux route and get some other fruits that are pink, red, or blush in color – maybe some pears, strawberries, or even grapes.
Tip 5: Decorate with Pink or Red Flowers
Same as with the fruit, you can go either (or both!) the real or faux route with these. I did both – no shame in that. 🙂
If you want fresh flowers but want some that are a little longer-lasting than a bouquet, you can get a small blooming plant at your grocery store. That's what I often do to add some color to my kitchen counter. I just add the flowers to a little planter to give them a little more character.
If you go the faux route, you can find blooms that are a little more realistic in nature. I almost always get my faux flowers at Hobby Lobby when they're on sale.
Once again, you can dress up some flowers by adding them to a quaint vase or holder. You can see these in a silver teapot I always have in my hutch: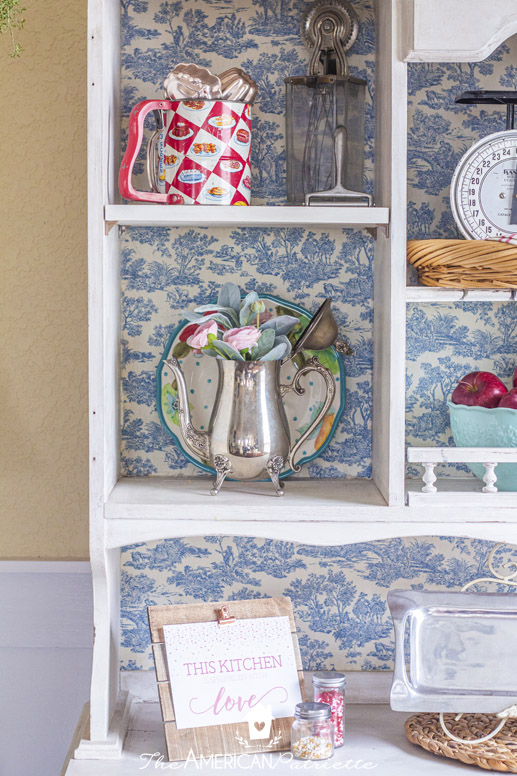 I mixed them in with the faux lambs ear (one of my favorite faux pieces of greenery to use!) to give it a little extra color/texture.
Tip 6: Decorate with a Valentine's Wreath
Wreaths are such a simple way to add in some seasonal color. They're easy to change out, and they're just so pretty! I change out this embroidery hoop wreath for each season now that I have this sign above my stove.
You could easily do something like this, or have a wreath hanging on your pantry door (or, if you have a door to your laundry room or garage in your kitchen – hang one there!).
Tip 6: Decorate with Seasonal Towels
Just like so many of these other items, seasonal towels are so easy to store and change out! Plus, they are a great way to add in some fun color. I usually have a seasonal towel hanging on my oven, as well as on the upper cabinet by our sink.
You can find some really cute towels at boutiques and local shops, but my favorite commercial place to find decorative towels is Home Goods. They always have the cutest selection. I also have several in the Pioneer Woman's line at Walmart – I'm a sucker for those bright florals!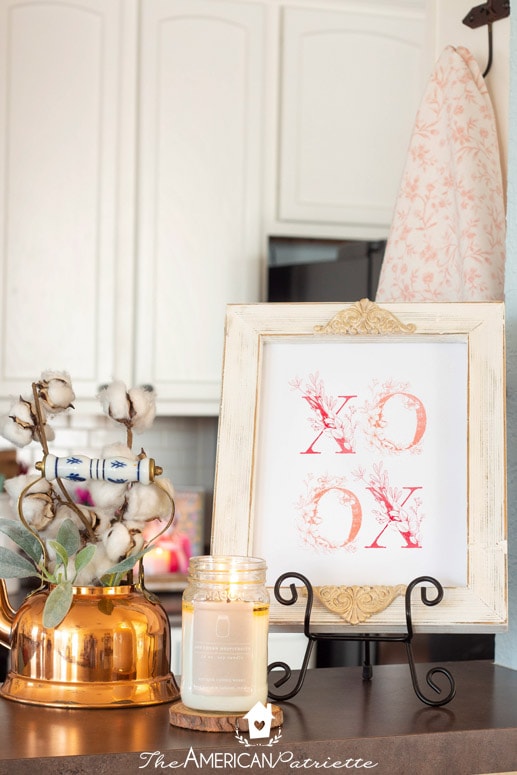 Tip 7: Decorate with Candles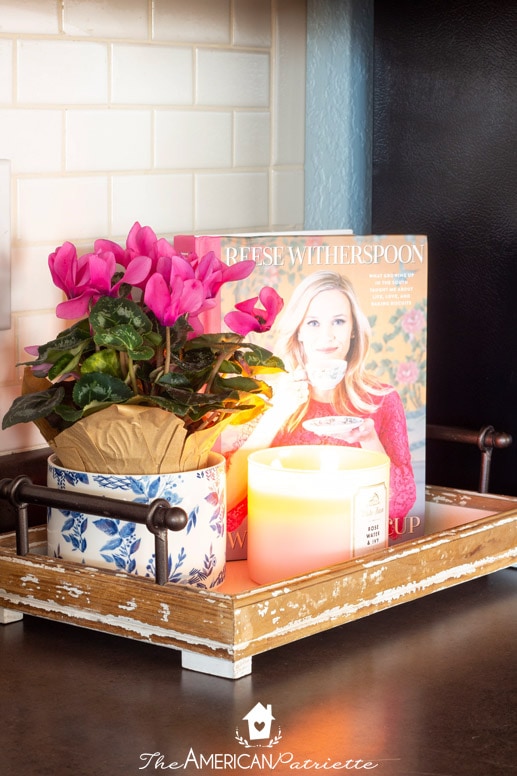 Candles are such a wonderful piece of decor year-round…we always have candles around! You can get some seasonal scents (that one next to the cook book above is rose-scented – that's Valentine's-ish, right?!), or just incorporate candles into your other Valentine's decor.
When they're incorporated, they seem to fit right in to celebrate the season, don't they?!
Tip 8: Decorate with things you already have!
I know this tip seems a little unconventional (maybe not?), but stick with me.
I bet you have a lot of things in your house that you could easily use to decorate for different seasons, simply by doing a little rearranging or pulling them out of cabinets or bins.
In that photo above, you can see the sprinkles that go right along with that printable – I already had those in my pantry! I just put them in mason jars (that I already had!) to make the display a little prettier.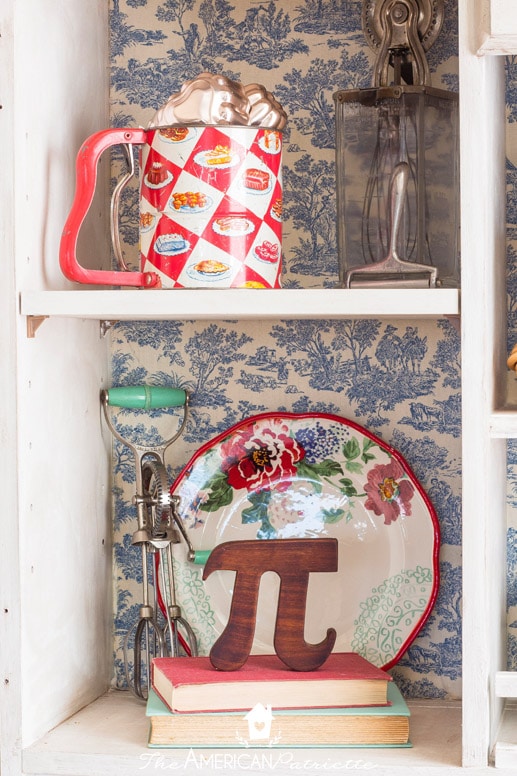 In this hutch, I always have that antique red flour sifter (it was my Grandma's – super sweet, right? Get out the things you have like this, too!). It looks like it fits right in with my other Valentine's decor just because of it already being red.
I know I'm stating the obvious here. But, it's really fun when you realize you have things on hand that you can put to better decor use. 🙂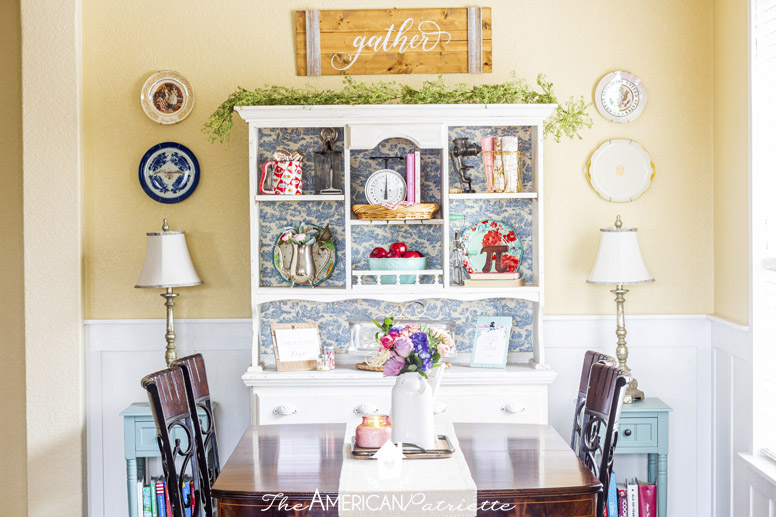 Another thing to find around your house for decorating: old books! I have some old books with different colored covers that I change out every so often. Those red and turquoise covered books go well with my decor anyway, but they fit right in with the Valentine's look I've got going on.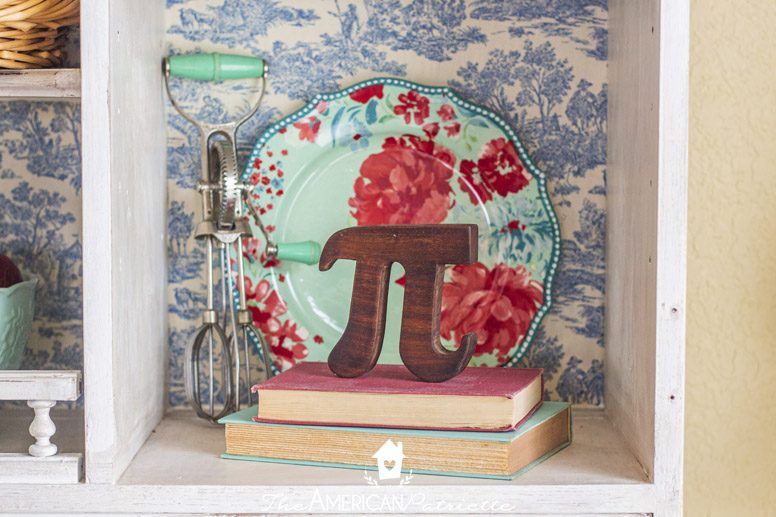 Several of the things I already mentioned you may have, too – seasonal towels (even ones that aren't particularly Valentine's ones, but that may have pinks and reds in them!), cloth napkins, and cook books. Get creative and see how you can display what you already have, along with adding a few additional elements to make it feel a little more seasonal and festive.
Check out the Full Farmhouse-Style Valentine Printables Collection!
If you love those farmhouse-style Valentine's printables and want to check out the entire collection, you can snag them ALL (plus hundreds more!) in The Home & Gather Toolkit. They would be such a great addition to your home!
In the entire collection, you can get instant access to all 17 designs in both 8×10 and 5×7 format + HUNDREDS of other printables to decorate for the seasons! YAY!
Get a few of the gorgeous printables for free in the 5×7 sample pack!
Lemme help you get started with some gorgeous farmhouse-style Valentine's decor! You can snag a few free 5×7 printables by filling out the form below. Your house is going to look so pretty!!
 Love these ideas and want to save them for later?! Be sure to save this post to your favorite Pinterest board!