Looking for some inspiration for decorating with cottage charm for Easter? Check out these easy and colorful rustic spring farmhouse decorating ideas! Get some fun tips for decorating with a floral vintage look on a budget. 🙂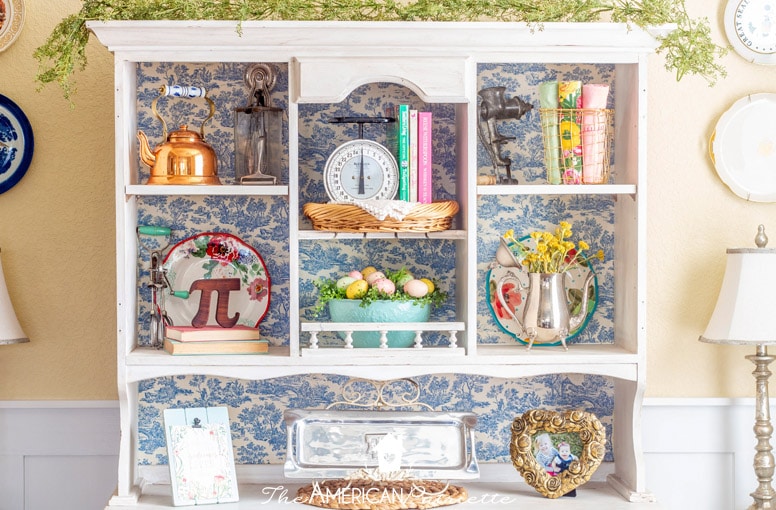 If you love cottage-style decorating, especially with lots of florals but with a modern twist, I can't wait to talk you through some easy tips on how to accomplish that look in your own home for spring!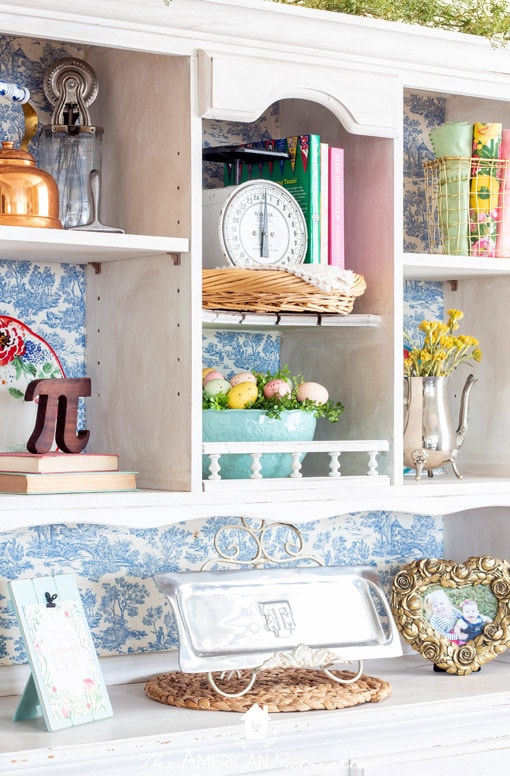 It's so fun to decorate for different seasons, but sometimes it's challenging to figure out ways to do so and still stick with that colorful rustic decor style we love so much.
Plus, we don't want to spend an arm and a leg decorating for different seasons, nor do we want to have a surplus of bins in the garage full of decor. Ya know what I mean?!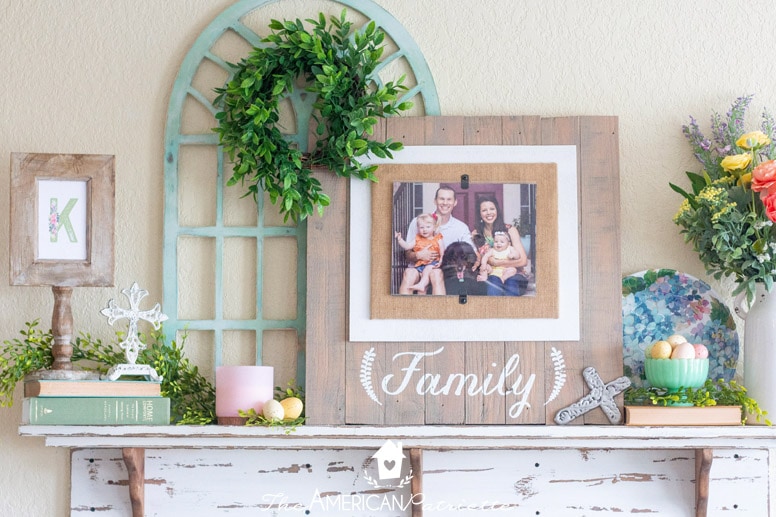 I'm such a big fan of decorating for the different seasons and for decorating with lots of pops of seasonal color. We spend a lot of time at home. I bet you do, too. It's fun to have a change every once in a while without getting too carried away.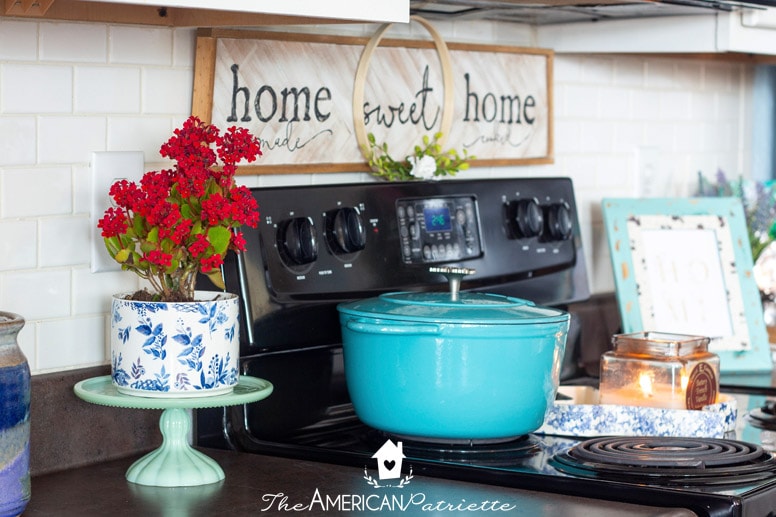 So easy to mix and match things based on different seasons. I want to help you love your home so much that you just can't help but want to share it with other people!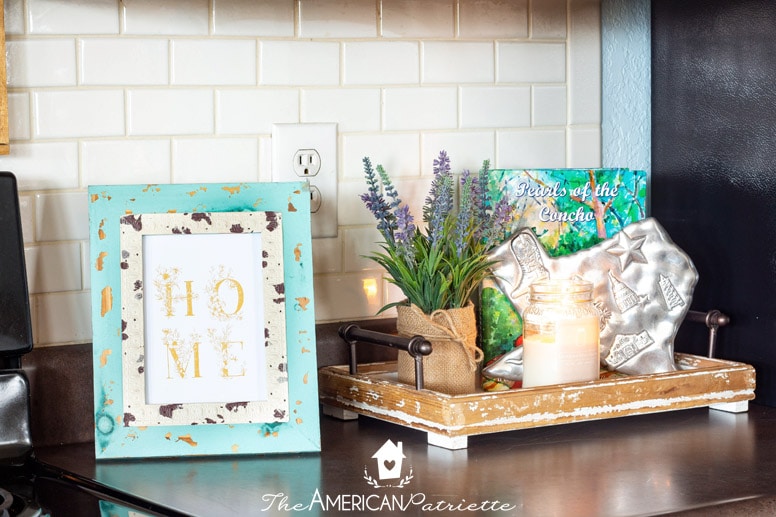 Let's get decorating for spring, shall we?!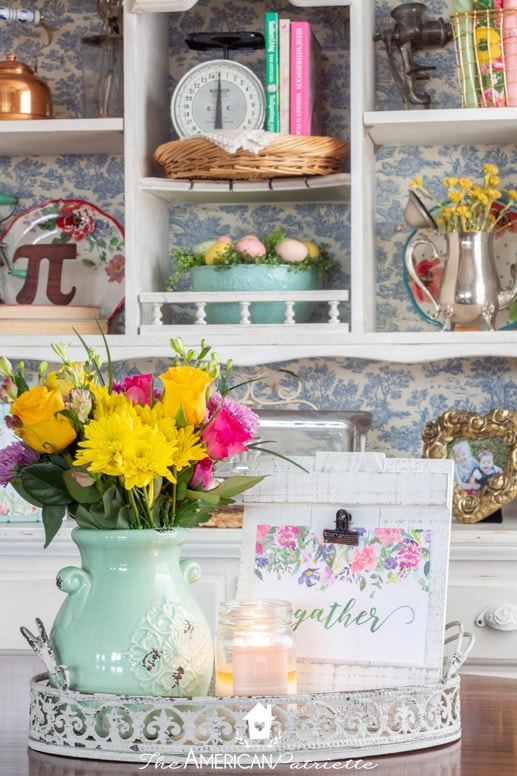 Here are 14 ideas for how to easily decorate with colorful rustic decor for spring and Easter. What else do I need to add to this list?!
1. Decorate with Faux Flowers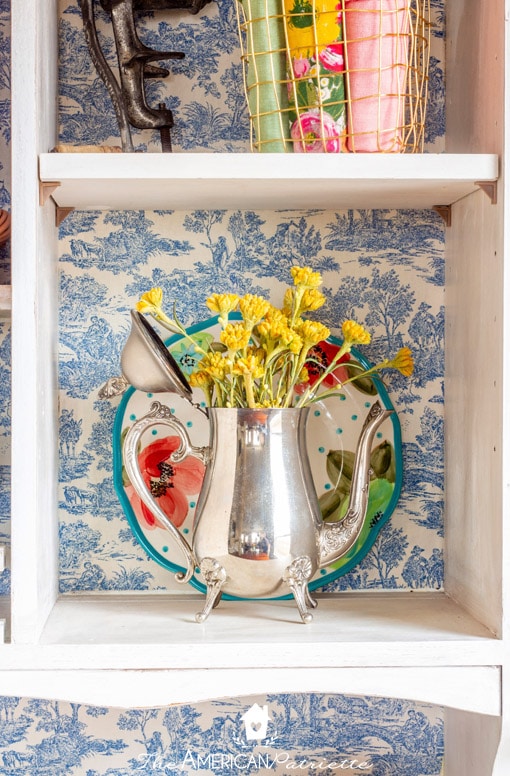 I know, this seems like such a no-brainer (or, perhaps for some, a big "no-no" because faux flowers often look…so, well, faux).
But, here's the deal. You can do this and they look BEAUTIFUL! You just have to choose the right kind. I'm definitely not an expert on this, but I'm starting to develop more of an eye for what I like, what I don't, and what looks more "real" than others.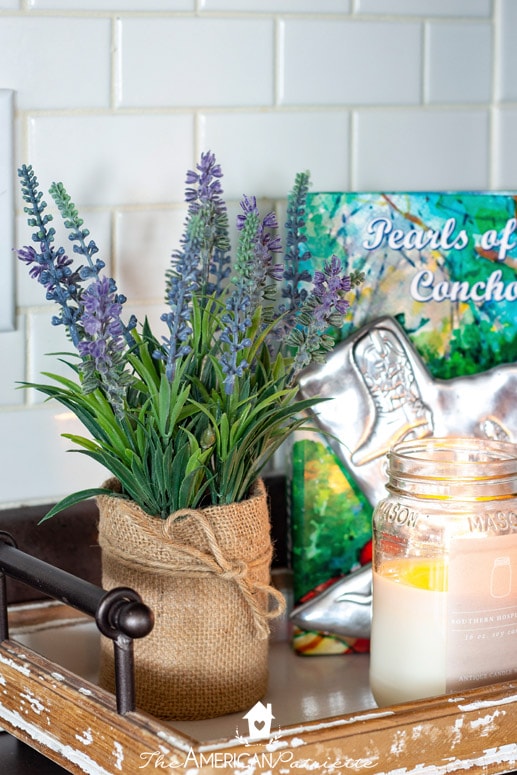 Here's a little secret I've discovered in finding flowers that don't look so fake: so much of the aesthetic is in the green part, not the flower.
Yes, pay attention to the buds/blooms, but I've started paying a lot more attention to the greenery in the faux stems as well. When the greenery looks much less paper-ish or fabric-ish, the entire stem looks much more realistic.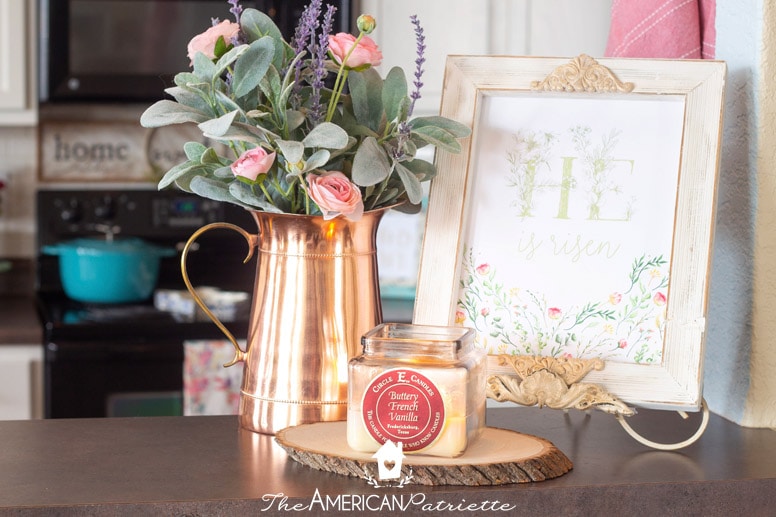 Sure, you might still be able to tell that the stems are fake, but they don't look super cheesy.
Naturally (ha! anyone get this pun? as usual, completely accidental and hilarious to me!), I much prefer a rustic look with my florals (both real and fake), which means I'm not going for a manicured, polished look. I'm going more for the wildflower, asymmetrical look, and I think that helps decorating with faux flowers feel not so fake and cheesy.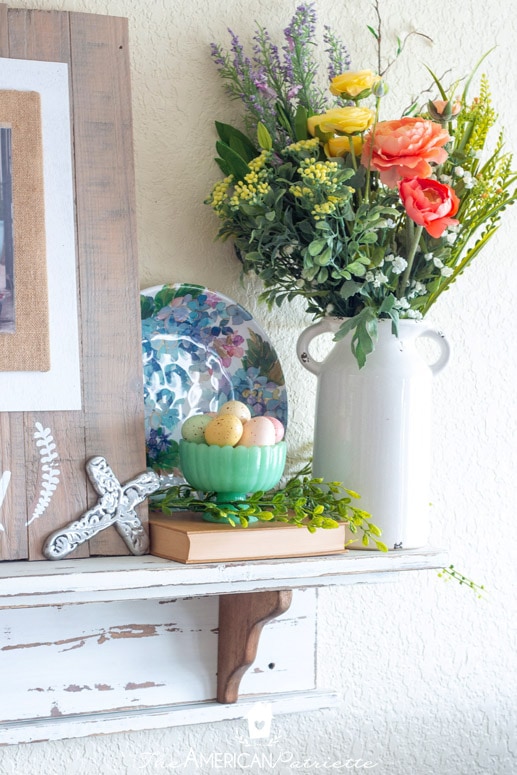 I get almost all of my faux stems at Hobby Lobby when they're on sale. Pier 1 also has a good selection, and you can find some decent faux arrangements/wreaths at TJMaxx & Home Goods.
But, if you're wanting a big selection (and a selection that's regularly on sale), go to Hobby Lobby! I typically spend a lot of time roaming between the floral stem aisles & the greenery aisles, and then I buy WAY more than I need since it's so hard for me to make final decisions at the store. I piece together and assemble my arrangements at home, and then return whatever I don't end up wanting or using.
(Are you one of those people, too? The perpetual returners? If so, welcome to the club!)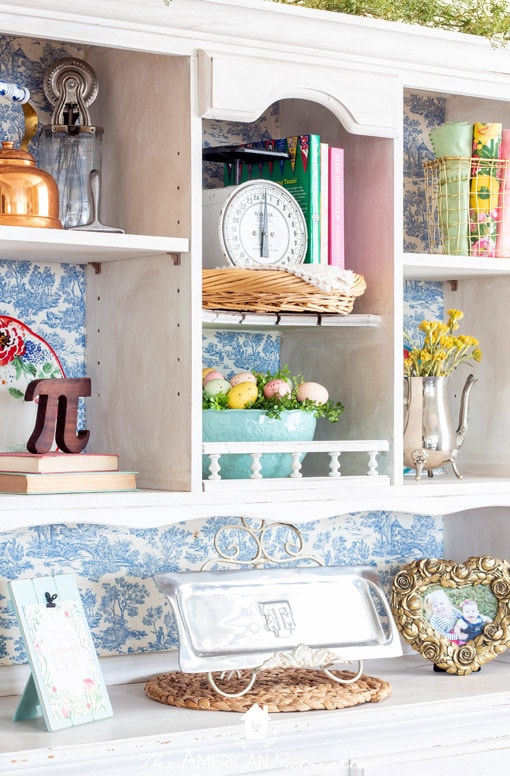 2. Decorate with some fresh flowers
And then, sometimes it's fun to treat yourself a little and decorate with fresh blooms! Basically my favorite way to add color in my house, but I don't do this very often…it's a luxury when I do!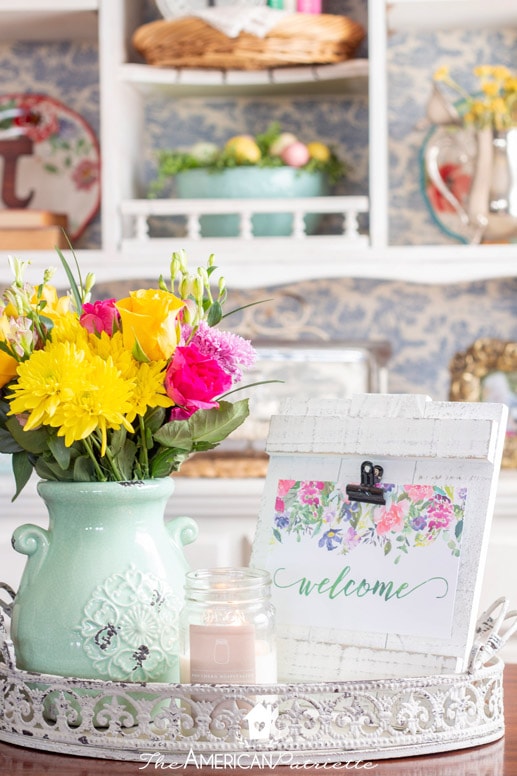 While I don't do this very often, there's a little trick to decorating with colorful, fresh blooms on a budget that I'm pretty excited about…
Here's the trick: use small blooming plants from the grocery store! Depending on what you get, they'll typically keep their blooms for at least a week or two – longer than a bouquet of fresh flowers.
My favorite little plants to get are kolanchoes. So much color on one tiny plant!
When they start loosing their blooms inside and they're looking a little sad (the same way I feel when I really need some sunshine!), just go plant them outside where they can get some sun. I have a big hanging basket outside of all the kolanchoes I've purchased and displayed on my kitchen counter.
They're basically a blooming gift that keeps on giving. They bring some color inside, and then when they stop blooming and start wilting, transplant 'em and they'll bring some color to the outdoors.
Kolanchoes look all but dead in my house after a few weeks, but then I just put them in some fresh dirt, gave 'em some water, and kept them outside in the sunshine, and they're back to blooming like crazy! Such hardy flowers!
I love that they immediately bring some "spring" into my kitchen. Go get some for yours!
3. Decorate with colorful, rustic spring printables
Gorgeous farmhouse printables are such a great way to bring in seasonal color into your home with little effort! If you love decorating with cottage-style florals, AND if you love decorating for different seasons, you're going to LOVE these!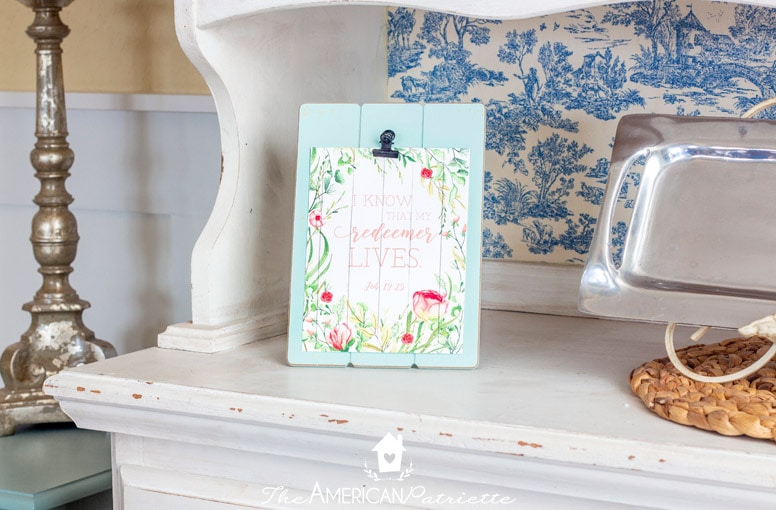 As much as I love flowers, I've often found it such a challenge to find floral decor I actually like. A lot of times it's too modern, too childish, or too old-fashioned. I have a feeling you might feel the same way.
So, I decided to make floral printables that I could easily change out and display for each season – they help bring in the color, cheer, and cottage-feel I'm going for without going overboard.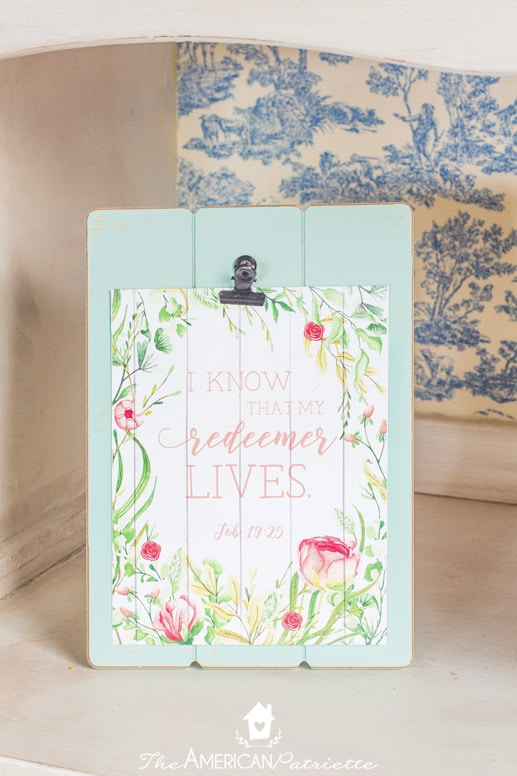 They really add so much to the overall aesthetic of our home decor. And, we all know if we are more confident in our home and the way it's decorated, we'll be far more likely to open it up and share it with others, won't we?!
You can see how these printables really add a festive, seasonal touch, as well as add color to the area they decorate.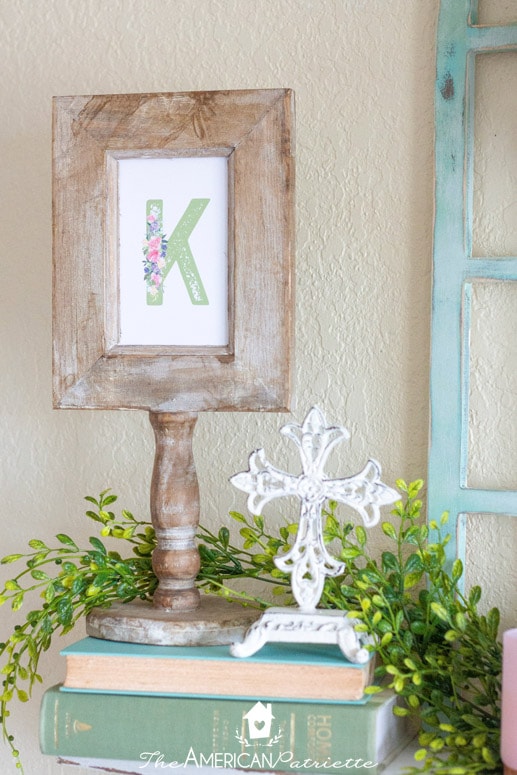 I was deciding between options for my kitchen (are you a variety lover, too?):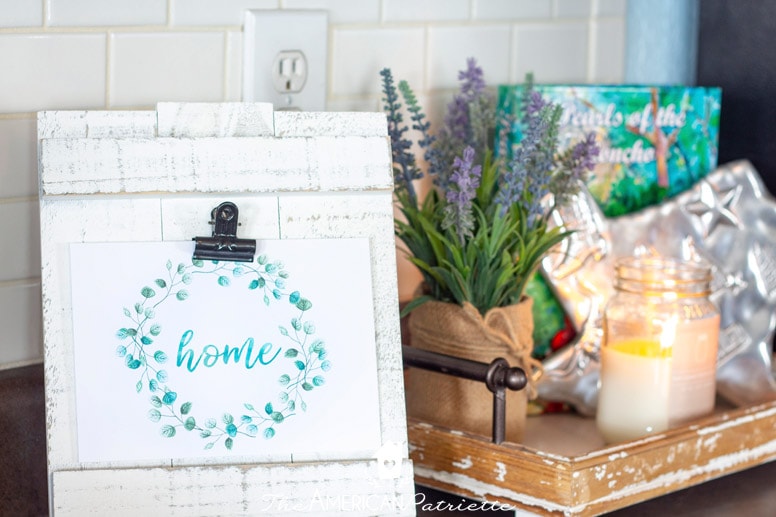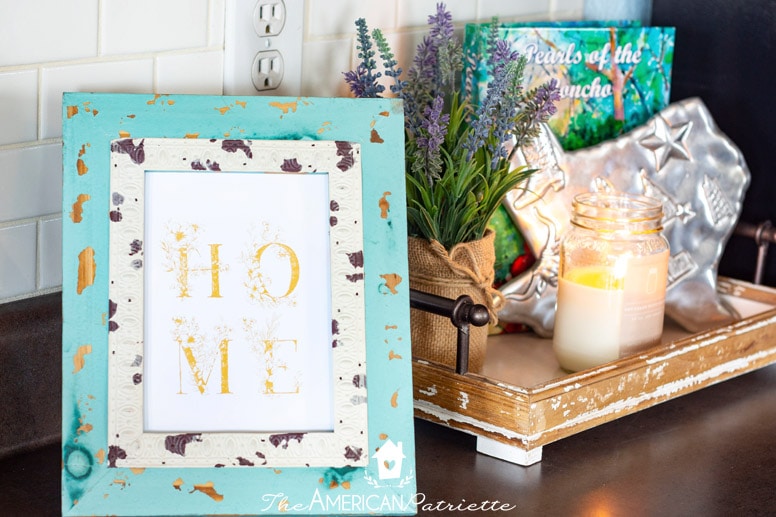 Display printables next to some flowers, and then they really start to make the place feel fresh, cozy, and welcoming!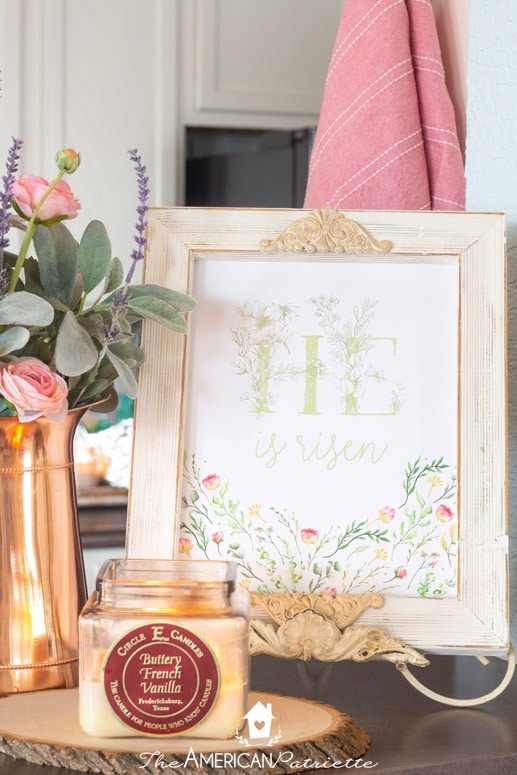 And I love that I can display them virtually anywhere in my house. Seriously, such an easy way to decorate with color for spring (and for all the seasons)!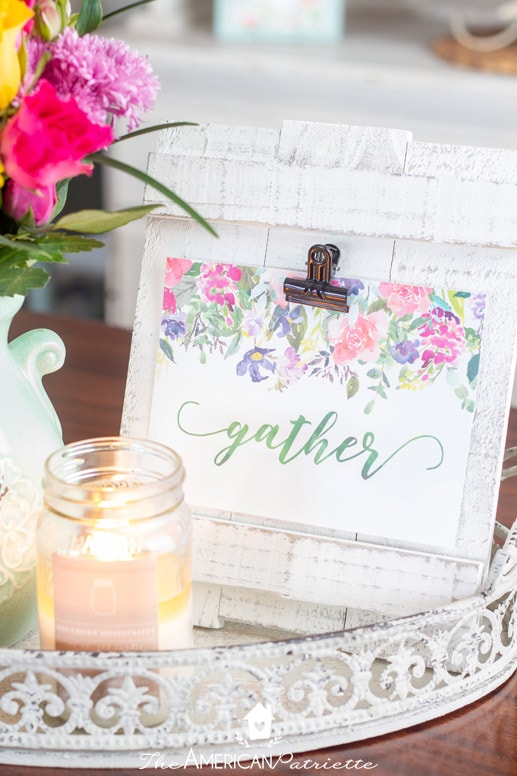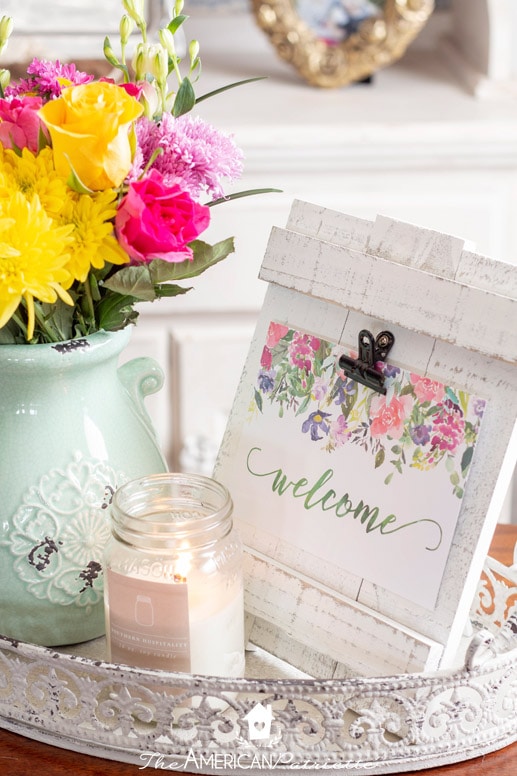 4. Decorate with colorful napkins
I am not a seamstress (by any stretch of the imagination), but I absolutely LOVE fabric. I think I love it so much because it is such an easy way to decorate with…you guessed it: color! Because there are always so many fabric options, it's such a versatile thing to decorate with.
Napkins are such a great way to decorate with fabric in a way that, well, makes sense. This is the kitchen. Seems perfectly normal to display napkins, right?!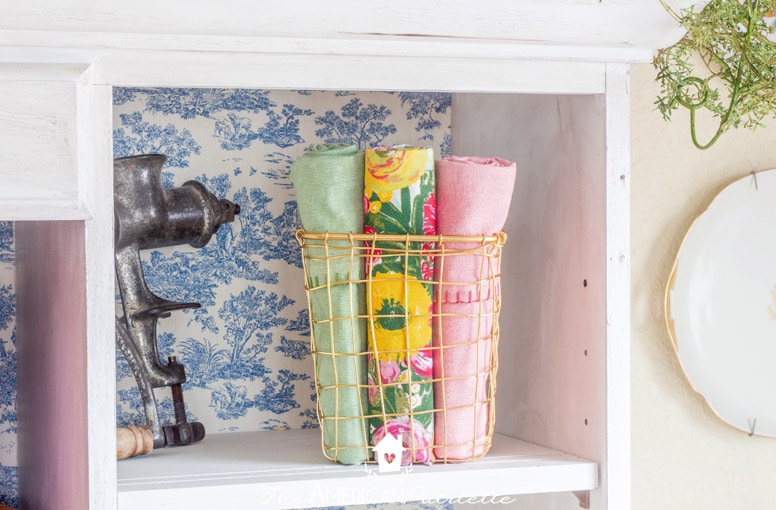 And, napkins are such an inexpensive way to decorate, too. For one, you don't have to get napkins that are only for a particular season (that green one could easily be used for both spring and Christmas, and that pink one could easily be used for both spring and Valentine's Day).
I could pair that colorful floral green one with a red buffalo check napkin & a yellow napkin to decorate for summer. Seriously – such a flexible way to decorate!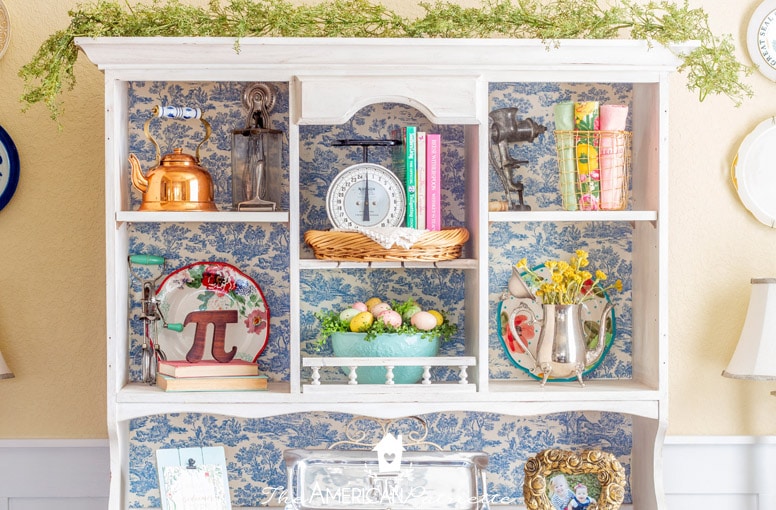 I make different combos all the time with the different napkins I have. I always display napkins in my hutch, I just change them out each season. They're just so versatile. Wanna see?!
Here's a list of easy fall decor ideas for your kitchen, and here's inspiration for easy kitchen decor ideas for Valentine's Day – you'll see how I just easily change out the napkins to give a whole new look for different seasons! You can do this, too!
I get almost all of my napkins at Pier 1, but every once in a while I'll find some good options at Hobby Lobby or Home Goods. I almost always buy them as singles since I'm purchasing for the purpose of display in my hutch or as a way to add in some color to my food photos.
So, for $1-3 a pop, we're talking about a super inexpensive way to add color! Just look how well they help both add color & help bring out other colors in my hutch: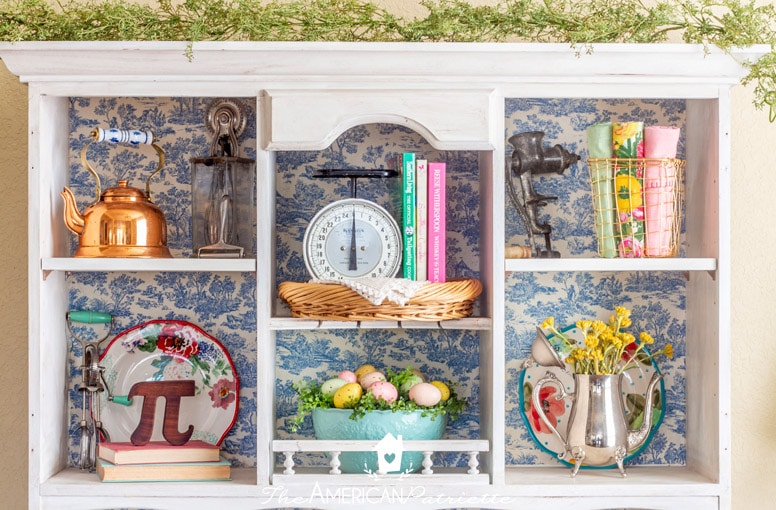 Napkins are great for lining baskets, too. See how it adds just a little cozy touch to this basket? (Are you totally hooked on the idea of decorating with napkins yet?!)

5. Decorate with seasonal towels
And, speaking of decorating with fabric, look how much fun spring color this one hand towel adds to the kitchen?!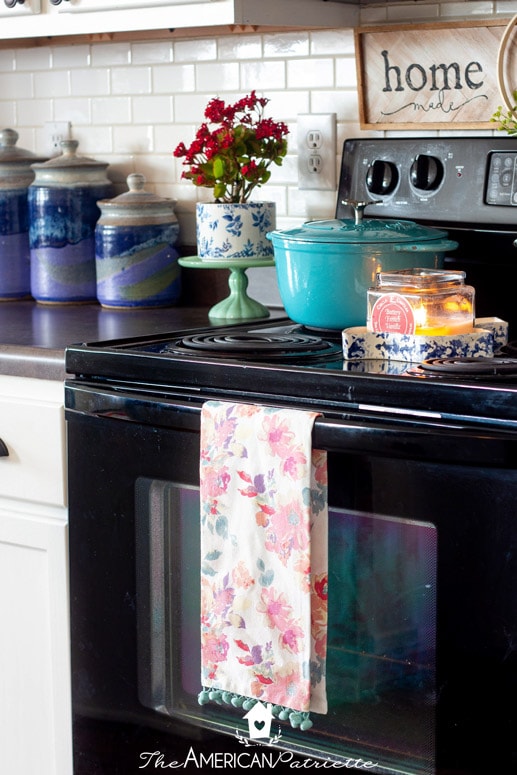 Go snag a gorgeous (and inexpensive!!) seasonal hand towel from TJMaxx or Home Goods. I always find great rustic, colorful, floral towels there!
And, like I've mentioned in other seasonal decor posts, hand towels are great because they take up almost zero storage space. Win!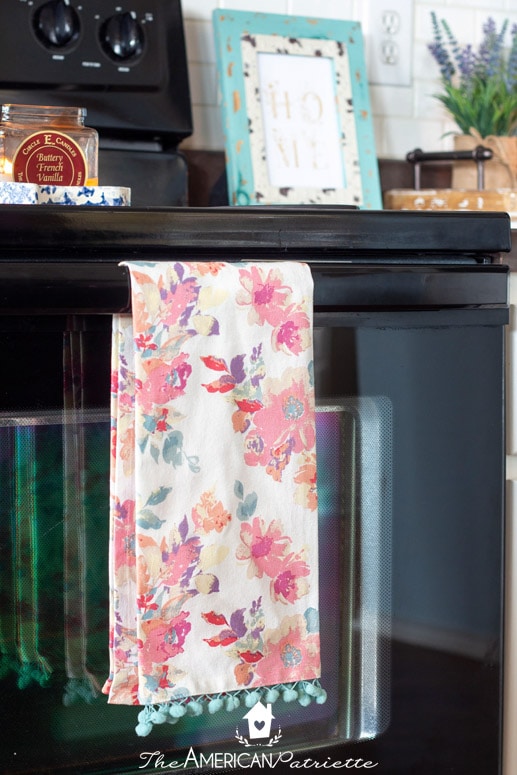 While I usually have a more decorative towel on my oven, I try to stay practical elsewhere. (Let's be honest, I'm a very messy cook & baker…I'm always using towels!)
But, practical doesn't have to be boring! That pretty pink towel hanging just above our sink is another way to add in some color while staying true to its function. 🙂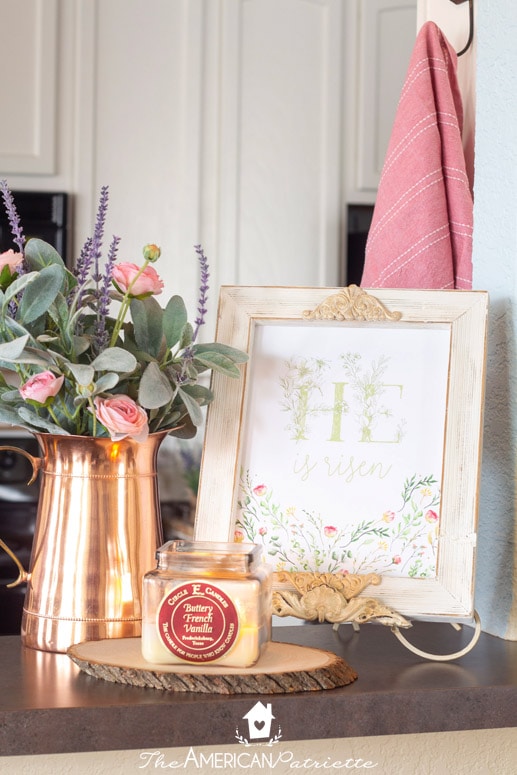 6. Decorate with Rustic Eggs
Add some rustic-style eggs to a basket or bowl with some messy, overflowing greenery, and you've got yourself a beautiful display perfect for Easter!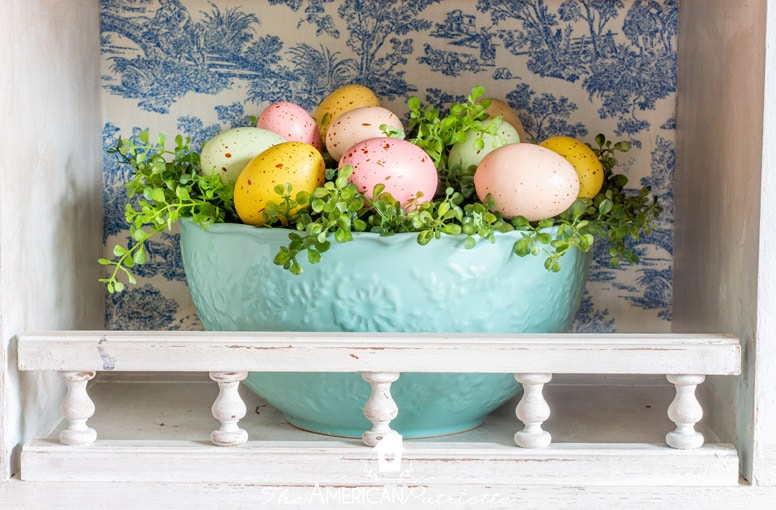 I don't go overboard decorating with eggs, and I'm not huge on pastels, but especially for Easter, it's fun to add them in, and I think using this style helps to still do that tastefully.
I have two little displays with the eggs in bowls…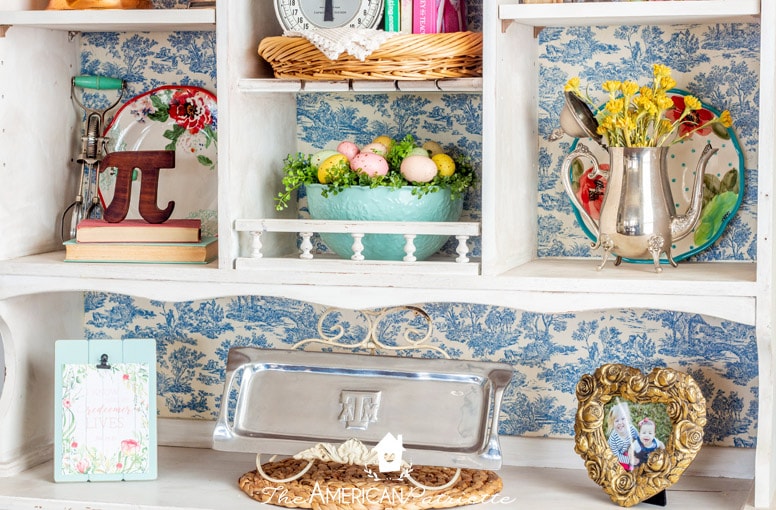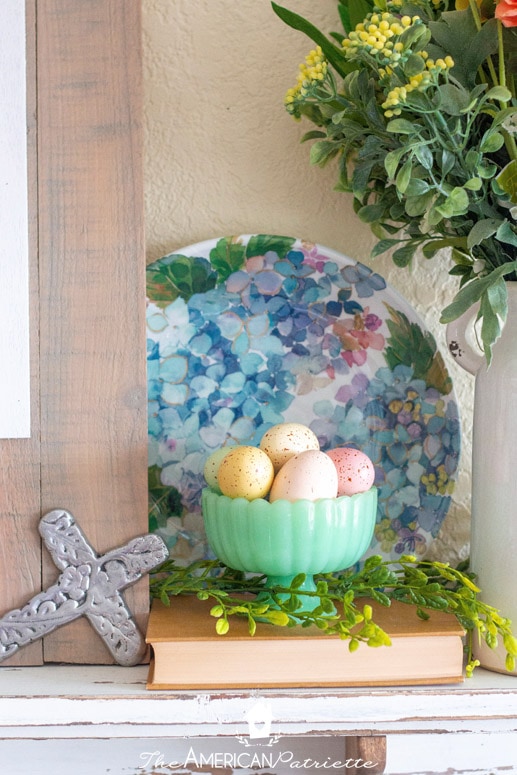 …and then I added a couple of eggs by this candle just to balance out the decor. I got my rustic eggs at Michaels a few years ago, but I bet you can find them all sorts of places.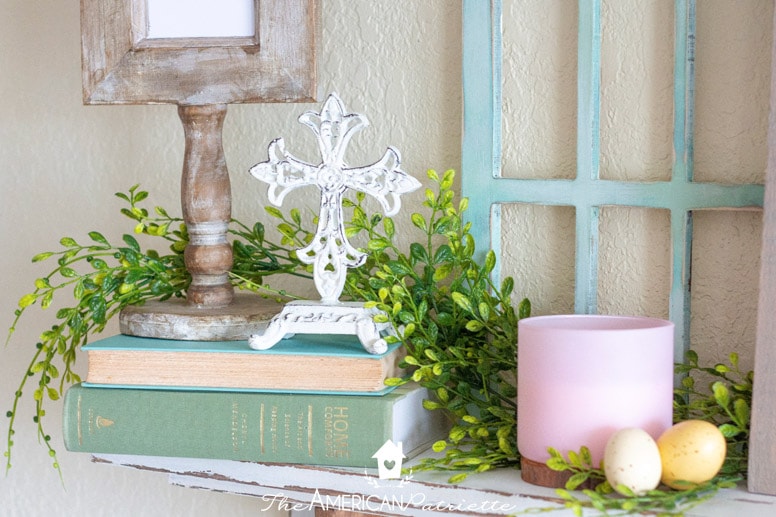 7. Decorate with rustic-style crosses
I love decorating with crosses any time of year, but I change up where I display different ones based on what else is around. I thought these fit in particularly well with the mantel this season: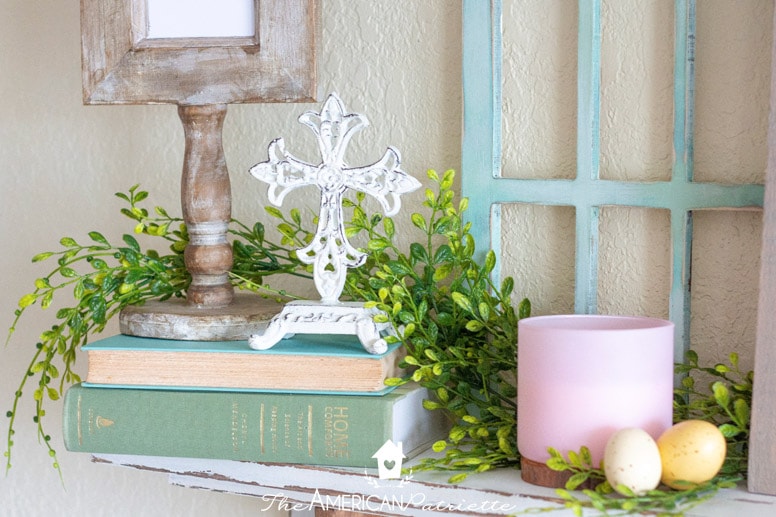 And you can see how they add in an element of rustic charm, too!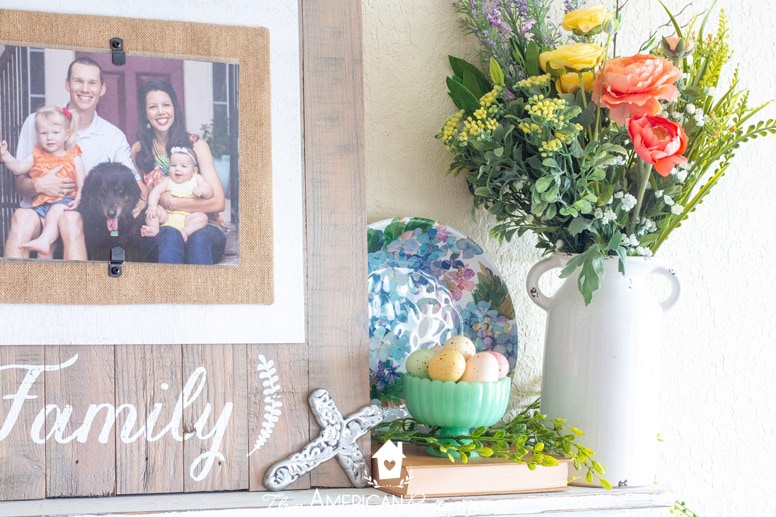 8. Decorate with colorful floral plates
Yet another beautiful way to add in some gorgeous spring florals: plates!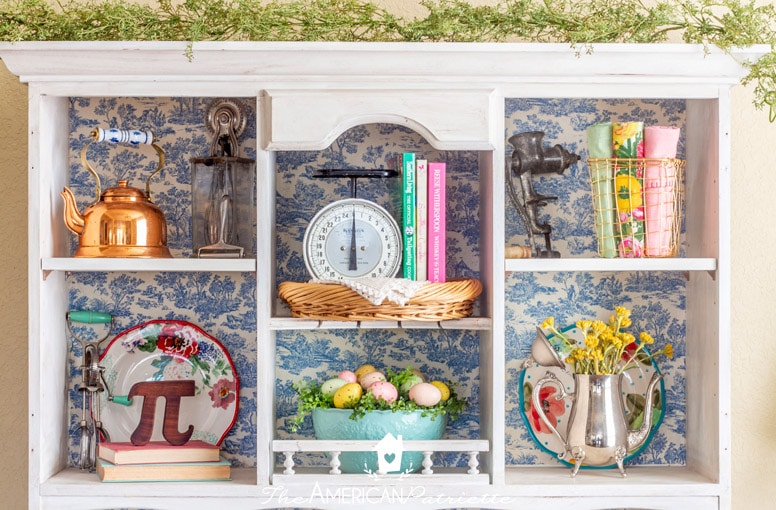 And, just like with some of the other decor elements, you can easily make the transition from spring right into summer with floral plates.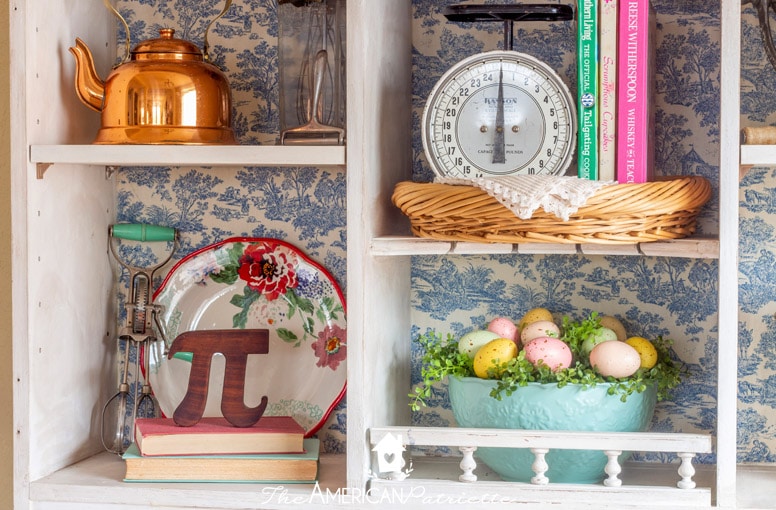 Use them as a backdrop for other decor, or display them on a plate stand front and center. I usually opt for the backdrop, just because doing so saves some space.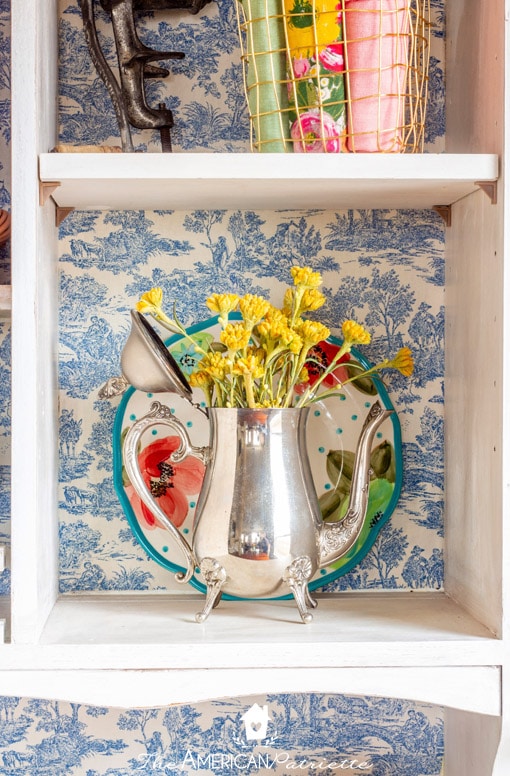 You can see how much seasonal color they add. I typically get my floral plates at Walmart (Pioneer Woman!), or sometimes at Hobby Lobby or Pier 1.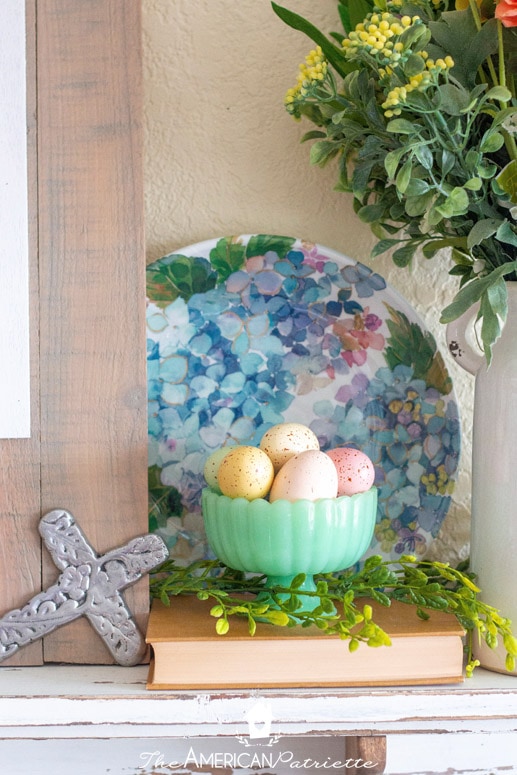 9. Decorate with Cookbooks
If you've stopped by here to get decorating tips for other seasons, you've already discovered the magic in decorating with cookbooks. Just switch them out each season!
Such an unlikely decor piece, huh? But, just like those napkins, they make total sense when you decorate with them in your kitchen.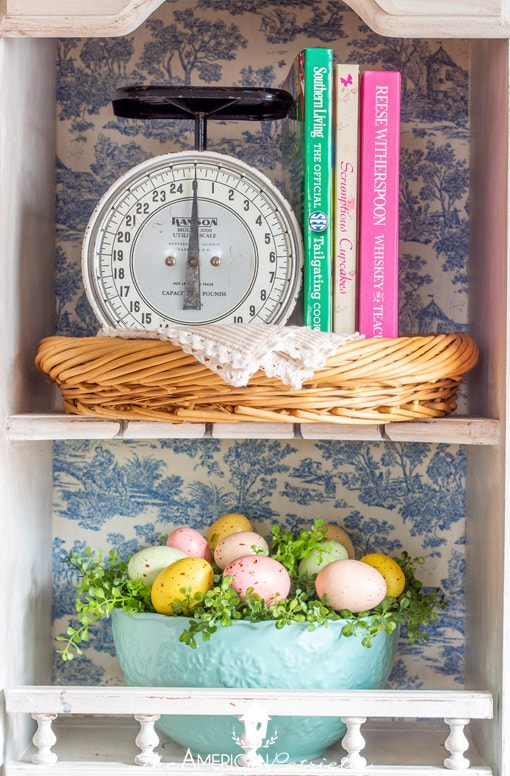 I used to have all my cookbooks just all sitting on a shelf in my pantry, but then I realized they're such an easy way to decorate…plus, they're decor I already had!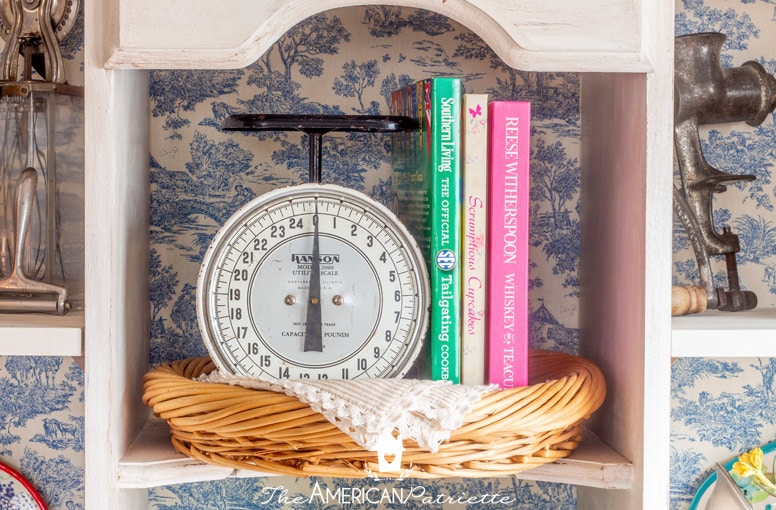 Now, I just mix and match different colors, and then put combos together in a way that makes sense for the season.
It's also a great way to add a sentimental, meaningful touch to your home decor if you have some cookbooks that are particularly special to you and your family.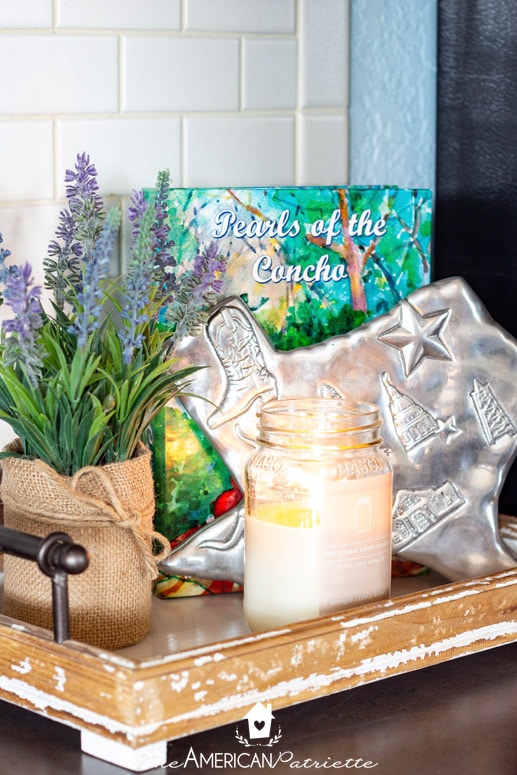 After all, recipes can really take us back, huh?
So many good memories around good food, especially around particular recipes. I love my Pearls of the Concho cookbook – it's from my dad's hometown in West Texas where much of his side of the family still lives. We visit often, and man, do we all love to eat together!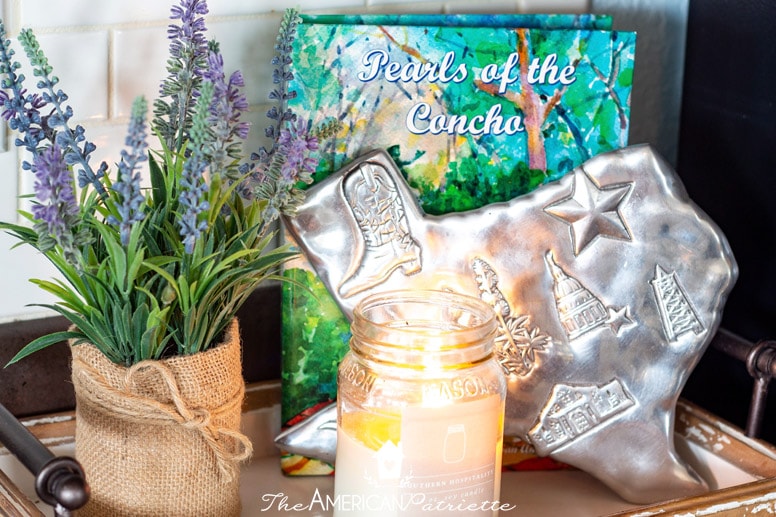 10. Decorate with seasonal candles
And, speaking of my dad's side of the family, all the ladies have an obsession with candles that I'm fairly certain is in our DNA. We're a quirky bunch, and we LOVE candles. Not only do they smell good, they add an element of seasonal coziness to any home decor.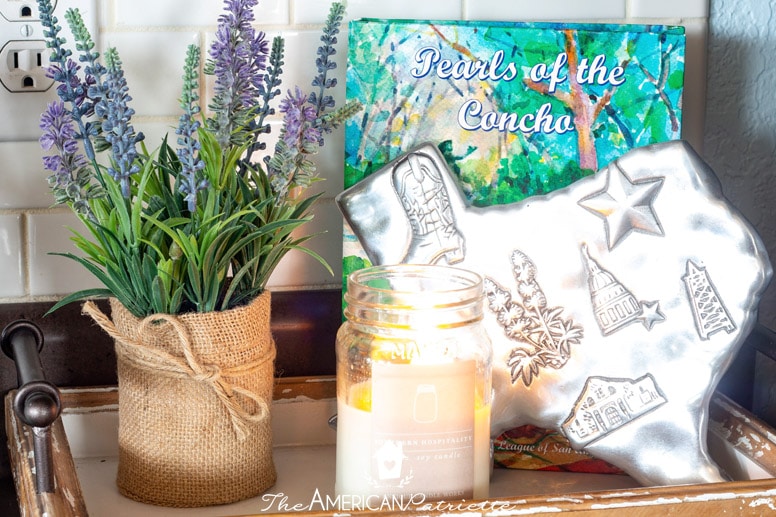 So do what we do, and just put 'em all over your house!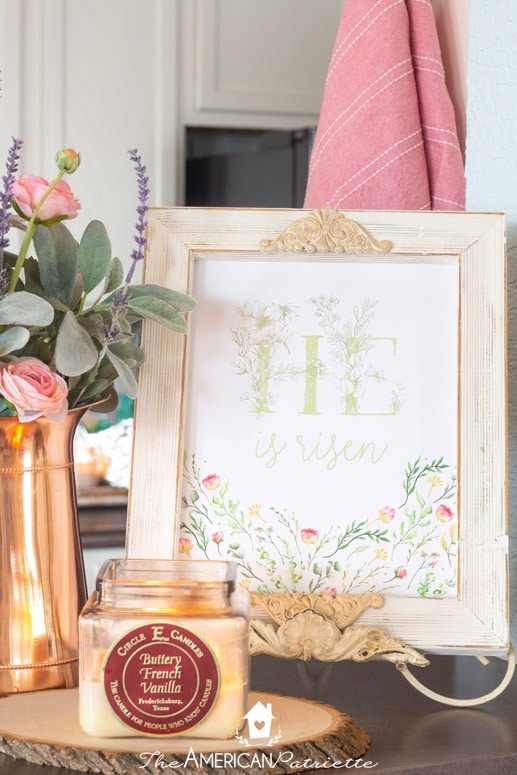 All the time! Any season! Relish in the seasonal scents, but you can also break the rules and burn Christmas-y ones all year round like I often do.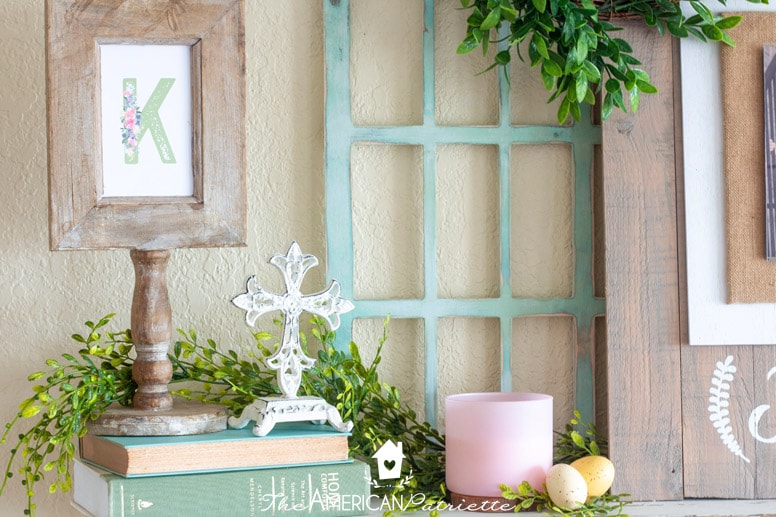 Put them on your kitchen table, the bathroom, and in different spots in your main area.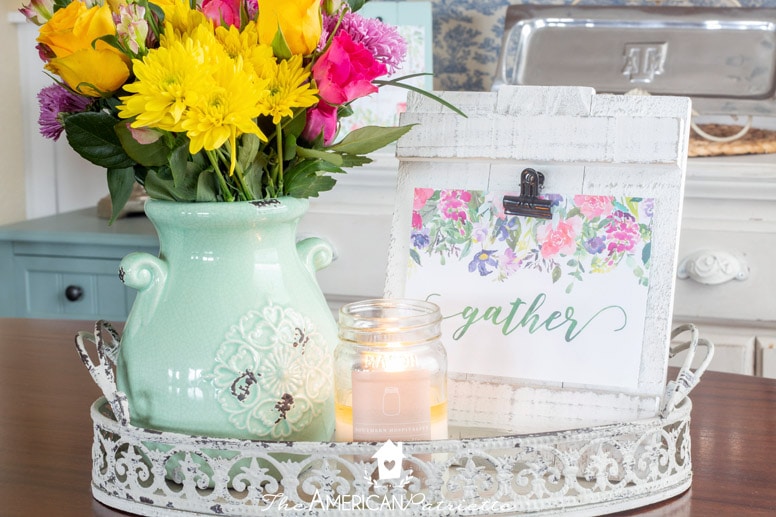 They add so much coziness and warmth, as well as a little dash of color (or, sometimes neutral color which is needed in a particularly bright display, dontcha think?) here and there.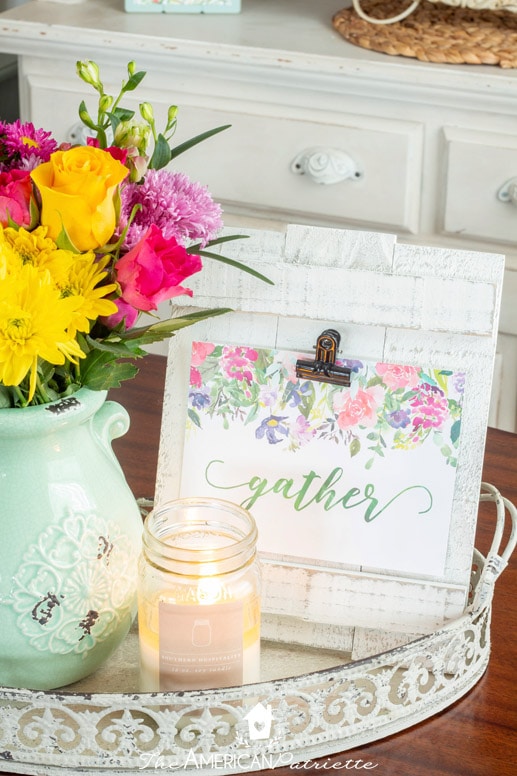 11. Decorate with faux greenery
You can decorate with greenery year-round (I do!), but stick with brighter greens for spring. Like I mentioned with the faux floral stems, so much of the "real-looking" aspect of faux florals is in the green part.
Add them to a spring display on your mantel or on a large piece of furniture (like a hutch).
You can see somewhat of a boxwood "garland" (it's not really garland – I just laid it out as such) on the mantel: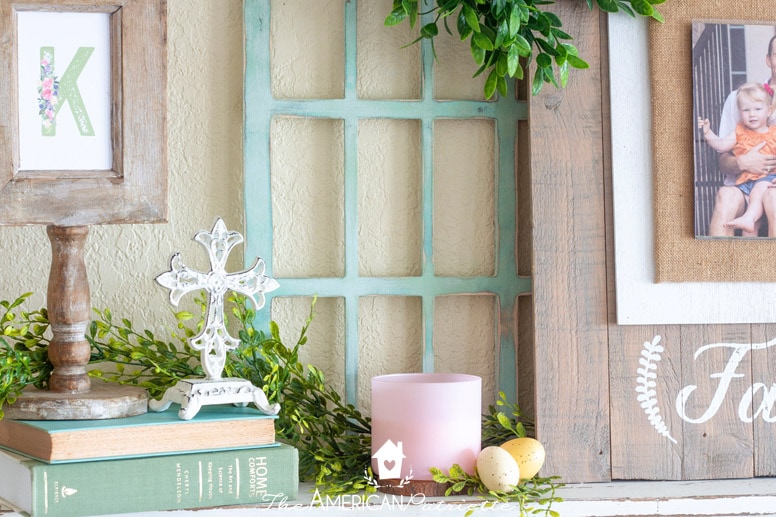 And then I got this woody, rougher garland to drape over my hutch: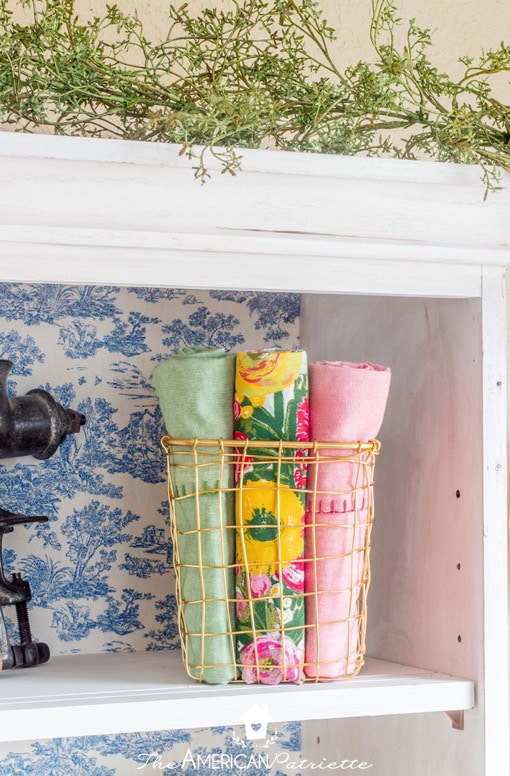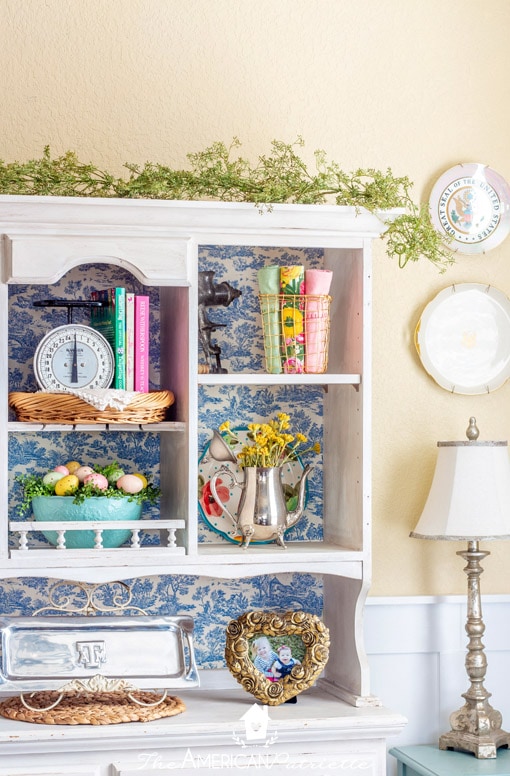 It adds some extra texture and seasonal color in such a simple way.
You can also use it as filler in some other pieces – you can see how I used some boxwood leaves as a bed for the eggs: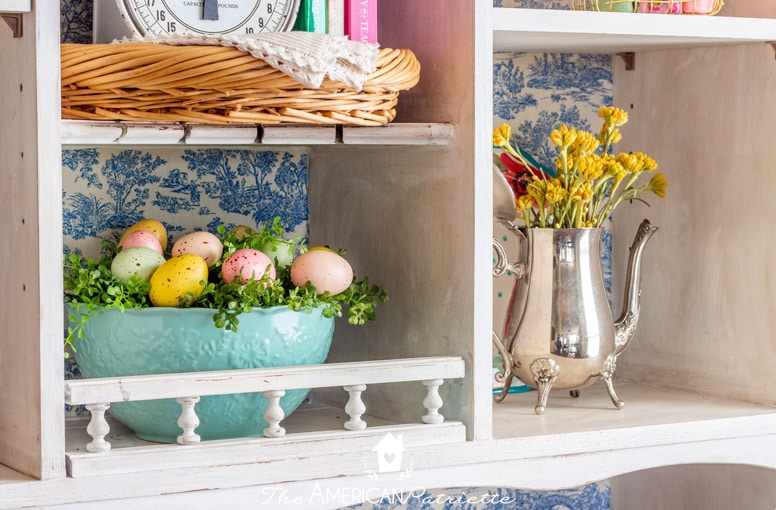 And then I used lambs ear mixed in with a few seasonal stems in this display: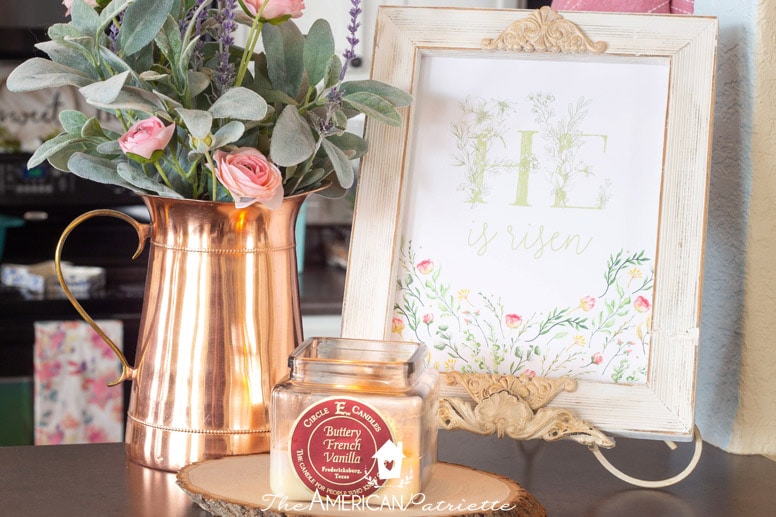 I got all of those greenery pieces at Hobby Lobby. I just love the way they mix in with the other seasonal elements. Definitely gives off a spring country cottage feel.
12. Decorate with seasonal wreaths
I have a total obsession with indoor wreaths, do you?! They add so much to a space! Just a simple green wreath livens up this area so much:
Gives off a bit of a quaint look. You could easily hang wreaths over large mirrors or frames in your house. The green ones, especially this time of year, go a long way to add some spring-y personality.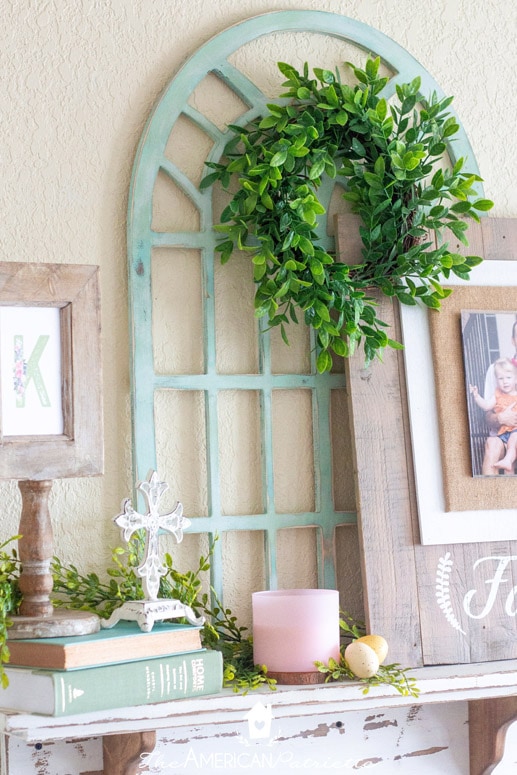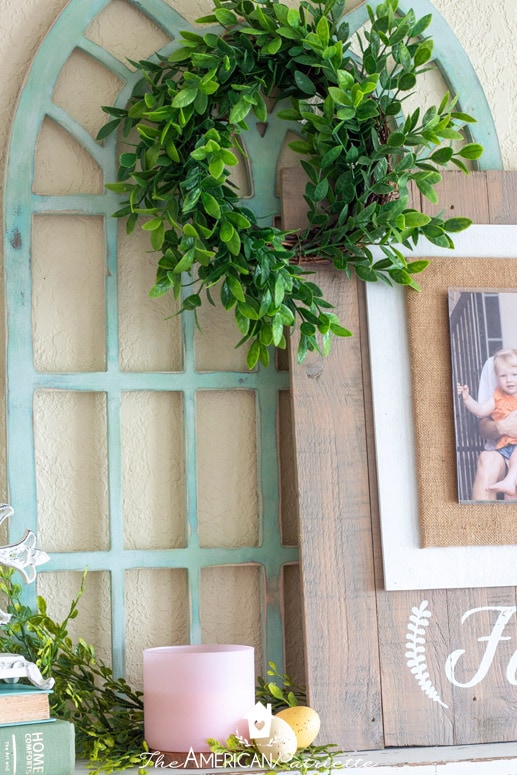 And then there's this little embroidery hoop wreath in my kitchen that I change out each season:
Just some simple boxwood leaves on there with a white flower in the middle. This sign + simple embroidery hoop wreath make it so easy to switch out decor for the seasons.
I've seen people hang wreaths on their cabinets – we don't have a huge kitchen, so hanging wreaths on our cabinets would make the space feel smaller. But, we do have a wreath on our pantry door, so that's another great option for a place to hang a seasonal indoor wreath.
13. Decorate with rustic frames
In addition to decorating with floral printables, using rustic farmhouse-style frames is another great way to add in some color + a vintage look to your decor.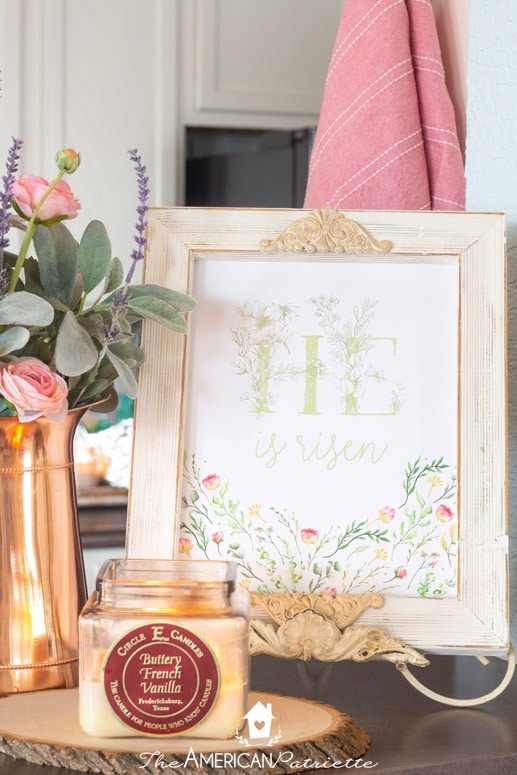 These are really easy to find (or just make yourself) – I typically get mine at, you guessed it: Hobby Lobby or Home Goods.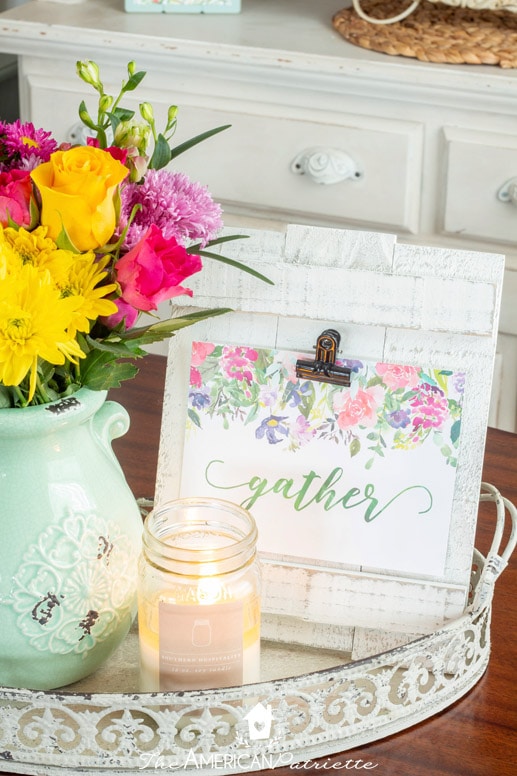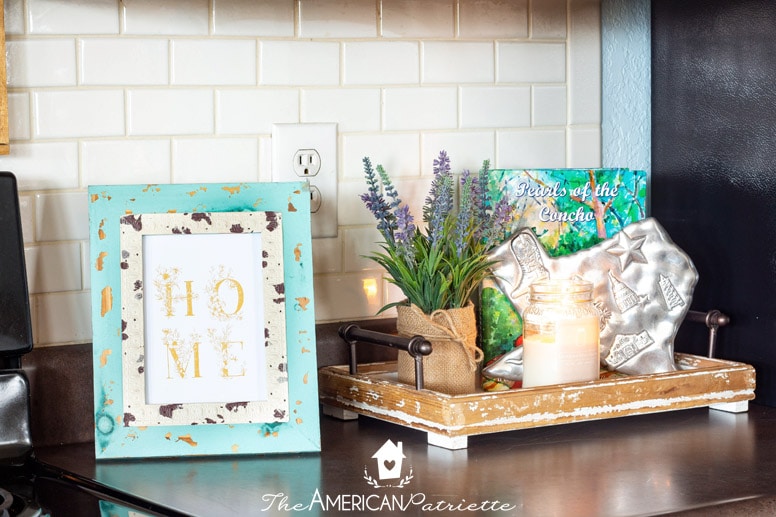 I actually think this one came from Walmart. I don't usually do any decor shopping there except for Pioneer Woman plates & towels, but I got it as a gift, and I just love it!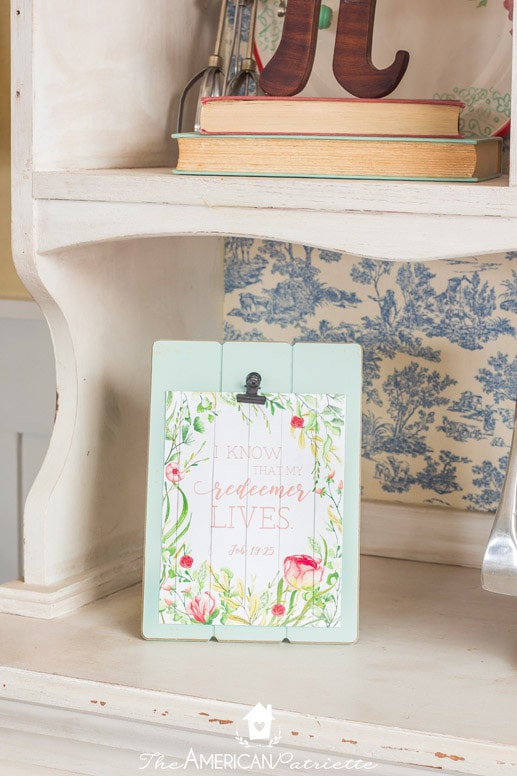 See what I mean about making them yourself? I got an unfinished wood cathedral window frame at Hobby Lobby and distressed it. Cathedral window frames are EXPENSIVE, so I opted to make one myself – this cost me about $15.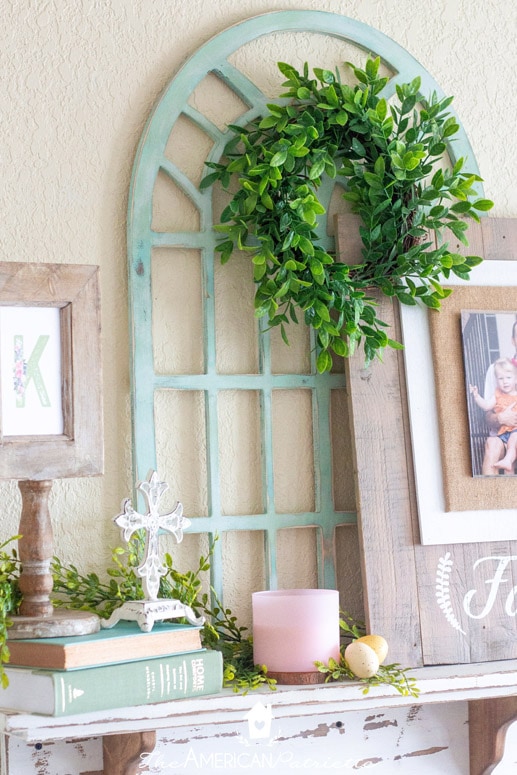 14. Decorate with books
Just like with the cookbooks, you can go scour your bookshelves for other books to add to your decor. Bonus points if they're sentimental books! 🙂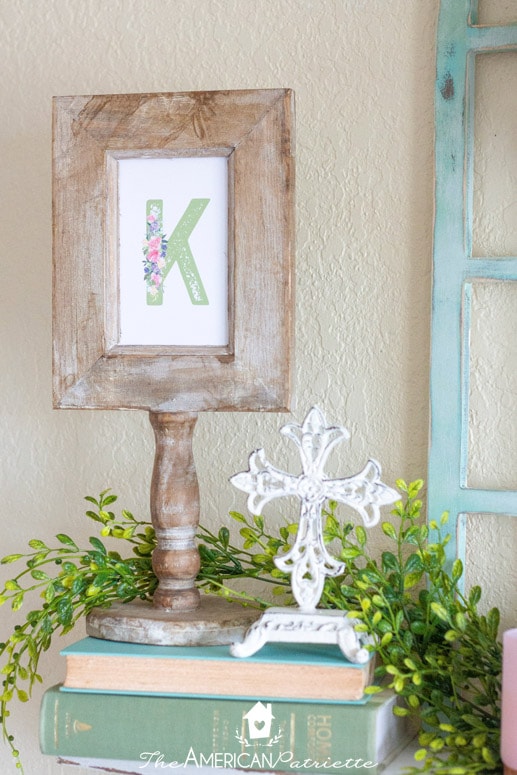 Not all of mine are, but I do have some that were passed down!
I got some green, turquoise, and gold ones at a library clean-out sale a few months back. They're great for adding some color, as well as for adding some texture, height, and dimension to my decor.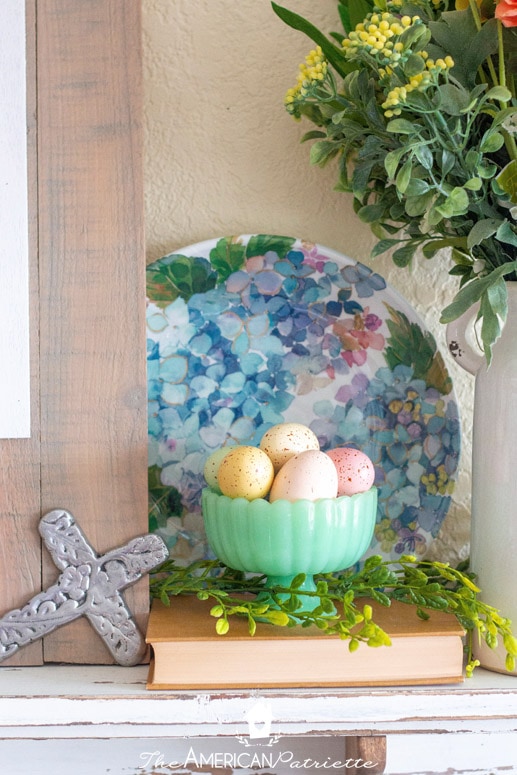 I just switch them out and mix and match them based on the season. You'd be surprised with what you can do with what you already have when you start toying around with combos.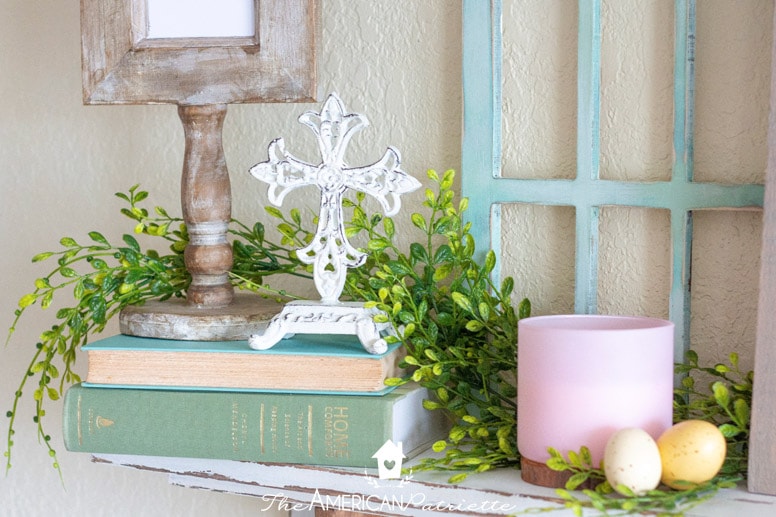 If I don't like the spine or if it's the title of a book I don't care about, I just turn it around and display it the other way:
Easy stuff, friend! But totally adds some fun color and a vintage style!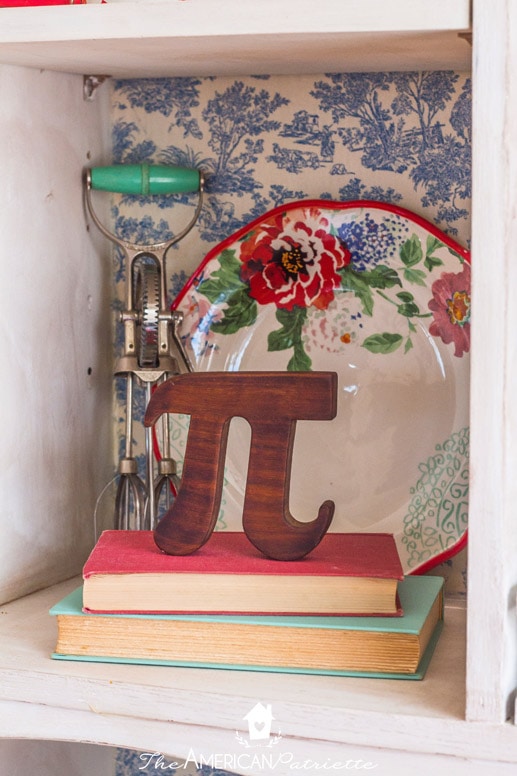 Love these ideas and want to remember them later?! Be sure to pin this to your favorite Pinterest board!