These USA Pans are absolutely the best baking sheet for cookies – you'll never need to go out and buy different cookie sheets again! These pans cook evenly, are VERY non-stick, are so durable, and last forever! You'll be sure to get evenly-baked and chewy cookies when you use these!
Welcome to Day 6 of the 12 Days of Christmas Baking Tips!
After sharing some really exciting posts like a super fun freebie on Day 1, and then later talking you through absolutely delicious sugar cookies & the perfect buttercream frosting to go along with them, I feel like today's tip is a little…boring.
Boring it might be, but life-changing-for-your-kitchen it WILL be, because today I'm sharing one of my very, very best tips for how to get soft & chewy cookies. You can have the best cookie recipes in the world, but if you don't bake that cookie dough on the right pan, you (and your cookies) are still…stuck.
You're stuck scraping your stuck cookies off the pan…cookies that may or may not have been evenly baked.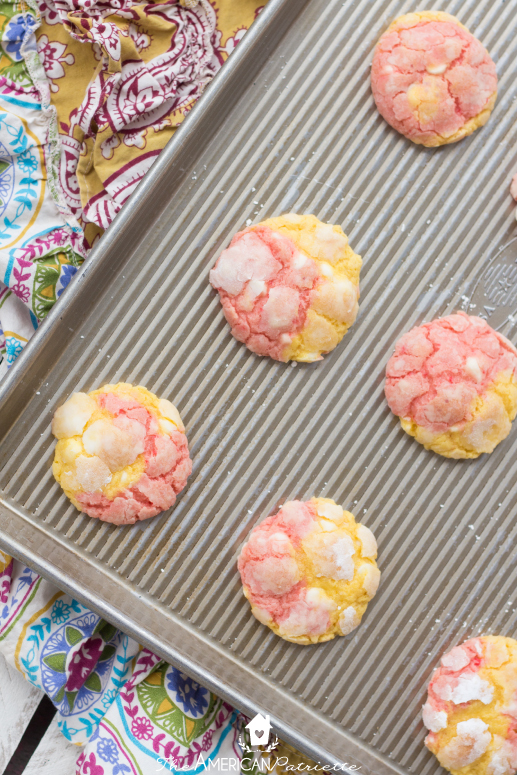 This post contains affiliate links for your convenience. You can read my full disclosure policy here.
The Absolute Best Baking Sheets for Cookies (and pretty much everything else!)
So, what are the stars of my kitchen I'm talking about? If you've been around my blog for long, you've heard me figuratively sing ballads to these USA Pans – I absolutely love them.
I decided it was time for them to get the spotlight in a post of their very own, simply because I know that having some completely reliable "tools," so to speak, in my kitchen, makes my life cooking and baking SO MUCH EASIER – I save so much time because I can rely on those tools to help me do what I need to do at the counter, and I waste a lot less food because those tools help me prepare it the right way!
And these pans are definitely one of my top 3 things in my kitchen I just would not be able to function well without.
Let me say: I do not have a bunch of fancy equipment in my kitchen. I have some trusty items I've been using regularly for years, and I only highly recommend certain specific things because of how helpful they've been to me and because I have utmost confidence in their function & quality.
Why these are the best baking sheets ever
I can sum this up pretty quickly. These USA Pans:
Cook very evenly – no hot spots & cool spots
Don't bend & warp (they're really, really sturdy) – for one, warped pans are challenging (and honestly, kind of dangerous) to remove from the oven, especially if you're only using one hand to take them out a hot oven, and two, warped pans often make it difficult for food, especially cookies, to keep their shape
Clean up ridiculously easily – seriously – hardly EVER any scrubbing – quick wipe down/wash in the sink is all I typically have to do after using these pans
Produce incredibly chewy cookies – somehow, my cookies turn out chewy on these pans every time, and I NEVER (ever) have to work at it to get them off the pan – they slide right off.
Are really versatile – I use them for just about everything in my kitchen that requires a pan: toffee, cookies, roasted veggies, baking loaves of bread, baking meatloaf, etc.
Are long-lasting – I've had mine for over 8 years, and they still work just as well today as they did the day I got them.
I have 3 of the USA Pans: 2 of the larger ones (they're called half-sheet pans, and the baking surface on them is 17. 25″ x 12. 25″) and 1 smaller one (it's called a quarter sheet, and the baking surface is 12.5″ x 9″). I use all 3 of them every week, multiple times per week.
See just how non-stick these pans really are:
While I really do use (and love) these pans for so many different cooking/baking tasks, their "non-stick" quality is especially evident when I make toffee (which is very, very sticky) and my cutout cookies (that absolutely HAVE to pop right off the pan in order for them to come out well).
The toffee I make with saltines & sometimes graham crackers (here are some recipes for ya: pumpkin praline saltine toffee, nutcracker toffee, s'mores toffee, and lemon almond toffee) is really sticky when you bake it. It gets a lot less sticky later on after it "sets" more, but given how easy all of my toffee recipes are (I can usually whip up a batch in 10 minutes or less), I would often spend more time peeling the foil lining off the back of the toffee after baking it than I would actually making the toffee!
I learned that, with these pans, I don't have to line them with foil, and in fact, especially with something like toffee, it's way better NOT to line them with foil.
Look how easily that toffee pops off the pan: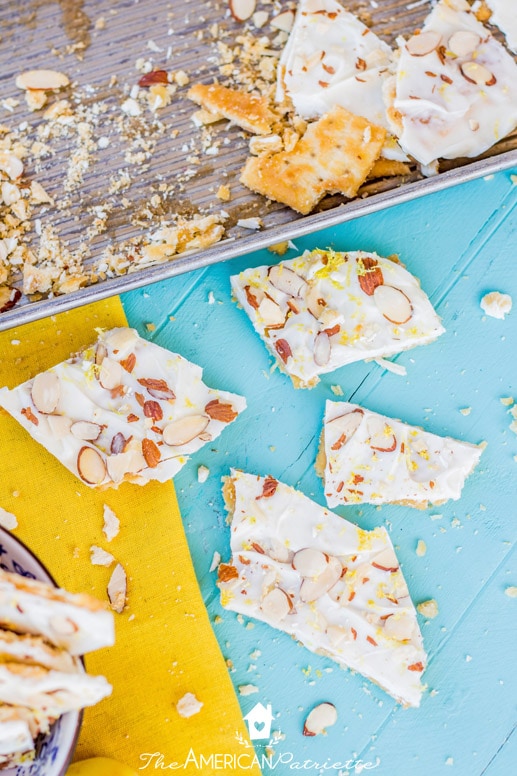 You can see this toffee comes right off. I didn't clean that pan at all – I just pushed the inevitable toffee crumbs to one side so you can see how cleanly the toffee pops off:
See? I just take my metal spatula, make some cuts, and it just POPS off the pan. No peeling. No sticking. No hefty cleanup.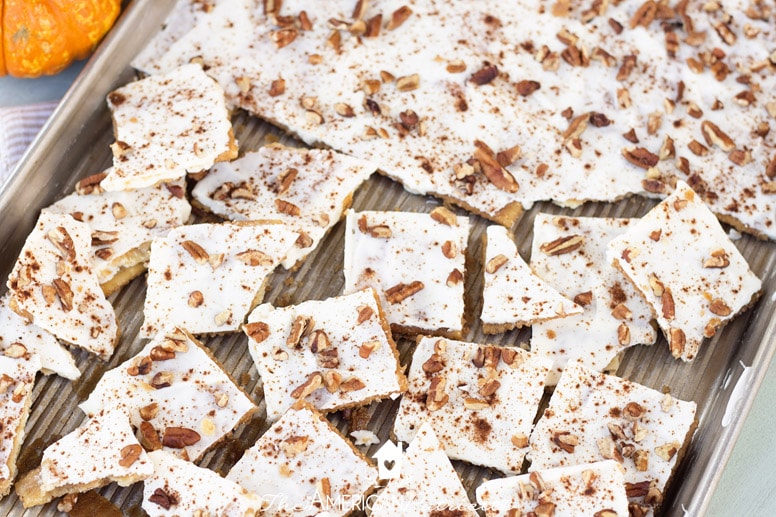 Look how easily cookies come off the pan:
For my cutout cookies, I bake one gigantic cookie on the pan, bake it, and then about 15 minutes after coming out of the oven, I use a metal cookie cutter to cut out the shapes and place on a cooling rack. In order for that to work, I have to rely on the cookie cutting and sliding RIGHT off the pan with the cookie cutter. Just look!
Believe me, you're going to be making up your own love ballad for these pans, too, once you realize how amazing they are to all of your cooking & baking adventures!
Foods I've baked on these pans
Like I mentioned before, I've had my pans for over 8 years, and they've been trustworthy the entire time!
You can see the years of use, but those are only discolorations in the pan from so much use – their quality, functionality, and texture are still 100% the same (those are just colors – they aren't raised spots on the pan).
I use these pans to:
Make all of my cookies (obviously!)
Make toffee
Roast veggies & meat
Bake meatloaf
Bake loaves of bread
And their quality just never ceases to amaze me! I want you to have that same experience in your kitchen – if we spend so much time in there and so much money on the ingredients to prepare all the foods we prepare, it's kind of nice to have a break on some things. Having some really reliable pieces of kitchen equipment can do that, and as you can tell, these pans are definitely reliable for me!
So, if your cookies are sometimes hit or miss, too, maybe the trouble spot isn't in your recipes, but is in the pans you're using! These USA Pans are definitely worth a try!