If you're looking for some quick & easy snacks and treats to prepare for a Christmas party, look no further! This list is full of some delicious tried-and-true, no-fuss recipes, perfect for festive holiday gatherings.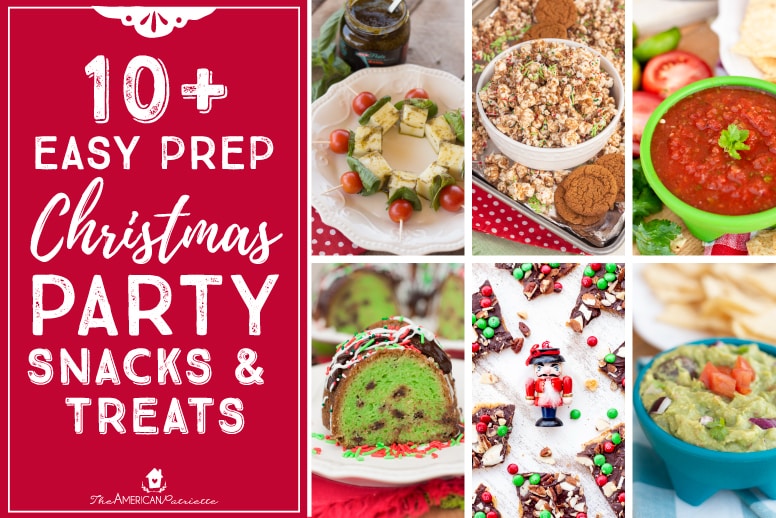 Welcome to Day 5 of the Home for the Holidays series! As we prepare our homes to gather for Christmas, today is all about easy ideas for feeding people at those fun Christmas parties!
You can't have a fun Christmas party without snacks, appetizers, and treats! They bring life and fun to a gathering, don't they? This list of easy-prep foods are perfect for casual holiday parties if you're wanting some great options for feeding a crowd, but also want to avoid a ton of work in the kitchen. All of these options require 10 minutes or less of hands-on prep. How great is that?!
I'll walk you through some of the recipe ideas, as well as give you suggestions on how to make some of them more "Christmas-y." Themes are kind of my thing. (If you're looking at this list because you're planning a Christmas-themed potluck, you need to go check out my fun Christmas potluck themes!)
We'll start out with the savory ideas & then move onto the sweet ones!
Easy Savory Christmas Party Snacks: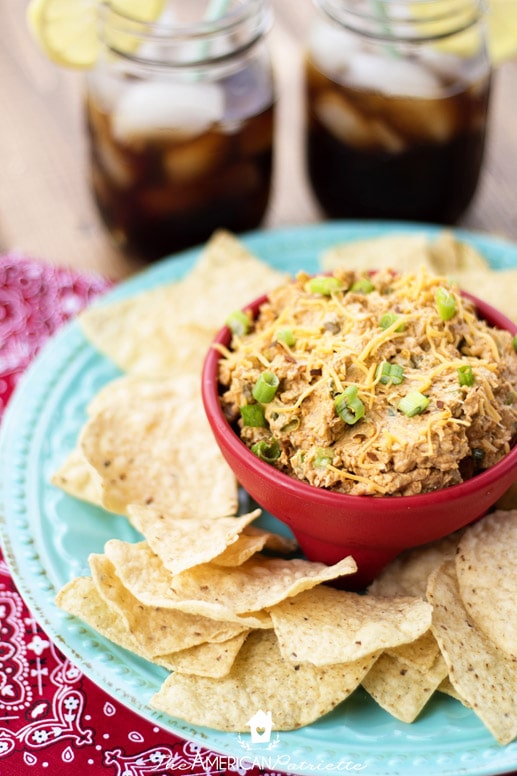 So. So. Good. Takes about 5 minutes of prep work! This Million Dollar Taco Dip is a Tex-Mex take on a traditionally popular dip, and your people will love it!
Make it more Christmas-themed: add both chopped green onions & small chopped red bell pepper or red tomatoes to the top.
Two-Minute, Straight-Out-Of-The-Pantry Bean and Corn Salsa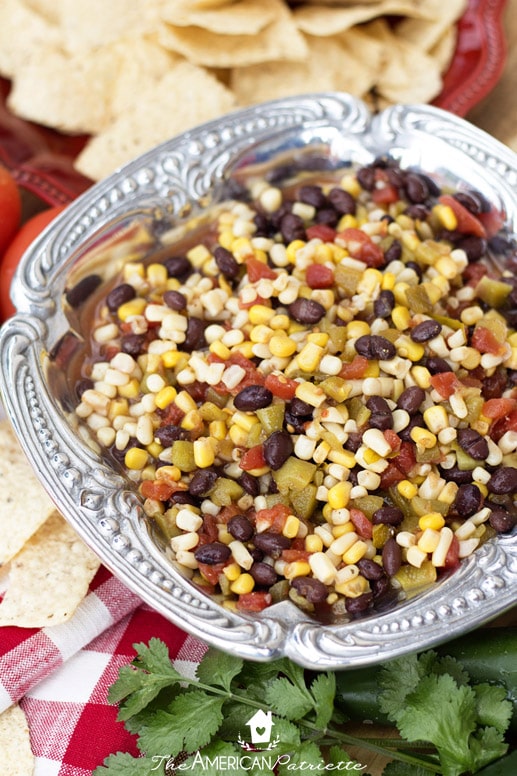 This dip couldn't get much easier. Super fresh taste with pantry ingredients! And it seriously takes about 2 minutes to throw together. How's that for last minute?! Keep the ingredients for this straight-out-of-the-pantry salsa on hand for spontaneous get-togethers – totally a crowd-pleaser!
Make it more Christmas-themed: Serve it with red & green tortilla chips!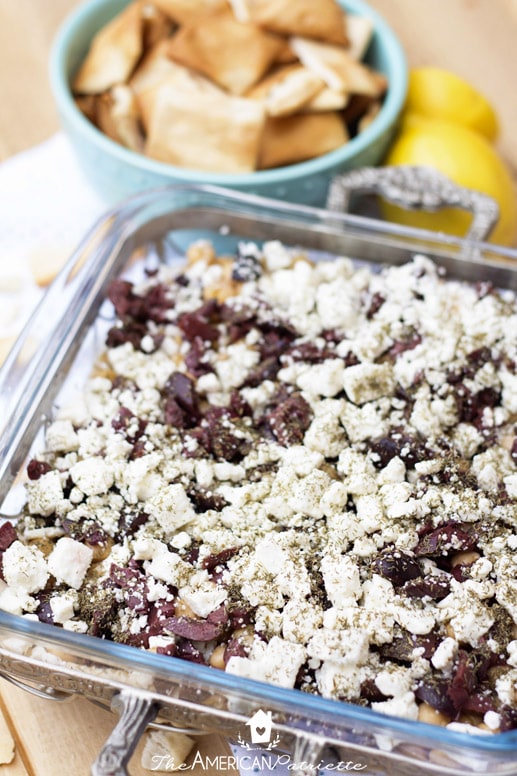 Here's another great option if you're strapped for time! This Greek layer dip is so fresh and tasty, but really, takes all of a couple of minutes to throw together. It's like faux fancy! Seems like a snazzy appetizer, but can be prepped with the snap of your fingers!
Make it more Christmas-themed: Add pimiento-stuffed green olives on top to give it some extra Christmas color.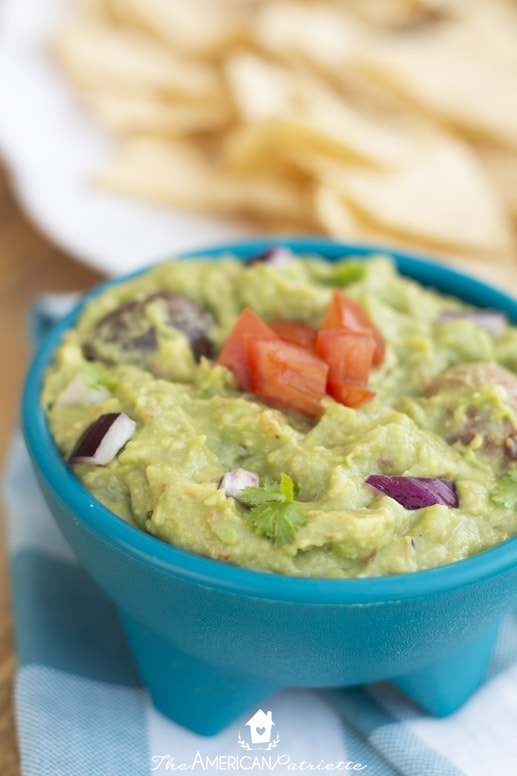 Don't get me wrong, I won't turn my nose up to guacamole anywhere, but I'm telling you, THIS is the BEST guacamole recipe EVER, so if I have my preference, I'm going to eat this any time I get the chance! Look no further for a really creamy (but still textured) recipe that is packed with flavor! Especially when you use my trick for creaming the avocados, this won't take more than about 10 minutes to whip up!
Make it more Christmas-themed: Serve it in a white or a red bowl & top it with red chopped tomatoes. Or, serve it alongside the red restaurant-style salsa (below) and present it on a platter with white tortilla chips.
Fresh and Zesty Homemade Restaurant-Style Salsa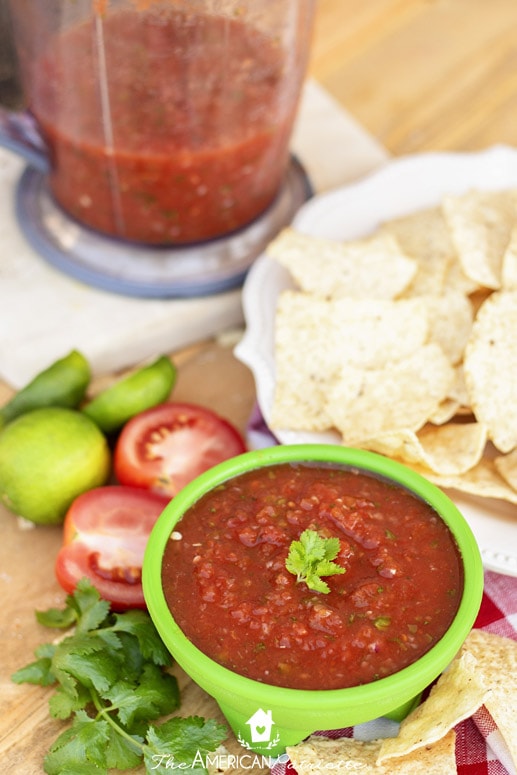 I've probably made this salsa at least 100 times, and I'll make it a thousand more! SO easy to make, and the recipe makes a ton, so it's perfect for a crowd. We absolutely love this salsa recipe – it's a hit every single time!
Make it more Christmas-themed: Serve it in a green bowl (like you see!) alongside some guacamole with white tortilla chips. Easily fun & festive!
Slow Cooker Peach and Honey Chipotle Appetizer Meatballs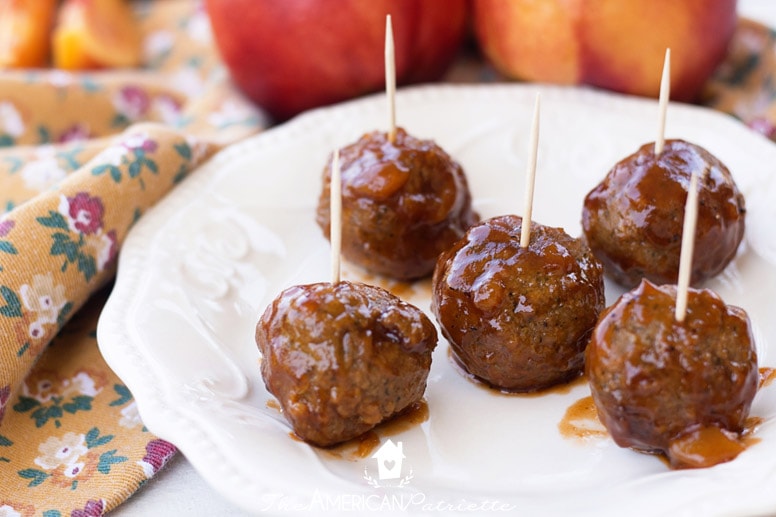 With only three ingredients and a couple of minutes of prep, you let the slow cooker do all the delicious work with this meatball recipe! These are sweet and spicy – one of my favorite combos when it comes to food! These meatballs are SO good, and couldn't get easier to make!
Make it more Christmas-themed: Serve them on these gorgeous DIY Christmas appetizer skewers!
Just spear some grape or cherry tomatoes, fresh basil, and cubed Mozarella cheese onto some skewers and place them on a beautiful Christmas platter. These caprese skewers are so easy!
Make it more Christmas-themed: With the red tomatoes, fresh green basil, and mozarella cheese, these easier (and a bit healthier!) appetizers are already kind of festive, but if you want to present them even more beautiful, just like the meatballs above, serve them on these beautiful DIY appetizer skewers.
Easy Sweet Christmas Party Snacks:
Here are some fun & festive options to help satisfy that sweet tooth at your Christmas parties!
Chocolate Chip Christmas Pistachio Bundt Cake
This gorgeous pistachio bundt cake is SO easy to make and is so fun and festive! Perfect for a fun Christmas party!
Christmas Saltine Nutcracker Toffee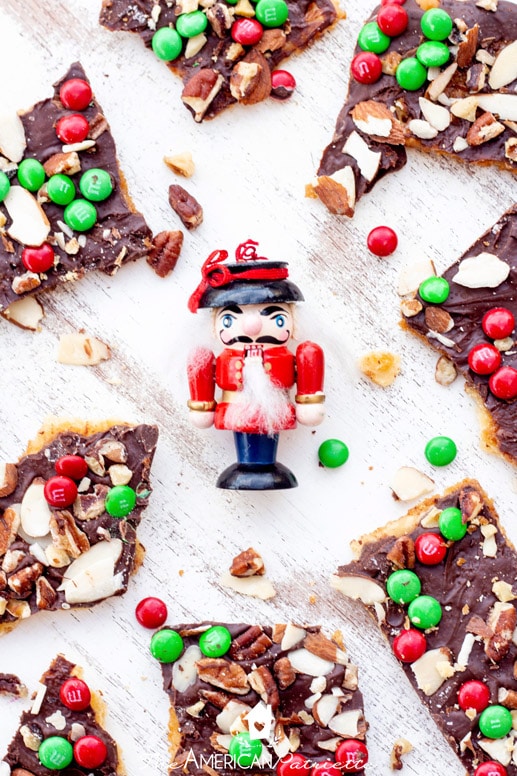 Toffee is one of my FAVORITE party treats to make! It is so simple (less than 10 minutes of prep) and it's just so doggone tasty! This nutcracker toffee is so fun this time of year! Perfect casual holiday dessert (that still feels kind of fancy)!
Easy White Chocolate Gingersnap Popcorn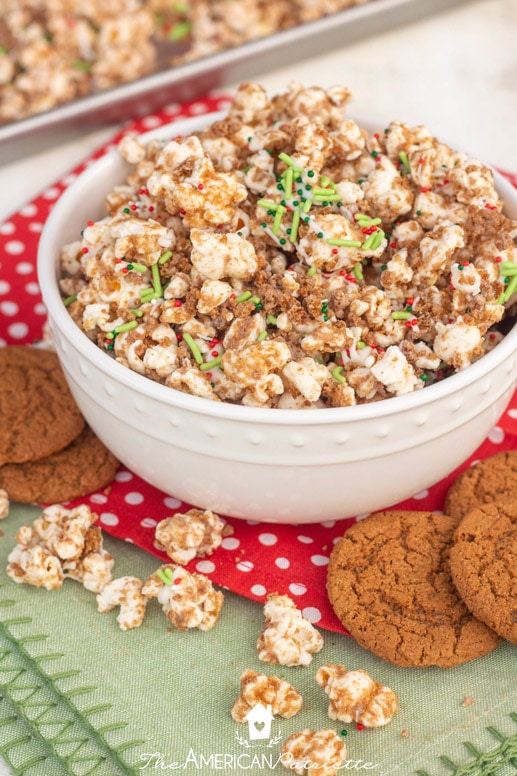 Just like toffee, candied popcorn is also one of my absolute favorite party desserts to make. This white chocolate gingersnap popcorn is especially fun to make this time of year! And, at only 3 ingredients + sprinkles, and as a no-bake dessert, this is definitely one of the easiest recipes around!
Have fun so much fun gathering with family and friends to celebrate the Christmas season!