Easy DIY Fancy Beaded Christmas Appetizer Skewers
These Easy DIY Fancy Beaded Christmas Appetizer Skewers are a gorgeous and fun homemade Christmas gift idea, especially as a hostess gift or party favor for Christmas parties. Perfect as a handmade gift to make for anyone who loves to entertain, and it only takes about 10 minutes to make a full set!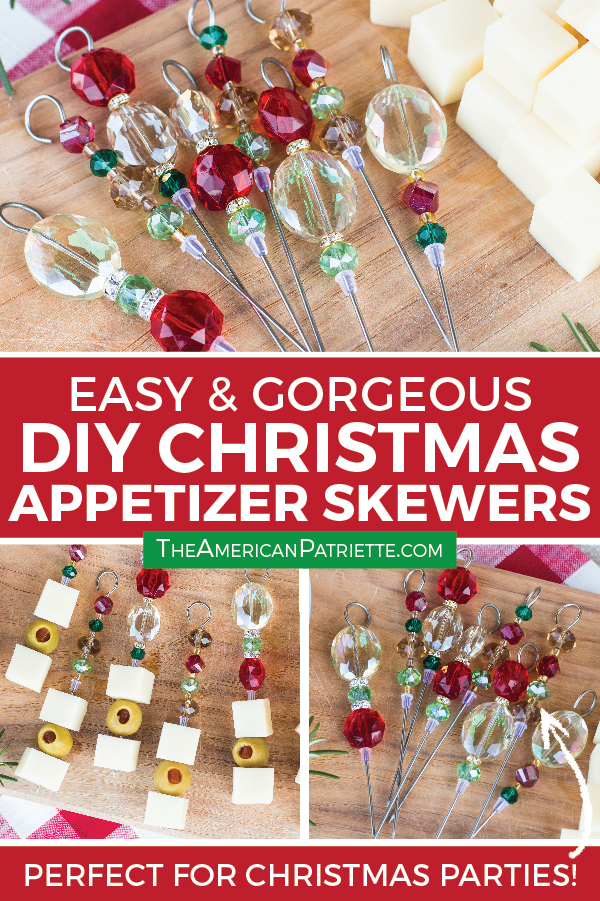 These beaded appetizer skewers will dress up any charcuterie or relish tray in a heartbeat! They're such a gorgeous, fun, and easy DIY project, and they're completely customizable, too!
I absolutely love these for Christmas, but you could even make a set for every holiday and season, or just to match your own home decor.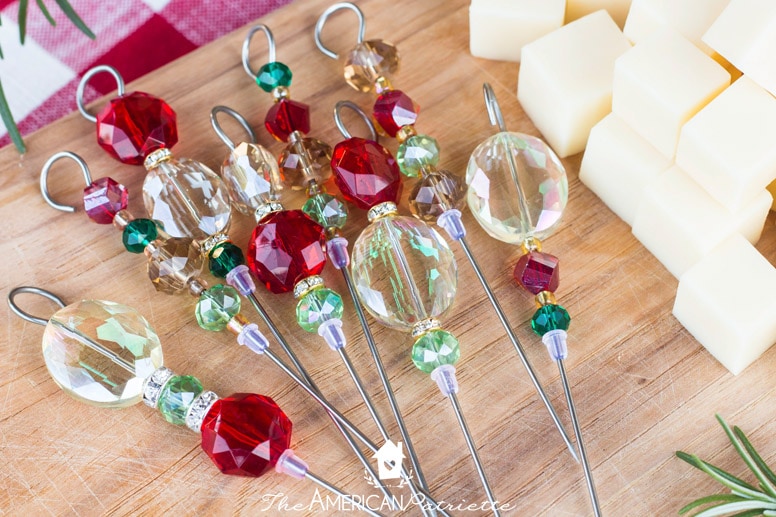 Such a great DIY Christmas gift for someone who loves to entertain (maybe even turn this into one of your standard hostess gifts!), especially since it's so easy to keep all of the supplies on hand.
Use them as spears for cubed cheese, olives, cold cuts, fruit, miniature pickles, or other snack foods that you're serving.
Let me walk you through how easy it is to make these gorgeous appetizer skewers – you're going to want to run out and make them today! They were sooooo fun to make! (I seriously want to make them in every color now!)
And, they're so easy to assemble, that you can involve your kids in this project – my 4-year-old helped me put these together for this post.
Let's get crafting! You only need a few items and to follow a few steps – such a great last-minute gift idea (that's still thoughtful and useful)!
This post contains affiliate links for your convenience. You can read my full disclosure policy here.
Materials You'll Need for the DIY Appetizer Skewers:
Turkey lacers (these are the skewers – I used ones that are about 6-8 inches long, but you can find longer ones if you want to make longer skewers).
Assortment of beads (I got all of mine at Hobby Lobby – just MAKE SURE you get beads that have larger holes so they fit on the skewers)
Soft earring backs (these serve as the stopper that hold the beads in place on the skewer)
Step 1: Set out the beads you want to use
When I was planning this project, I knew I wanted to make my skewers Christmas-themed, so I picked out some strands of beads from Hobby Lobby that fit the look I was going for.
You could make these in so many different styles, but I wanted to do something a little fancier and glitzier, so I chose beads with more sparkle. I also just dug around in the bead collection I already have and pulled some things from there.
Tip: MAKE SURE that when you're picking out the beads, you choose beads that have holes large enough for the bead to easily slide onto the skewer.
Step 2: Assemble beads onto skewers
I just played around with the arrangement I wanted to follow for the skewers. As you can tell, I didn't make all of them completely uniform, but they do all coordinate with each other. I wanted to do a mixture of colors and bead sizes on each one. Just play around until you figure out what arrangement you want to do and then start placing the beads on the skewer.
Step 3: Place earring back tightly against beads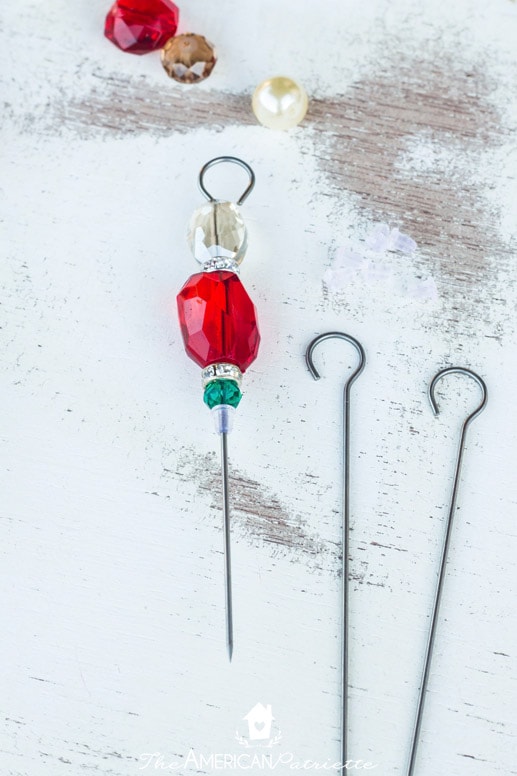 You can just slide the earring back onto the skewer and put it snugly against the last bead, that way it holds the beads in place.
So easy! And I love that this is glue-free – makes it super easy to remove the beads from the skewer if you need to do a deep clean (like if food got in between the beads when you were using the skewers), and it also makes them easy to change out if you decide you don't like that style anymore! 🙂 Plus, makes them just soooo easy to make!
Go have fun making these – such great Christmas gifts, and since these are so fast to make, you can make a big batch of them at once!
Love this idea and want to remember it for later? Be sure to pin it to your favorite Pinterest board!