Looking for recipe ideas of things you can make while in quarantine? Here are a bunch of (fairly healthy!) meals you can make from staples in your pantry and your freezer!

As the vast majority of us quarantine during this crazy coronavirus outbreak, I think many of us are looking for ideas of tasty and healthy foods we can make, especially from staple ingredients sitting in our pantry and freezer!
When I was doing meal planning and prep to gear up for Baby #3, in addition to freezer meals that I'd prep ahead of time, I wanted to make myself a list of meal ideas I could make from pantry and freezer staples. Doing so would enable me to get away with not prepping SO many meals ahead of time, but still give us options for easy, healthy, throw-together meals without having to make frequent treks to the grocery store with a new baby and 2 other kids in tow.
Little did I know how handy this list would be with this outbreak! What timing!
Knowing how helpful this list is for me, I thought I'd share it with you in hopes that it can help you feed your family during this crazy time, especially if you're ordering groceries online and picking them up curbside & you can't always get your order fulfilled. Stocking up on some staples might help you make those meals when you can't get access to the fresh ingredients.
I'm a BIG believer in lots of flavor, texture, and nutrition in meals, so when I plan meals from staples, I try to incorporate those qualities as much as possible! Here's my list of meal ideas from pantry and freezer staples, and then I have the lists of the actual staple ingredients at the bottom of the post.
Hope cooking, no matter what that looks like during this time, brings you some needed joy throughout your day! 🙂
Meals You Can Make from Pantry and Freezer Staples
Quinoa Saute
A hodge-podge quinoa saute is one of my go-tos any time I need to come up with an easy meal idea from things we have on hand. And, even though it's usually one of those, "Yikes, I really need to go to the grocery store but I don't have time to go until at least tomorrow or the next day!" meals, it doesn't taste like it plays second fiddle to a planned-out meal.
So sometimes I plan this type of meal, too, because it's SO DERN GOOD.
Ingredients you need:
Quinoa
Meat (optional) – sometimes I'll cook up some hamburger meat or chicken we have in our freezer, or this is a great way to use up some leftover meat from another meal that you've got hanging out in your fridge!
Veggies + oil for sauteeing – you can use veggies you have in your fridge or freezer for this. Very few rules – just veggies that you'd typically saute. I love making a fall version of this with butternut squash & kale, but you can definitely saute some carrots, peppers, broccoli, cauliflower…you name it!
Chicken broth (optional) – I promise if you cook your quinoa in it, it'll be way more flavorful!
Nuts – typically pecans or almonds, just to give it some extra texture and crunch
Cheese (optional, but totally recommended!) – my favorite to use for this kind of dish is Feta which I almost always have in my fridge, but if you don't have Feta, you can sprinkle on some Parmesan (or yum: shaved Parmesan!) or Mozzarella
Seasonings – usually a little bit of salt, garlic powder, onion powder, oregano, basil, etc. Just season to taste!
Here's how I make it:
Cook quinoa in chicken broth.
In a separate pan, cook the meat (if I'm using meat) and saute the veggies I'm going to use.
Then, once the quinoa is cooked, I add the quinoa to the cooked meat/veggies, and then add in my seasonings to taste. Sprinkle in some nuts, cheese if you have it, and serve it up! YUM!
Rice Saute
This recipe is pretty similar to the quinoa saute, except I usually use the same veggies for this every time I make it: carrots, celery, and onions. But, considering we're specifically talking more about staples in this post, you can use whatever veggies you either have on hand or that are in your freezer.
Ingredients you need:
Rice
Meat (optional) – my favorite to use for this would be lean hamburger meat
Veggies + oil for sauteeing – again, my favorites to use for this would be carrots, celery, and onions, but if you're using freezer veggies, broccoli, cauliflower, and okra would be great for this.
Seasonings – usually a little bit of salt, garlic powder, onion powder, oregano, basil, etc.
Here's how I make it:
Cook the rice as directed (any kind of rice works!)
Cook the meat & veggies. Stir in the cooked rice, and then add seasonings to taste. Done!
Pasta Salad
Yet another dish that doesn't have many rules! When I make pasta salad, I usually make it with everything in it but the kitchen sink! Raid your fridge, freezer, and pantry to throw one together. You'll be shocked at how big and hearty it can get!
Ingredients you need:
Any kind of pasta (I typically prefer bowtie, penne, or rigatoni for this, but you can use whatever pasta you have on hand; also, I typically always have a box or two of "protein enriched" pasta in my pantry – doesn't change the taste, but adds some nutrition to any typical pasta dish)
Veggies – if you have some fresh ones in your fridge to use up; otherwise, pantry/freezer veggies you can use: canned garbanzo beans, jarred olives, jarred pepperoncinis, frozen peas, frozen corn
Nuts – my favorite to use are pistachios, but you can easily sub those for almonds, walnuts, or pecans
Hard-boiled eggs (optional) – if you have eggs in your fridge that you can use, these add some extra "umph" to the salad
Feta or Parmesan cheese (optional) – again, if you have 'em, use 'em! If not, everything else together will still give the pasta salad a lot of flavor!
Bacon (stored in your freezer) or packaged bacon pieces from your pantry
Italian dressing – I always make my own with seasonings, oil, and vinegar (I usually use this Italian dressing mix recipe)
Here's how I make it:
Cook the pasta as directed
While the pasta is cooking, I'll chop any veggies I have on hand & cook the bacon (which, if I have time, I ALWAYS cook in the oven because it cooks so much more evenly and it's way less messy!)
Once the pasta is finished, I drain and rinse it with cold water to cool it down, then pour the pasta in a big bowl and add in everything to it.
This makes GREAT leftovers for a day or two! All the flavors settle in! Just a tip, though: sometimes it's good to add a little more dressing the following day; the noodles kinda soak up the dressing, so if you notice it needs a little extra flavor the following day, toss the salad with a little more dressing.
Pesto Pasta
Definitely one of my easy go-tos when I need something to make between planned meals!
Ingredients you need:
Pasta (spaghetti, fettucini, penne, etc. – any kind will do!)
Jarred pesto sauce (optional: if you want to jazz this up, you can blend in some cashews + olive oil and it'll give it more flavor & creaminess, and, if you have some lemons on hand, some lemon juice gives it even more flavor!)
Frozen veggies (i.e. broccoli, cauliflower, or green beans would be my go-tos for this)
Parmesan cheese
How to make it:
Cook the pasta according to package directions, but a couple minutes before the pasta is finished, I'll throw the frozen veggies into the pasta & hot water and let them cook through while the pasta finishes cooking
Once the pasta's finished (and the veggies are heated through) and I've drained and rinsed it, I just pour it back to the same pot, add in some olive oil & the pesto, and then sprinkle it with Parmesan cheese.
Tortellini Soup
This is one of my favorite recipes to make in cooler weather when I need to plan a meal for a busy weeknight. It's SO easy – there's hardly any prep work involved!
You can get the full recipe here, but I'll walk you through the basics of how to make it.
Ingredients you need:
Boxed roasted red pepper soup
Chicken broth
Frozen chicken
Frozen veggies (I usually use a bag of mixed veggies: zucchini, squash, broccoli, carrots, and cauliflower)
Tortellini (that I've had stored in my freezer); or you could easily use ravioli if you have that instead!
How to make it:
Add the soup, broth, and frozen chicken to a large pot. Bring to a simmer, then reduce to low-medium heat, cover, and continue cooking until chicken is fully cooked and easy to shred with 2 forks.
Once you've shredded the chicken, add in the frozen veggies and allow them to cook until they're heated all the way through.
Then add in the tortellini and cook for as long as the package directs (typically about 8 minutes). Gobble it up!
Meatball Soup
Just like that tortellini soup, this is one of my go-tos for a super simple weeknight dinner! No prep here, either!
Here's the full recipe for the meatball & veggie soup, but it's sooo basic!
Ingredients you need:
Frozen cooked meatballs
A jar of pasta sauce
Beef broth
Frozen veggies (same with the tortellini soup – I usually use a bag with mixed veggies that includes zucchini, squash, broccoli, carrots, and cauliflower)
How to make it:
Add everything to a large soup pot (or you can make this in the slow cooker – you can get the specific slow cooker meatball soup instructions here), bring to a simmer, reduce the heat, cover, and cook until everything is fully heated through. I know. it's that easy!
Spaghetti & Meatballs (+ frozen veggies)
This one is pretty self-explanatory, right?!
Ingredients you need:
Frozen cooked meatballs
A jar of pasta sauce (Tip: if you want to jazz this up, you can always add extra spices to it – a little extra oregano, basil, and garlic powder never hurt anyone! And, along those same lines, if you have some onion in your pantry, fridge, or freezer, add that, too – it'll give it some extra flavor.)
Spaghetti (or any kind of pasta you have on hand)
Frozen veggies (broccoli is usually my favorite for this, but you can easily use cauliflower or green beans, or really whatever you have!)
How to make it:
Cook pasta according to package directions.
In a separate saucepan or cast iron skillet, pour in pasta sauce and add meatballs & veggies. Cook until meatballs & veggies are heated through.
Add cooked pasta to sauce, stir, and serve it up!
Chicken Tenders + Green Beans
Another self-explanatory meal!
Ingredients you need:
Frozen chicken tenders
Frozen green beans (my favorite to get are ALWAYS the thin green beans – they cook so well and taste like they're fresh!) + olive oil & salt for sauteeing and seasoning
Dipping sauce (optional) for the chicken: 1 part Mayo, one part mustard, and one part BBQ sauce will get you close to a homemade Chick-Fil-A sauce!
How to make it:
Bake the chicken tenders in the oven according to the package directions
Sautee the frozen green beans in olive oil. Add salt to taste.
Make the dipping sauce if you want it for dipping the chicken!
Cowboy Soup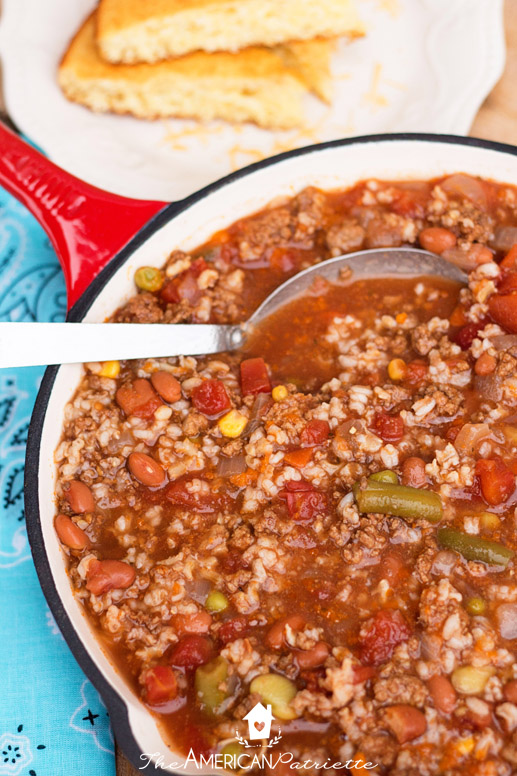 This is the most popular soup on my blog, and we love this stuff too! You can easily make it with staple ingredients. It's SO hearty & flavorful!
Here's the full recipe: Cowboy Soup.
Tuna Salad
One of my favorite lunchtime meals ever. So good.
Ingredients you need:
Canned tuna
Mayo
Regular mustard
Spicy mustard
Pickles (you can use regular jarred pickles, but I'm telling you, homemade pickles are the way to go annnnnytime you want pickles!)
Seasonings (a little bit of salt, garlic powder, dill weed, celery salt if you have it)
Sliced almonds
Celery (if you happen to have some in your fridge – it just gives it some extra crunch)
Bread from your freezer or crackers from your pantry for eating it
How to make it:
Mix ingredients together according to your flavor preferences. I never measure anything when I'm making tuna salad – I just eyeball everything and then taste it at the end to figure out what it still needs.
Salsa Chicken + canned black or pinto beans, rice, and corn
You can serve up salsa chicken with whatever sides you want, but the salsa chicken itself is super easy to make!
I don't have a recipe for this on my blog, but it's a really basic recipe. You really just need chicken breasts + jarred salsa. If you have it, you can add some fresh lime juice. Here's a good salsa chicken recipe you can use if you want to follow more of a recipe.
Ingredients you need:
Chicken breasts
Jarred salsa
Lime juice (optional)
Any Tex-Mex sides you have in your pantry or that you can whip up from leftovers in your fridge (you can jazz up canned black beans by adding some fresh lime juice and/or cumin, roast some frozen corn in a cast iron skillet, add some extra salsa or canned diced tomatoes with green chiles to white rice, etc.).
How to make it:
If your chicken breasts have been in the freezer, thaw them out and then cook them.
Put chicken breasts in a baking dish. Pour jarred salsa over it. Cook until the chicken is fully heated through to at least 165 degrees.
Serve with the sides you've got on hand.
Miniature Pizzas
Mini pizzas are one of my kids' favorite meals. They can easily customize their own and help me assemble them. Super easy meal!
Ingredients to make them:
English muffins (stored in your freezer)
Jarred pasta sauce
Frozen spinach (optional, but a good way to pack in some extra nutrition; I would recommend using fresh bagged spinach that you store in your freezer vs. spinach you buy on the freezer aisle – make sense?)
Any veggies you have on hand in your fridge that you need to use up
Pepperonis (stored in your freezer)
Jarred pepperoncinis & olives
Parmesan cheese (the kind that you can store in your pantry until you open the container); Mozzarella cheese if you have some in your fridge
How to make them:
Thaw the English muffins and slice them in half (if they're not already sliced); set them on a big baking sheet
If you're wanting to add spinach to the pizzas, I would pour the jarred pasta sauce into a sauce pan or cast iron skillet, add some spinach, and then cook the two together until the spinach is fully wilted in the sauce
If you're adding leftover veggies from your fridge, I would quickly saute them in some olive oil until they're soft
Spoon sauce onto each individual muffin
Add toppings (i.e. cooked veggies, pepperoncinis, pepperonis, olives, etc.)
Add cheese(s)
Place baking sheet in the oven and cook at 350 for 8-10 minutes
Taco Bowls
You can really make these a number of different ways depending on what you have in stock. Here are some thoughts for how to make them:
Ingredients you need:
Some kind of meat (which is kind of optional, but for us, preferred): chicken, ground beef, or fajita meat
Taco seasoning for the meat (or, do what I do and just make a blend with things you have in your spice cabinet using chili powder, cumin, garlic powder, salt, onion powder, and oregano)
Rice or quinoa
Chicken broth (optional, but preferred if you're cooking quinoa – like I mentioned before, it adds flavor!)
Any add-ins you have, either in your pantry, fridge, or freezer: corn, black beans, pinto beans, jarred salsa, fresh salsa (that's been stored in your freezer – I do it all the time! Here's my go-to salsa recipe), refried beans, jarred diced green chiles, avocado, cilantro, onion, lime juice, cheddar/pepper jack/Monterrey jack cheese, sour cream, etc.
How to make it:
Cook the meat & season it (you can do this a number of ways – cook the chicken in a slow cooker with the taco seasonings; cook the chicken on the stove top in a cast iron or on the grill with the seasonings, brown the hamburger or fajita meat in a skillet with the seasonings, etc.)
Cook the rice or quinoa according to package directions
Add in any other Tex-Mex-ish things you have that make sense in a taco bowl.
Smoothies
I know, not a meal, but a GREAT way to get in some fruits & veggies using only staples.
Ingredients you need:
Any kind of frozen fruit (berries, bananas, mangos, peaches, etc.)
Frozen avocado (optional, but does add extra nutrition and makes it super creamy)
Frozen spinach or kale
Almond milk (the kind you can keep stored in your pantry before opening it) or orange juice if you already have it in your fridge
Nuts (optional, but adds protein, healthy fats, and texture)
Chia seeds and/or flaxseeds (again, optional, but adds more nutrition)
How to make it:
Throw your ingredients in a blender, make sure you have enough liquid in there, and blend everything up!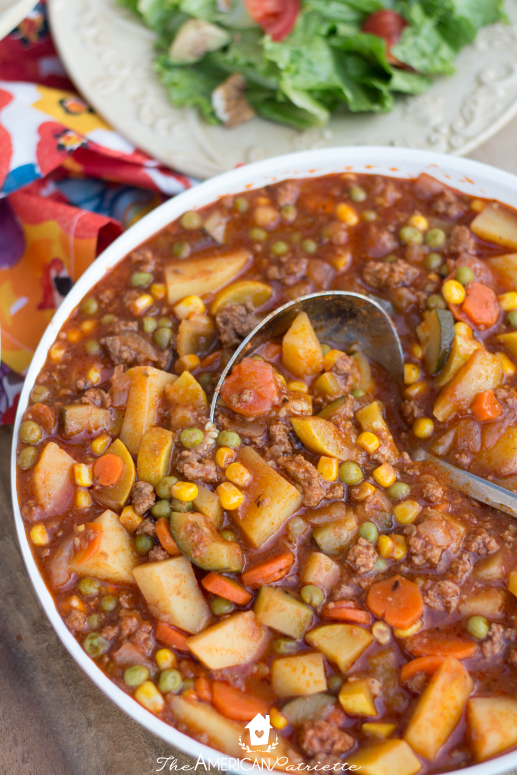 Pantry & Freezer Staples
List of pantry staples to have on hand:
Seasonings & spices (salt, pepper, garlic powder, basil, parsley, oregano, etc.)
Variety of vinegars (white distilled vinegar, apple cider vinegar, red wine vinegar, white wine vinegar, rice vinegar, balsamic vinegar)
Oils (olive oil, vegetable oil)
Sauces (BBQ sauce, Worcestershire sauce, soy sauce, hot sauce, pasta sauce, pesto)
Dressings (Ranch, Italian, vinaigrettes)
Rices & quinoa
Pastas
Beans (refried, black, navy, kidney, pinto, garbanzos)
Other canned goods (variety of diced tomatoes, tomato sauce, tomato paste, diced green chiles, enchilada sauce, artichokes)
Jarred salsa
Healthy boxed soups (i.e. tomato basil, roasted red pepper, etc.)
Beef, chicken, and vegetable broths
Tuna fish
Breadcrumbs
Toppings (olives, pickles, sundried tomatoes, pepperoncinis, bacon pieces)
Condiments (variety of mustards, mayo, ketchup)
Oats/oatmeal
Dry cereal
Peanut butter
Jelly
Honey
Applesauce
Maple and/or pancake syrup
Dried fruit (raisins, cranberries)
Nuts (pecans, almonds, pistachios, sunflower seeds, walnuts, etc.)
Almond milk
Freezer Staples to Have on Hand:
Frozen vegetables (broccoli, cauliflower, cauliflower rice, mixed veggies, zucchini, squash, butternut squash, peas, corn, green beans, edamame beans, avocado)
Frozen fruit (peaches, mango, strawberries, blueberries, bananas, blackberries, etc.)
Meats (chicken, beef, bacon, pork, sausage, etc.)
Tortillas, bread, English muffins
Hashbrown potatoes
Sweet potato fries
Happy cooking, friends! Hope you're able to soak up some extra quality time with your family at home right now!