No Prep Slow Cooker Meatball and Vegetable Soup
Hi there, friend. Do you have a couple of minutes?
Great. Because that's all you'll need to assemble this DELICIOUS no prep slow cooker meatball and vegetable soup! Perfect to make for a weeknight supper or to throw together for last-minute company.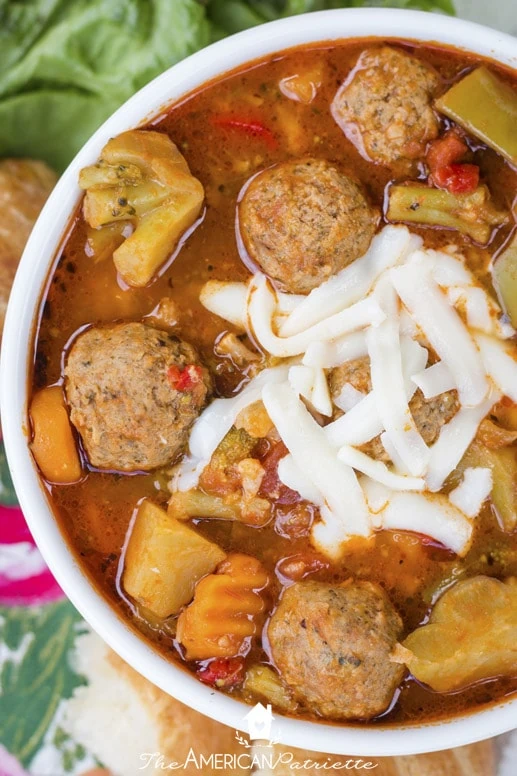 This tasty meal is the kickoff of my Souper January series – a series of easy, peasy, lemon-squeezy (and healthy & delicious) soup recipes that you can simply prepare by throwing ingredients together in a pot or a slow cooker. You can prepare this particular soup directly from ingredients stored in your freezer and pantry, and there is NO CHOPPING required.
Yes, you can still get lots of veggies with no peeling, no chopping, no dicing. Here's the basis of the soup, but you can easily adapt the ingredients to your liking – change up the kinds of veggies if you want, and use whatever kind of pasta sauce! Make it spicy (or not). Make it really savory (or not). Make it creamy (or not).
Remember when I said no peeling, no chopping, no dicing? Here you go, and yet, look at all that color!
I'm a big fan of bringing color to my table for our meals, but sometimes I just don't have the time to do lots of veggie choppin'.
And then add in dashes of some seasonings.
Stir it up. Cover the slow cooker. Walk away. Come back. Supper is finished!
The only work you have to do is ladle it into bowls and then eat it.
This soup is SO yummy, and I love that you can customize it to your liking by changing up the veggies, pasta sauce flavoring, and the seasonings. Make it your own! (Or don't – this exact recipe IS SO GOOD.)
Seriously, this meatball and vegetable soup couldn't be easier or more delicious (well, actually, it does get a little more delicious if you add some Mozzarella or Parmesan cheese on top, but then it doesn't get more delicious than that). Keep these ingredients on hand in your pantry and freezer for a time when you don't have the time to prep a meal but still want something homemade on the table.
You'll bring some smiles to your table when you bring bowls of this to your table.
Recipe is below! Hope you enjoy this with family & guests! 🙂
No Prep Slow Cooker Meatball Soup
Inactive Time:
45 minutes
Ingredients
16oz frozen bag of fully cooked traditional meatballs
1 c frozen diced onion
16oz bag frozen zucchini
16oz bag frozen broccoli Normandy (mixture of broccoli, cauliflower, and carrot slices)
24oz jar of pasta sauce
32oz beef broth
Dashes of: salt, garlic powder, black pepper, dried parsley, and dried basil
Instructions
Empty frozen ingredients into slow cooker.
Pour in jar of pasta sauce and broth and stir.
Add seasonings - about 1/4 tsp to 1/2 tsp of each - into slow cooker and stir.
Cover and cook on high for 5-6 hours.
Ladle into bowls and top with Mozarella or Parmesan cheese.
Enjoy!
Notes
You can use any kind of frozen vegetables you'd like - choose a variety or stick with just one. Just get 2 16oz bags of frozen veggies and you'll be good to go. I used a four cheese pasta sauce that I really like, but you can use whatever kind you'd prefer - a traditional marinara, a spicy one, tomato basil, etc. This recipe is really just a basic one that you can easily customize to your taste.