Colorful Rustic Farmhouse Fall Decor Ideas
Need some inspiration for colorful rustic farmhouse-style fall decor? Here are some easy decorating ideas to give your home a gorgeous, cottage look for autumn!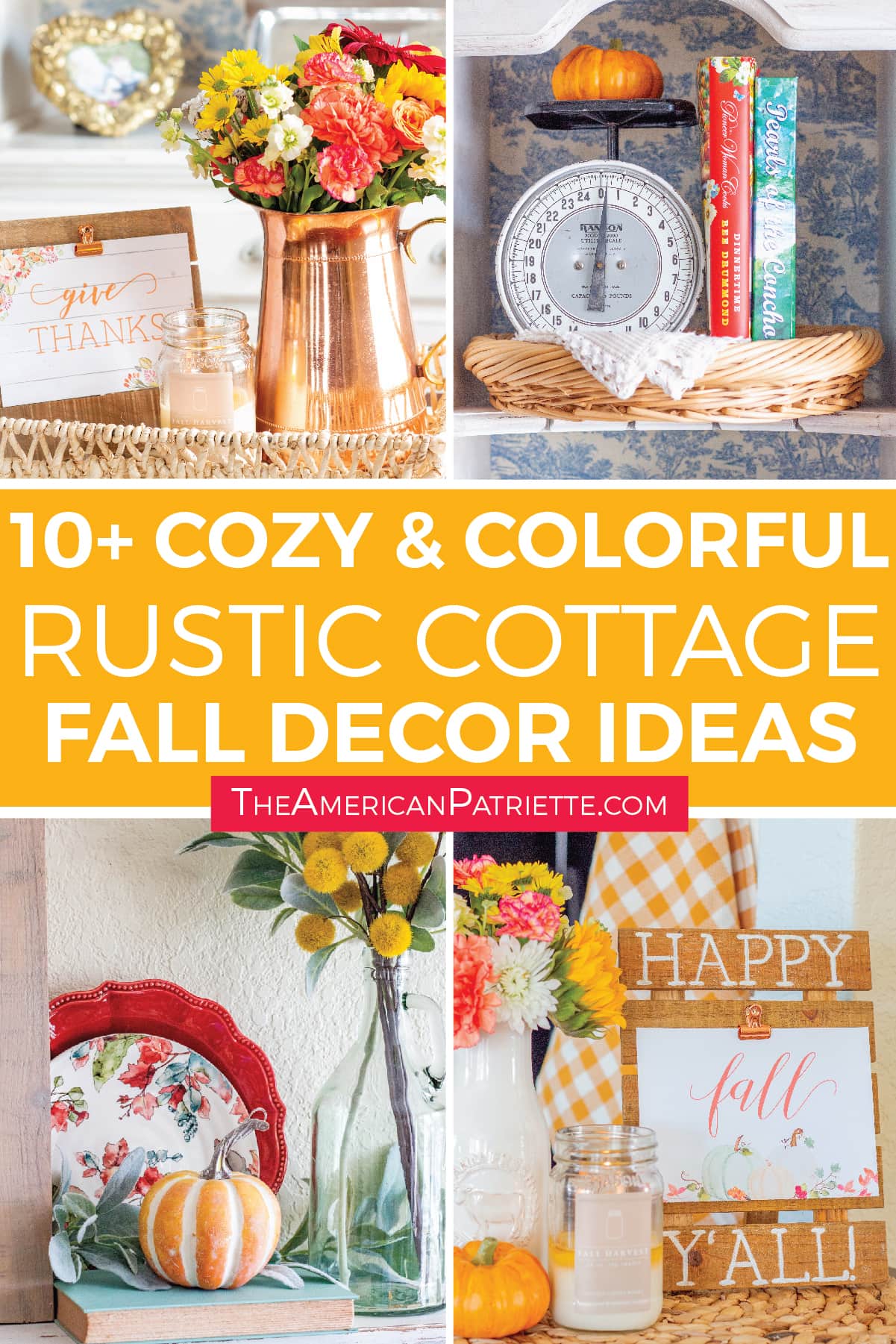 Are you a color-craver? Do you love that beautiful, cozy but elegant cottage style?
If so, sister, you are in the right spot.
It took me years to figure out how to get the colorful + rustic farmhouse look I love so much, so I am beyond thrilled to share #alltheideas with you as we spruce up our homes for Fall!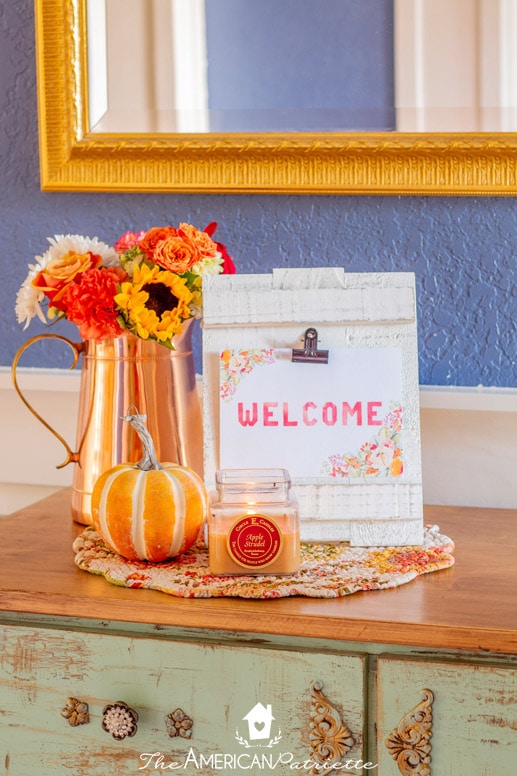 One of the things I love most about this style of decorating is that you can easily give a seasonal look to little areas of your home just by switching some things around and then adding in a few seasonal elements & colors. Super easy decorating, friends!
Let's chat about different elements you can use to maintain that rustic farmhouse look and add in some fresh, bold autumn florals and colors!
Oh! And FYI!
As you're scrolling through these ideas, if you're just absolutely loving this colorful cottage look and want to replicate it in your own home, you can snag each and every one of these home decor printables (and 100s more!) here.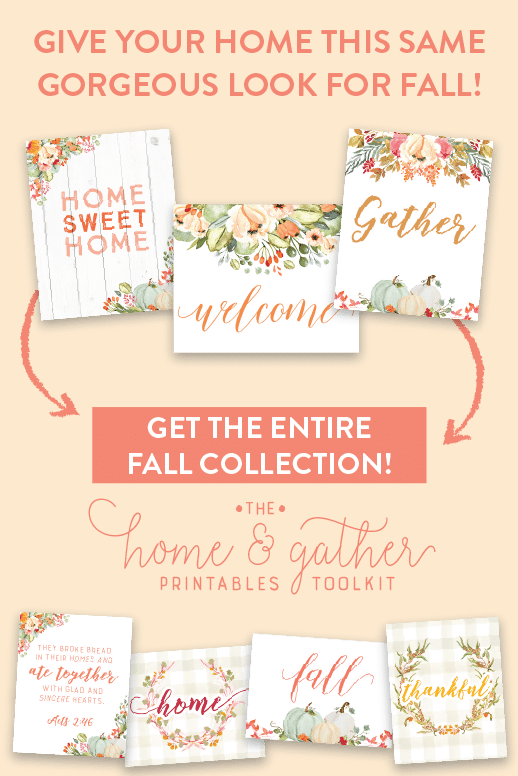 Colorful Rustic Farmhouse Decor Ideas for Fall
Decorate with Copper Accents
I love decorating with copper any time of year, but it just seems ultra appropriate for fall with all of the warm tones. I think it especially adds in a splash of color because of how it reflects light and some of the other colors around it.
Copper seems so quaint & vintage, so I feel like it really helps add to that traditional look we're going for when we decorate, you know?!
I don't have a lot of copper, but I do love using these two copper pieces – that pitcher makes such a beautiful centerpiece for our kitchen table, and I love using this old copper kettle as a vase for fresh or faux flowers. I found this sitting in a small trash pile on someone's curb in our neighborhood. What are you thinking, people?!I snatched it right up. What an awesome find!
Mix & match fabrics: towels, napkins, table runners, etc.
Grab some inexpensive fall towels at a place like Marshall's or Home Goods (my favorite place to get pretty hand towels – and I can always find a set of two for under $10!), and mix and match them with linens you probably already have!


I love decorating with everyday fabric pieces – such an easy way to bring in some pattern and some color, as well as help soften up your decor and give it a cozy feel.See this cute caramel-colored buffalo check/gingham towel hanging up? Not a fall towel! But, paired with some other fall elements, it looks like it belongs, and it also helps bring out some color in the area.


I know I've talked about this numerous times on here, but seriously – decorating with fabric napkins is such a simple way to bring in seasonal color. They're easy to switch out, pair together, and store when you're not using them. What an awesome way to decorate with purpose, too, if you had some sentimental napkins – maybe ones passed down from a grandmother or great aunt. I decorate with several kitchen heirlooms (you can see a lot of them in these photos!), so if I had some passed down to me, you better believe I'd find a way to put those on display!
I should've gotten a better photo, but I use that simple blue & white farmhouse-style place mat on our kitchen table year-round except for Christmas. I love how it brings in the other blue elements of my decor, but it works great for just about every season, including fall, just because it's neutral enough to transition with different pieces and colors. I was trying to figure out a way to make my centerpiece a little more…inviting. Not so stark. Adding a piece of fabric underneath did the trick!
Decorate with other "cottage" colors: white, shades of turquoise and blue, etc.
Who says you have to exclusively stick with reds, oranges, yellows and browns for fall?!Not me. But, I'm not really a rule-follower anyway, especially when it comes to home decor. I think of whites, turquoises, blues, and some shades of green as being very cottage-esque colors, but also ones that go along well with lots of other colors. See in my dining area (above) how I have so much white, blue, and hues of turquoise? They go great with anything I use to decorate!And take a look at my mantel. Just a few seasonal colors thrown in with some items I have up there year round. That turquoise-ish cathedral window and that green tinted glass vase go with just about everything!
Same with this white candle and this rustic, chippy blue frame – perfect for creating that farmhouse charm!
Related posts:
Make that gorgeous antique-looking frame yourself! Here's the tutorial: DIY Rustic Chippy Wood Clip Frame
Decorate with fall printables & rustic frames
Decorating with gorgeous printables has definitely become one of my very, very favorite ways to decorate for different seasons.Like I mentioned at the beginning of this post, I struggled for years to really figure out how to decorate with a colorful twist on rustic farmhouse decor. Love that old, quaint look, but good golley, I just don't do neutrals and earth tones.Color! Flowers! Lots of textures & patterns!And I definitely know I'm not the only one. So, I started mixing and matching colorful pieces, but I still couldn't quite figure out how to tie everything together.So, I started playing around with some graphic designs and put together some colorful, floral, cottage-style designs that really helped to 1) Bring in more color, but 2) Also serve a purpose: with the words on them, they just make home feel even…well, homier!
I was also trying to figure out some ways to decorate for the seasons more easily – you know, without all the fuss of redecorating every few months, and without tons of storage bins. These printables have saved the day and they just make my house SMILE.
I love seasons. I love the traditions that each of them comes with. I love all the gatherings that take place during each one. And the foods! I want to relish in them!And once again, I knew I wasn't the only one.


So, in addition to a ton of "anytime" designs, I started playing around with seasonal designs and realized, oh my. I think I found another love language.

Especially because I know I'm not the only one who loves this gorgeous floral look, and I definitely know I'm not the only one who loves seasons, AND, I know how overwhelming it is to attempt to store a bunch of seasonal decor, it seemed like creating a big collection of gorgeous printables to share with other ladies just made sense.


And, I love how interchangeable they are! That "Home" printable can be changed out for each season on that adorable DIY welcome sign, and same thing for this Happy Fall Y'all Sign:


This really has become one of my very favorite ways to add in some seasonal decor into my home in a super easy way. If you love these printables, too, you can snag all of 'em (yep, all at once!) in The Home & Gather Printables Toolkit. Really makes decorating so easy and just so darn pretty!

And actually, here's one of my favorite ways now to use these printables – on this DIY cutting board clip board frame.

Easy way to display your weekly meal plan so you remember what all you're making:



I love that even something so practical can help add in some "fall festiveness" to my kitchen!

If you're just loving these and can't wait to transform your own house, you can get instant access to all of these beautiful rustic floral Fall designs (and hundreds more!) in The Home & Gather Toolkit!

Gosh, and I just really love this one with Abraham Lincoln's Thanksgiving proclamation. I mean, my blog's name is The American Patriette. I couldn't resist! 🙂


Ok, go get these printables! Ah! You're just going to love using them in your house, too! I WANNA SEE!

Add in some Fall florals
I know, this seems like kind of a lame tip, just because it seems a little obvious, BUT, hear me out! I've got some thoughts for ya!
We're all suckers for fresh flowers, but, I also get that it's not realistic to decorate with fresh flowers all season (and especially all year) long. Fresh flowers around here are a total luxury – just a handful of times a year! But, there are some other ways you can decorate with some floral/greenery elements to help 1) Add some color to your decor, 2) Help soften things up a little (remember when I was talking about making things cozy by decorating a bit with fabric pieces?), and bring some of the "outside" to the "inside," even if the florals/stems are fake. ;)Throwing in some florals & other natural elements are key to farmhouse decorating! Here are some ways to do it:
A) Use some lambs ear (those cozy, leafy stems you see in the vase & tucked into the little crannies on my mantel) – such a versatile stem! Goes with just about any season, especially when you pair it with particular seasonal elements. See how it goes so nicely with those fun yellow stems and the pretty orange pumpkin?
B) Decorate with cotton stems: they add texture, dimension, a fall-ish touch, and hello, what says more "rustic farmhouse" than cotton stems?!You can use these in a couple different ways – I have a mini wreath on my mantel….


And then in a quaint silver teapot on my hutch. The pumpkins and the plate behind it help bring in a little pop of fall color.



C) Decorate with some wheat stems: I just added them to a couple of different vases/things I'm passing off as vases. Love the way these look in my grandma's old flour sifter!


Which, by the way, brings me to another point: do you see how often I use things that aren't actually vases to pose as…well, vases? The flour sifter, that copper kettle, that copper pitcher, my silver teapot. You should totally do this, too! Gives off such a fun cottage charm!


Anyway, back to wheat stems. I love 'em – little pop of color, totally Fall, and, they don't look fake. I love faux stems that don't actually look…faux. Ya know?

Decorate with books – these are great for adding in a little color, a little height, and some dimension.
Let me just tell you, I really don't know what I'm doing when it comes to decorating. I just eyeball things, move things around all the time until I like the way they look, and then change my mind a month (or year) later. I know, really makes you feel like you're using your time wisely hanging out with me on here, doesn't it? 😉
But, here's what I know: I love decorating with books, and they've seriously made a huge difference in adding some extra charm and "a finishing touch" to some of my decor. I really don't know what it is about them. This is an art, not a science. Now, I don't go buy new books all the time for the different seasons. I literally just mix and match things around for what makes sense – for what colors I'm trying to pair together. I bet you already have books on your shelves that are perfect for this! And, if you need more – just mosey on down to an antique store, buy some for a few dollars with pretty binding, and call it done!


Here are some tips for decorating with books:

A. If you don't like the binding, just turn the book around so you see the pages instead. Scroll through these photos – you see that I do that often.


B. Go through your cookbooks. A lot of those are really colorful and have pretty covers that you actually want to display. Pair colors together for different seasons!


C) Take the sleeves off of your newer books – you might just uncover a little gem! Hint: not all of my books are old and vintage! Some of them are fairly new. I've just taken the dust cover off of several of them where I actually like the binding.

---

Related posts (i.e. if you love this post, you'll probably also love these!!):

• Tips for decorating a small front porch for fall (with lots of color!)
• 10+ Easy Fall Decor Ideas for Your Kitchen

---

Decorate with mini pumpkins
I know, I feel like this is another no-brainer. But! Let me show ya a few things. You can get them in a few different colors and display them in a few different ways: As accent pieces:




As "feature" pieces:



And as collections in pretty bowls:


See what I mean?! Sometimes just adding a little pumpkin next to something that isn't a fall piece of decor automatically gives off a very "fall vibe" – the pumpkin helps pull out some of the other fall colors in the pieces.
Decorate your table with a simple Fall centerpiece
I would say that I crave the day for gorgeous tablescapes and elaborate table decor, but, that's really not true. When I first got married, I literally had our table set with our plates, beautiful fabric place mats, fabric napkins, and napkin rings. For decoration. Not a joke. This didn't last long. It's just not practical! And as much as I am for PRETTY, I'm also for practical. We really use our kitchen table, and I really need room to put lots of food on it, because we really love food – we love to cook it, we love to eat it, and we love to feed other people. So, my centerpiece now is almost always made up of: 1) A basket on top of that pretty & simple farmhouse place mat, 2) A clipboard frame with one of my Toolkit printables on it (I usually have one that says "Gather" on it, and I switch out the "Gather" designs for each season), 3) A candle, and 4) Some kind of vase/pitcher with either fresh or faux flowers in it.

And guess what? This centerpieces is SO welcoming, and it's SO mobile. I can pick it all up by the place mat and move it when we're having people over and it's time to set down a bunch of food in the middle of the table.
And it's super easy to adapt to each season: switch out the candle, switch out the printable and/or frame, and switch out the vase and type of stems/florals I've got on display. It's almost like a decorating template. And, as much as I'm not a rule-follower, I sure do love a good template. 🙂
Decorate with some candles
They're just my favorite. I have a feeling they're your favorite, too. If you've stuck with me this long, I think we're probably kindred spirits and love a lot of the same things. But, they're just so darn cozy. They smell so darn good. And they add in such a wonderful, seasonal scent in the air!
My favorite ones either come in mason jars, or…
These square Circle E jars. I could do all of Circle E's marketing. All of it. And sell every last one of their pieces in their inventory. I LOVE these candles.
But yes, candles are an absolute required staple for decor in my house, ESPECIALLY during the fall.
Hang some indoor wreaths
I didn't start decorating with indoor wreaths until a few years ago. What is wrong with me?!Honestly, I hadn't really thought about it. But, for the same reason I love decorating with floral elements and stems: they help bring the outside in, they add a cozy and soft touch, and they're just so quaintly country and farmhouse!This fall embroidery hoop wreath hanging on my pantry door is definitely my favorite:
Just look at all that gorgeous fall color!
This wreath was actually really easy to make. I got inspired by a fall wheel wreath I saw on Lolly Jane's blog – I just started drooling when I saw all that color!I've had these copper molds for years and never really knew what to do with them. I realized they'd be perfect for a fall wreath, so here they are!
If you want to make this DIY fall floral hoop wreath, go check out that easy tutorial!

Here are a couple of other fall wreaths I have in my house. Another mini seasonal one that I hang on this cute homemade sign in my kitchen:


And then the cotton stem one you saw just a little while ago on my mantel:


YAY! I hope this post gave you some great inspiration for a Fall country farmhouse look!

If you're itching to decorate with the printables you've seen in this post to bring in that gorgeous, inviting, country farmhouse look for fall, you can get them all for yourself (right away, too – you get access delivered right to your inbox!) in The Home & Gather Toolkit! I just can't wait to have you join me in there!
And, if you're looking for more decor inspiration, you might find some on these posts!
Love these fall decorating ideas and want to save them for later?! Be sure to save this to your favorite Pinterest board!