Ideas for Decorating a Small Front Porch for Fall
Even if you only have a little stoop, you can still make it welcoming for each season!
Here are some tips and ideas for decorating a small front porch for fall. You'll have a colorful, seasonal, and inviting front porch in no time.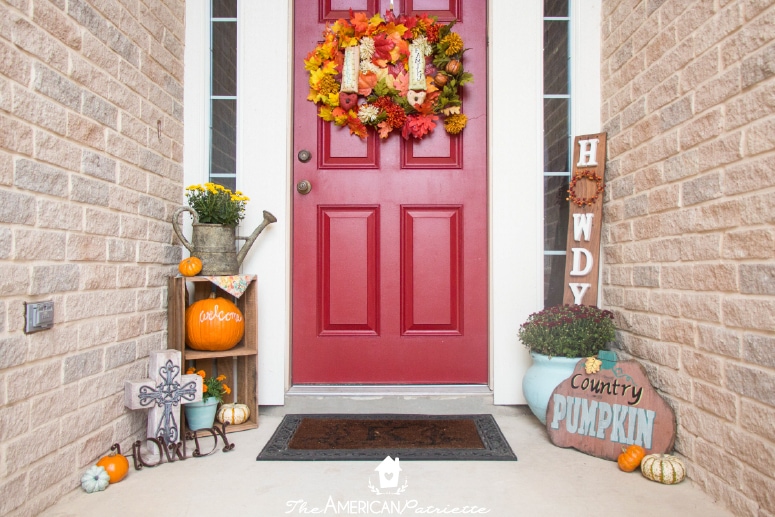 Fellow teeny-tiny front porch owners, we can still have cute stoops! As much as it's a dream of mine to have a gigantic front porch someday, complete with porch swings, rocking chairs, and endless glasses of sweet tea, I'm going to appreciate what I've got and make it as welcoming as I can.
That being said, I struggled for a while figuring out how to decorate a tiny little porch (maybe we could just make ourselves feel better and call it a "cozy" porch). After playing around with tons of ideas over the last few years, I've learned some things about decorating a little stoop to make it feel warm and inviting, and I can't wait to share in hopes that these tips will help you, too!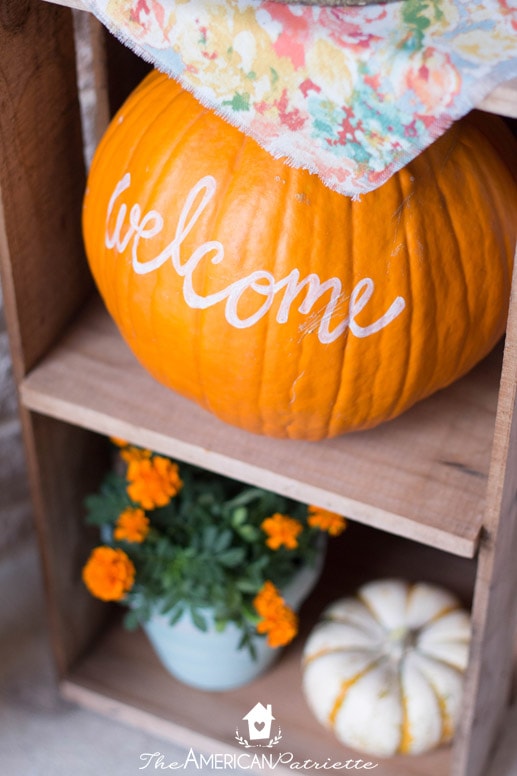 I've definitely been learning how to incorporate elements I can have out there all year long (like my two howdy signs – my metal howdy sign and my DIY pallet board howdy sign, my potted plants that I change out for each season, and that DIY stand-up wooden cross), and then add in some seasonal pieces for different times of the year. Here are some tips from decorating (and redecorating) my little square inch of porch over and over again!
Related Posts:
10+ Easy Fall Decor Ideas for your Kitchen – more inspiration for a colorful, cottage farmhouse look for fall!)
Ideas for Decorating a Small Front Porch for Fall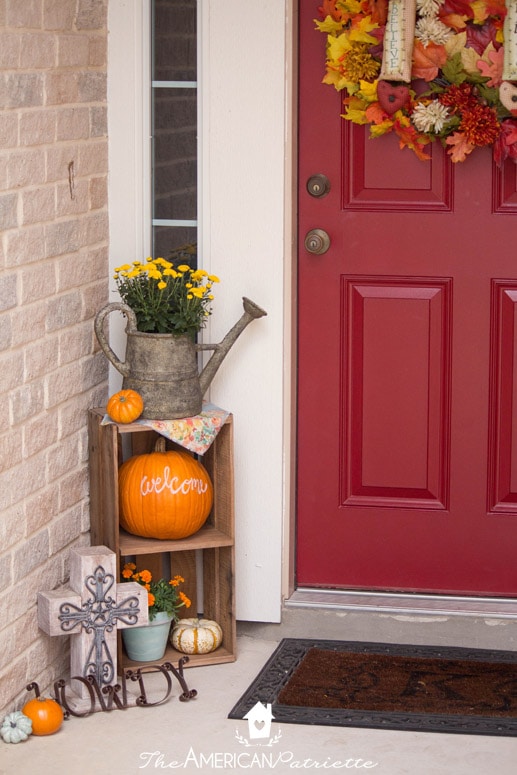 This post contains affiliate links for your convenience. You can read my full disclosure policy here.
Onto the tips! Let's get decorating!
Tip 1: Decorate with some adaptable staple elements
Instead of doing an overhaul on your little porch for every season, have some elements out there that you can keep out all year and easily adapt to each season. One of my favorite pieces is this DIY Howdy Sign made from an old pallet – I can use it year-round, but I can customize it to every season just by changing out that little wreath! So easy, and so adorable!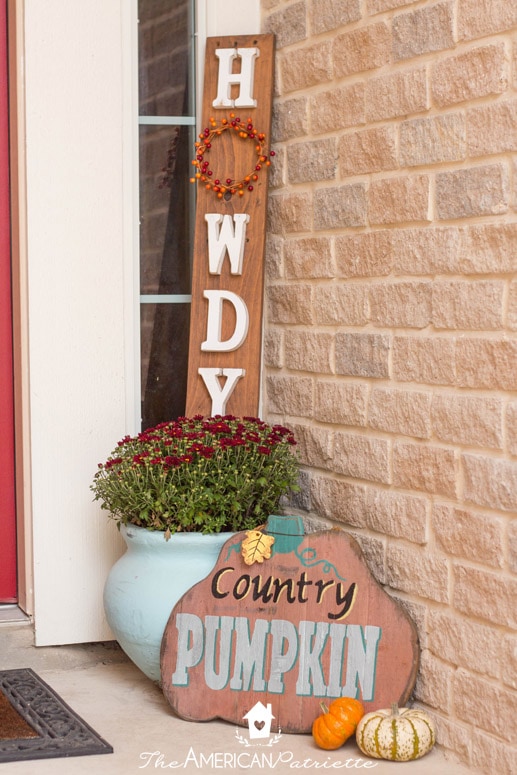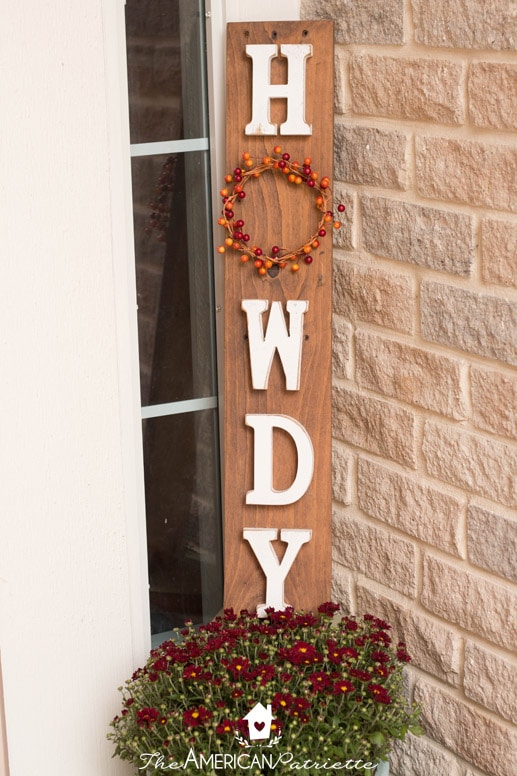 You can find the easy DIY tutorial for this Howdy sign over here – it's so easy to make. It's definitely been one of my favorite (and most useful!) DIY projects to date.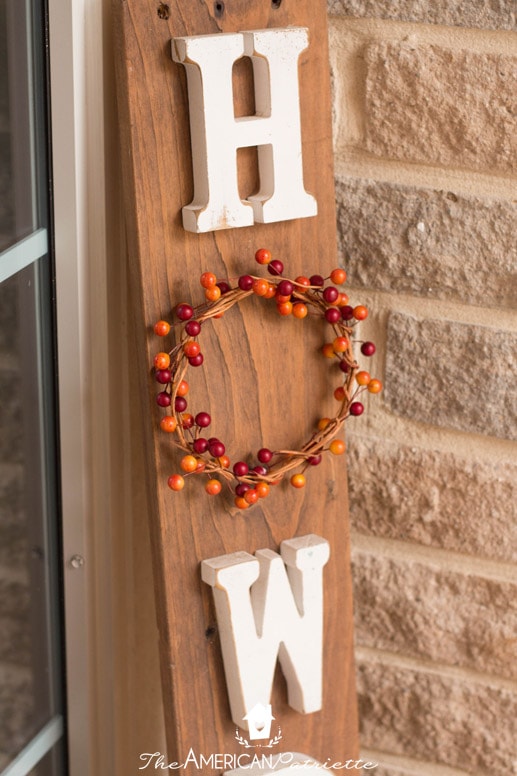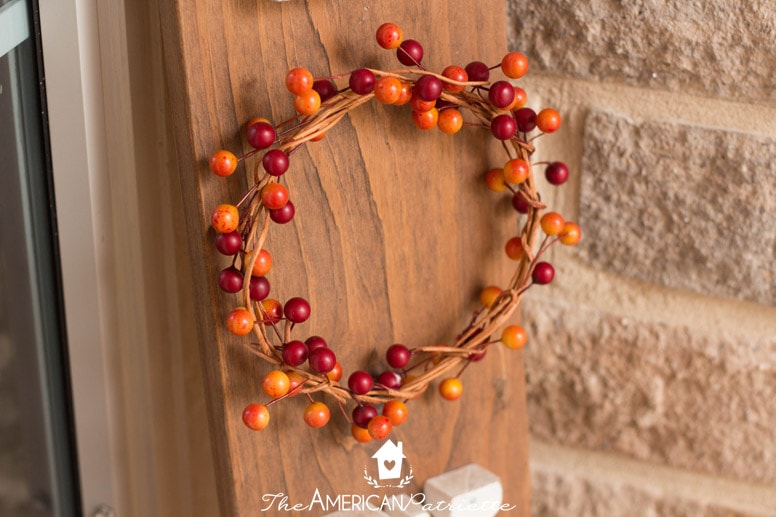 Another piece I keep out there all year is this DIY wooden cross that my husband and I put together. It probably only took us half an hour to make that thing! It's neutral enough that it easily works with any seasonal pieces, and I love just having that cross there to welcome people into our home.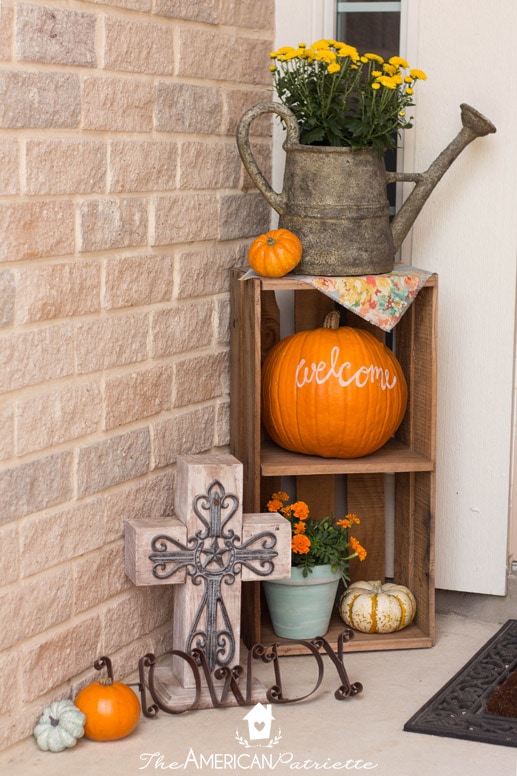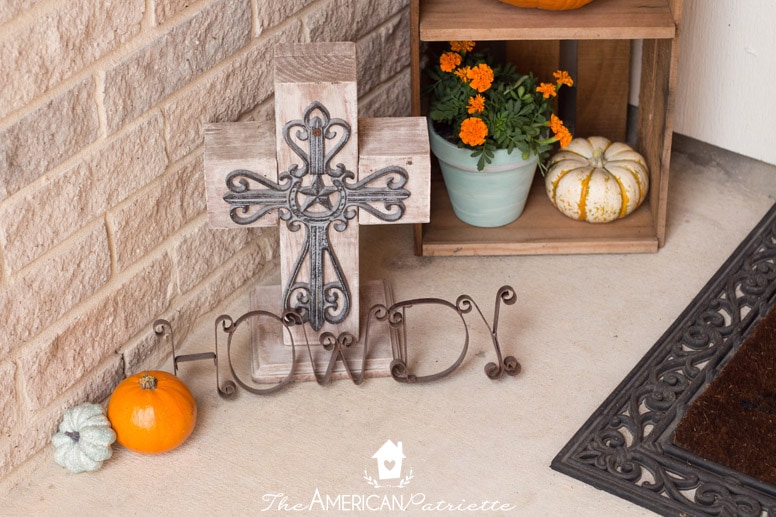 You can find the easy DIY tutorial for the outdoor wooden cross over here. Easily customize the color to your preference!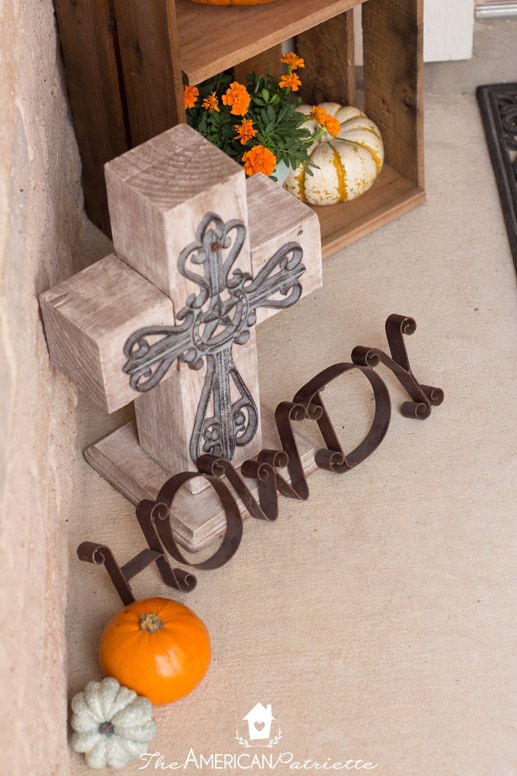 Tip 2: Decorate with seasonal plants
Friend, I do not have a green thumb. It's almost embarrassing. However, the irony is that I'm obsessed with flowers and color, so, I've just learned how to navigate around my poor gardening skills and plant some hardy seasonal plants that don't require too much attention. I really, really love flowers. (In my defense, Texas is so doggone hot, so the ridiculous heat doesn't exactly help my black thumb!)
I typically plant some mums in pots on my porch for the fall – they're perfect for this time of year, and they bring in a lot of cheer and color, especially when you have a tiny little dreary porch!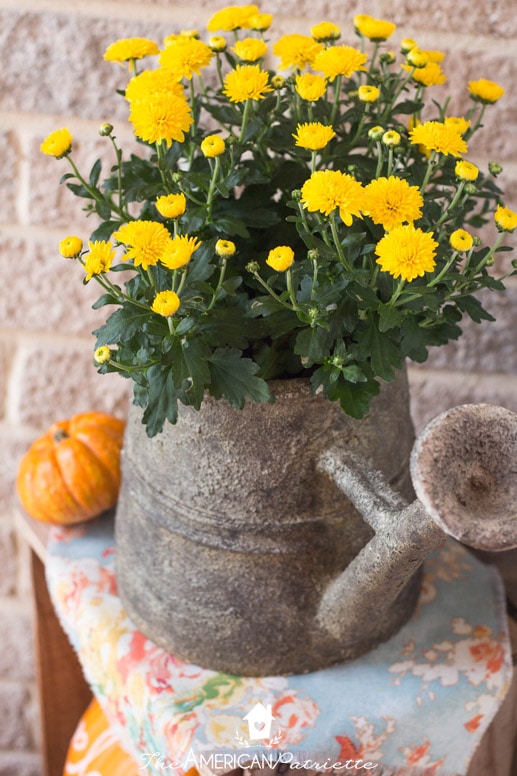 I intentionally planted these maroon mums by my Howdy sign – how appropriate for an Aggie! 🙂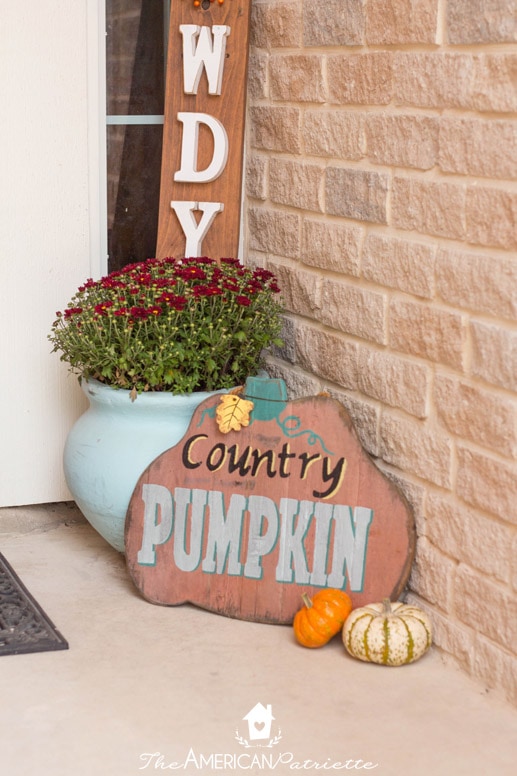 And then here are some cute marigolds – we'll see how long these last(!) – on my porch. Love that pop of bright orange for this season.
Tip 3: Decorate with A Cute Fall Sign
I'm such a sucker for cute signs for any time of year. I don't have signs for every season, but I do have them for some. I am so in love with my country pumpkin sign – I got it at Hobby Lobby a few years ago.

Unfortunately, Hobby Lobby doesn't carry it anymore, but Hobby Lobby always has cute seasonal items, so I'm sure they have one perfect for your porch!
Tip 4: Add in some pumpkins, of course!

Especially when you have a small front porch, the little pumpkins are so appropriate to use. A bag of 5-6 of the smaller ones was only $5 at HEB (Texans' favorite grocery store – it's a pretty unanimous opinion), so I got a couple of bags – for my porch and for the inside of my house.


If your porch is covered, you can use a mix of faux pumpkins, too. That way you can use 'em year after year! Here are some small artificial pumpkins on Amazon:



If you want to write on a pumpkin like I did, use this Bistro chalk marker (assuming your porch is covered). I use that chalk marker for every single piece I need to do with white writing/calligraphy. I've tried so many different markers, and that one is definitely my favorite. And since it's a chalk marker, if you mess up while you're doing the writing, you can just wipe off the mistake and redo it! Easy peasy!

Tip 5: Use some fabric to add some seasonal color

I'm such a sucker for color and all things floral, so I was hoping to find some fall-ish floral fabric to use on my porch. I found this fabric (perfect!!) on clearance at Hobby Lobby.

I love that it brings in the orange, yellow, turquoise, and maroon elements on my porch. You could easily do this on your porch, too – use floral fabric or get some cute red or blue buffalo check fabric. Buffalo check is "fall-ish" while adding in a pop of color.

Tip 6: You can't have a fall front porch without a wreath!
I bought this wreath from a silent auction years ago. It was my first non-Christmas wreath to own. Honestly, I think it was this wreath that got me excited to start decorating for other seasons beyond Christmas. Funny how that works, isn't it?!
Happy Fall! Happy decorating! Have fun bringing some seasonal color onto your little porch as you welcome folks in!
And speaking of inviting people in, if you're looking for some fall entertaining ideas, be sure to check out these posts:
Want more colorful fall decorating ideas? Check out this post on how to easily spruce up your kitchen for fall!
Love these decorating tips and want to remember them for later? Be sure to save this to your favorite Pinterest board!