Spring Farmhouse Decorating Ideas for the Kitchen
Love cottage-style home decor inspiration? Get some easy spring farmhouse decorating ideas to freshen up your kitchen!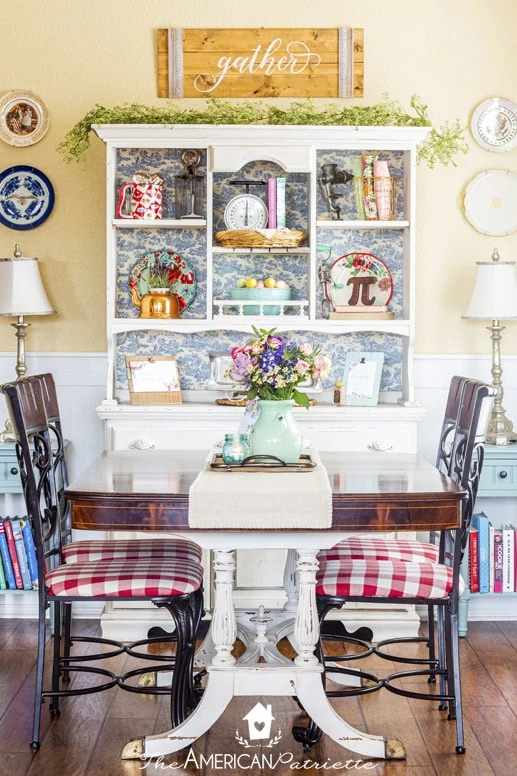 If you've come here before to get home decor inspiration, I'm sure some of these tips are going to sound fairly familiar.
Ever since I finally figured out the easy way of sprucing up my home with seasonal decor, I've been sharing the same tips over and over again for each season, simply because I know how FUN it is to change things up, but I also know how much it matters to us that we don't have to do a huge overhaul every few months.
And I love to show those tips in action so you can go EASILY apply these ideas in your own home!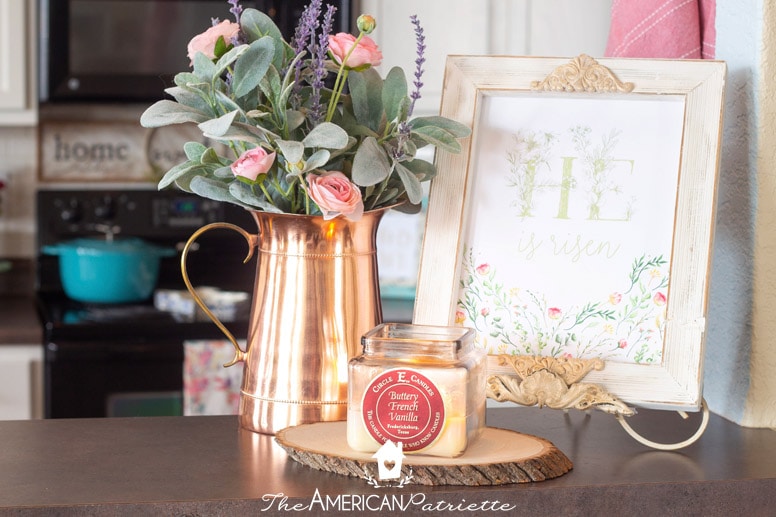 After all, it's fun to switch things up a little, especially if we're regularly gathering in our homes and using them to celebrate and honor those traditions that come around each year for each season.
When we have a home we love, one we're proud of, and one that just FEELS like us, it just makes it more…enjoyable (?) to share with others. And that's always a huge goal of home, right?!
Easy Spring Farmhouse Decor Ideas for Your Kitchen
Let me show you how you can add some simple spring farmhouse touches to my favorite gathering space: the kitchen!
1. A super simple centerpiece for your dining room table
In the same way that I have a "template" for how I decorate other areas of my home for each season, I have a template for my table centerpiece as well: A) Some kind of vase or canister with flowers or greenery in it, B) A candle, C) A rustic frame with a seasonal "gather" decor printable, with D) All of those items on a tray that I can easily pick up and move to another location when I don't want the centerpiece in the way.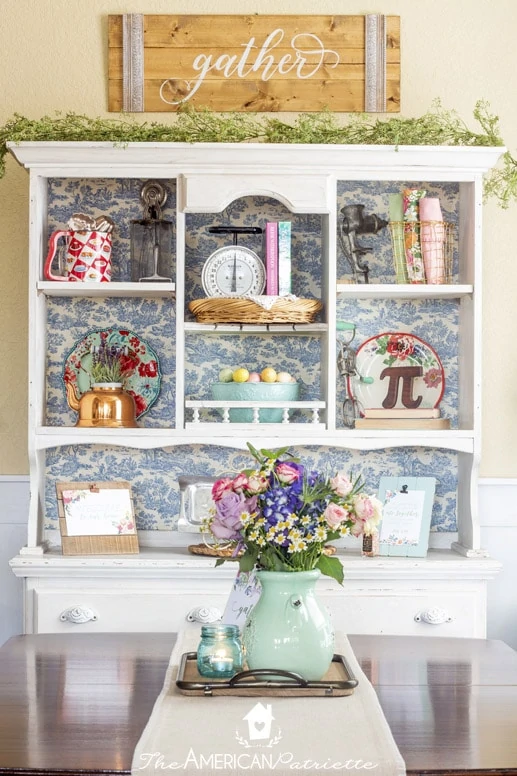 We use our kitchen table A LOT. I bet you do, too! That being said, a big, non-portable centerpiece isn't very practical for our table.
And with 2 little munchkins who use this table regularly for water coloring, PlayDoh, and every craft project under the sun, we never have the runner on there, either! The photos just looked incomplete without it.
But, having practicality doesn't mean you have to throw aesthetics out the window! They just have to meet in the middle somehow, and that's where I came up with this centerpiece idea that I replicate for every season.
Sometimes we've got some fresh blooms in there (I mean, don't these just make your eyes go ??!), but usually I have seasonal greenery & some non-cheesy-looking faux florals in a vase on my table.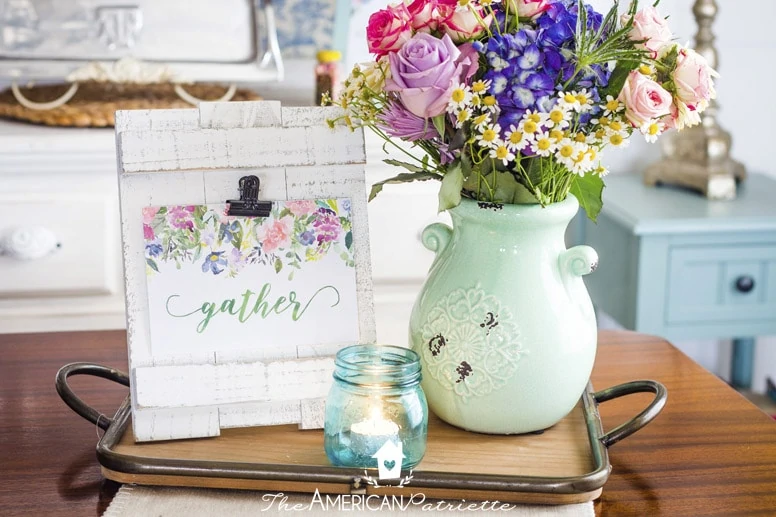 Then, a candle, the frame with the decor printable that just makes it seem more inviting and pulls everything together, and that tray that makes it super easy to regularly move from the table any time we need more space. Which is a lot. 🙂
So, for your table centerpiece, go fishing around your house for a vase & a candle, collect some spring stems, and if you love the idea of decorating with those decor prints, you can snag every season's worth of 'em (and hundreds more!) here!
2. Seasonal cloth napkins
I just LOVE this decor tip! One, because using cloth napkins is such an easy way to add in some color and pattern to your kitchen decor, two, because they're SO EASY to switch around for each season (I can easily use that pink napkin for a Valentine's Day set-up and that green one for Christmas), and three, because they're super simple to store – they take up no space when you unroll them and fold them in a drawer!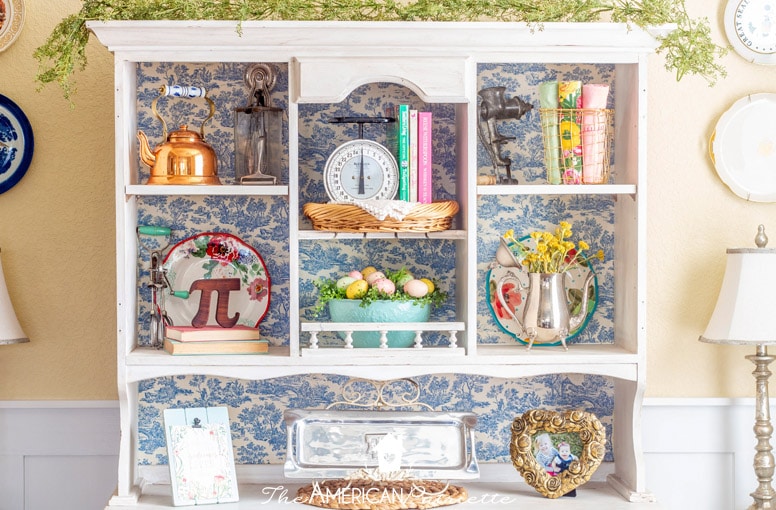 I usually get my napkins at Home Goods, Pier 1, or World Market. At World Market and Pier 1, I can just buy one (instead of buying an entire pack), so it makes my decorating even more budget-friendly and storage-friendly since I have less to put away.
I've always thought it'd be fun to decorate with heirloom napkins, but with all the kitchen stuff I have from my two grandmothers, I don't have any of their vintage napkins.
If you have some sentimental cloth napkins, can you please do me a huge favor and put them on display in your home?!
The way I always display my napkins is by rolling each one up and then putting it in the copper wire basket – makes for an easy way to maximize the color, so to speak (instead of them being folded and laying flat), without looking too…unnatural?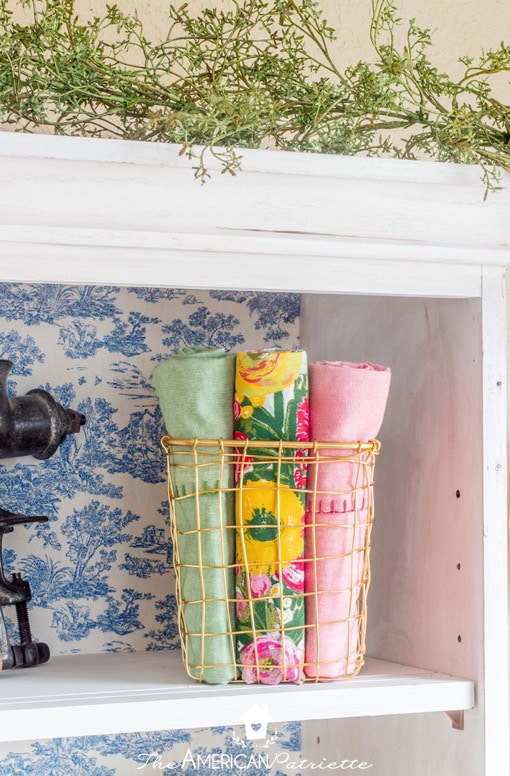 3. Cookbooks
Go to your cookbook collection, find some that you can pair together to make a "springtime color combo," and voila! Look what you have!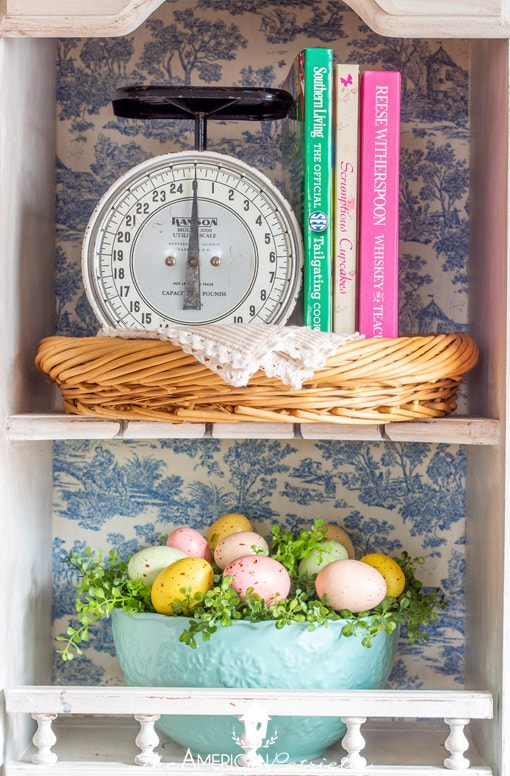 Can't get much easier or practical than that, can it?!
4. Rustic-style eggs
This is one of the few "spring-only" elements I have in all of my spring decor. Most everything else I have on display the rest of the year, just in a different form (remember, I just switch things around a lot to make a new seasonal display!).
Adding in some colorful, rustic-style Easter eggs is an easy way to add a spring touch to a little area in your kitchen.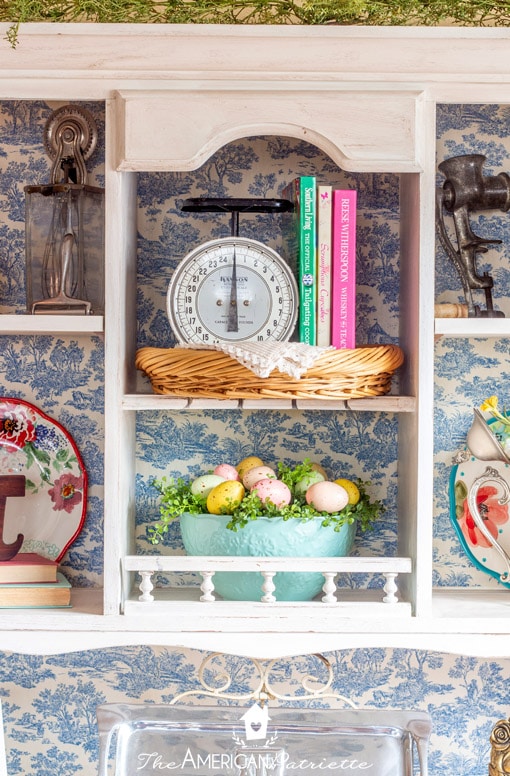 I tuck in some faux boxwood stems between the eggs to add a pop of green to the display, as well as to add in some extra color.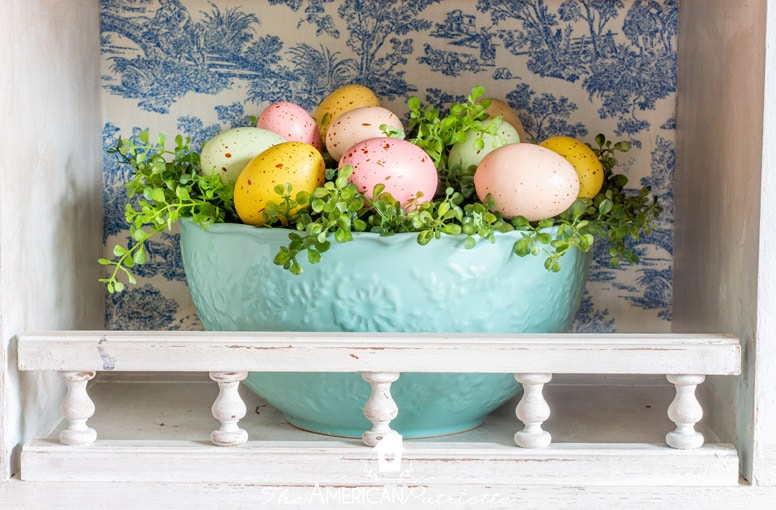 If you have more counter space than we have, you could easily display this inside your actual kitchen, but we don't have a bunch of counter space to give away, so the hutch in our dining room is a perfect place for this!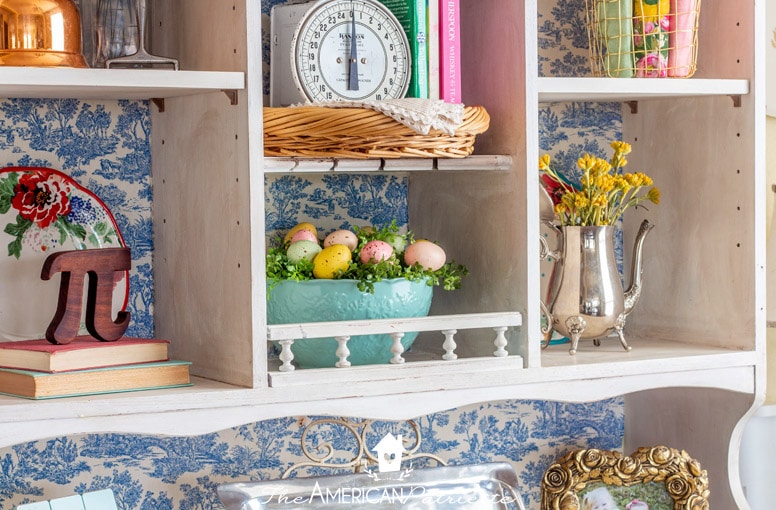 5. Greenery & faux flowers
I've already shown you a little of how I use faux greenery & flowers, but you can see I add them in to a couple of other places too:
In that silver teapot in my hutch…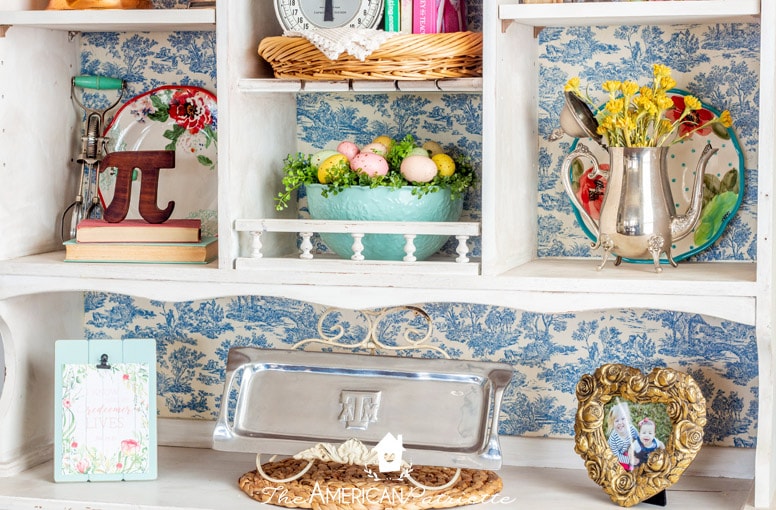 In this copper pitcher on the bar in the kitchen…
And the garland over the hutch. Which, by the way, made a HUGE difference in warming up this space! It's crazy how much just a little piece of faux rustic greenery could do to add some color, texture, and "freshness" (ironic, huh?) to the area!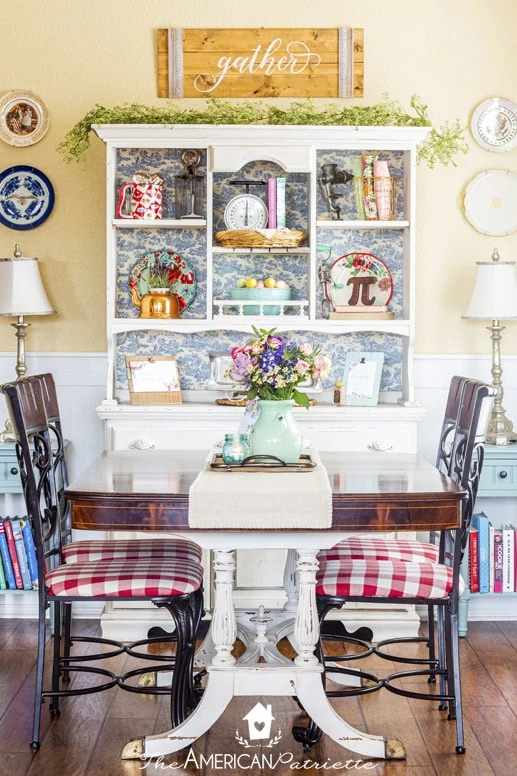 And again, none of these are particularly spring-specific greenery; I don't just have them out in March & April and put them away the rest of the year.
I use the lambs' ear year-round – I just mix and match it with certain seasonal stems, that garland stays on the hutch all year except for Christmas when I switch it out for a Christmas garland (and it totally works with other seasonal displays, even fall!), and the yellow flowers can easily be used for summer and fall.
It's just all in how you mix and match things to make the decor seem more seasonal. ?
5. Kitchen wreath
And, speaking of using some faux greenery, I'm a HUGE fan of indoor wreaths – but since we don't have much space in our kitchen for a full-sized one, I have a mini embroidery hoop wreath that I hang on this sign and just switch out the greenery for each season.
Look how sweet it is in that space!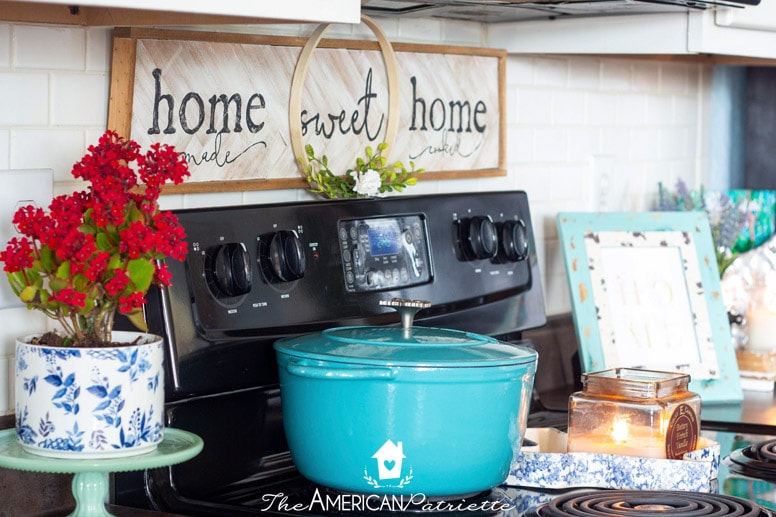 Other areas where I've seen people hang wreaths in their kitchen: on the backs of bar stools, on kitchen cabinets, and in the space above the vent hood over the stove.
None of those are good options for our space, so I just stick with my cute little wreath here and call it a day!
6. Spring hand towels
Run to HomeGoods or TJMaxx and get yourself a seasonal hand towel for like $6! Look what a little pop of color can do!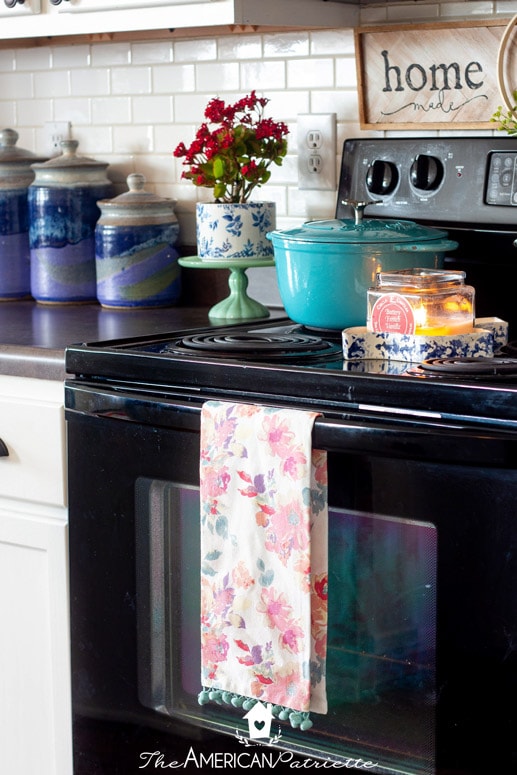 I absolutely love snagging up a seasonal hand towel when I pop into HomeGoods – just like with decorating with the cloth napkins, they're super easy to store, and they're such an easy way to add in seasonal color to my kitchen!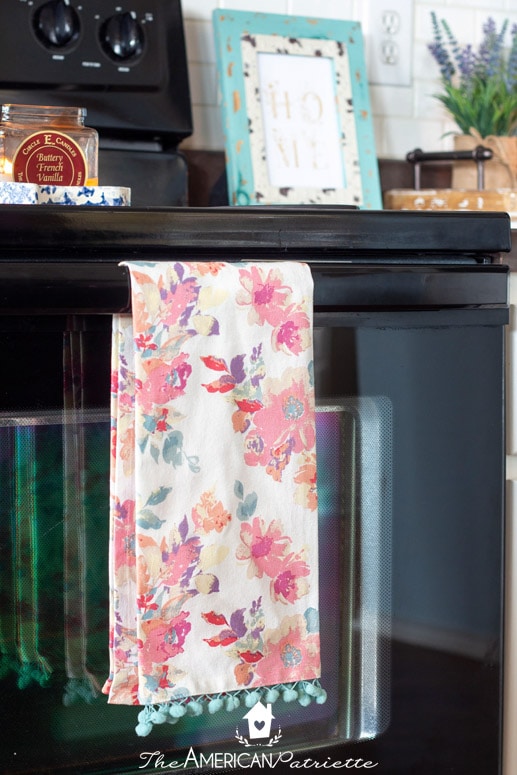 I always have one hanging over the stove, and then I typically have one hanging above our sink – you can see it behind this frame: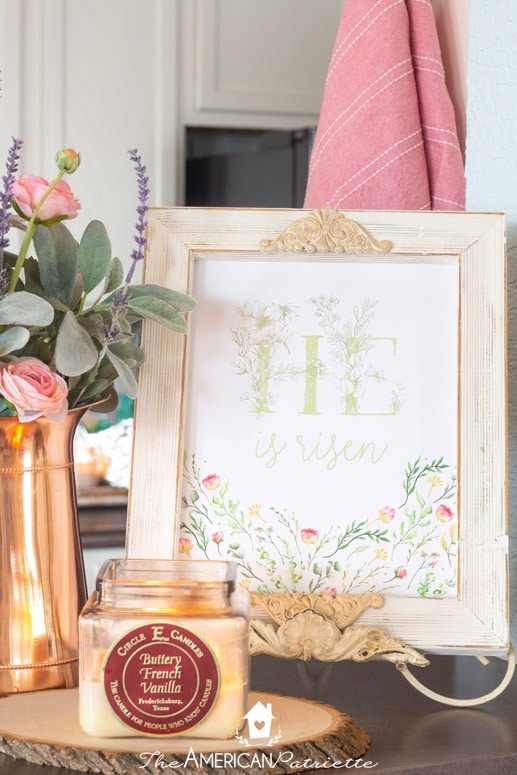 7. Meal planning printables
I know, meal planning printables are kind of an unconventional item to decorate with, huh? But I think that's why I love them! Because they're SO functional, but once again, I don't have to sacrifice aesthetics for practicality!
In addition to all those decor printables, I also have meal planning printables for every season in the Toolkit, too.
They're perfect for writing down your weekly meal plan and displaying on your counter – they work as both a piece of seasonal decor AND a way to help scatterbrains like me remember what I had planned to cook in a given week!
I love this floral spring one. 🙂
You can print out a bunch of the meal planning printables at once, and then clip them all to the clip board (if you're loving this cutting board clip frame, you can check out the EASY tutorial for how to make it in less than 15 minutes!), and switch out the used one for a new one when a new week begins.
8. Decor printables
And really, one of my very, very favorite ways to decorate for the seasons, as you can already tell! I LOVE using these floral decor printables throughout my house.
Particularly on display in my kitchen, I usually have a meal planning one on my counter, a printable on display on the bar, and one on my hutch. You can see the options on the bar here:
And then this beautiful Easter-inspired Scripture one in my hutch:
They help add seasonal color to these spaces, and since I don't have to store them (I just print them out, display them for the season, and then switch 'em out for a new one once the season changes!), they are PERFECT for decorating without accruing bins and bins of items I have to keep in storage!
If you're hooked like I am, you can get instant access to all of the printables here!
9. Candles, fresh flowers & canisters
I lump all these together, just because these are elements I sprinkle in here and there throughout my house, including throughout my kitchen.
I don't often have fresh flowers in my house, but when I do, I RELISH in them. One of my favorite budget-friendly ways to have fresh flowers is to buy a flowering plant with blooms that'll stick around for a couple of weeks inside, and then i just go replant it outside!
Kolanchoes are some of my favorites. 🙂
And then, of course, a candle here and there as you've already seen in so many of these photos – they add some dimension and warmth to my kitchen, plus, I just love burning good smellin' candles!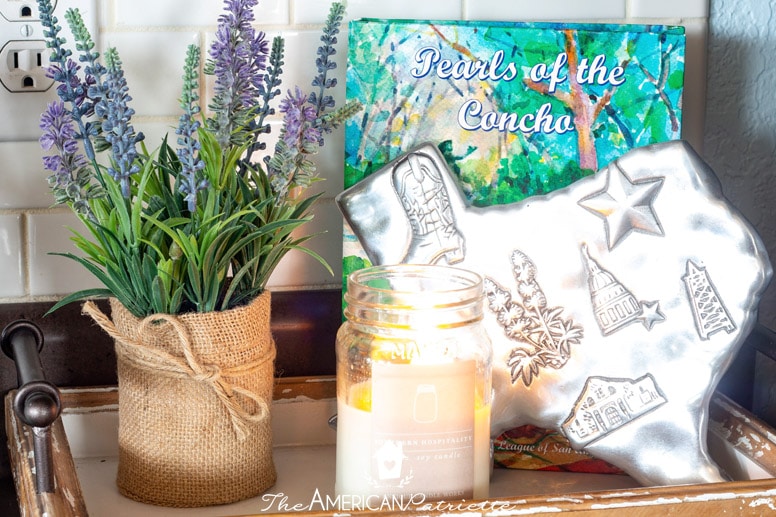 And then I just get creative with different canisters.
I think that's one way to easily achieve that farmhouse style – farmhouse and cottage styles, to me anyway, seem to display…functionality? What am I trying to say here? Basically, it's not just decor for decor's sake. It's the act of displaying something that had a certain function at one time, and reusing it as a piece of decor.
As I've finally figured out how to decorate my home in a style that matches my personality (colorful, sentimental, country, but I also do NOT like clutter), I've just kind of picked up on that pattern – that the farmhouse/cottage-style I love includes decorating with a bunch of pieces that have a function.
And canisters/bowls are a perfect example of that! So, for instance, that silver tea pot with the florals: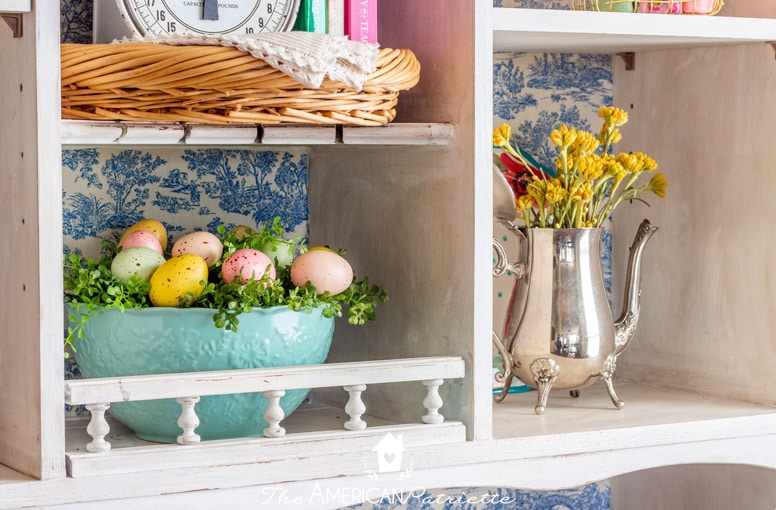 This copper pitcher with the greenery and floral stems: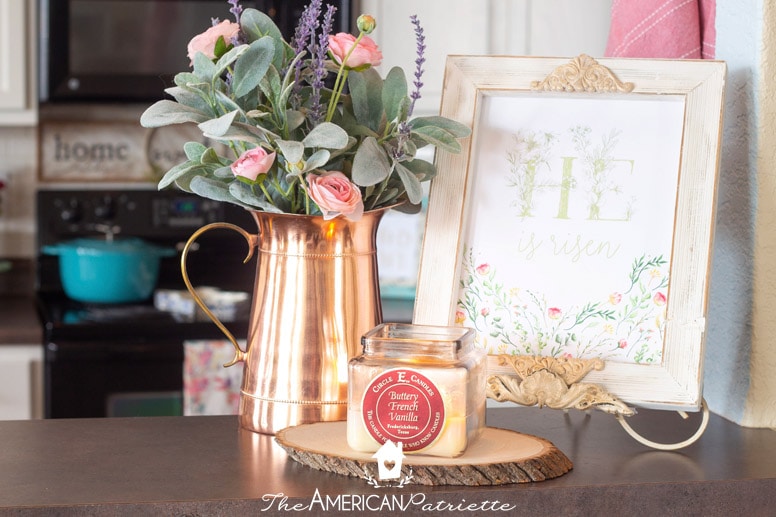 The fruit bowl full of Easter eggs: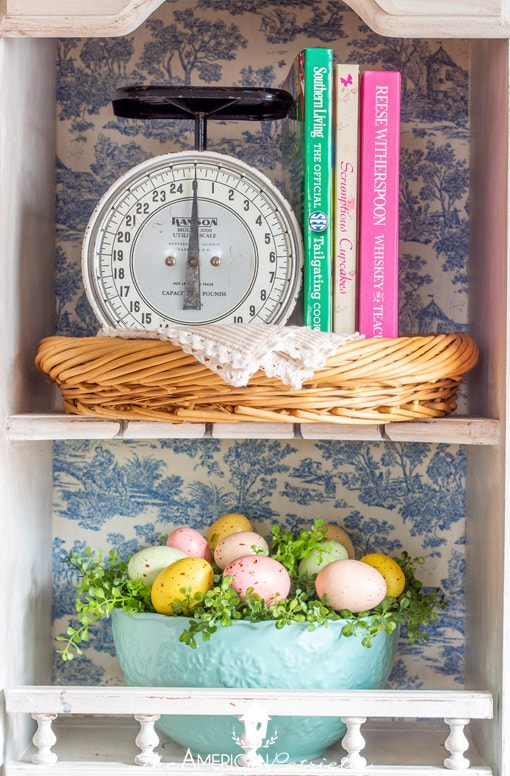 The copper tea kettle in the hutch (that really didn't need anything in it in order to make it look complete for this spring display):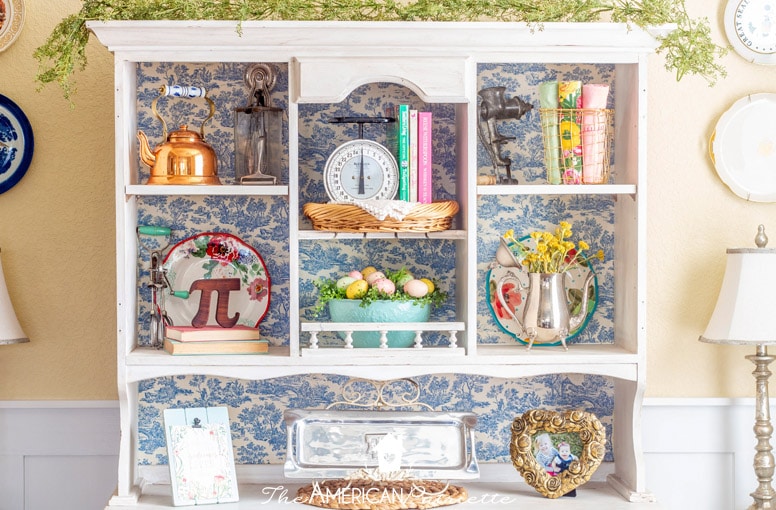 …see where I'm going with this?! So, they're really not "spring" decor items, but just like so many of the other things I decorate with, they don't have to be when you mix and match 'em with elements that, all together, seem to say, "Yay! Spring is here!"
Hope these spring kitchen decor tips were helpful! Happy decorating, friends!