Easy Gingersnap Saltine Toffee
This easy gingersnap saltine toffee – another version of "Christmas crack" – is a super simple recipe that makes for an absolutely delicious treat perfect for the holiday season!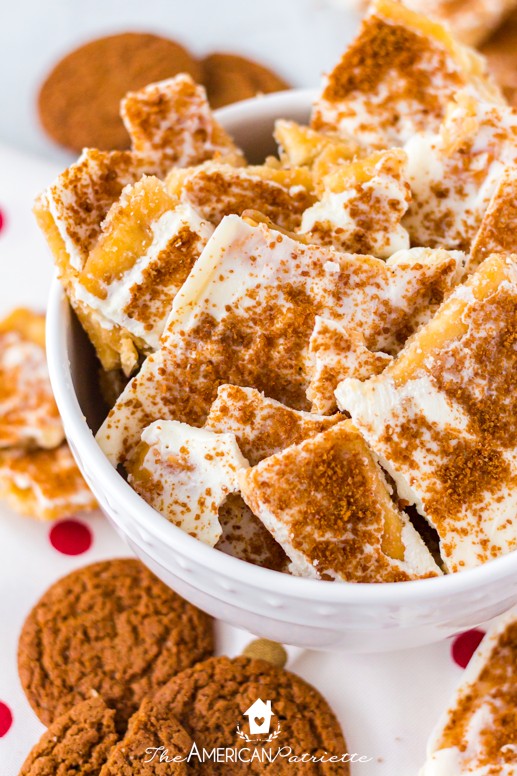 Saltine toffee bark is one of my favorite things to make for Christmas. It's so easy to make festive versions of it (like this Nutcracker toffee and this cranberry/orange/clove toffee!), and it requires so little effort to throw together!
This easy gingersnap saltine toffee is a sweet and salty treat, full of buttery goodness, and it really does make for the a perfect holiday treat!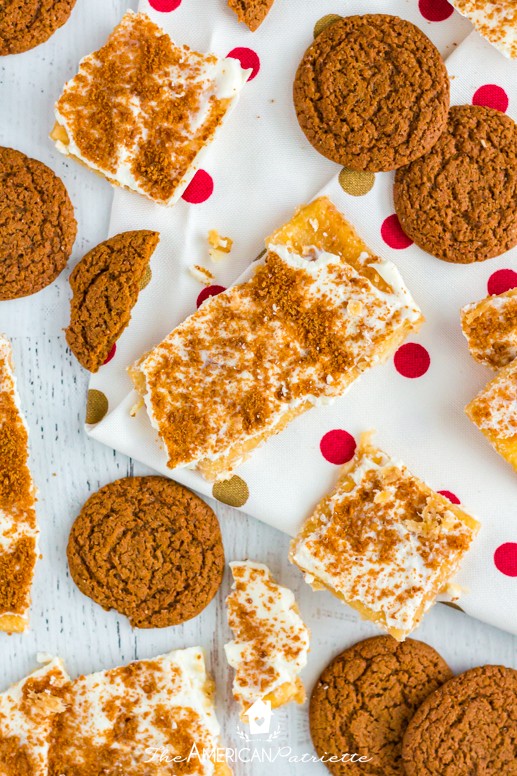 Here's why you'll love this easy recipe:
The prep is almost effortless. It's about 10 minutes of hands-on time, and that's about it! It really is so easy – no messing with a candy thermometer or anything!
It's a unique recipe. We all love our favorite Christmas classic dessert recipes, but sometimes it's fun to show up to a Christmas gathering or deliver a mason jar gift with something a little different in hand!
It's so tasty! It's caramel-y. It's ginger-y. It's a little salty. It's YUMMY.
The batch is pretty big, which means it's perfect for a crowd. Ten minutes of work for a big batch treat? Yes please! (And, if you want to make even more – say for handing out as treats to neighbors, teachers, coworkers, etc. – it's very easy to make a double batch at the same time!)
You only need a small handful of simple ingredients. You only need 5 things to make this entire recipe!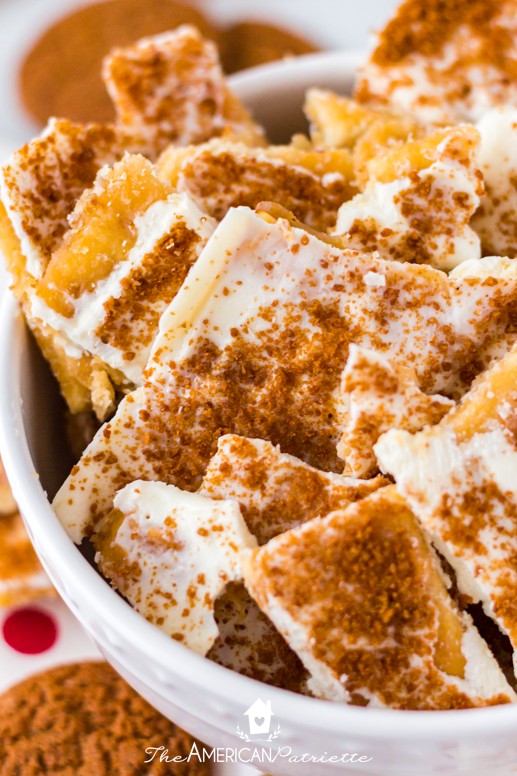 Ingredients you'll need:
2 sticks of unsalted butter (no need to bring them to room temperature like many baking recipes; you're going to melt it anyway!)
1 c packed brown sugar
Saltine crackers
Vanilla baking bark – melts perfectly and has great flavor!
Gingersnap cookies – for crushing and sprinkling on top
A quick note about the baking bark: When I first started coming up with different flavor options of the traditional saltine toffee recipe made with chocolate chips, I would use white chocolate chips.
Sometimes the white chocolate chips didn't melt and spread very well, so I decided to try vanilla baking bark, and it melted BEAUTIFULLY. Super quick and smooth. And, it has great flavor. So, I've started using that instead, and I really think it works a lot better.

How to make Easy Gingersnap Saltine Toffee:
I'll walk you through some step-by-step photos for how to make this tasty recipe perfectly the first time!
Melt butter & sugar together in small saucepan over medium heat
Once the butter melts & the sugar starts to dissolve in the butter, stir regularly until caramel sauce comes to a low rolling boil. Allow it to slowly boil, stirring regularly, for 3-4 minutes to help the sauce to thicken.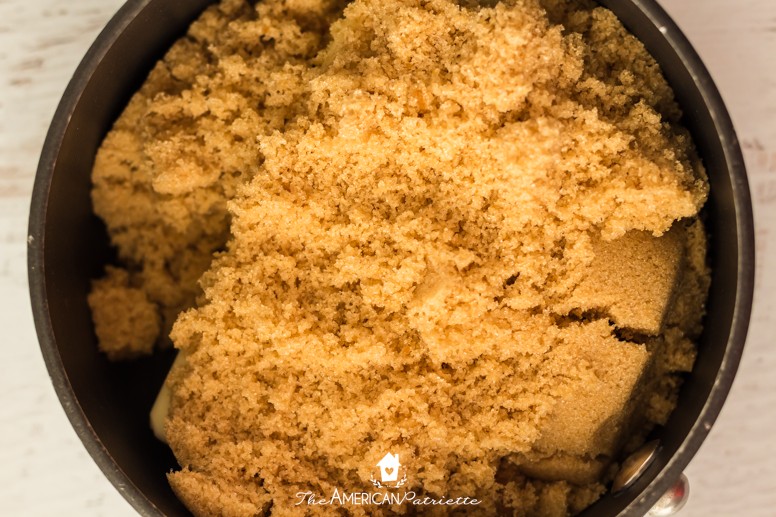 Cover saltines with caramel sauce & bake at 400 for 5 minutes
Line a rimmed baking sheet/jelly roll pan with a single layer of saltine crackers all the way up to the sides of the pan. (You want an even layer across the whole pan, so you may have to break some in half to completely fill the sheet to the end – no biggie!)
Note on baking sheets: I *always* use USA Pans when I bake, including when I make toffee. The toffee never sticks to the pans, and in fact, the toffee would stick way more to the aluminum foil when I would line the pans a long time ago. Once I realized how easily the toffee comes off, I stopped bothering with foil. However, if you're not using USA Pans or baking sheets that don't stick at all, you may want to consider lining yours with foil or parchment paper. Also, you'll want to make sure you're using a pan with a rim (rather than a flat sheet pan) to contain the caramel mixture.
Use a large spoon to drizzle the brown sugar mixture over the top of the saltines, trying to cover them as evenly as possible. If your caramel sauce doesn't come out completely smooth, that's ok – just pour it as evenly as you can over the saltines, and it'll continue to melt & spread in the oven.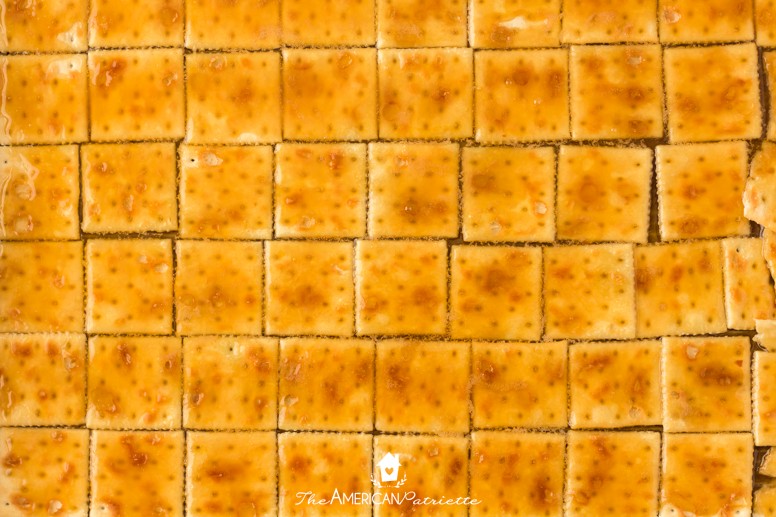 Chop the almond bark
While the saltines are in the oven, chop the almond bark into smaller bits.
It should chop pretty easily.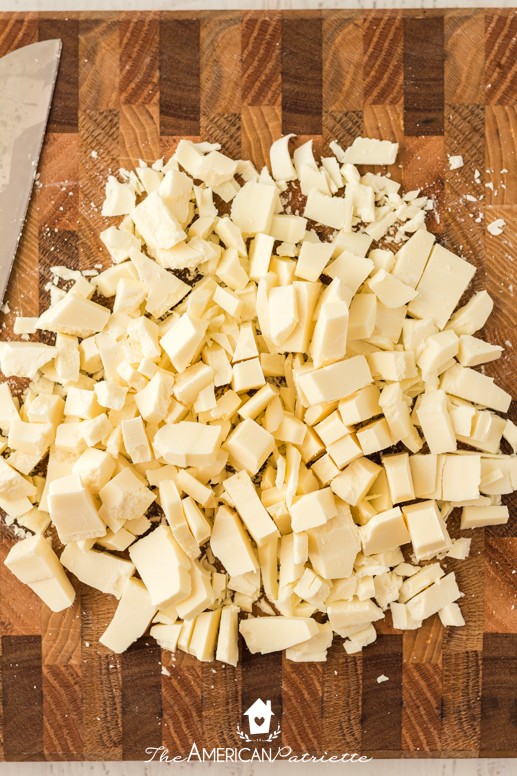 Sprinkle baking bark all over saltines & return to oven
Remove pan from oven, sprinkle with baking bark, and then return to the oven for 1 minute. When you remove the pan from the oven, use a spatula to evenly spread the melted baking bark all over the saltines.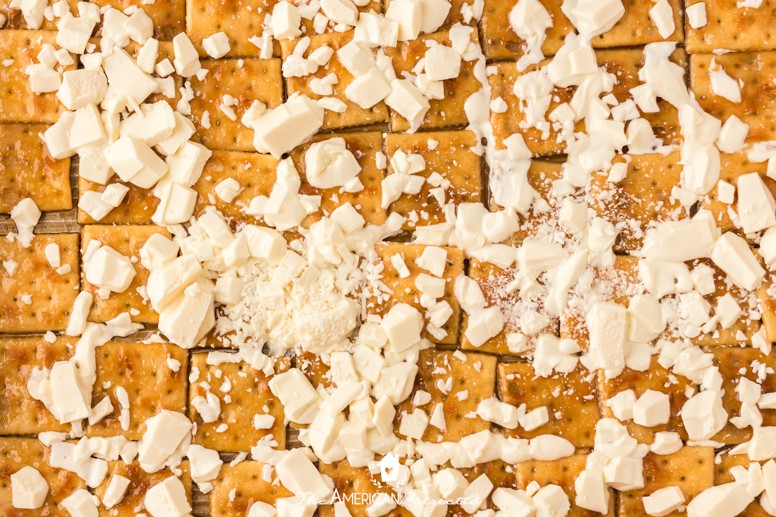 Crush the gingersnaps
Using a food processor, blender, or by hand, crush a small handful of gingersnap cookies.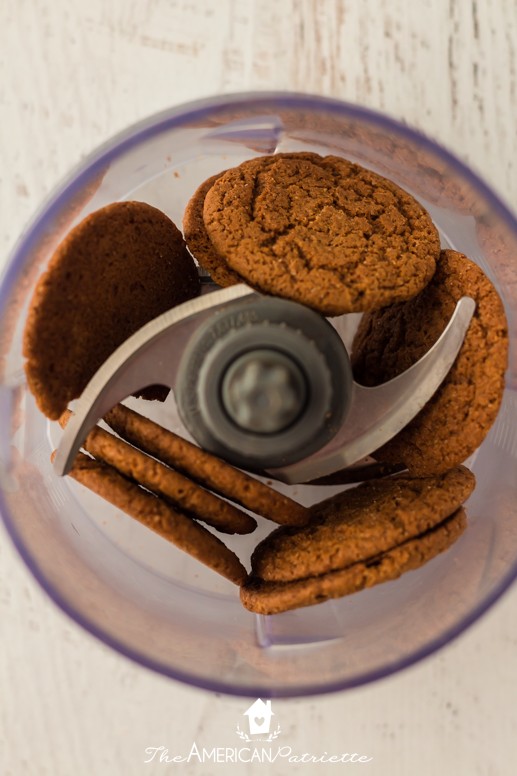 You really only need 5-6; I put too many in the blender for that picture!
A note about the gingersnap cookies: since you only need a few for this recipe and you'll have a whole bag left, you can use the leftovers to make another festive Christmas recipe – try this gingersnap popcorn or this lemon & gingersnap pie!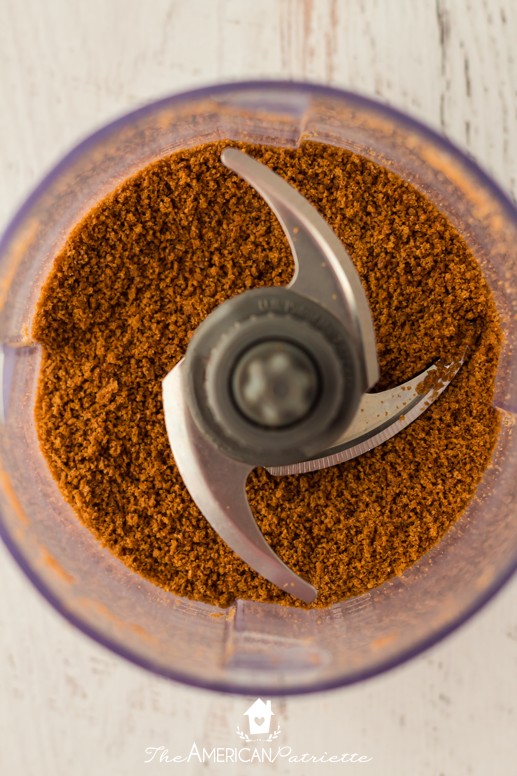 Sprinkle the gingersnaps over the melted baking bark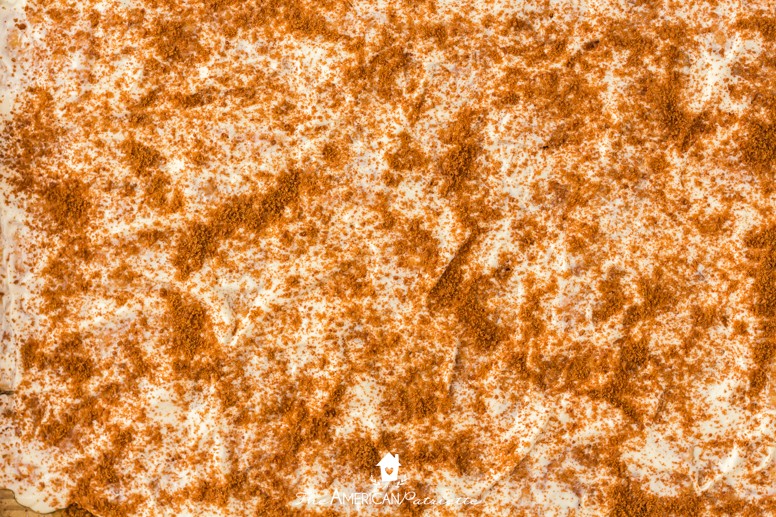 Allow the hot toffee to completely cool, and then place the pan in the fridge for 20-30 minutes until the toffee completely sets.
Remove from fridge & break apart
Use a metal spatula to make the initial cut into the buttery toffee, and then you should be able to slide it underneath the rest of the toffee to break it right off the pan and break it into bite-sized pieces.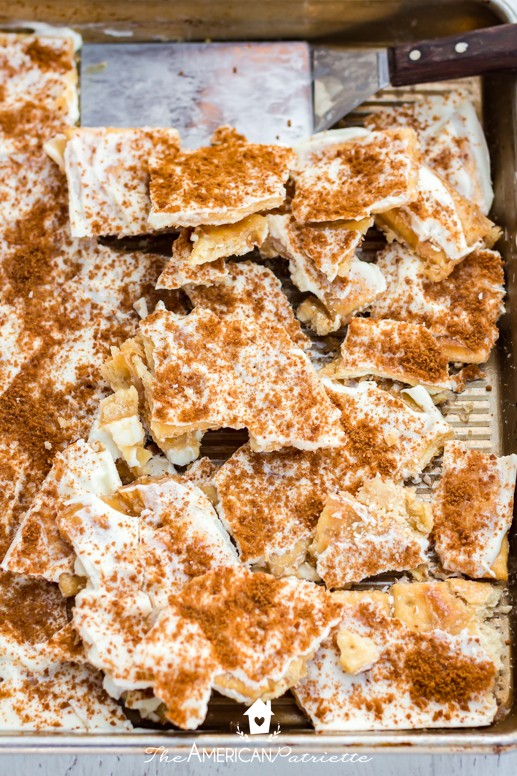 Place on a platter or bowl & enjoy!
Everyone you share it with is going to love this saltine toffee bark!

Tips for this saltine toffee recipe:
Store saltine cracker toffee in an airtight container for up to 3-4 days. The saltines will start losing their freshness after about 4 days, so you'll want to eat it before then.
This makes GREAT mason jar gifts to hand out for Christmas!
You can also top it with some extra crunch if you'd like! Chopped pecans, walnuts, etc.
Happy baking! Enjoy making this easy gingersnap saltine toffee & all of the treats you love to make this time of year!
Other Christmas toffee & snack-y treat recipes you might like: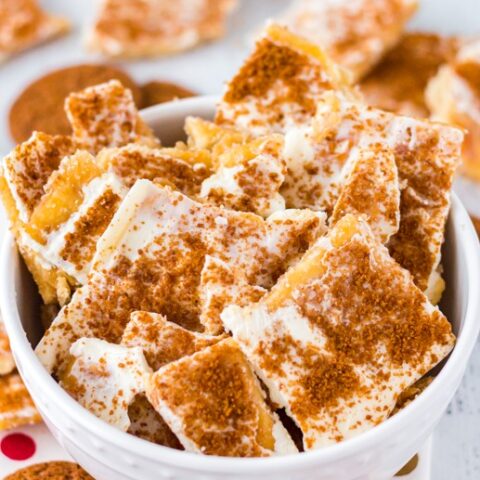 Easy Gingersnap Saltine Toffee
Ingredients
2 sticks unsalted butter
1 c brown sugar
1.5 sleeves of saltine crackers (enough to line a baking sheet from rim to rim)
12 oz vanilla baking bark
5-7 gingersnap cookies
Instructions
Preheat oven to 400.
Place butter & brown sugar in small saucepan on stove top over medium heat. Allow butter to melt and stir regularly as you bring them to a slow boil.
Allow to boil for a few minutes (stirring regularly).
While the caramel mixture is thickening, line a rimmed cookie sheet with foil (unless you use the awesome non-stick baking pans I use, and in which case, no foil needed!!), and lay out saltine crackers in rows on the cookie sheet.
Using a large spoon, drizzle caramel mixture evenly over the saltines. (If your caramel mixture isn't perfectly smooth, that's ok - it'll bubble up just fine in the oven on the saltines.)
Place cookie sheet with crackers in preheated oven for 5 minutes.
While pan is in the oven, finely chop the vanilla baking bark.
Remove pan from oven and set pan on a hot pad. Sprinkle evenly with chopped baking bark over top of the hot saltines.
Place the pan back in the oven for 1 minute to help the bark to quickly melt.
Pull the pan out of the oven, and use a spatula to gently and evenly spread the bark out across the saltines.
Crush the gingersnaps in a blender or a food processor. Sprinkle evenly over the melted baking bark.
Allow pan to cool on a hot pad for 10-15 minutes (or until it's cool enough to set in the fridge), and then place in refrigerator for about 20-30 minutes - until the toffee is chilly to the touch and completely set.
Remove from fridge and begin breaking apart. You can use a metal spatula or butter knife to get it started, but once you get it started, you can just use your hands to quickly break the rest of it apart.
Place on platter or in serving bowl and enjoy with others!
Notes
Here are some helpful tips for making the perfect toffee:
Don't line your pan with foil if you're using a USA Pan - the super sticky toffee literally pops right off of the bottom of the pan! If you line the pan with foil, you'll have to spend some time peeling the foil off of the back of the crackers.
The cooler the toffee, the easier it is to break apart into pieces (and the cleaner it breaks). So, just make sure the coffee is cool before you try to do this!
Recommended Products
As an Amazon Associate and member of other affiliate programs, I earn from qualifying purchases.