This delicious & super easy spiced cranberry, orange, and pistachio toffee is a fun twist on traditional Christmas crack. Such a quick & easy homemade Christmas treat!

Isn't it so fun when you can whip up a really fancy-looking (and fancy-tasting!) Christmas dessert in just a matter of minutes?

It's one of the reasons I'm such a huge fan of saltine cracker toffee – it's just so doggone simple and quick, yet it has such a gourmet feel!

And it's just so darn pretty! This toffee is perfect for bringing to Christmas parties, preparing for a Christmas charcuterie board, or for packaging up and giving as a little Christmas mason jar gift.
Anyone you share it with is going to LOVE IT.

Let's jump in and I'll show ya how to make it!
This post contains affiliate links for your convenience. You can read my full disclosure policy here.
How to Make Easy Spiced Cranberry, Orange, and Pistachio Christmas Crack
Let's start out with a few things you'll want to set out on your kitchen counter.
Kitchen Utensils You'll Need:
And I'm really, really, really not kidding on that USA Pan recommendation. Absolute, hands down, best baking pans ever for absolutely everything I bake on a pan. I just want to hug them every single time I use them because of how well they bake things and HOW EASY IT IS to clean them!
Ok, friend, let's get started!
Step 1: Lay out saltine crackers on baking sheet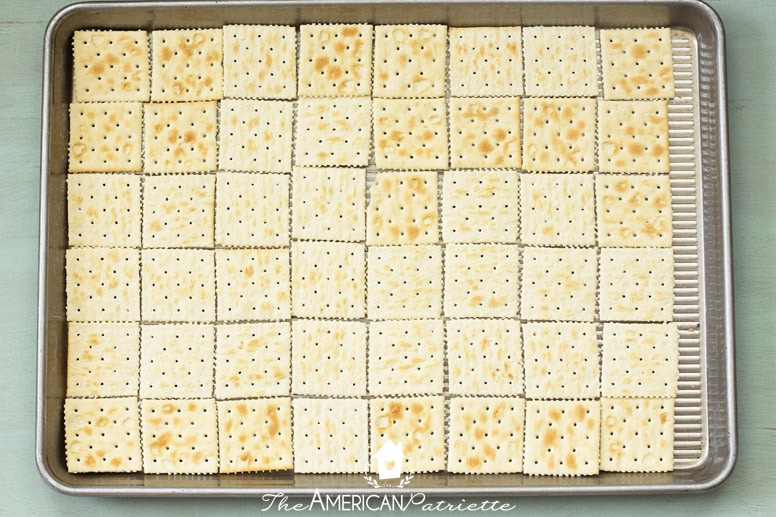 Make a grid on your baking pan with the saltine crackers. It's ok if you have a little gap between the pan & the saltines.
Tip: You might be tempted to do this, but DO NOT line the pan with foil if you're using one of the USA Pans. The super sticky toffee actually comes up far more easily off the pan than it does off of foil! But, if you're not using one of those pans, unless your baking pan is very non-stick, go ahead and line the pan with foil before you lay down the saltines.
Step 2: Make caramel sauce & pour on crackers

The recipe for the caramel sauce is at the bottom of the post, but it's just a simple mixture of butter & brown sugar on the stove top. Pour it evenly all over the crackers, use a spatula to spread it out if necessary, and then you're good to go!
Step 3: Bake crackers in oven for 5 minutes

Place that pan of crackers in the oven for 5 minutes at 350. Yep, only 5 minutes.
Step 4: Add white chips

Once you remove the saltine crackers from the oven, immediately pour on all of the white chips, and then place the pan back in the oven for 1 more minute to help them quickly melt.
Step 5: Spread chocolate chips
Remove the pan from the oven, and then use a spatula to gently spread the melted chips all over the crackers.
Note: sometimes white chocolate chips can be a little finicky when they're melted. Sometimes they melt beautifully, and other times they can be a bit…sticky and goopy. If yours end up falling into the latter category, just use your spatula to press them down and spread as gently as you can. You're going to be putting so much topping on there that some uneven spreading is likely to be camouflaged by everything on top!
Step 6: Add the toppings

You'll sprinkle chopped pistachios, dried cranberries, zest from a couple of naval oranges, and dust some ground cloves all over the top of the melted white chocolate chips.
Step 7: Place pan in refrigerator

Add the pan to the refrigerator to help the toffee set. I usually leave it in for about 20-30 minutes. You just want it to be at least at room temperature, if not cooler, before you start breaking it apart.
The cooler it is, the more cleanly it'll break apart.
Step 8: Break toffee apart

I usually get this process started with a metal spatula or a butter knife. Once you make a couple of cuts, you can then just use your hand and start breaking it apart.

You can kind of tell from the pictures how easily it just pops right off the pan when you use these USA Pans! It's so satisfying!

Step 9: Enjoy!

Once you break it apart, serve it in a bowl or on a platter and ENJOY it with others!

It's such a fun, festive, unique Christmas treat without going through a ton of rigmarole to make it. A very fuss-free fancy dessert!

All of these flavors and textures combined make for such a tasty, elevated version of Christmas crack!
And, you can easily turn this into a gorgeous Christmas mason jar gift, just like this nutcracker toffee!

Spiced Cranberry, Orange, and Pistachio Christmas Crack
Additional Time:
30 minutes
This spiced cranberry, orange, and pistachio saltine cracker toffee is a fun and fancy twist on traditional Christmas crack!
Ingredients
2 sticks unsalted butter
1 c brown sugar
1.5 sleeves of saltine crackers (40 crackers)
3 c white chocolate chips (1.5 12oz bags)
1/2 c chopped pistachios
1/2 c dried cranberries
Zest from 2 naval oranges
Dusting of cloves (maybe 1/2 tsp)
Instructions
Preheat oven to 400.
Place butter in small saucepan on stove top over medium heat and allow it to melt.
Stir in brown sugar and bring to a low boil for about 3-4 minutes to allow caramel mixture to thicken, stirring regularly.
While the caramel mixture is thickening, line a rimmed cookie sheet with foil (unless you use the awesome non-stick baking pans I use, and in which case, no foil needed!!), and lay out saltine crackers in rows on the cookie sheet.
Pour caramel mixture evenly over the saltines, using a spatula to spread it out to cover the crackers completely.
Place cookie sheet with crackers in oven for 5 minutes.
Remove from oven and set pan on a hot pad. Sprinkle white chocolate chips over top of the hot saltines. Place the pan back in the oven for 1 minute to help the chips to quickly melt.
Pull the pan out of the oven, and use a spatula to gently and evenly spread the chips out across the saltines.
After you've covered the saltines with the melted chips, evenly sprinkle the pistachios and cranberries over the top.
Zest two oranges evenly over the top of the crackers, and then evenly sprinkle cloves over the top.
Allow pan to cool on a hot pad for 10-15 minutes (or until it's cool enough to set in the fridge), and then place in refrigerator for about 20-30 minutes - until the toffee is chilly to the touch and completely set.
Remove from fridge and begin breaking apart. You can use a metal spatula or butter knife to get it started, but once you get it started, you can just use your hands to quickly break the rest of it apart.
Place on platter or in serving bowl and enjoy with others!
Recommended Products
As an Amazon Associate and member of other affiliate programs, I earn from qualifying purchases.