This lemon gingersnap pie is a fresh take on a popular flavor combination during Christmastime! A fun & unique holiday dessert that's easy to make and even easier to eat!
It wasn't until I married my husband that I knew that lemon + ginger was a…thing.
He would tell me how much he loved growing up eating gingerbread with lemon curd during Christmastime, so given my enthusiasm for experimenting with different flavors in the kitchen, I decided to see if I could make a lemon cream pie with gingersnaps instead of the traditional graham cracker crust.
Sometimes my experiments are a total bust.
But this one, my friend, was NOT, and if you're looking for something to help you break out of the typical Christmas dessert mold, you and your family will LOVE this lemon gingersnap pie!
Not only is it oh-so-tasty, it's also REALLY easy to make!
Let's dive in!
This post contains affiliate links for your convenience. You can read my full disclosure policy here.
How to make Lemon Gingersnap Pie
Kitchen utensils you'll need:
Step 1: Crush gingersnaps using a chopper or a food processor
Pour about 30 gingersnaps into your processor and crush away!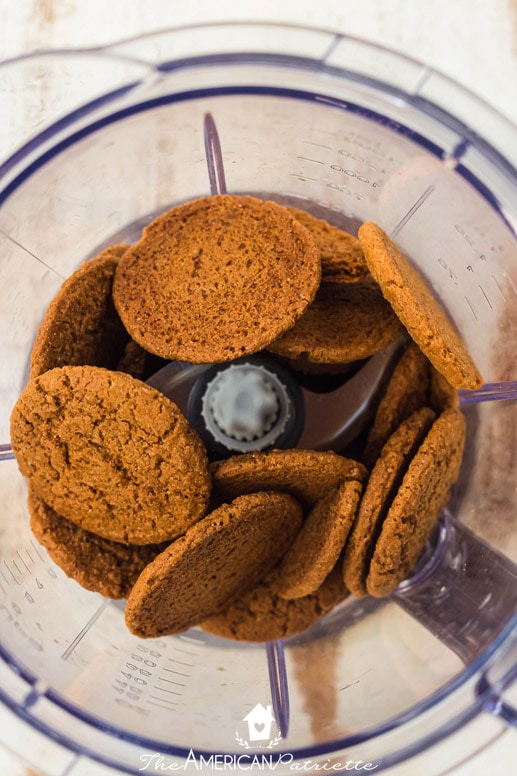 I just give it a few pulses. This is what the consistency should look like:
Step 2: Add in melted butter & sugar

Blend everything together until it's evenly mixed.

Step 3: Press crust into bottom of pie pan & bake for 10 minutes at 375

Because this crust is fairly crumbly, I don't bother trying to go up onto the sides – I just keep it all on the bottom of the pie. The lemon cream holds its shape well after it bakes, so this works out fine.
If your pie pan is prone to sticking, you may want to lightly grease the bottom of it, but the butter in the crust does a pretty good job of keeping anything from sticking to the bottom.
Once you've pressed the crust in the bottom, place it in the oven for 10 minutes to stiffen up a bit.
Step 4: Mix together the lemon cream filling

Mix together egg yolks, lemon juice, lemon zest, and sweetened condensed milk.

Give it a good stir.
Step 5: Pour filling into crust and bake
Pull the crust out of the oven, reduce the oven temperature to 350, and then pour the lemon cream filling into the pie pan.
(No, you don't need to wait until the gingersnap crust completely cools – you'll have to wait a few minutes for the oven temp to go down anyway, so just pour the cream filling in once the oven is ready, which will give the crust a few minutes to cool a little.)
Put it in the oven and bake for 20 minutes at 350.

Step 6: Let it cool, chill, and then ENJOY!
Let it cool on the countertop, and then place in the fridge to let it chill – for a couple of hours or overnight.
For some added flavor & texture, dust on a little more lemon zest and add a little dollop of whipped cream on each slice. (Homemade whipped cream is delightful and also very easy to make!)
That fresh lemon flavor with the bite and sweetness of the gingersnap crust is just absolutely delicious!
This lemon gingersnap pie might just become one of your new favorite dessert traditions!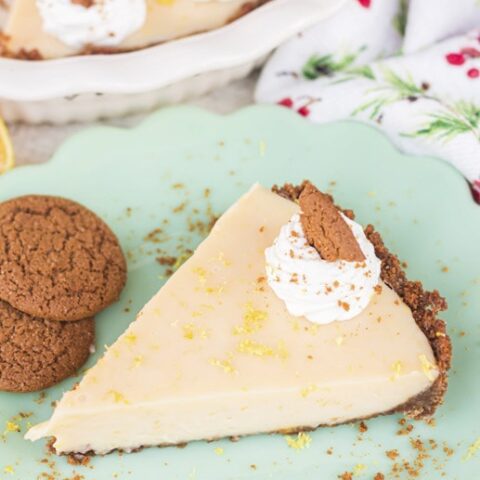 Lemon Gingersnap Pie
Total Time:
2 hours
45 minutes
This lemon gingersnap pie is a fresh take on a popular holiday flavor combination! Super easy to make!
Ingredients
30 gingersnaps
6 tbsp butter, melted
¼ sugar
4 egg yolks
¾ c lemon juice (about 5 lemons)
lemon zest from one lemon
2 cans of sweetened condensed milk
extra lemon zest & whipped cream for topping (optional but totally recommended!)
Instructions
Preheat oven to 375.
Using a food processor or chopper, create gingersnap crumbs. Mix in melted butter and sugar until fully blended.
Press crust into the bottom of a lightly greased 9in pie pan.
Bake for 10 minutes at 375.
Whisk together remaining ingredients (sweetened condensed milk, egg yolks, lemon juice, lemon zest).
Remove crust from oven and turn the temperature down to 350.
Once the oven is ready at 350, pour the lemon cream mixture into the pie pan and bake for 20 minutes.
Remove from oven, allow to cool on the counter, and then place in the fridge to chill for about 2 hours or overnight.
Enjoy with some extra lemon zest and whipped cream on top!