Award-Winning Triple Dark Chocolate Cookies (SO GOOD!)
These triple dark chocolate cookies are the ultimate chocolate cookie recipe! Decadent, chewy, and basically like a brownie cookie!
Well, friend. This might just be the ultimate chocolate cookie recipe. Full of total chocolate-y goodness + a perfect chewiness, you are going to love this recipe!
In fact, even the judges at our county fair thought they were pretty darn good! My daughter, who absolutely loves to get her hands messy in the kitchen and who has now been my little baking buddy for a couple of years, won herself a 1st place ribbon for these dark chocolate cookies that we made together!
We knew we wanted to enter a few different recipes into the fair (I entered my chocolate chip cookie recipe & won a 2nd place ribbon, which my daughter has been *very quick* to point out in contrast to her first place ribbon…#sportsmanship 😜…even though we weren't even competing against each other and we were in sliiiightly different age categories 😆), so when I asked her to decide what type of cookie she wanted to enter, she said: "Chocolate, chocolate, chocolate, chocolate, chocolate…" followed by about 10 more "chocolates."
And so that's just what we made!
Ladies and gentlemen, I present to you: the ULTIMATE chocolate cookie.
Here's what you'll love about these triple dark chocolate cookies:
The flavor is OUT-OF-THIS-WORLD. They have a rich chocolate flavor that'll make any chocolate lover swoon. They're almost like brownie cookies.
They're super thick and chewy. I've made this recipe many times, and never once has it produced flat cookies. The ingredients + the chilled dough produces a wonderfully thick, brownie-like, chewy cookie every time.
They stay fresh for a while! They're gooey cookies when they come out of the oven, but once they cool, they hold their shape well and somehow manage to stay SUPER soft and chewy for a while. They don't last too long around here, but because I've made so many batches to test this recipe, inevitably we'll have some that'll get stored for more than a day or two, and when we've eaten them on day 3 or 4, they're still absolutely delicious! (Which says a lot, because not many cookies can stay super fresh & chewy for more than a couple of days outside of the freezer!)
Super simple to make! It's a basic cookie recipe with not-so-basic flavors.
And, because I've made these so many times, we've also had a lot of people try them, and I'm telling you, I've had several people say that these are the best cookies they've ever had.
I mean, I can't help but agree. They're really good.
But you go be the judge of that! I can't wait for you to make them! It might just become your favorite recipe for cookies!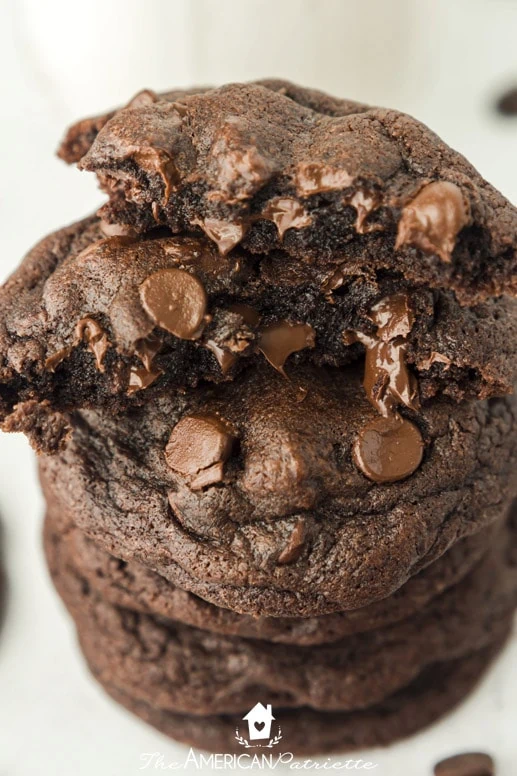 Here's what you'll need for these chewy dark chocolate chip cookies:
2 sticks of unsalted butter (1 cup) – either at room temperature, or you can put cold butter in the microwave (very briefly!) for like 10-15 seconds to soften it just a tad
Brown sugar
Granulated white sugar
Eggs
Vanilla extract – I use Mexican vanilla in all of my baked goods. So delish.
All-purpose flour
Baking soda
Sea salt (regular or kosher salt is fine if you don't have sea salt!)
Hershey's Special Dark Chocolate Cocoa Powder – I'm often a store-brand gal, but I always use Hershey's cocoa when I bake. I prefer it, even to some of the more gourmet brands.
Dark chocolate chips & semisweet chocolate chips – you need two cups, so I just split up and do one cup of each. But, if you'd prefer, you can just use two cups of either!
Love this recipe & wanna play around with some different versions of these triple dark chocolate cookies?!
Other variation ideas:
White chocolate chips
Andes mint chips (or you can use this recipe here without the candy cane Kiss on top!)
Peanut butter chips
Milk chocolate chips
Bittersweet chocolate chips (if you want to cut the sweetness a bit)
Chocolate chunks
Use regular cocoa powder in lieu of the dark
I mean, all of your variations are going to be chocolate-y, but who doesn't love a variety of chocolate flavors?!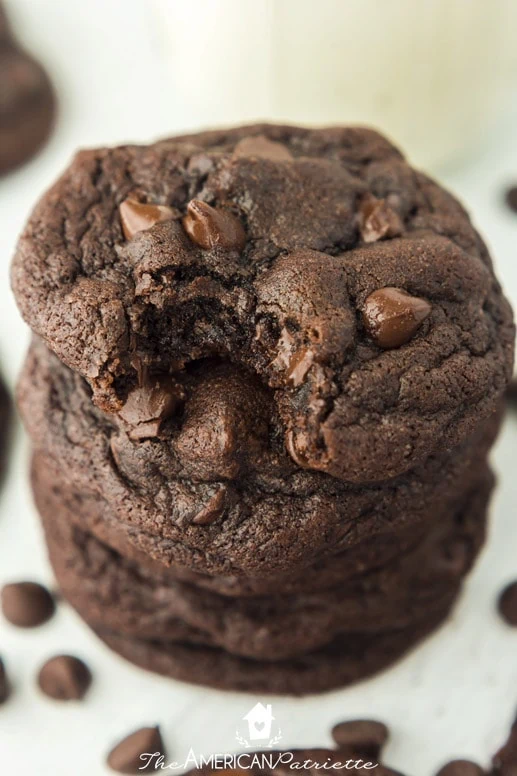 Tips for making these triple chocolate cookies:
Use an electric mixer or a stand mixer (with the paddle attachment) – that'll cream the butter + sugar much better than if you make them by hand.
Chill the raw cookie dough before baking it. I promise, it's worth it. I've tried the recipe both ways, and the chilled version has more flavor, AND, I really think the cookies keep their freshness longer if the dough was chilled before baking.

To chill: just use plastic wrap to cover the mixing bowl & stick in the fridge for at least 30 minutes-an hour. You can chill overnight if you'd prefer – no problem!

Freeze the cookies in an airtight container. They freeze & thaw REALLY well – they're just as tasty after coming out of the freezer two weeks later as they are the same day you bake them.

To freeze: place the cookies flat on a cookie sheet, place the sheet in the freezer for about 30 min, and then move the cookies into a plastic container with a lid & store in the freezer.

Baking pans make a difference. I haven't bothered to test a bunch of brands because I've been using the same USA Pans for years (at least 11) and I am still 100% loyal to them because they are SO FANTASTIC, especially for cookies. These cookies don't stick much at all to those cookie sheets, but if you don't use USA Pans (you should), then you might want to consider using parchment paper below the cookies to prevent them from sticking too much to the pan.
Let them cool on a wire rack. After they've cooled down a bit on the baking pans, transfer them to a cooling rack until they've completely cooled. Before they cool down to room temp, they'll be pretty…flexible (i.e. super soft and amazing)…so if you move them to a container when they're still warm, they might lose some of their shape/stick to other cookies.
Cut the chocolate chips…if you really want to. These are some pretty decadent cookies, and we love them that way. But if you want to cut the decadence a bit (sad), you can trim down on the chocolate chips by about a half a cup. The cookie will still have a really rich flavor, but won't have as much of the melty decadence of the chocolate chips.
You CAN use a cookie scoop, but I don't think you need it. (I don't even own one, and I make A LOT of cookies!) Just pinch & roll the dough – it should be fine! As long as it's chilled, it shouldn't stick too much to your hands. It'll be a little messy, but you shouldn't have gobs of dough sticking to your hands as your roll it.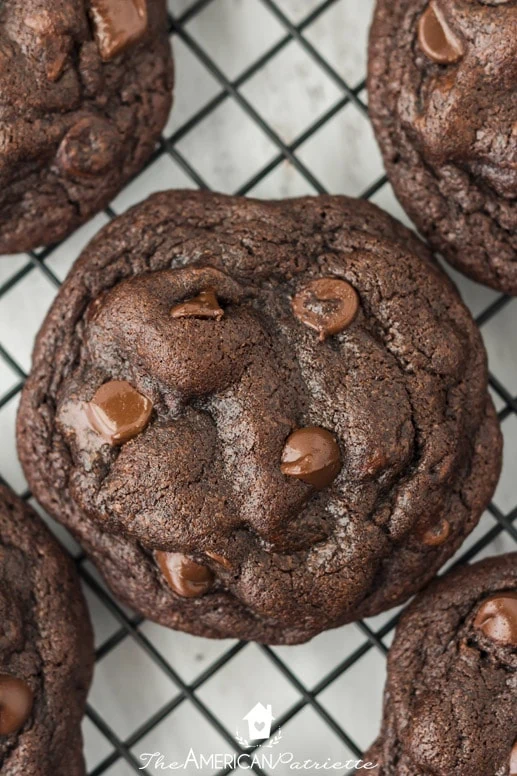 Have fun making these cookies!!
More delicious chocolate cookie recipes:
Classic chocolate chip cookies (no-chill!)
Christmas Brookies (chocolate chip cookies + basically this cookie recipe!) – just sub in more chocolate chips in lieu of the red & blue M&Ms and you have yourself an any-time-of-the-year fun cookie recipe!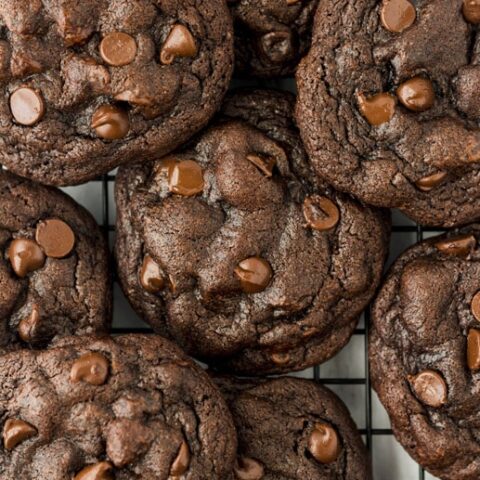 Award-Winning Triple Dark Chocolate Cookies (SO GOOD!)
Additional Time:
30 minutes
These triple dark chocolate cookies are the ultimate chocolate cookie recipe! Decadent, chewy, and oh-so-flavorful, they're basically like a brownie in cookie form.
Ingredients
2 sticks (1 c) unsalted butter, softened
1 c brown sugar
⅔ c granulated white sugar
2 eggs
3 tsp vanilla
2 ½ c flour
½ c unsweetened dark chocolate cocoa (I use Hershey's Special Dark)
1 tsp baking soda
1 tsp salt
1 c dark chocolate chips*
1 c semisweet chocolate chips*
Instructions
Using a stand mixer with the paddle attachment (or a hand-held electric mixer), cream together the butters & the sugar on medium speed for about 2 minutes.
Scrape the sides of the bowl with a spatula & then add in eggs & vanilla. Mix just until blended (10-15 seconds) on medium speed.
In a separate bowl, whisk together flour, cocoa, baking soda, and salt.
With the mixer on low, gradually add in dry ingredients. Mix just until combined. Fold in chocolate chips.
Cover mixing bowl with plastic wrap and chill in the fridge for at least 30 minutes. (You can chill longer - even overnight - if that's more convenient.)
Remove dough from fridge, preheat oven to 375, and roll out dough to form 24 cookies - 12 on each baking pan. (If you aren't using USA Pans as your cookie sheets, you may want to consider laying down parchment paper to prevent cookies from sticking.)
Bake one pan at a time for 9 minutes at 375 & remove from oven. Allow cookies to cool on pans for about 10-15 minutes, and then transfer to a cooling rack and allow them to completely cool before transferring them to an airtight container.
ENJOY! Share with friends & family - they'll love 'em!
Notes
*If you'd rather just use one kind of chocolate chip vs. both, you definitely can. I just love the combo of the dark + the semisweet. If you choose to just use one, simply use 2 c of that kind.
These cookies freeze well!
To freeze: place the cookies flat on a cookie sheet, place the sheet in the freezer for about 30 min, and then move the cookies into a plastic container with a lid & store in the freezer. 
To thaw: you can either set them out of the freezer for a couple of hours, or you can microwave them to speed up the thawing process. I've done both, especially if we're impatient for cookies. 🙂
You can easily half the batch if you want to just make a small amount. All of the instructions are the same, just halve the ingredients! 🙂
Recommended Products
As an Amazon Associate and member of other affiliate programs, I earn from qualifying purchases.