20+ Mason Jar Christmas Gift Ideas (that aren't sweet!)
Looking for some inspiration for great gifts for neighbors, teachers, coworkers, and friends? Get some great food gift ideas (that aren't sweet!) from this list of homemade mason jar Christmas gift ideas!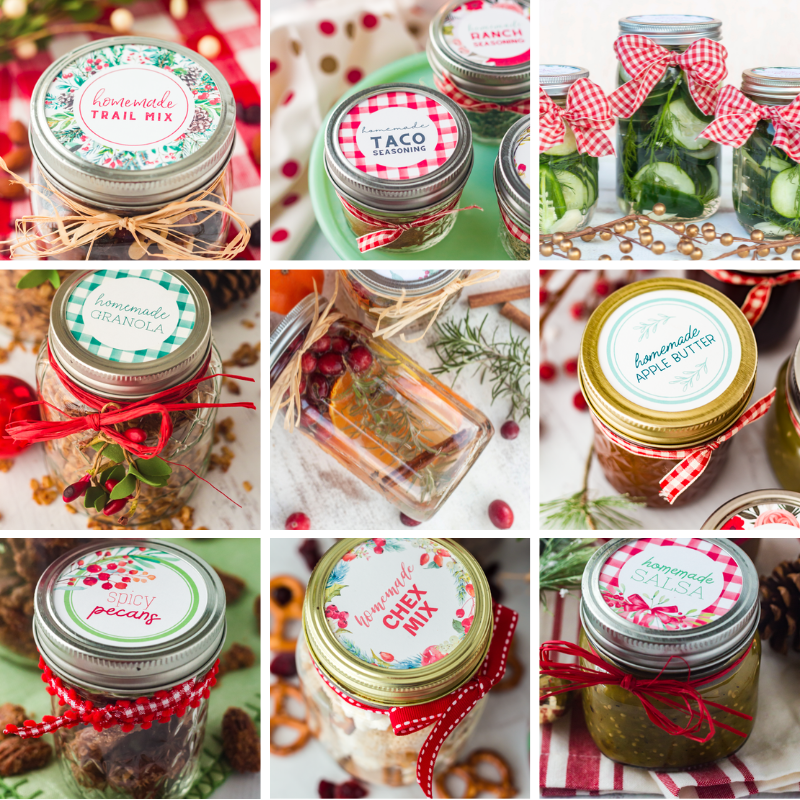 This time of year is often full of one edible gift after another, but sometimes the sugar overload from all of them can feel…excessive. (Says the gal who loves baking 24/7 and giving treats away. 😆)
If you're looking for some unique gift ideas that you can make on a budget…and that people will actually like 😉…I've got a doozy of a list for you!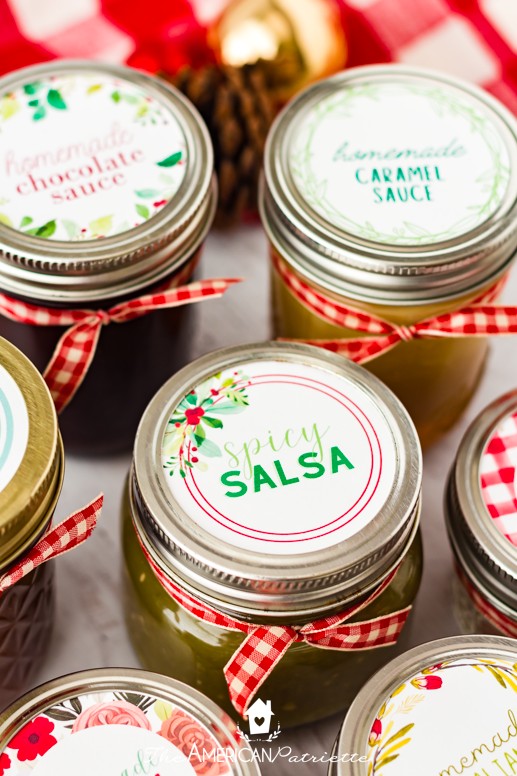 Here's why DIY mason jar gifts are such a great gift option:
They really do make great neighbor gifts. (And teacher gifts. And coworker gifts. And pretty much any kind of gift you need to make en masse!)
They pair perfectly with a gift card if you're wanting to give a more substantial gift but with a homemade touch. While mason jar gifts are perfect on their own for some of your gift recipients, maybe for someone in particular, you're wanting to give a larger gift of a gift card, but don't want it to feel so impersonal. Adding a mason jar gift is the perfect way to turn a gift card into a thoughtful gift.
You can get everyone involved! If you're making several to hand out, you can easily get kiddos involved in helping you assemble them.
Overall, they're really simple to throw together during a busy holiday season. Depending on what you're making, you can assemble several at a time without too much effort.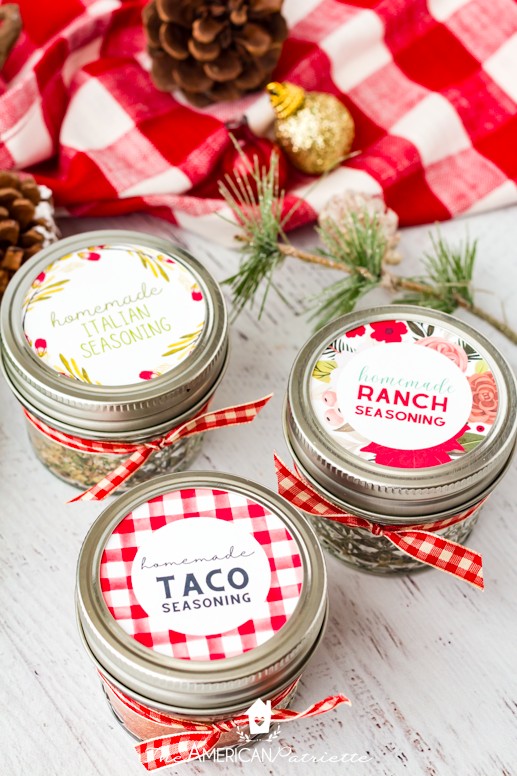 Tips for giving out mason jar gifts:
Write tips/instructions on tags (if necessary)
If you're giving something away that could be used in multiple ways (i.e. salsa, apple butter, granola, seasonings, pesto), write on the tag some suggestions for how your gift recipient can use it. (I'll give you examples throughout this post.)
When you do this, it's an easy step to make your gift feel even more valuable and they can envision how they'll use it (rather than sometimes just getting shoved into the back of the fridge or on the top shelf of the pantry). People won't necessarily think about using using your salsa as a super easy way to add even more flavor to the tortilla soup they're making this weekend or that the seasoning you're giving them makes for a ridiculously easy way to marinate some chicken!
Buy in bulk
Especially if you're making several of these, try to buy ingredients in bulk where you're able. (I bought this bag of cinnamon sticks last year for Christmas, made several simmer pot mason jar gifts, and still have a lot left for this year!)
Ok, onto the ideas!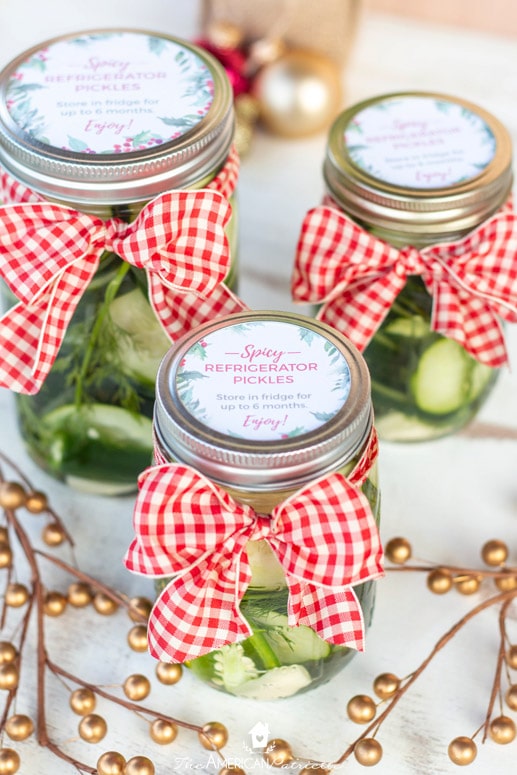 Mason Jar Christmas Gift Ideas
Homemade Salsa
Who doesn't love a great homemade salsa?! (Chips + GOOD salsa = heaven on earth!)
When you gift these out, you can also suggest they're great for flavoring ground beef (for taco meat), tortilla/enchilada/tamale soup, or to use as a marinade for chicken.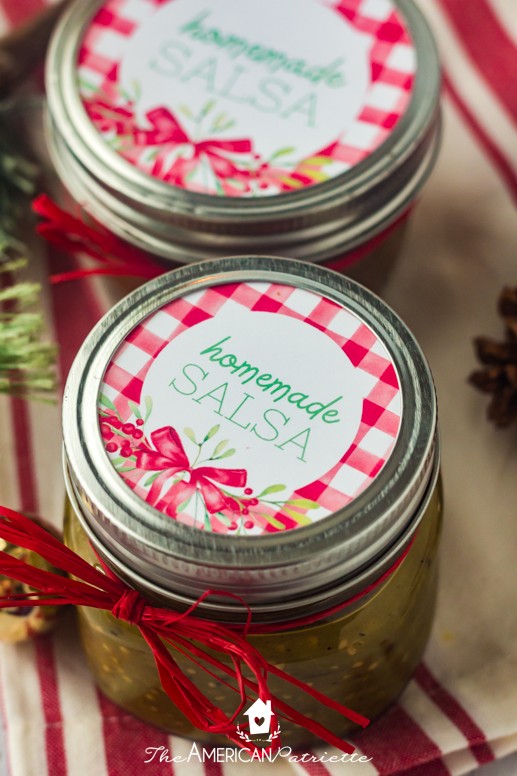 Roasted Salsa
This recipe is AMAZING. (I spent lots of time in my kitchen perfecting it! We ate a LOT of chips & salsa as I was testing recipes. 😆) It's delightfully flavorful, has a hint of smokiness, and is just downright GOOD. Everyone's going to ask you for the recipe when you give this out. Just send 'em my way! 😉
Fresh Salsa (restaurant-style)
This one is also DELISH. I also spent lots of time perfecting this one. I really wanted a roasted salsa recipe AND a fresh, traditional red salsa recipe. I've been making this one for years and it's a definite favorite around here!
Salsa Verde
SO good on enchiladas!
Habanero Salsa
For your more adventurous eaters out there! 🌶️
Cilantro Salsa
A fresh & tasty option that's different than mainstream salsas.
Savory Snacks
Mmmm…so many yummy ideas here!
Roasted Nuts (Peanuts, Pecans, Walnuts, Almonds, Pistachios)
So many different versions out there! You can add some spice to them or keep them mild.
Candied Nuts (Pecans, Walnuts, Almonds)
I know, these made the cut even though they're sweet. But here's why: candied nuts are DELICIOUS on salads. They make my family want to gobble up salad like it's goin' out of style. Just a little bit goes a long way into turning a big bed of greens into a total treat! Suggest to your recipient that they're perfect for topping on salads – they'll be grateful for the idea!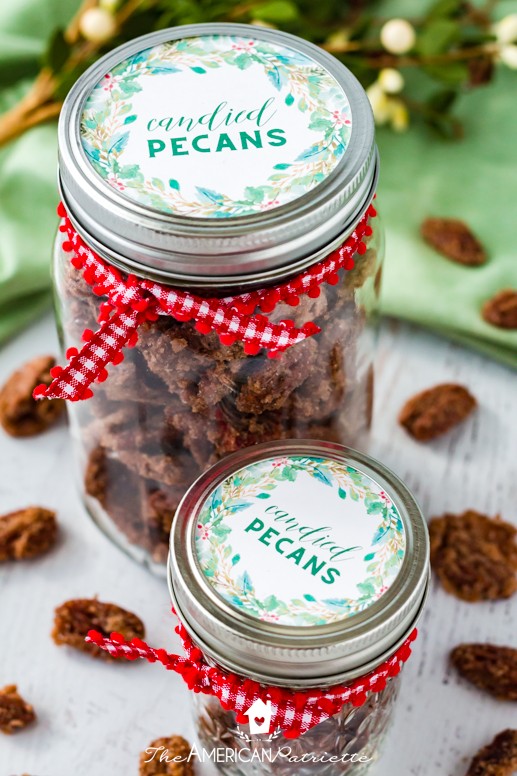 Trail Mix
Lots of options for trail mix add-ins! Buy items in bulk if you're able – it'll make assembly even easier.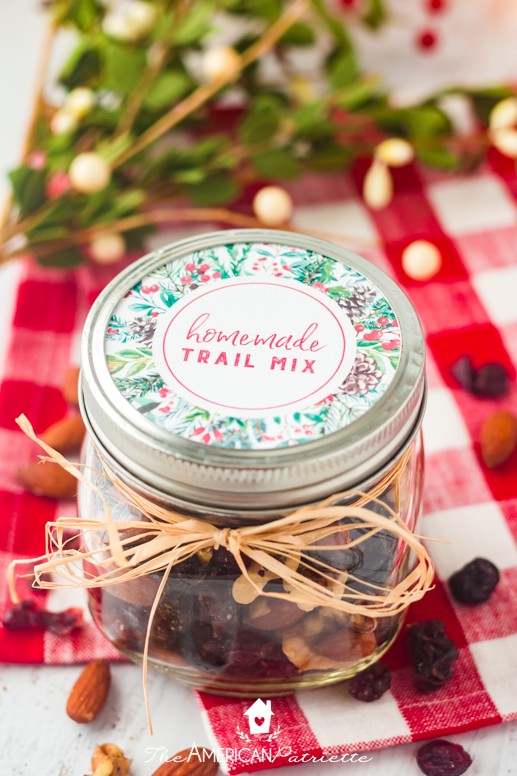 Popcorn
Mmmm…white cheddar. Jalapeno. Just buttery & salty. Seasoned. Whatever! Lots of flavors you could use for this!
Chex Mix
A holiday favorite!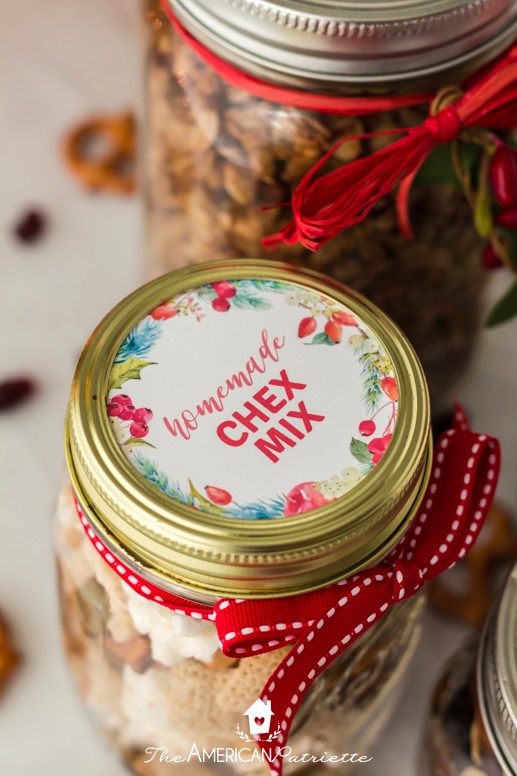 Seasonings
There are several great seasonings you could whip up to hand out. On these tags, suggest to people that they could use them to add to sour cream to make an easy + delicious dip, use as a chicken marinade, or to add into soup.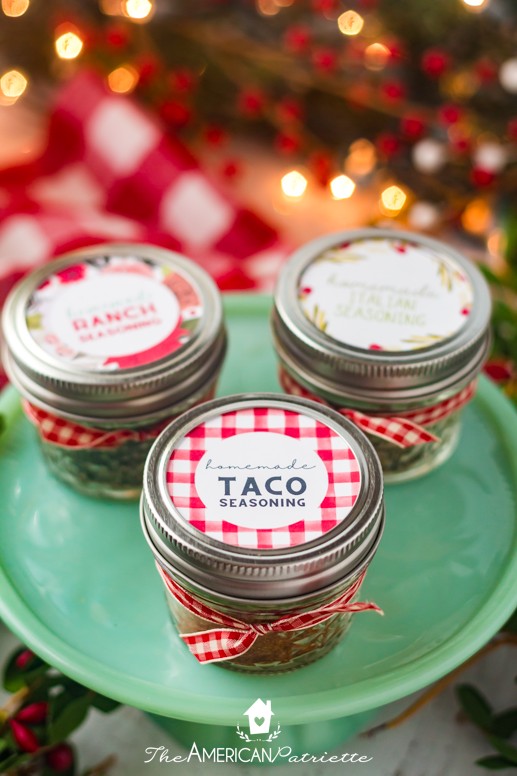 Taco Seasoning
Make it spicy, make it mild, make it smokey…whatever! But who doesn't love having a batch of already-made taco seasoning (that isn't from a package with preservatives) on hand?!
Italian Seasoning
Perfect to add to vinegar + oil for an easy homemade salad dressing. Also makes for a great dip, chicken marinade, addition to spaghetti sauce, or to add into chicken soups.
Ranch Seasoning
Yummy on mashed or baked potatoes, to add to sour cream for an easy dip, or to use on pot roast.
Everything Seasoning
Delicious on toast, eggs, and roasted veggies.
Tips for making & packing up seasonings:
See if you can buy the ingredients in bulk. Some grocery stores sell spices in bins where you can fill up baggies with a lot more (and for a lot cheaper) than you'd get if you purchased them in small containers on the baking aisle. See if you have this option!
This particular gift is great to put in a mini mason jar (vs. a pint or quart-sized jar). Buy the smaller ones & it'll help stretch your ingredients to make more gifts.
Sauces
There are a bunch of different ways to use sauces! Here are some ideas for making & gifting sauces:
Homemade Pesto
Make a traditional basil version, or step outside the box and make cilantro pesto or kale pesto. (All 3 are delicious and I make them regularly!) Pesto dresses up any skillet pasta recipe, lasagna, spaghetti, and it's delicious to add into chicken & vegetable soups.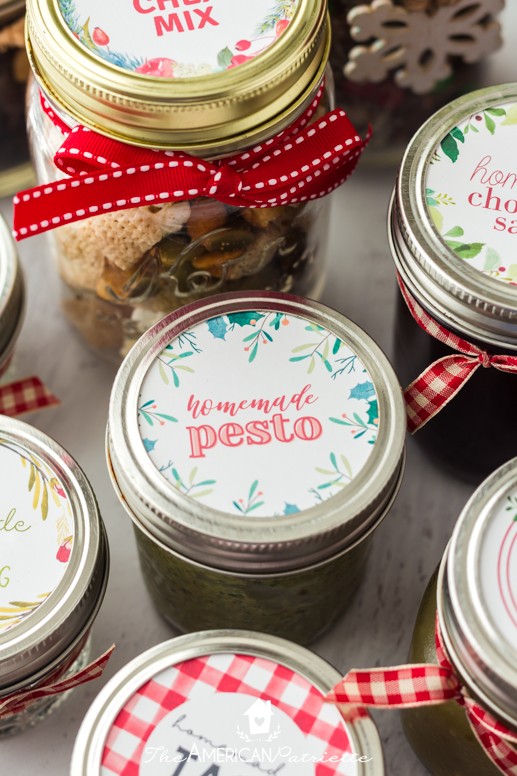 BBQ Sauce
Also makes a great marinade for chicken or pork!
Apple Butter
I know, apple butter is traditionally sweet (so why is it on this list?!), but you can make a healthier version without any added sugar. Suggest to your gift recipient that they can use it in oatmeal or on toast.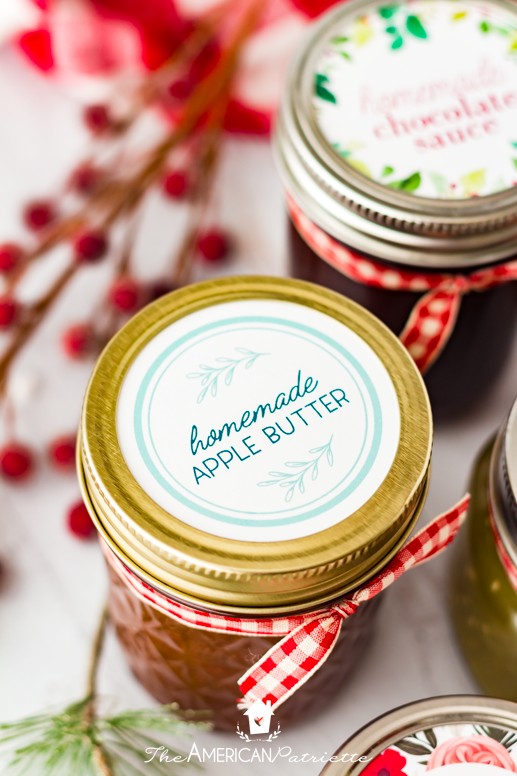 Other ideas
These didn't fit neatly into one of those categories, so they'll be in a category all on their own. 😉
Homemade Granola
I know, I know, another item that doesn't seem like it should go in the "non-sweet" category, but there are lots of granola recipes out there that use very little to no sugar and are a really healthy treat. I've made this gingerbread granola recipe several times and it is SO good. We loved adding it to Greek yogurt + fruit. It was a fun way to dress up breakfast!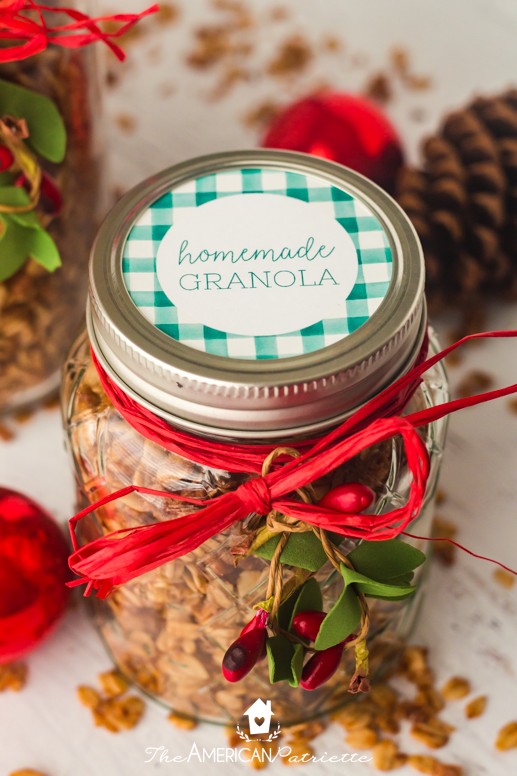 Homemade Refrigerator Pickles
Not only are these amazingly tasty, they make beautiful mason jars! One of my favorite things about these refrigerator pickles is that they're also unique gifts – you won't find much competition out there for other people giving out pickles. But trust me, once you make these, everyone's going to ask to be on your Christmas list for the years to come so they can get these jars!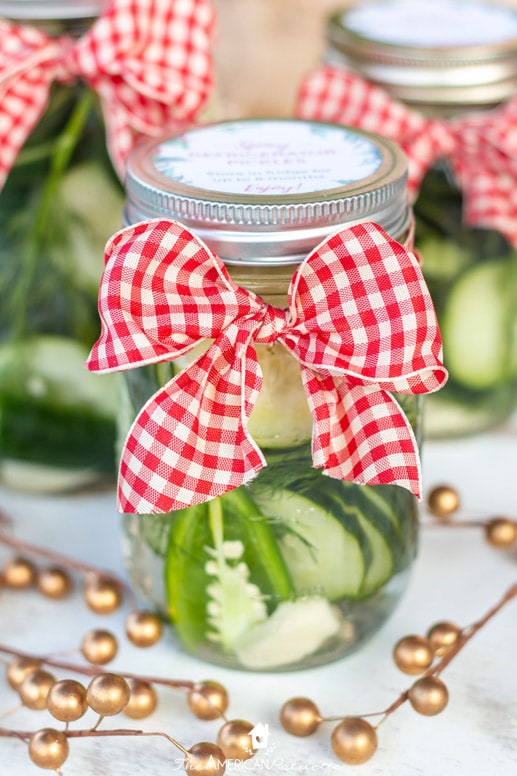 DIY Christmas Simmer Pot Mason Jar Gift
One of the top posts on my blog every Christmas season! These make GORGEOUS gifts, and everyone loves to receive them. This is the best gift for neighbors and teachers! (I give them away every year!)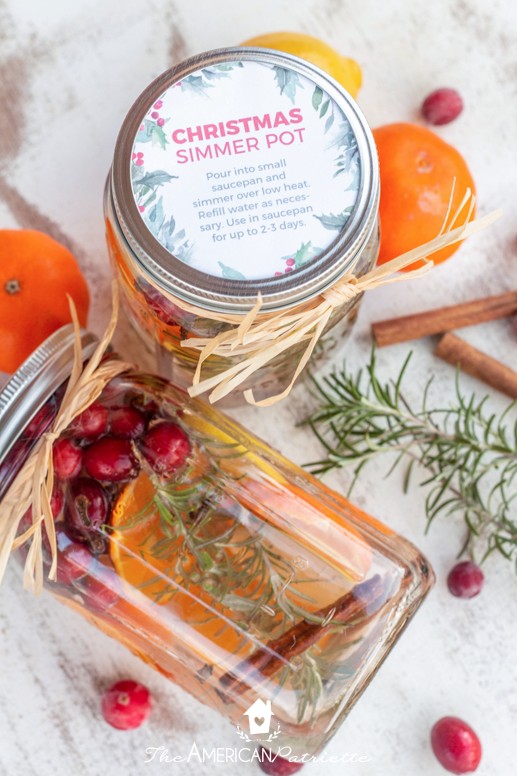 They're also such an easy gift idea – it takes just minutes to make several of these jars at once.
Have fun making & assembling these jars to give away!
Merry Christmas!