Easy Homemade Pickles for Christmas Gifts
Looking for an inexpensive DIY gift idea that doesn't require a ton of time (and something that people will really enjoy)? Make these easy homemade pickles for Christmas gifts! These refrigerator pickles are perfect as easy, thoughtful presents for neighbors, coworkers, teachers, and friends. (No canning involved! These are so easy!) This simple, budget-friendly mason jar craft, complete with adorable printable labels and a buffalo check bow, is a gorgeous festive food alternative to all the sweet treats this time of year, and they're allergy-friendly too!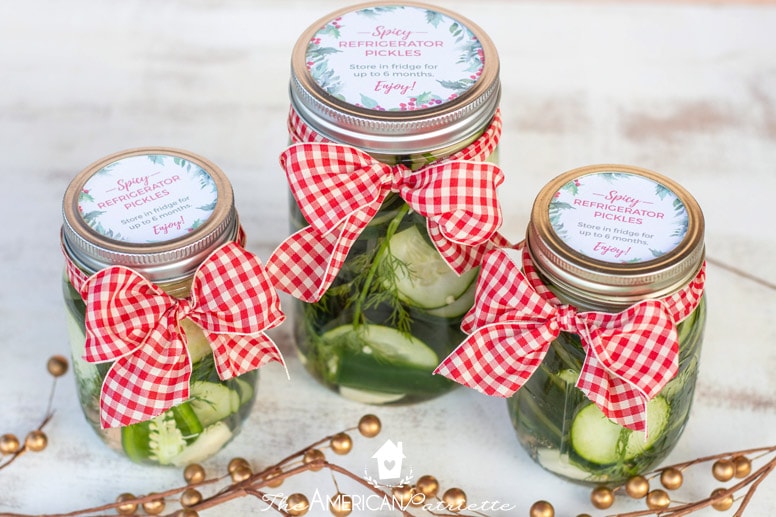 Just look how fun these easy homemade pickles are for Christmas gifts! With only a few ingredients, these spicy refrigerator pickles are super simple to prepare, and they make great inexpensive Christmas gifts for coworkers, neighbors, teachers, and friends. These are seriously the absolute best pickles. We always have some in our fridge – we can't ever go back to store-bought now…these have ruined us!
Oh, and I should mention: no fancy canning tools (or meticulousness) required. Since these are refrigerator pickles, you just do a little prep work and then keep them in the fridge. They'll last for several months in there.
And if I haven't already convinced you that these are a great gift idea because of how easy they are to make, just look at how festive and fun they are! It's no wonder mason jar crafts are huge this time of year – they make for such pretty presentation.
It's easy to get overwhelmed with all the things we want to do and make this time of year, and we don't like leaving people out! For us DIYers, we can really do ourselves in, can't we? We just want to make #allthethings for alllll the people.
These pickles are a perfect gift solution if you're trying to come up ideas for people who aren't necessarily on your "to-buy-for" list, but who you still really want to remember this Christmas. They're absolutely delicious (seriously, so good), they're very budget-friendly, and you can make a whole bunch of them at one time – they really don't take much to assemble.
You can even snag these adorable printable labels for free – they make this DIY gift even easier to personalize! You just print it out on cardstock, cut out the circles, and then place them between the rim and the sealer.
Let me walk you through how easy it is to prep these! Don't forget to snag the free printable labels at the bottom of this post. I made some to fit the large, quart-sized jars and the smaller pint-sized jars – you can use either! They really help just make this sweet gift, don't they?!

Ok, let me show ya real quick! You can get the actual recipe for the homemade spicy refrigerator pickles over here, but I'll show you real quick how to assemble the jars.
This post contains affiliate links for your convenience. You can read my full disclosure policy here.
Materials you'll need (beyond the pickle ingredients)
Mason jars + lids (the recipe makes 6 pint-sized jars or 3 quart-sized jars, but you can easily double or triple it to make more)
White cardstock (there are 6 labels per page, so the number of pages you'll need will be determined by the number of labels you're wanting to print)
Printable labels (grab them for free at the bottom of the post!)
Scissors
Buffalo check ribbon (or other ribbon of your choice)
You can find the full homemade pickles recipe here, but here are the steps you'll go through to put the gifts together:
Step 1: Heat vinegar, water, sugar, and salt
You'll just heat the liquids, salt, and sugar until the salt and sugar dissolve – maybe 10-15 minutes. Once they've dissolved, set the solution aside and allow it to begin cooling.
Step 2: Prep your fresh ingredients

You only need four ingredients beyond the vinegar solution – jalapenos, dill, garlic, and cucumbers. I make 3 quart-sized jars for ourselves every few weeks using the recipe, but if you're wanting to allow the recipe to stretch a little further, then split up the ingredients accordingly for the 6 pint-sized jars.

Step 3: Fill the jars with the fresh ingredients

I typically put the garlic, jalapeno, and dill in the bottom of the jar, and then I add the sliced cucumbers on top. It probably doesn't matter too much, but I find that to be the easiest thing to do!


Now that you've got your jars filled with the fresh ingredients, they're ready for the vinegar solution and the lids. If you're still waiting for the vinegar solution to cool, go ahead and take care of the labels first.
Step 4: Print & cut out your labels

Print out your labels and cut them out. I made them to fit perfectly between the flat sealer part and the rim that you screw on. No need for a sticky label – they'll fit perfectly snug in there! Just print them out on cardstock. (Seriously – are these not just so cute?!)


Step 5: Pour vinegar solution & add labels/lids/bows

Pour the vinegar solution almost to the top of the jar – until it completely covers the cucumbers. Then slip in the label between the sealer and the rim, and then screw on top. Tie a pretty bow (don't you love the red & white buffalo check with the gorgeous green pickles?!) around the rim, and you're good to go!
Store them in the fridge until you're ready to hand them out. They need about 4-5 days in the fridge before they're really ready. I always give mine at least 4 days to "sit" in the fridge before we start eating them – they need some time to soak in all the flavors.
If you don't want to wait that long to hand them out after making them, just let your friends know when you give them out that they need to let them hang out in the fridge untouched for a few days before eating them. I promise, they're worth the wait.


Aren't these just so fun?! Such a beautiful mason jar gift!


Fill out the form below to get instant access to the free printable labels for these jars!
Love this idea and want to remember it later? Be sure to save it to your favorite Pinterest board!