Easy DIY Christmas Simmer Pot Mason Jar Gifts
These easy DIY Christmas simmer pot mason jar gifts are such a gorgeous and inexpensive gift idea for teachers, coworkers, neighbors, and friends. Perfect for a small gift exchange, too! Snag the free printable labels at the bottom of the page to make some great Christmas gifts for others.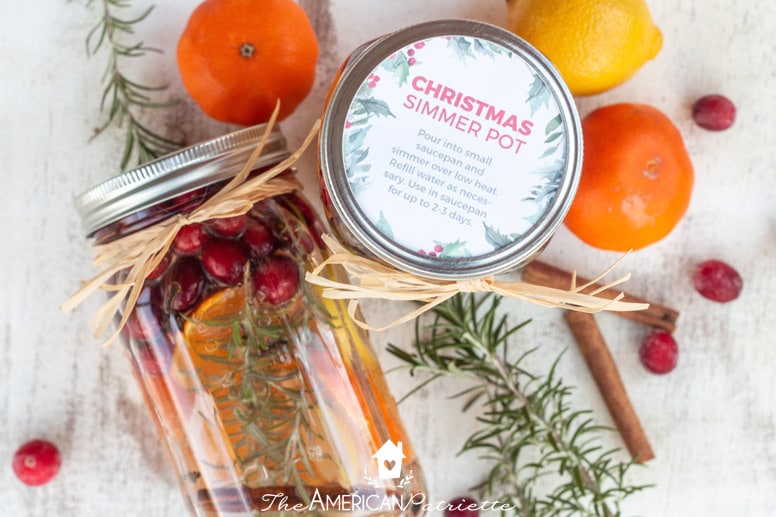 These also make great hostess gifts, guest gifts for company coming to visit, or gifts for anyone who loves to make their homes feel warm and inviting!
The scent that a Christmas simmer pot offers in a home is absolutely unbelievable – it's just about the coziest, comforting thing you'll ever smell other than a delicious, piping hot meal coming out of the oven. I have a simmer pot running in my house several times a week during the fall and Christmas seasons. They're just so easy to assemble, and the scent it puts out is so amazing.
Because this homemade Christmas stovetop potpourri really does make a house smell incredible, and because the natural ingredients are just so gorgeous all together, it makes for a wonderful Christmas gift.
And, not only does it make a great gift because it's cozy and gorgeous, this is such a great gift to give away in bulk because they're so inexpensive and simple to assemble. You can assemble several mason jars at one time, and with these free printable mason jar labels (that you can snag at the bottom of this page), you can make the gift feel a little more personal and customized while also having a convenient way to share the directions for how to use the simmer pot ingredients.
Let me walk you through how easy it is to assemble the simmer pot mason jar gift. Yay, friend! This is so fun!
This post contains affiliate links for your convenience. You can read my full disclosure policy here.
Here's what you need for mason jar gift assembly:
Supplies
Mason jars + lids (however many you plan to make, and you can use quart-sized or pint-sized jars)
White cardstock (there are 6 labels per page, so the number of pages you'll need will be determined by the number of labels you're wanting to print)
Printable labels (

get them for free – sent to your inbox – by filling out the form at the bottom of the post!)

Scissors
Ribbon or raffia to tie around the mason jar
Ingredients
The recipe below is for one jar – either quart-sized or pint-sized. You can use the same ingredient quantities for either size jar, just adjust the water you add to the size of the jar.
1 orange, sliced
1 lemon, sliced
1-2 small fresh Christmas tree branches or rosemary (use the fresh tree branch if you can!)
Cranberries – enough to your liking!
Water to fill the jar up to the lip
Tip for the tree branches if you don't have a live tree: go to a place where they sell fresh Christmas trees and ask if you can snag a few stray branches. They'll probably say yes! 🙂
How to assemble the mason jar simmer pot gifts
Step 1: Add all ingredients & fill jar with water
Add all of the ingredients to the mason jar(s), and then fill up the jar (just to the lip – don't go all the way to the top of the jar) with water.
The amount of water you add won't dilute the scent at all, so you really can prep these in pint-sized or quart-sized jars and use the exact same quantity of ingredients in both. Just adjust the water to fill the jar, and you're good to go!
Tip for assembly: you can assemble these a day or so in advance, but store them in the fridge, and don't add the water until you're closer to taking them with you to deliver them as gifts to prevent the water from getting cloudy.
Step 2: Print out mason jar lid labels
You can get access to the free labels sent to your inbox by filling out this form: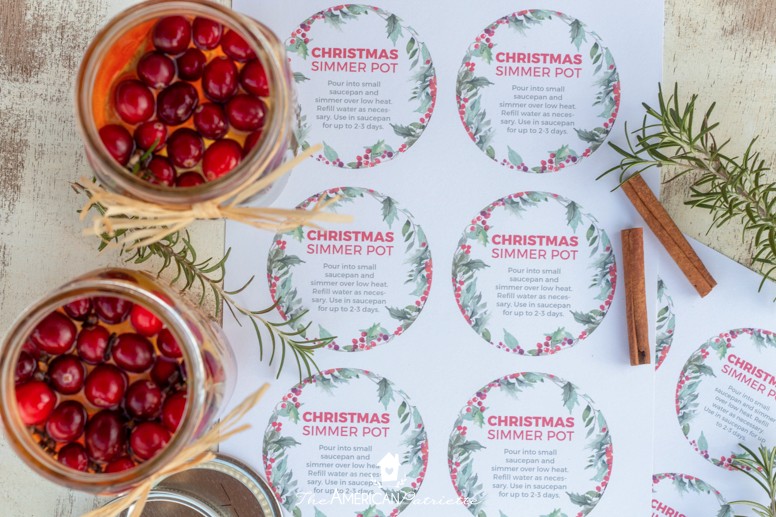 I've created one set for wide-mouth mason jars and one size for smaller-mouth mason jars, so you really can choose either sized-jar and the labels will fit.
Tip: You can print them on regular printer paper if you don't have another option, but if you're able, white durable cardstock is best.
Step 3: Cut out labels
This is pretty straightforward. Just cut out the labels you're needing to use.
Step 4: Add labels to lid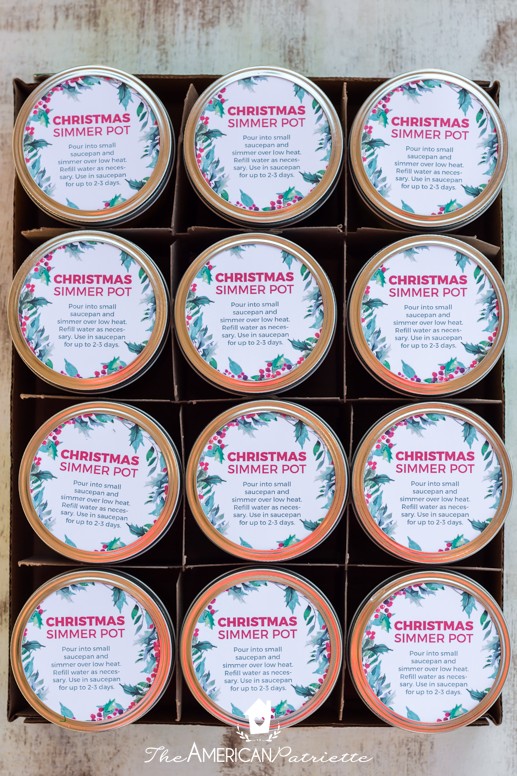 As you can see, you can just add the label between the sealer part and the rim part of the lid. Makes for such easy assembly! Screw the lid onto the mason jar, add some ribbon or raffia, and you've got yourself a great gift!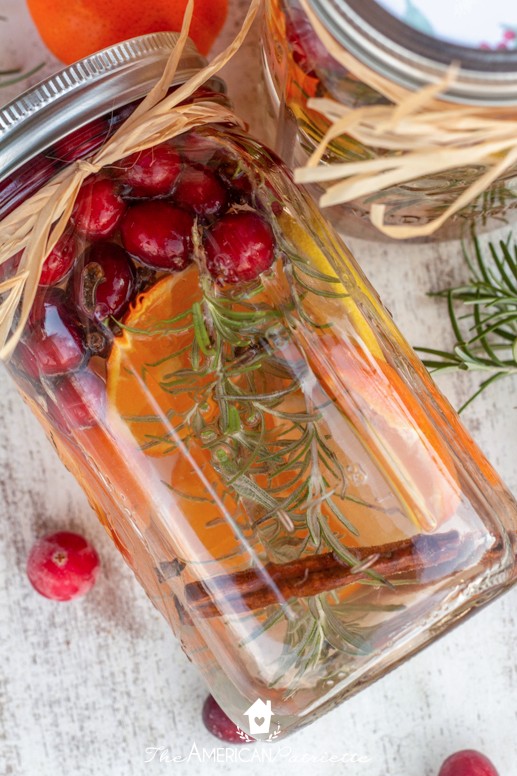 Doesn't it just look cozy?!
Such a fun and easy DIY Christmas gift in a mason jar! I hope you enjoy making a simmer pot for your own home, as well as bringing others some warm, cozy Christmas greetings by making these as gifts!
Get your free printable labels emailed directly to you by filling out the form below!
Want to remember this fun gift idea for later?! Be sure to save it to your favorite Pinterest board!