Looking for ideas to create an easy spring farmhouse centerpiece? This one will only take you a minute to assemble, and it's easy to remove in one step to make more room on your dining table!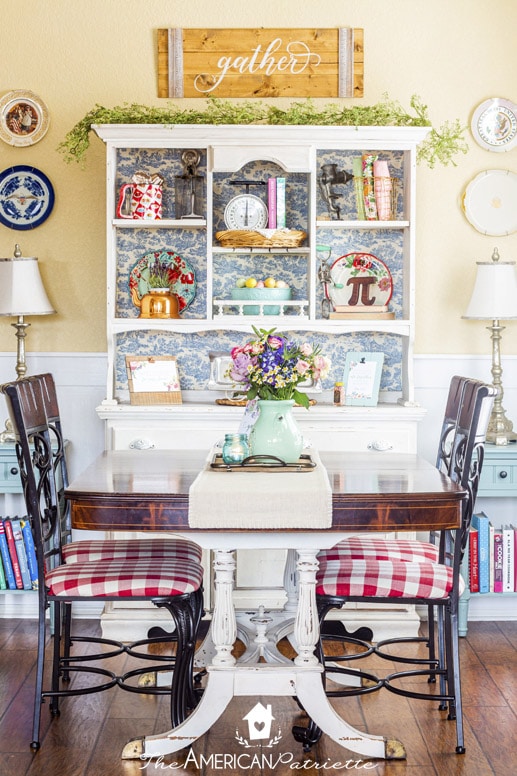 This might be the shortest post I've ever written – this spring farmhouse centerpiece is SO easy to create!
I change out my centerpieces for every single season, but I use the same template every time – I've nailed down the look I love, and because it functions so well for us, I just keep repeating the same style over and over again, which makes for SUPER easy decorating!
See just how simple it is to create a spring farmhouse centerpiece!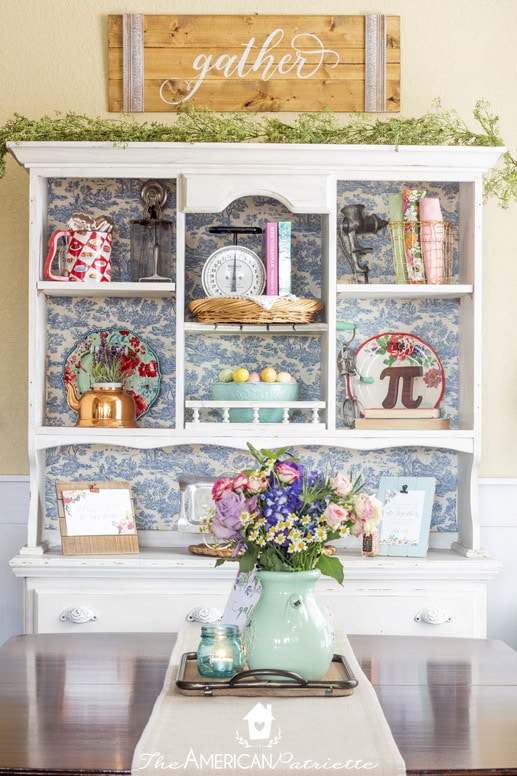 Probably like you, we use our dining table A LOT. We only have one table in our house (i.e. no breakfast nook, no big kitchen island for people to gather 'round, no casual + formal dining), and we use it for everything. It's where I work, it's where we eat, it's where my kids play with PlayDoh and do watercolors, it's where we play games…
You could say it's very multi-purpose. But, that doesn't mean it can't be pretty! However, given the nature of how we use our table, I can't have a big, sprawling centerpiece. I need something that's rather mobile – something I can push to the side or move altogether when we need the entire space for functioning.
I also REALLY love to decorate for seasons, so I wanted to try to come up with a centerpiece idea that was also easy to alter as the seasons come and go.
Once I came up with this "template," if you will, I knew it was perfect for us! And, since I know I'm not the only one who craves both beauty and functionality, I thought I'd share this easy idea for a spring centerpiece with you, too!
If you want to recreate this look, you only need a few things:
A farmhouse-style tray (I have a few trays that I trade out in different areas of my home when I give my house a seasonal refresh; I think I got all 3-4 of them at Hobby Lobby)
A vase or canister of some kind + flowers. Occasionally I'll have some fresh blooms on my table (and boy oh boy, don't they just make you happy?!), but typically, I have faux greenery & stems – ones that don't look too fake or cheesy!
A Candle
A rustic frame + decor printable (probably my favorite thing, just because this helps tie everything together and create that extra welcoming touch for each season!) – all of my decor printables are housed here where you can use 'em too!
The above centerpiece is what I'm using this year, and below is what I used last year – I just switched out the candle & the tray.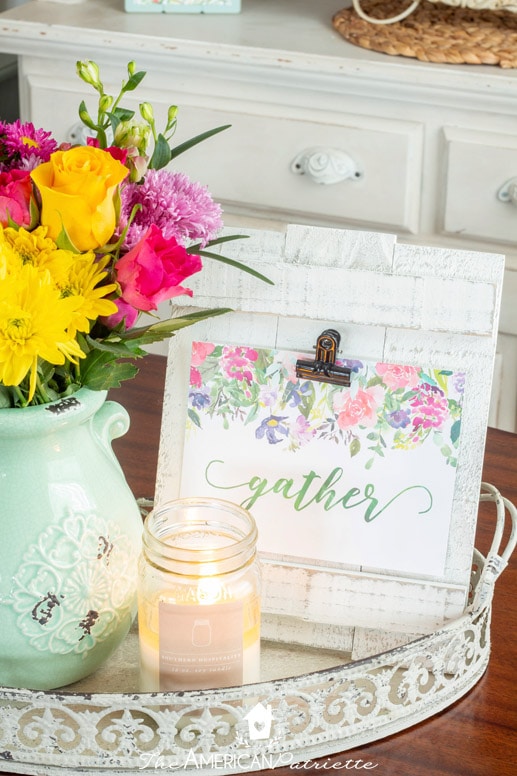 I love having my arrangement on a tray for a couple of different reasons: 1) It makes the centerpiece REALLY easy to move – in one step, I can easily clear off our table and make more space. And then 2) It helps create more of a collected and curated look vs. a random-looking assortment of items.
Plus, the tray just adds to the farmhouse feel of the centerpiece.
And there you have it! I told you this was going to be short! I love when decorating can be gorgeous AND easy! If you're loving this look and want to replicate it yourself, you can go snag all of the decor printables (in both 8×10 & 5×7 frame sizes) here!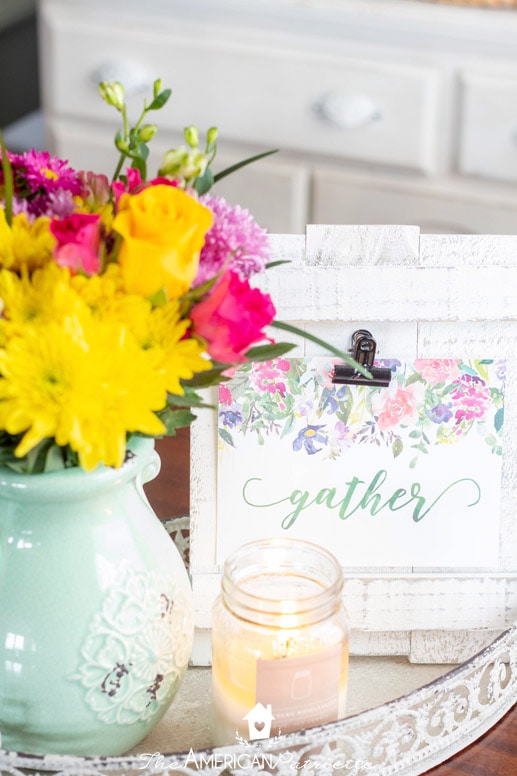 Happy spring decorating! If you want more spring farmhouse decor ideas, check out this post for easy spring farmhouse kitchen decor ideas & this one for easy spring mantel decorating ideas.
Your house is going to look like spring in no time!