Easy Spring Farmhouse Mantel Decorating Ideas
Get some easy tips for how to decorate your mantel for spring with fresh farmhouse style!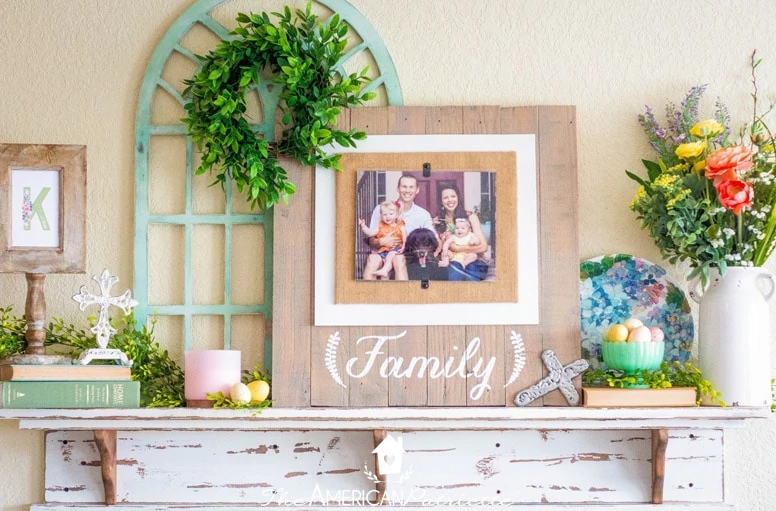 I can't wait for you to get these fun decorating tips! These easy spring farmhouse mantel decorating ideas will help you decorate your mantel for the season in no time. Now that I've finally figured out how I like to decorate my mantel, I love sharing tips so you can do the same!
Before we had our mantel, we had this awkward space on our large living room wall, right above our television, that just needed SOMETHING. It needed some depth, dimension, color…something.
We live in a very builder-grade house that was in dire need of some personality when we moved in. It just didn't have much (really, any…) charm! No built-ins, no beautiful window displays, no lovely columns, no fireplace, and lots of plain, awkward spaces that are often difficult to decorate.
I mean, let's get real. It was downright boring before we came in and started putting in some elbow grease to give it that country farmhouse flair we love.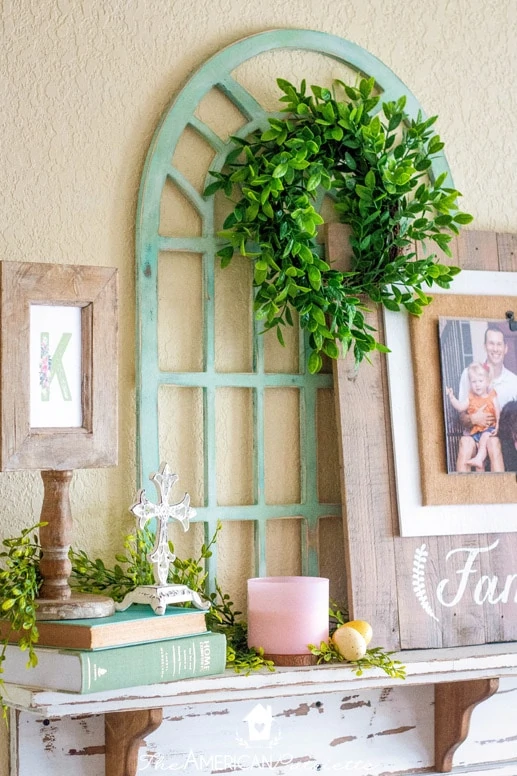 This mantel is a perfect example of a really easy country addition to our living room. We have this one longer wall in our living room that doesn't have much going for it – it doesn't have windows or built-ins to frame it out, and it doesn't have a fireplace for an anchor feature.
We needed to figure out something to fill that space that wouldn't make it more awkward, and that also wouldn't take over and start looking too cluttered.
As much as I longed for a fireplace, I knew it wasn't an option in this house, so after some brainstorming with my cousin, she convinced me to attempt a mantel shelf above our TV, and voila! It was PERFECT!
But then I had to go and figure out how to decorate it! I hadn't ever decorated a mantel of my own before, so after scouring Pinterest for ideas and playing around with displays for different seasons, I finally came up with a "template" for how to decorate my mantel for every season and with my own flair.
Now this mantel gets a 5-minute makeover every few months. 🙂 All I do is switch a few decor pieces out and and round, and I have myself a new seasonal mantel. Let's talk about how to decorate one for spring!
Easy Spring Farmhouse Mantel Decorating Ideas
These are the items I have on my mantel all year round:
These are the items I switch around on the mantel:
Think of these as being items that are always there, but they're interchangeable with similar pieces for the different seasons:
Old books to give some height & texture
Some kind of greenery
A seasonal wreath on the cathedral window
The decorative monogram print (I have gorgeous options for every single season in the Toolkit!)
At least one, if not two, decorative plates
A cross
A vase/pitcher/canister with flowers (on the right side)
Some smaller seasonal elements to sparingly add in (i.e. in this case: the rustic-style Easter eggs)
A candle
List list makes me laugh a little, just because my mantel doesn't seem to be that full! That list looks LONG! But, don't let it fool you into thinking that we're going to clutter up our mantels – don't worry, I don't like clutter either. 🙂
Ok, onto the tips!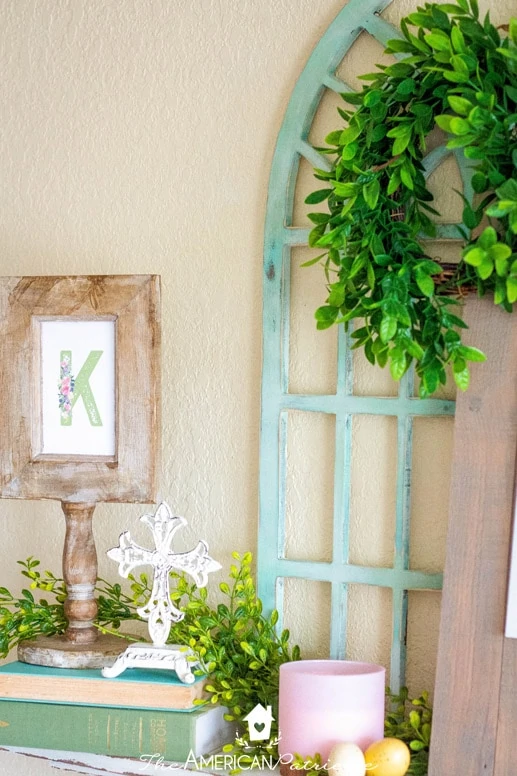 Spring Mantel Decor Tip #1: Use some greenery, sister!
Especially for springtime, you have to have some kind of fresh-looking greenery on that mantel!
I'm sorry if that sounded a little bossy.
But, it makes a big difference. Adds in a great pop of color, and just makes the space feel…fresh. (Which is kind of ironic since all of that on the mantel is fake, but still. It still somehow gives off a fresh look!)
And, here's the secret: consider your greenery in a few different ways. I always have some kind of greenery/natural-looking elements in 3 spots on my mantel: with the wreath on the cathedral window, the stems in the canister/vase/pitcher, and then in some kind of garland-esque way across the mantel shelf.
The last part was the "secret sauce" of my mantel decorating. Before I figured out how much of a difference it made to add in flourishes of greenery on the mantel itself, it just looked incomplete.
As you can tell, my mantel isn't very big or very wide (it's about 7-8 inches wide), so a full-blown piece of garland on it would overwhelm it. And, I wouldn't be able to fit anything else on it!
So, I break up some green stems and just kind of add them as flourishes between pieces on there. Does that make sense?
Then, to add some balance to everything, I think having the boxwood wreath on the cathedral window & then the floral stems help make the mantel look more…complete?
You can tell how fluent I am in interior design speak. ? I don't care what's official, I care what looks lovely! And friend, I think this looks lovely. 🙂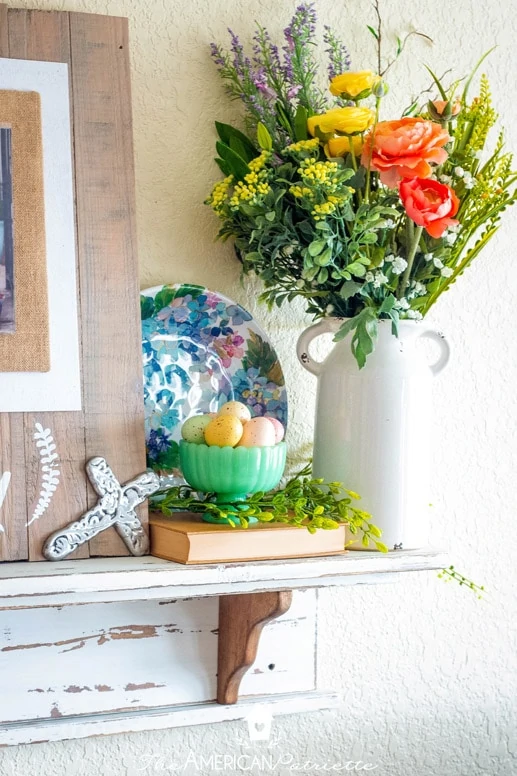 Spring Mantel Decor Tip #2: Add in some neutral but still spring time-ish elements for decor
I know, does this tip even make sense?
Here's what I mean: those books on the mantel – they're not "spring time" books, but the colors help make it feel like a spring set-up without going overkill. They help add to the farmhouse style of the shelf.
I think any time you use quaint things to decorate that are functional for other purposes (i.e. books, canisters, vintage kitchen items, etc.), it helps complete a cottage, country, farmhouse-y look. I haven't been able to quite put my finger on why, but it's true!
I have a small collection of vintage books that I've collected from different places – antique stores, the big annual book clean-out my local library does, books passed down from family, etc. I have some tan ones, blue ones, turquoise ones, green ones, and red ones, so I just switch 'em out and match 'em together for different seasons.
And if I don't like the binding? I just turn that book right on around where you don't see the binding and you just see part of the cover & the pages! Easy, right?!
Also in this category: the candle, the crosses, and the wood piece the candle is sitting on. None of those are springtime pieces. But, you arrange them in an ensemble, and they look like spring.
See what I mean?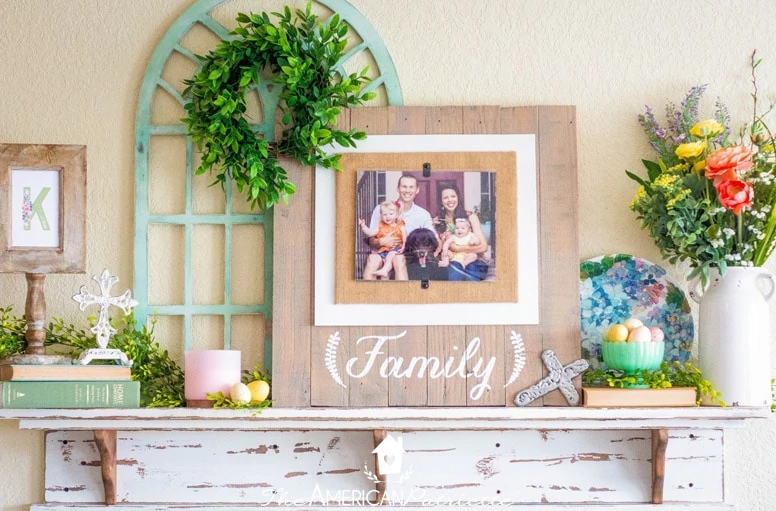 Spring Mantel Decor Tip #3: Add in a few smaller springtime elements
This is where the eggs, the fun hydrangea plate, and the monogram printable come into play!
I'm a big fan of decorating for seasons, but I'm NOT a big fan of collecting excessive amounts of decor pieces that only make an appearance for a few weeks or couple months out of the year.
Well, except for Christmas. Decor rules go out the window for Christmastime. #allthethings
Anyway, I can make this mantle look fresh for springtime with things I already have and use around my house for other seasons, and then just add in a few things that I'd only use during this time of year. It's the best of both worlds: I get to relish in decorating for the seasons, AND, I don't have tons of stuff taking up space in storage bins in my garage.
Not to mention, I'm not spending oodles and oodles of money to accomplish my decor goals!
Anyway, I almost always have at least one plate up on my mantel to add a pop of color – this hydrangea one was perfect for spring!
And, I thought it worked well to help add in a little pink along with the eggs & the candle. I got the plate at Hobby Lobby one year, and I think I got the eggs at Michaels, but I'm sure you can find those rustic-looking ones at most home decor places during the spring.
The springtime monogram printable helps to add a personal touch to our mantel. I love using a seasonal monogram up there!
If you love that idea, too, you can find a BUNCH of gorgeous options, at least one type of design for every season (but most seasons have at least 2 options) in my Home & Gather Toolkit.
I love that I can just print one out, add it to the frame, and then switch it out for a new one in a couple of months when I change out my decor for summer.
(By the way, if you do this, I've learned to display the printable in FRONT of the glass, not behind it. It helps the design to pop more since the glass can't cause a glare on it.)
Ok, friend! I think that wraps things up! I told you that was easy! Have so much fun decorating your home for spring!
If you want s'more spring decorating tips, head on over here where I share tips for how to easily decorate your kitchen for spring. Of course, all with the same colorful farmhouse style. 🙂
Happy Easter, sister! He is Risen!