Spiced Orange Sugar Cookies
These moist, chewy spiced orange sugar cookies offer a slight variation to a Christmas favorite dessert!
My munchkins are absolutely enthralled with watching the Christmas Cookie Challenge episodes on Food Network during the holidays.
We watch one or two episodes per week in November and December, and they just can't wait to see what the contestants are going to make. They even had their own Christmas Cookie Challenge with Play-Doh the other day…they asked my husband to give them a time limit and to continue announcing how much time was left for them to finish their creation.
I don't even remember what they said the flavors were on their cookies, but they were pretty extravagant. 😂
Needless to say, I kept it a bit simpler than they did, but these spiced orange sugar cookies were definitely inspired by one of the episodes we watched – when a contestant was doing a variation of sugar cookies, a little lightbulb went off in my head and I thought, "I should try something like that with my sugar cookie recipe!"
The first batch I made didn't have enough cloves in them, so I made another batch with more cloves and oh boy.
My husband's eyes got big and bright when he took a bite of those!
They're pretty doggone good, and I'm excited to share the recipe with you!
This post contains affiliate links for your convenience. You can read my full disclosure policy here.
Before we get started, let me kick us off with a few tips:
Tips for making these amazing sugar cookies in your kitchen:
My absolute #1 tip for making these cookies (and ANY cookies, for that matter): use these baking pans. I'm telling you, they're probably one of the biggest reasons I love to bake, simply because I know my cookies are going to come out really well off of them. They always bake evenly and come clean off the pan!
Do NOT over-bake the cookies. Unless you like crispy cookies, just don't do it.
Use an oven thermometer. No matter where I've lived, I've never trusted my oven to tell me the truth about the temperature. A run-of-the-mill basic oven thermometer is all ya need.
These stay chewy for a while! I made some 4 days ago and just tasted one – still good! (I wouldn't intentionally make any cookie that far ahead of time, but they do last a solid few days without losing their chewiness.)
Use a GOOD microplane zester. They're not very expensive, and it makes a WORLD of difference. I used to have a dull/junky one (I didn't know it wasn't a good one until I got this one…and the difference between them was night and day!)
How to Make Spiced Orange Sugar Cookies
Ready to get goin'?! Your people are going to love these cookies!
Step 1: Cream softened butter & sugar

I cream my sugar and butter together for at least 2-3 minutes on medium speed in my mixer. Creaming them together helps the sugar start to dissolve in the butter, and it also helps to get some air into the mix, which helps with the texture of the baked cookie.
While my mixer takes care of my butter and sugar, I prep some other ingredients.
Step 2: Mix together flour, baking soda, baking powder, and salt in a separate bowl and set aside
Step 3: Add in orange zest, cloves, eggs, and vanilla to the creamed butter mixture
I add the zest and cloves straight into the creamed butter & then give it another little mix. Then add in the egg & vanilla.
Step 4: Mix in dry ingredients
You don't want to over-mix here. I pour the flour mix in with the wet ingredients while the mixer is on low, and then let it mix just until everything is combined. If you mix it for too long, your cookies may come out tough.
Step 5: Roll into dough balls and roll in sugar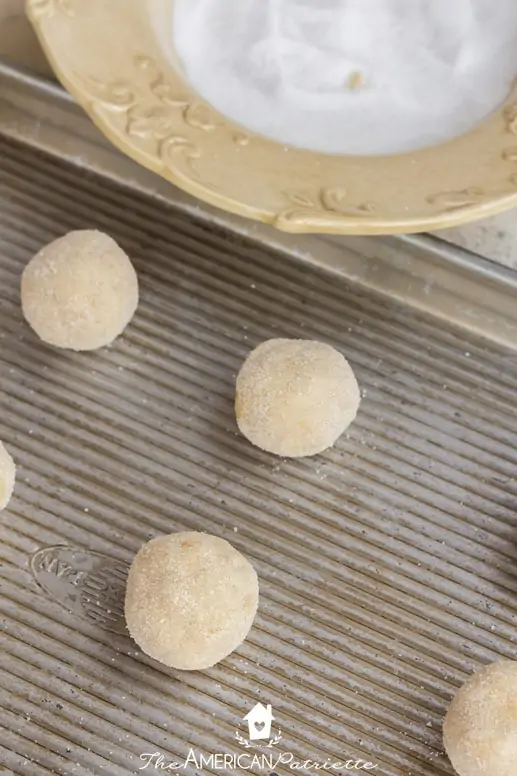 Step 6: Bake them at 375 for 8 minutes
Step 7: Remove from oven and allow to cool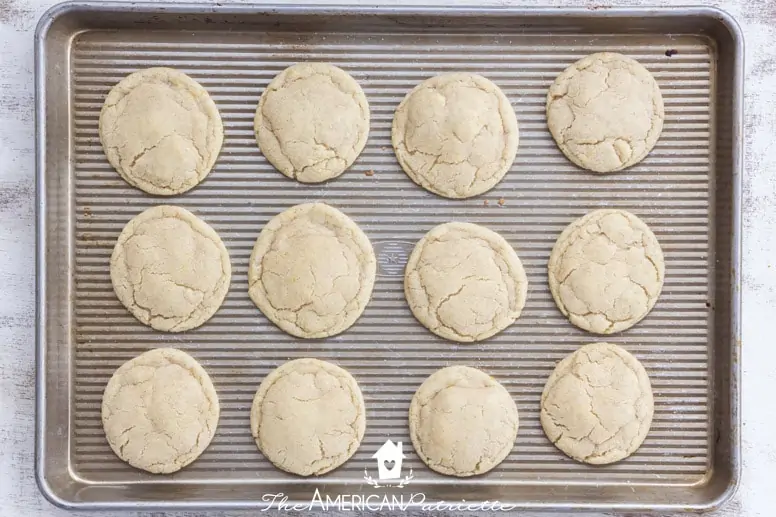 Put your second batch in the oven when the first batch comes out, and then allow them all to cool a bit before transferring to a cooling rack.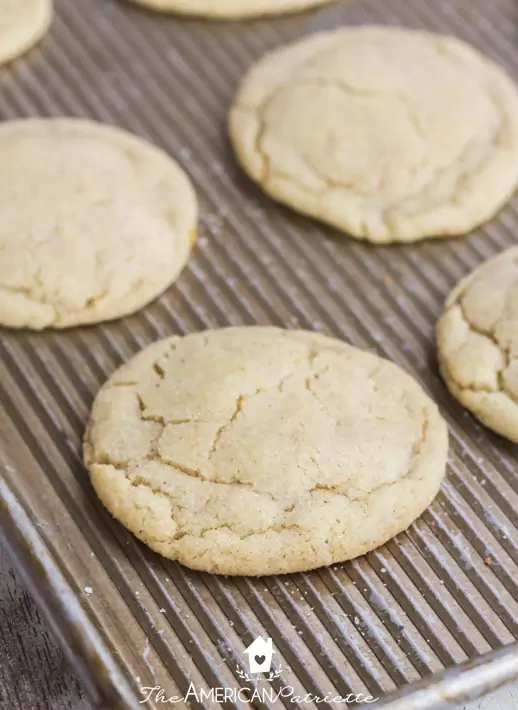 Step 8: Add a little extra orange zest on top (optional) & enjoy!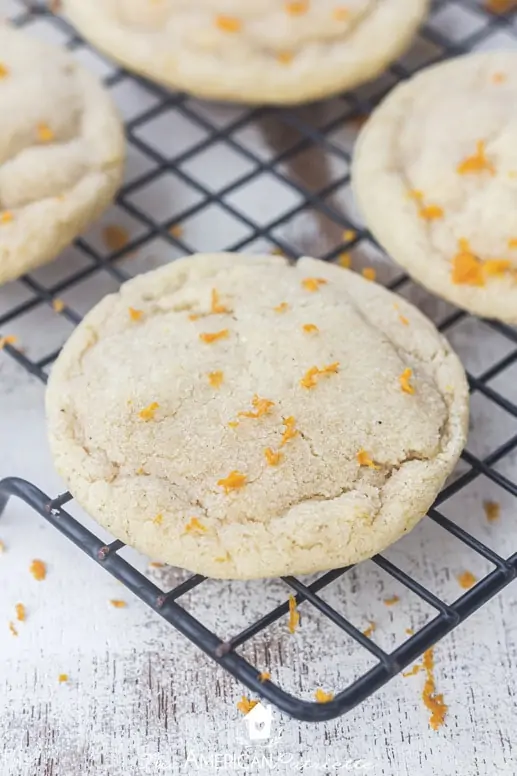 Just looking at these cookies, you wouldn't really know they've got a different flavor because the orange and the cloves don't really visually shine through.
The flavor is a completely different story (so much spicy/orangy flavor!)! So, if you want them to look a little different than regular sugar cookies, add some extra orange zest on top.
Give as gifts, bring to holiday gatherings, or simply just enjoy with others!
Everyone who loves a chewy cookie will love the texture of these spiced orange sugar cookies!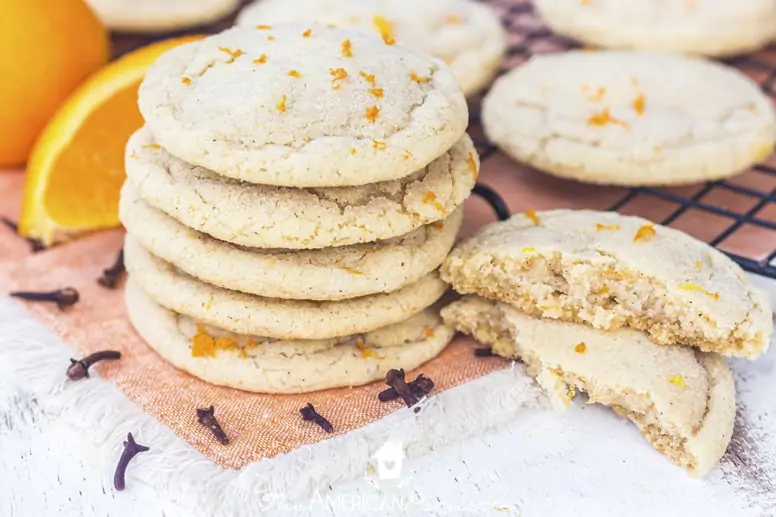 Store in an air-tight container for a few days – the flavor and texture is safe for at least 3-4 days after making them!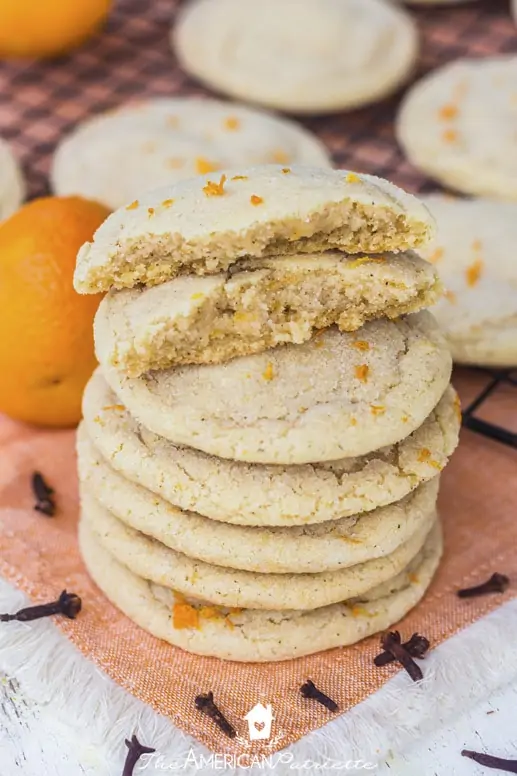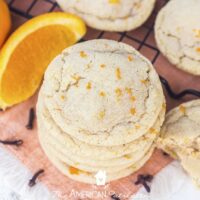 Spiced Orange Sugar Cookies
These spiced orange sugar cookies are a delicious spin-off of a traditional holiday favorite! Super chewy and flavorful!
Print
Pin
Rate
Ingredients
1

cup

unsalted butter

softened

1 1/2

cups

white sugar

zest from one large naval orange

1

tsp

cloves

1

egg

room temp

1

teaspoon

vanilla extract

2 3/4

cups

all-purpose flour

1

teaspoon

baking soda

1/2

teaspoon

baking powder

½

tsp

salt

Extra granulated sugar for rolling

about 1/4 c
Instructions
Preheat oven to 375. 

Using a stand mixer with a paddle attachment, cream butter and sugar together on low speed for about 3 minutes.

While the butter is creaming, in a separate bowl, lightly whisk the flour, baking soda, baking powder, and salt together. Set aside.

Zest orange into the creamed butter, add the cloves, and give it another mix just until everything is combined.

Mix in the egg and vanilla into the butter mixture, scraping the sides of the bowl to ensure everything is thoroughly mixed before adding the dry ingredients.

Gently mix in the flour mixture to the wet ingredients, again, just until combined.

Roll into dough balls, roll dough balls in separate shallow bowl of sugar, and set them on the baking pan until you've got your traditional dozen on the pan. Do NOT flatten them onto the pan!

Bake for 8 minutes at 375. 

Remove from oven, allow to cool on the pan for a couple of minutes, and then remove from the pan onto a cooling rack. Repeat with your second pan.

Enjoy right away, or for up to 4 days stored in an airtight container.