These soft & chewy toffee snickerdoodles are a delicious little spin-off of a classic cookie! The little toffee bits take the snickerdoodles to the next level!
Like chocolate chip cookies, snickerdoodles are just one of those classic cookie recipes that you have to have in your recipe collection. Easy to make and a popular favorite!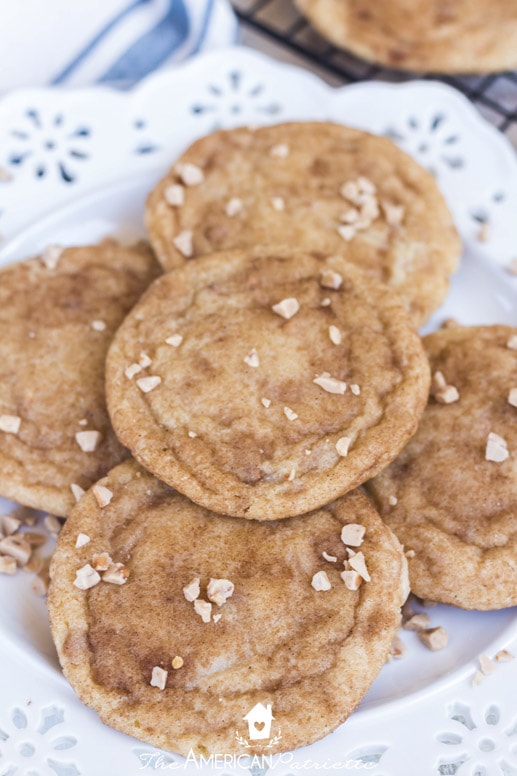 Not that a fantastic snickerdoodle needs any adjustments, but, given how much I love to play in the kitchen, I decided to give toffee bits a try inside my regular snickerdoodle recipe, and let me tell you – they were delicious!
These snickerdoodles are already super flavorful, soft, and chewy, but the toffee bits just added a little fun extra flavor.
Let me walk you through the steps for how to make them!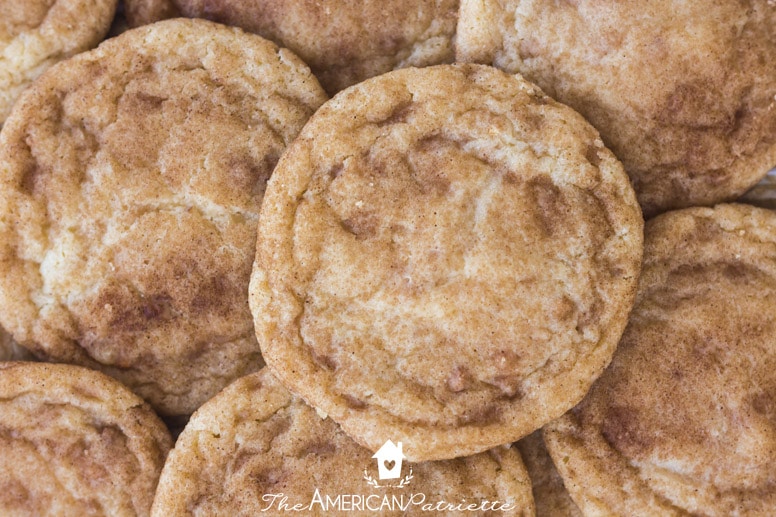 This post contains affiliate links for your convenience. You can read my full disclosure policy here.
How to make Soft & Chewy Toffee Snickerdoodles
Step 1: Cream together the butter and sugar

Creaming them together for 2-3 minutes on medium speed is one thing that'll help produce soft and chewy cookies. Mmmm-mmm.

Step 2: Mix in the eggs & vanilla

Just enough until everything's mixed together. You don't want to over-beat anything. Scrape the sides of the bowl, mix again, and then time to add the other dry ingredients.
Step 3: Add dry ingredients

Once again, mix just until everything's combined. Over-mixing can lead to tough cookies – you really only need to mix until your dough is an even consistency.
Step 4: Chill!
Once you've made your dough, cover with plastic wrap and chill in the fridge for an hour. (You can chill for longer, but chilling for at least an hour will help produce really flavorful, soft, and chewy cookies!)
Step 5: Roll dough into balls and then into a mixture of cinnamon and sugar

Anytime I make cookies, I always these USA baking pans – I've been using the same pans for over 10 years because they bake my cookies so evenly and they pop right off the pan. I LOVE these pans! They're definitely one of my biggest tips for producing evenly-baked, soft and chewy cookies!
Step 6: Bake at 350 for 9 minutes

Pop 'em in your preheated oven and look forward to absolute divinity to come out 9 minutes later!

Repeat with the remaining dough & ENJOY!

There's just nothing quite like a great snickerdoodle!

Make a batch to share with others, or just enjoy a few fresh ones after supper with your fam and freeze the rest.
The standard for freezing cookies is usually 3-6 months, but let me tell you, cookies have never been around my house long enough for me to test that time range in the freezer!

Hope these soft & chewy toffee snickerdoodles bring some joy to everyone you share them with!

Soft & Chewy Toffee Snickerdoodles
Total Time:
1 hour
24 minutes
Ingredients
For the snickerdoodles
1 c unsalted butter, softened (room temp)
1.5 c granulated sugar
3 tsp vanilla extract
2 eggs
2 ¾ c all-purpose, unbleached flour
2 tsp cream of tartar
½ tsp baking soda
1 tsp salt
1 c toffee bits
For rolling the snickerdoodles
1/4 c granulated sugar
3 tsp ground cinnamon
Instructions
Using a stand or a hand mixer, cream together butter and sugar for 2-3 minutes.
Mix in vanilla, and then add eggs one at a time, mixing between additions. Scrape the sides of the bowl, stir, and then set aside.
In a separate mixing bowl, whisk together the flour, cream of tartar, baking soda, and salt.
Turn the mixer back on and pour the dry ingredients into to the wet ingredients a bit at a time. Mix just until everything is combined.
Fold in the toffee bits.
Cover dough with plastic wrap and chill in the fridge for one hour (or longer, but aim for at least an hour).
Remove dough from fridge & preheat the oven to 350.
Stir together 1/4 c granulated sugar and 3 tsp cinnamon in a shallow bowl. Roll dough into balls, and then roll the dough balls in the cinnamon and sugar mixture and place on the baking pan.
Bake for 9 minutes at 350, remove from oven, and allow to cool for a few minutes on the pan before transferring to a cooling rack.
Repeat with remaining dough & enjoy!
Recommended Products
As an Amazon Associate and member of other affiliate programs, I earn from qualifying purchases.