Looking for an easy no-bake dessert recipe for Memorial Day BBQ or 4th of July party? These sweet and salty patriotic Nutella and peanut butter stuffed Ritz crackers are a perfect treat to make for a crowd!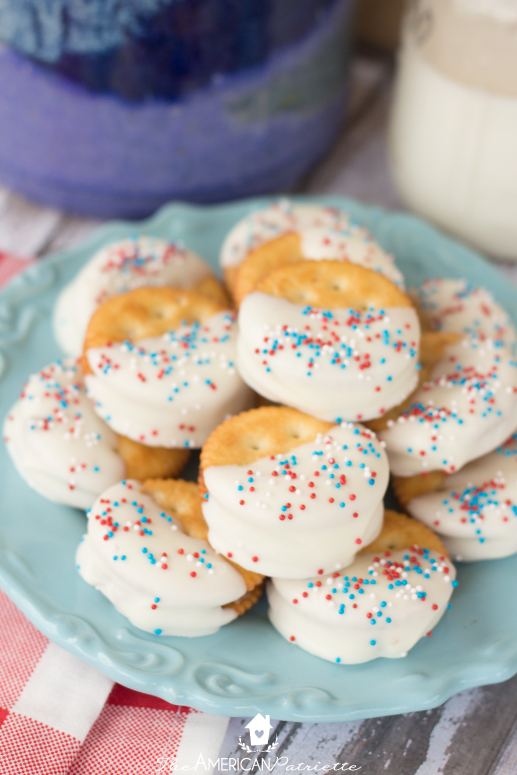 If you're looking for a fun snack or sweet treat to make for a patriotic holiday – Memorial Day, July 4th, Flag Day, my birthday…
If you're looking for that fun no-bake treat to make, try these Patriotic Nutella and Peanut Butter Stuffed Ritz Crackers!
They are absolutely DELICIOUS (I may or may not be eating some while I write this post), they're really easy to make, they're adorable, AND, if you want your kiddos to help you, this is such an easy recipe for little fingers in the kitchen!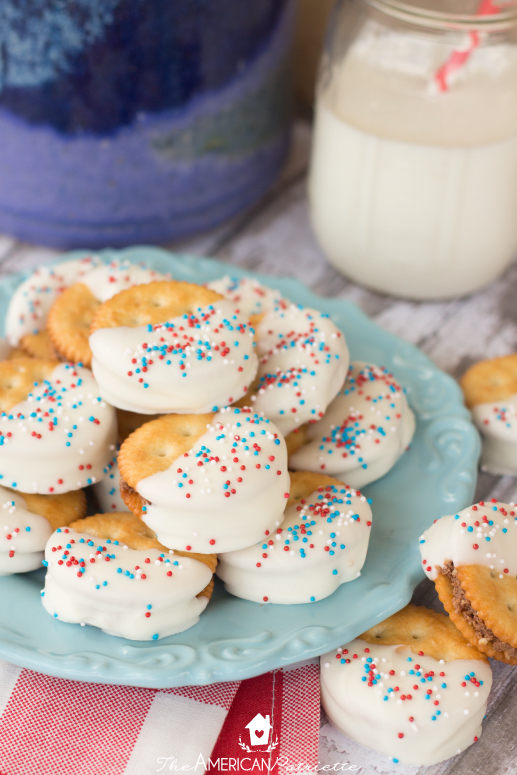 The sweet & salty pair makes my taste buds leap for joy.
Here's whatcha need to make them: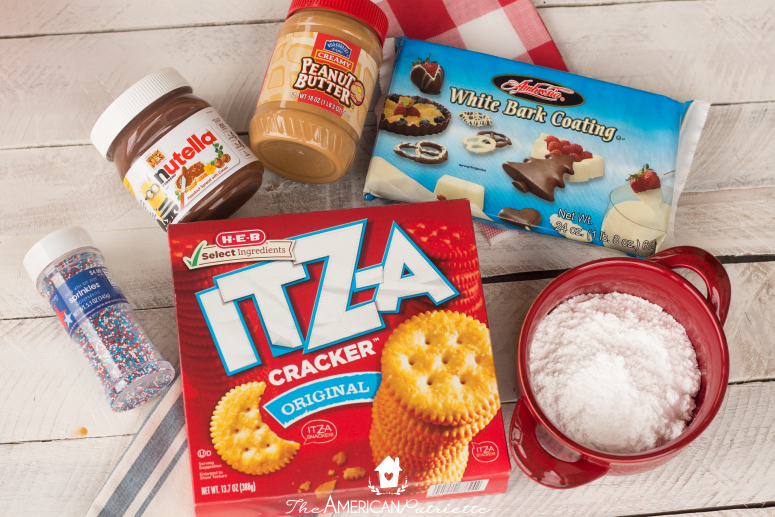 Crush up a sleeve of crackers using a food processor (or you can do this by hand by placing them in a large plastic bag & then using a rolling pin), and then mix in the sugar, Nutella, and peanut butter to make somewhat of a dough.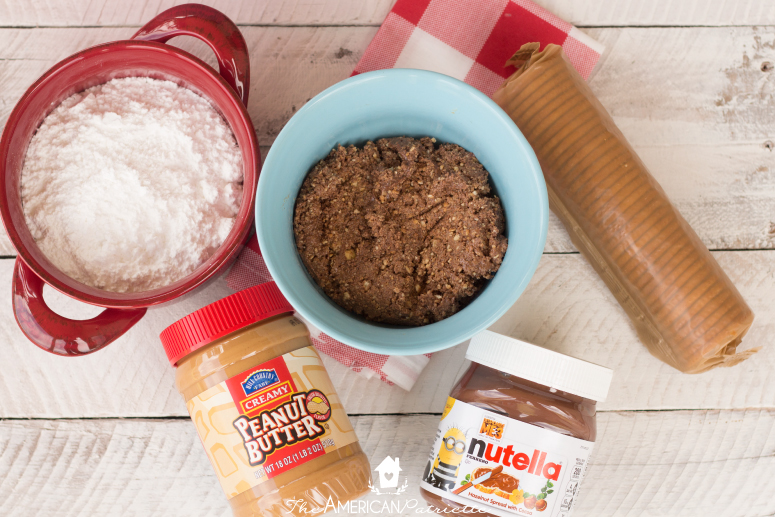 Pinch a little bit of the doughy mixture and spread it onto a cracker.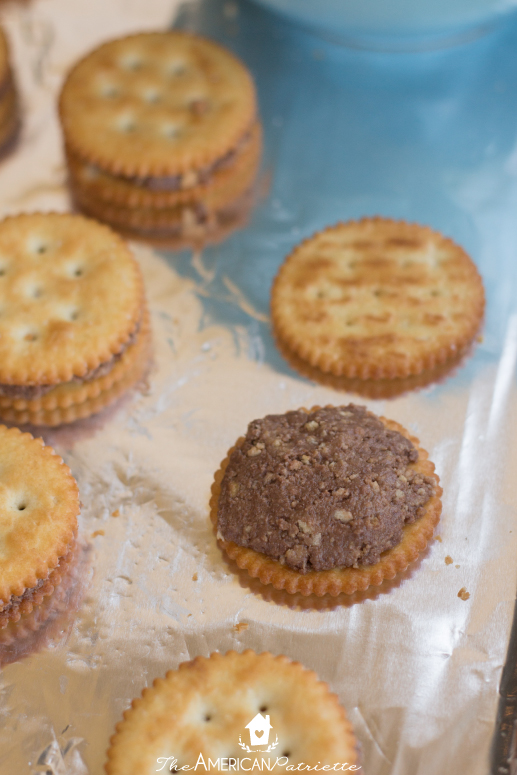 Add a cracker on top to make a little sandwich…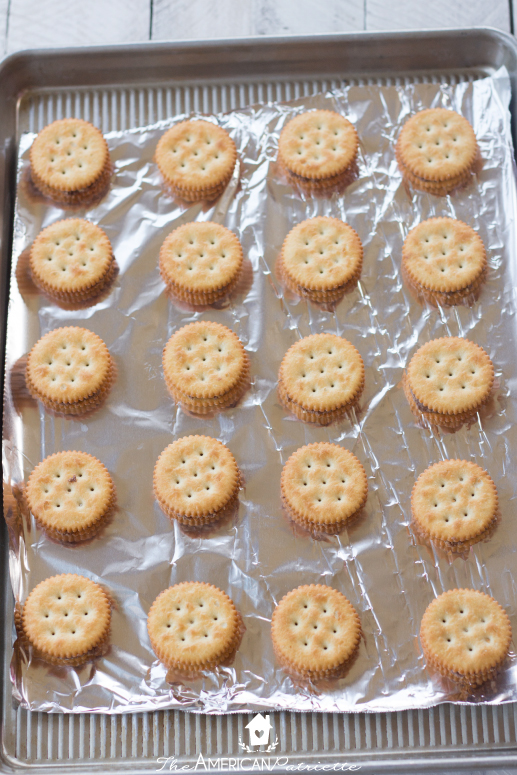 And fill up your baking pan (line it with foil or wax paper for easy clean-up).
Melt the baking bark (specific instructions on the recipe at the bottom of the post) and then dip the sandwiches halfway.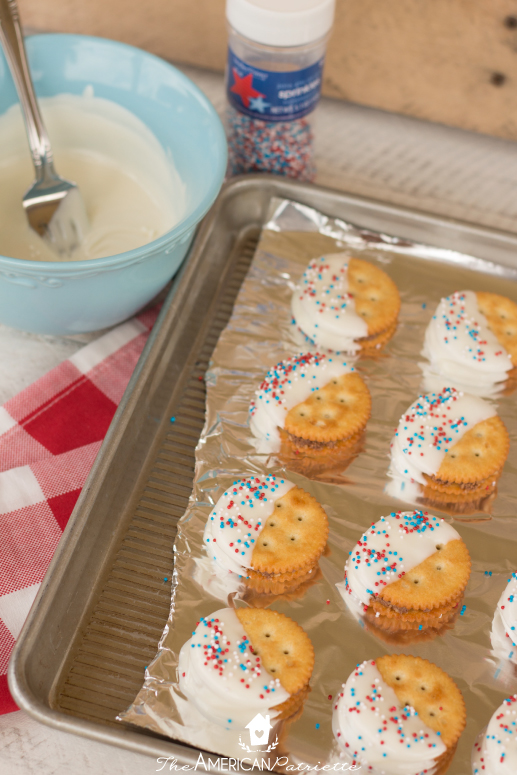 Add some sprinkles.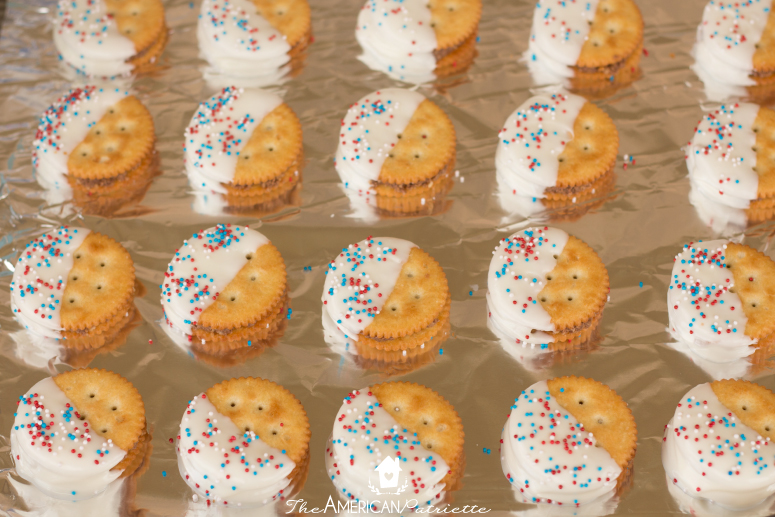 And place the sheet in the fridge for about 5-10 minutes to let them set.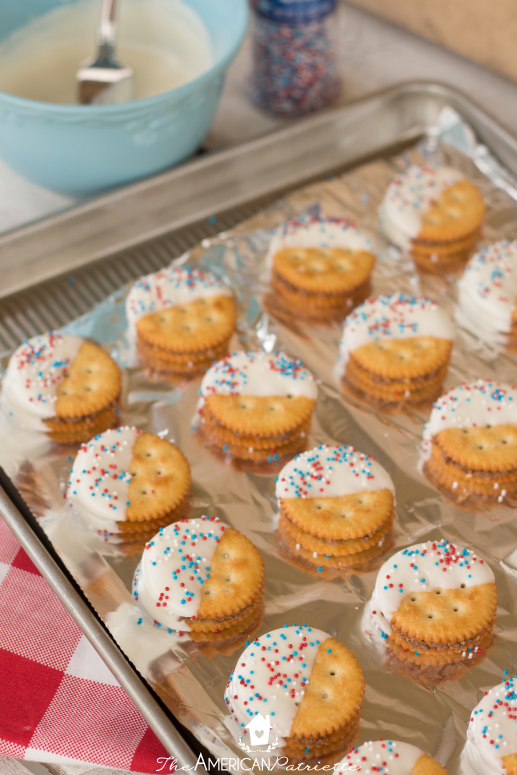 And then enjoy! Look how yummy!
Make these to eat with friends & family as you celebrate our freedom and honor the sacrifices others made – sacrifices that enable us to peacefully enjoy so many things.
So. many. things.
I am so grateful, and I know you are, too!
Now go enjoy these & our freedom – two things totally worth enjoying together! 🙂
Love this recipe idea and want to save it for later? Be sure to pin it to your favorite Pinterest board!
Patriotic Nutella and Peanut Butter Stuffed Ritz Crackers
Yield:
35 Cracker Sandwiches
Ingredients
3 sleeves Ritz (or off-brand of Ritz) crackers (about 105 crackers)
¼ c powdered sugar
¼ c peanut butter
1/3 c Nutella
6 cubes white baking bark (about 8 ounces)*
Patriotic sprinkles
Instructions
Put one sleeve of crackers in food processor (or place crackers in a large baggie and crush them with a rolling pin) and pulse until they're completely crushed & have a fine, sandy consistency.
Pour cracker crumbs into a bowl and stir in sugar, peanut butter, and Nutella. Mix thoroughly.
Using your fingers, pinch off a little of the crumb mixture, press it onto a cracker and then place another cracker on top to make a sandwich. Set on baking sheet lined with foil or wax paper.
Repeat step 3 until you run out of crackers/crumb mixture
Place 6 cubes of baking bark in a deep, microwave-safe bowl and microwave for 45 seconds.
Stir baking bark and microwave again for 45 seconds. Repeat until fully melted.**
Dip a cracker sandwich halfway in melted baking bark and set on baking sheet.
After you dip 5-7 crackers, pour on the sprinkles.
Repeat steps 7 & 8 until all of the cracker sandwiches have baking bark and sprinkles on them.
Place baking sheet in fridge for about 5-10 minutes to harden the baking bark.
After baking bark is fully set, remove sandwiches from baking sheet and store in an air-tight container.
Notes
*You can easily use white chocolate chips instead of white baking bark, I just like the baking bark because the flavor is delicious and it melts very easily
**You probably only need to microwave the baking bark for 45 seconds 2 times, but if you need to microwave it for longer in order to melt all of the cubes, make sure you stir between heating.