Mmm-mmm, apple dumplings. Dear Aunt Brenda, thank you for bringing this recipe into my life.
I got much of my passion for cooking from my aunts – all of them are such good cooks and bakers! And they all spoil us with delicious meals when we come visit. My uncles get some credit, too – several of them are fantastic cooks (and master BBQers!). I really love my family, and we really love food.
You will really love these apple dumplings! And you won't get over how simple they are to assemble! Let's get started!
While you're allowing the sweet, syrupy sauce to cook on the stove top (recipe below), you can assemble the dumplings.
Slice a Granny Smith apple into 8 slices and remove the core. You can peel it, but you don't need to! Keep it simple!
Unwrap a can of crescent rolls and wrap a roll around each slice of apple like so: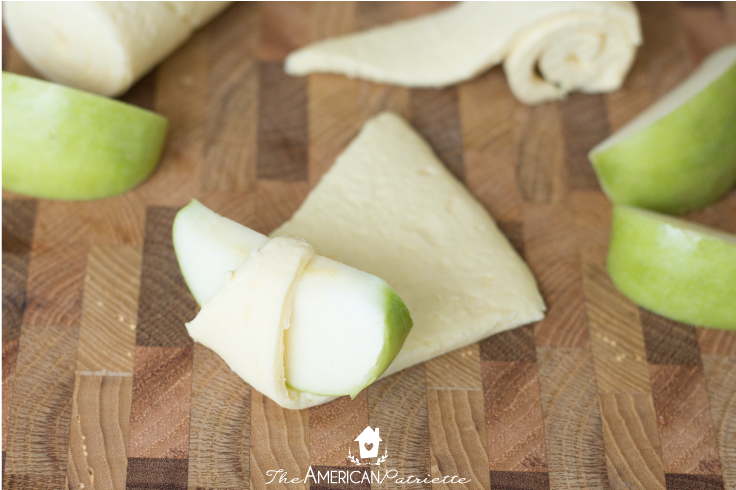 Place wrapped apples in greased glass square baking dish.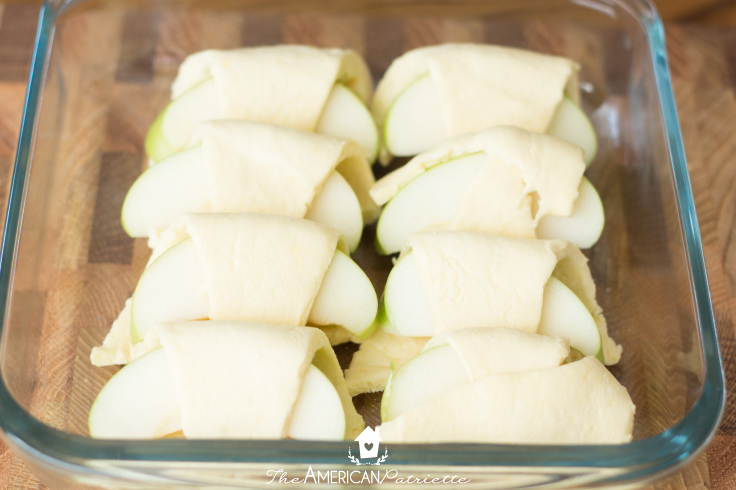 Pour the butter sauce on top of the wrapped apples (you do not need to completely cool it off before doing this step). The pan will have quite a bit of liquid in it, but the crescent rolls will soak up much of the juice as they bake. Sprinkle some cinnamon on top.
Get excited.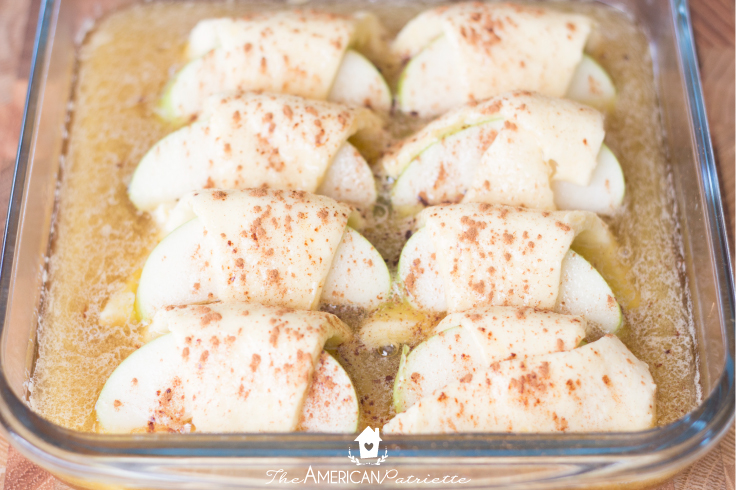 Place the dumplings into an oven preheated at 350 and bake for 30 minutes.
Get more excited.
Remove from oven, do a little dance, and get the vanilla ice cream out of the freezer!
Allow the rolls to cool slightly before serving.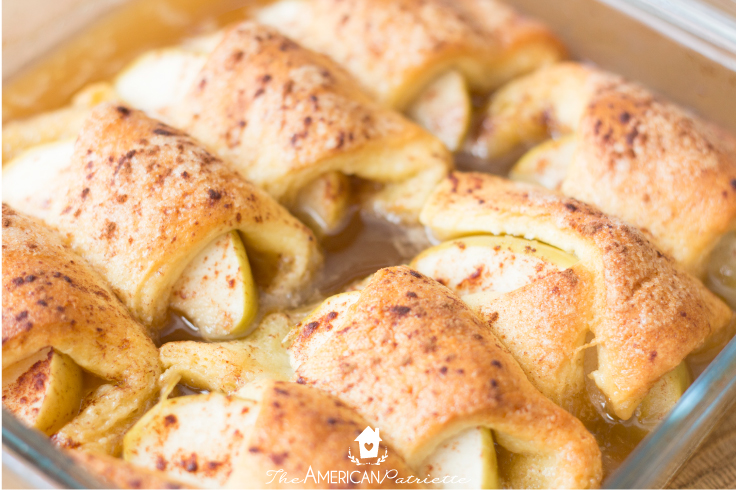 Place a dumpling on a plate with some vanilla ice cream, ladle some of that extra syrup from the pan over your dumpling and ice cream.
Relish in the deliciousness. I'll give my Aunt Brenda a hug for you.
Make sure to share some of these with your family and friends!
Or not. As our dear friend Zach said when chowing down on these, "I could eat these until I hate myself."
To which his wife Tawney responded, "Sorry ladies, he's taken."
But seriously, share them with folks! They'll love you for it!

Easy Crescent Roll Apple Dumplings
Ingredients
1 stick unsalted butter
3/4 c white sugar
1 tsp vanilla (I always use Mexican vanilla!)
1/2 c Mountain Dew
1 large Granny Smith apple
1 can crescent rolls (8 rolls)
Cinnamon for sprinkling (about 1/4 tsp)
Instructions
Melt butter in saucepan over medium heat on stove top.
Once butter is melted, turn heat on low. Add sugar, vanilla, and Mountain Dew. Stir until dissolved.
Remove from heat and set aside.
Core & cut apple into 8 slices.
Wrap a crescent roll around each slice.
Place wrapped apples in a lightly greased glass square baking dish.
Pour hot butter sauce over the top and the sides of the wrapped apples.
Sprinkle cinnamon on top. Bake for 30 minutes in preheated oven.
Allow rolls to cool for a few minutes before serving. You'll definitely want to serve these with a scoop or two of vanilla ice cream!