10+ DIY Cozy Christmas Home Decor Ideas (Day 1: Home for the Holidays Series)
Welcome to Home for the Holidays: 12 Days of Making Home Feel Like Christmas! I'm kickin' off this holiday series with some other friends of mine! Join some fellow bloggers & myself to get some inspiration for how to make your home feel warm, comfortable, and inviting this holiday season! Tour starts here, but it doesn't stop here! C'mon into all of our homes for easy DIY cozy Christmas home decor ideas!
Home for the Holidays Day 1:
10 DIY Cozy Christmas Home Decor Ideas
We all love getting tips, and we love sharing them, too! Here are 10 ways to easily DIY a cozy feel in your home during the Christmas season. Be sure to check out the others at the bottom of this post for even more inspiration! 🙂
1. Make a Christmas Simmer Pot
Nothing makes a home feel cozy quite like a yummy simmer pot! You only need a handful of easy ingredients to throw this Christmas stovetop potpourri together. It'll make your entire home smell like Christmas. It really is one of the coziest scents you'll ever smell! Your family and your guests will absolutely love it. Head over here to learn how you can assemble your Christmas simmer pot in under a minute. You can use your simmer pot for a few days before needing to replace the ingredients – it's awesome!
2. Decorate with Christian inspiration
After all, Jesus is the reason for the season! Decorate with Bible verses or with lines from a beautiful Christmas hymn. Sprinkle these words of truth and encouragement around your home to remind you and your family to focus on the importance of the season.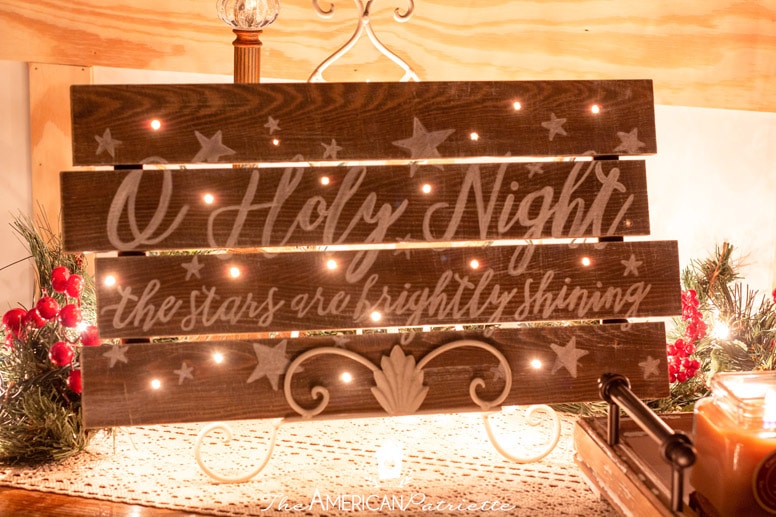 This Rustic light-up O Holy Night sign is the most popular DIY project on my blog to date – I think people are having so much fun creating this gorgeous piece! Go check out the easy tutorial for how to make the rustic light-up sign over here and make one for your home (or as a gift!).
I absolutely love this platter that my sister-in-law gave me! It's functional for when I'm serving or bringing cookies somewhere, but it's also just a gorgeous piece of decor! Such a sweet and simple reminder of the season.
An Advent calendar with Bible verses is also a great way to display Truth during the season. If you're looking for one, you can head over here to snag this free one to print out and hang up in your home. Every Scripture on it pertains to light – celebrating Jesus as the Light of the World.
3. Decorate with items that remind you of home
Maybe Texans are just unique people, but it's so fun to decorate with Texas-themed items! I love bringing out some Texas-inspired decorations for Christmas – they just make it feel like home, simply because they remind us where we're from and where we have our roots.
This platter was particularly designed to hold home state Christmas cookies. I love that it can also serve as a cute piece of rustic cottage-style decor when it's not in use to hold cookies.
You can get the tutorial for how to make this adorable farmhouse-style platter over here – it also contains other colloquialisms other than "y'all" for those of you in other parts of the country, and I also included links to a cookie cutter from every state. Yep, they exist. 🙂
4. Set up a nativity display
This nativity display just screams, "COZY!" Although, I suppose screaming "cozy" doesn't seem to be too…well, cozy. But, I've started really doing a full display of my nativity set, rather than just setting it out. I laid out burlap, carefully put Christmas lights below so they'd shine through, and then bordered it with some rustic-style garland and more Christmas lights.
I know many of us enjoy putting up a nativity, but consider making it a display in a common area. You see ours as soon as you walk into our home, and we pass by it multiple times a day walking between different rooms.
5. Hang indoor Christmas wreaths
Hanging simple Christmas wreaths indoors helps to bring warmth into a space and make it so inviting! This mini hoop Christmas wreath over my stove just makes my kitchen feel so welcoming!
6. Decorate with things that matter
I absolutely love our Christmas tree. Like you, I love pulling out those ornaments year after year and reminiscing! Our Christmas tree truly tells a story.
I personally think our Christmas tree is lovely, but it's not magazine-worthy. I'm so proud of our tree, but you wouldn't find it in a section entitled, "how to decorate a Christmas tree," unless it was "how to decorate a Christmas tree with sentimental items!" However, I love that it tells the story of US. There's so much family history on this tree, and I love being able to talk about the different items hanging on it when people ask.
By decorating our tree with so many ornaments that really matter, we open up an invitation to talk with others about life and the things that matter most!
7. Decorate with seasonal pillows and blankets
No need to get carried away with this, but how fun would it be to decorate with a Christmas-themed blanket each year that your family looks so forward to using for snuggling up to watch that long list of Christmas movies?! Extra blankets and pillows help make a space feel casual and comfortable – just a couple will do the trick!
8. Make it easy for guests to help themselves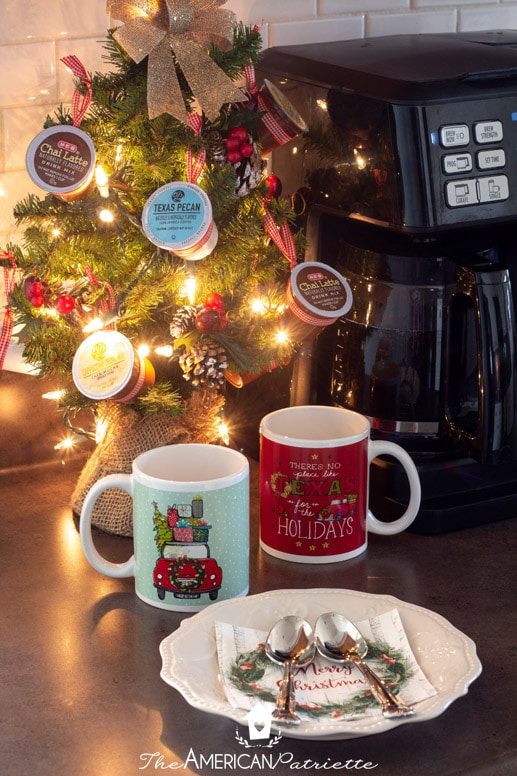 If you're hosting guests this season, think of some easy ways that you can help guests help themselves to things within your home. When guests can help themselves, they feel so much more comfortable and it also takes some pressure off of you! When you set things out to make them easily accessible, others feel like they can get things without having to ask (and feel like you're waiting on them).
And, you can bring this concept into your decorating! This adorable K-Cup Christmas tree is a perfect way to make a piece of decor functional! 🙂 And, those little hangers for the K-Cup "ornaments" are reusable – just take a pod out and quickly replace it with a new one. Easy! Here's the tutorial for how to put this tree together if you're wanting to make one for your kitchen.
9. Bring the outdoors inside
Bring some natural elements inside to help, once again, make the space feel a little more casual and down-to-earth. This cute rosemary tree is perfect for this in the kitchen! (And, just pluck off a sprig or two when you want to put together your Christmas simmer pot!)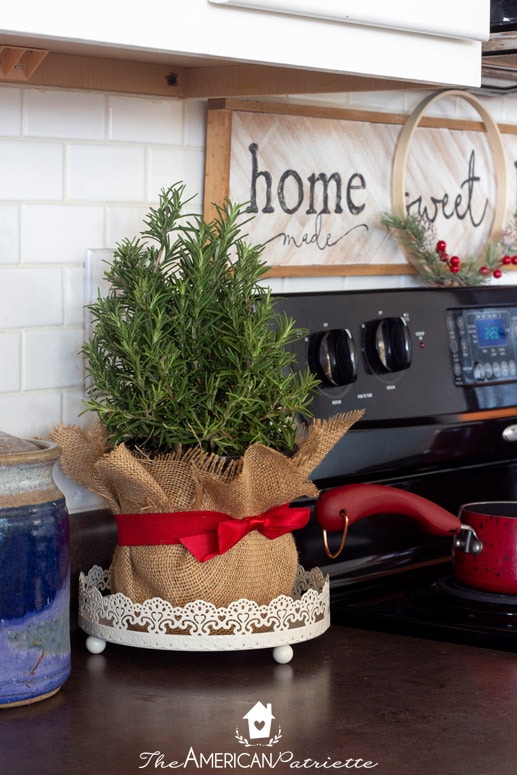 10. Light seasonal candles
While that simmer pot will give out a yummy smell throughout the house, nothing can replace the cozy ambiance of candles! I have them all over my house year-round. The Christmas smells are my favorite – the warm, spicy, food smells!
When it's just my family and me at home, I usually light a couple of candles in our main area for us to enjoy. But, when we're having company, I typically light candles around my house where there would be any kind of traffic – the entryway, the guest bathroom, and in the kitchen. We don't have that big of a house, but I love scents to follow you wherever you go! A quick lighting of some candles will bring a cozy feel in no time!
Thanks for stopping by to view my Cozy Holiday Home Tour! Check out the rest of these posts for even more inspiration!
Love these ideas and want to make sure to remember them for later? Be sure to pin this to your favorite Pinterest board!