Dark Chocolate Chip & Strawberry Buttercream Valentine Sandwich Cookies
These heart-shaped dark chocolate chip & strawberry buttercream Valentine sandwich cookies are a fun and easy homemade treat! A tasty Valentine's dessert idea!
If you're looking for a fun homemade Valentine dessert idea, this one is a winner for sure!
The combination of rich, chewy, dark chocolate chip cookies (we're talking triple chocolate here, friend: dark chocolate chips, dark chocolate baking cocoa, and regular baking cocoa all go into these cookies!) and the sweet strawberry buttercream filling makes for a delicious treat!
And they're so pretty with those Valentine sprinkles on top.
Now that I know how to perfectly cut just about any shape out of just about any kind of cookie dough, it's one of my favorite ways to bake for holidays and celebrations – so easy to customize with all of the options of flavors and shapes once you've got the basics down!
And, even more than that, it's so fun to show others how to do it, too! (It's really easy!) Let's walk through how easy it is to make these heart-shaped cookies together! 🙂
This post contains affiliate links for your convenience. You can read my full disclosure policy here.
How to make Dark Chocolate Chip & Strawberry Buttercream Valentine Sandwich Cookies
You'll only need a few basic baking tools to make these cookies:
Ok, ready to get started?! Let's go!
Step 1: Make the dark chocolate cookie dough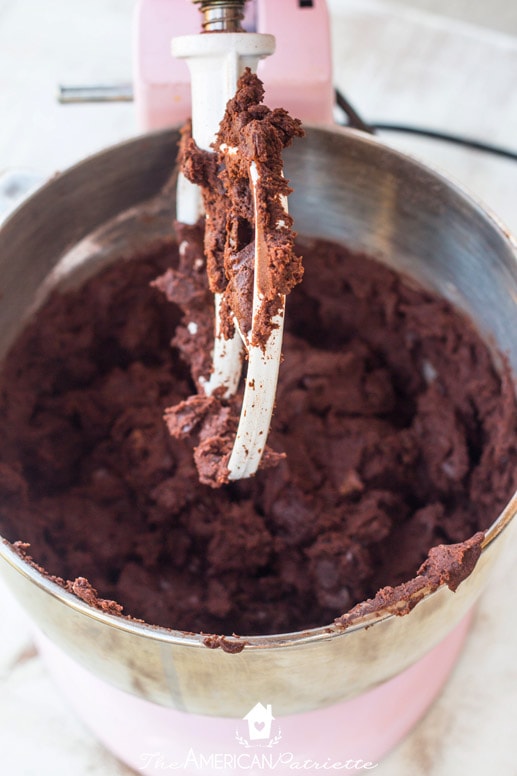 Mix all of the ingredients for the dark chocolate cookie dough together & then refrigerate the dough for about 30 minutes before moving onto the next step.
Step 2: Scoop chilled dough onto baking pan & press evenly across the pan

You're striving for an even spreading across the pan here – you can clearly see from those imprints how I used my fingers to press down the dough to get close to the edge of the pan.
You don't have to worry about getting all the way to the edge – the dough will rise/spread while baking, so it'll eventually get there. You just want to try to make the dough as even across the pan as possible.

Step 3: Add Valentine Sprinkles

Evenly sprinkle Valentine's sprinkles across the dough. Use your fingers to gently press in the sprinkles across the pan, just to make sure they bake into the dough rather than sit on top of it.

Yum! Looking so good, fun, and festive already! 🙂
Step 4: Bake in oven at 350

Place the pan in the center of the preheated oven and bake for 10 minutes. You want the cookie dough to be firm enough to cut shapes (but believe me, you don't need it that firm!), but you also want it moist and chewy enough to be delicious to eat!
Remove from oven and set aside to begin cooling.
Just a note: My general rule is to tack on 2-3 minutes of bake time for any regular cookie dough recipe when I'm baking it as one large cookie like this. When I make these chocolate cookies as regular round cookies, I typically bake the dough for 7-8 minutes. So, I just tacked on 2-3 minutes of bake time since I was baking it as one huge cookie on the pan.
Step 6: Make Strawberry Buttercream Filling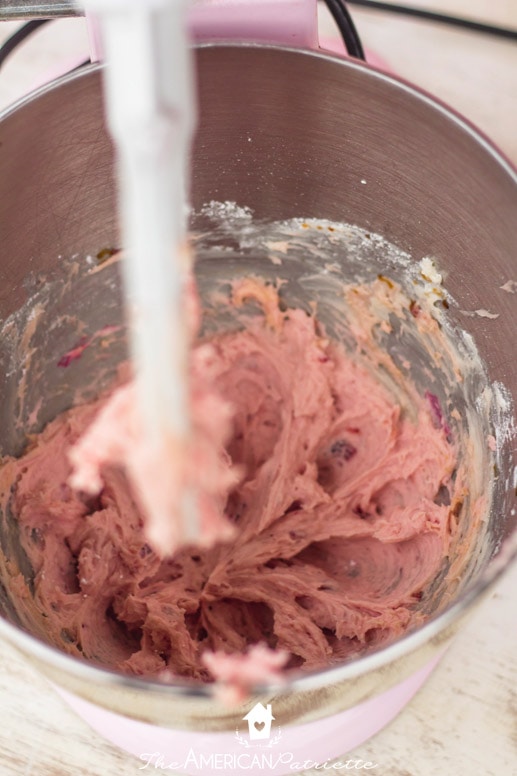 If you don't think you can make the icing quickly, you can save this step for later. I'm suggesting you do it here since it only takes a few minutes to prep, and because you need to let the baked cookie "set" for a few minutes once it comes out of the oven, so you've got some time to kill.
It's best to cut shapes out of dough that's still pretty warm, but isn't piping hot. So, since making the frosting doesn't take long, I usually do it here to kill those few minutes before I start making shapes.
To make the frosting, toss the butter, powdered sugar, vanilla, and strawberry preserves into your mixer and beat with the paddle attachment until the icing is smooth and fully blended. You'll likely have some small chunks of strawberry in there because of the preserves, but everything else in there should be thoroughly mixed together.
Set the frosting aside for now.
Step 8: Cut out heart shapes!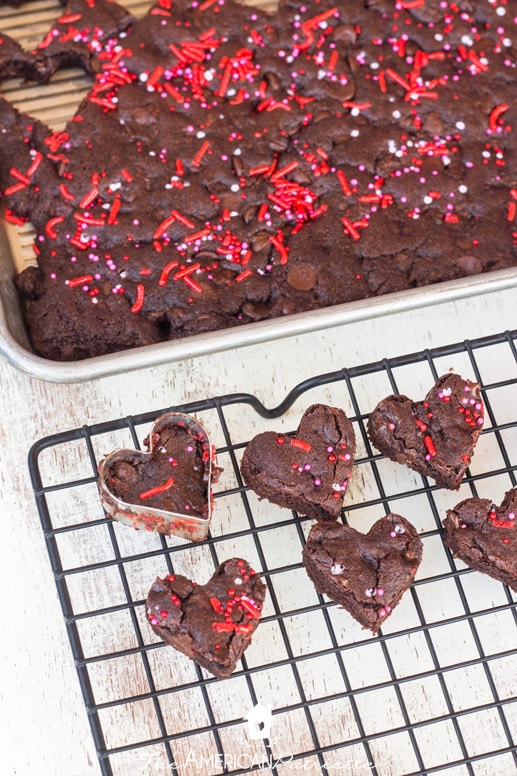 Yay! Now it's time for the fun part! Get your mini heart cookie cutter and start making hearts!
You'll want to do this with a metal cookie cutter, not a plastic one – the metal one is obviously more durable to heat, but it's also sturdier and will help you cut those shapes out more easily.
And, if you use one of these amazing cookie sheets, the cookies will literally just come right off of the pan with zero effort. I seriously talk about these pans all the time – I'm about 8 years into using mine, and I am absolutely obsessed with them! They make baking and clean-up SO EASY. They are one of the top items on my "must have" list for everyday cooks and bakers.
So, as you can see, you just press the cookie cutter into the dough, pull up, and out comes your shape! Then gently press inside the cutter to remove the heart and go back to cut more.
I'd say this is "easy as pie," but I don't want the cookies to get offended.
Keep doing this until you run out of dough!
Now, what the heck to do with all those leftover pieces on the pan? We lovingly (and very officially) refer to those as "in-betweens," and we save them for munching on. They're quite delicious, and they're perfect to top off a bowl of vanilla ice cream.
Just sayin'.
Step 9: Add strawberry buttercream filling
We're almost finished! It's time to add the strawberry buttercream filling. You could probably easily do this with a gallon-size plastic Ziplock bag by cutting the tip and piping frosting onto the cookies, but I went ahead and used my Wilton plastic set since I have it.
But, if you don't have an icing set, I really don't think it's that big of a deal. You can make do just fine otherwise!
Evenly pipe the filling onto the back side of half of the cookies…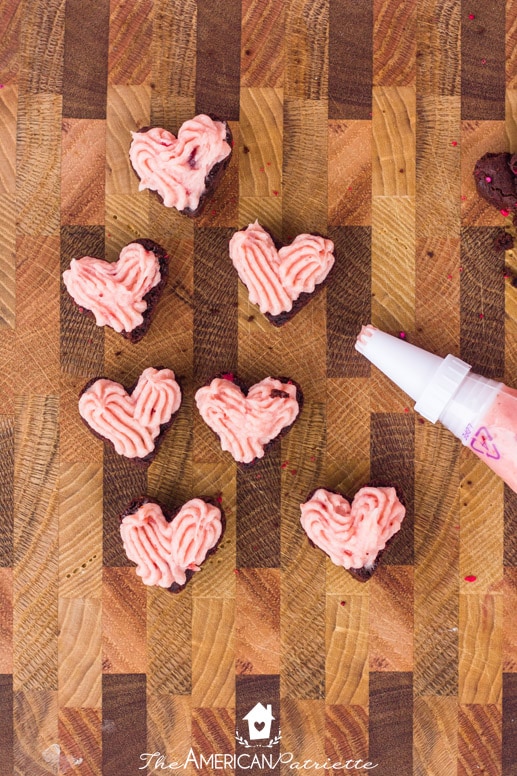 And then top them off with their partner cookie! Add some sprinkles around the edges of the frosting if you'd like.
Step 10: Enjoy with others!
And there you have it! Weren't these so easy to make?! They're quite delicious, and I'm certain you'll draw in some smiles when you share these cookies with others.
Make them as treats to give away, to share with neighbors, or to bring to a Valentine's Day potluck!
Have a wonderful Valentine's Day with family and friends!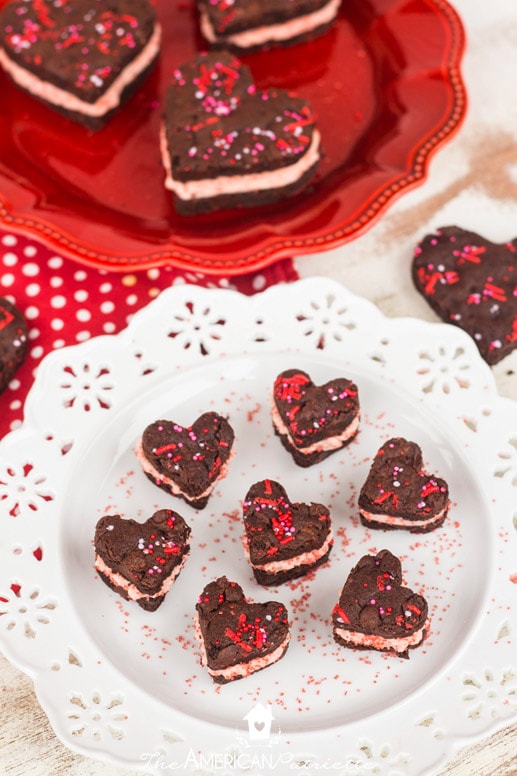 Love this recipe idea and want to remember it for later?! Be sure to save it to your favorite Pinterest board!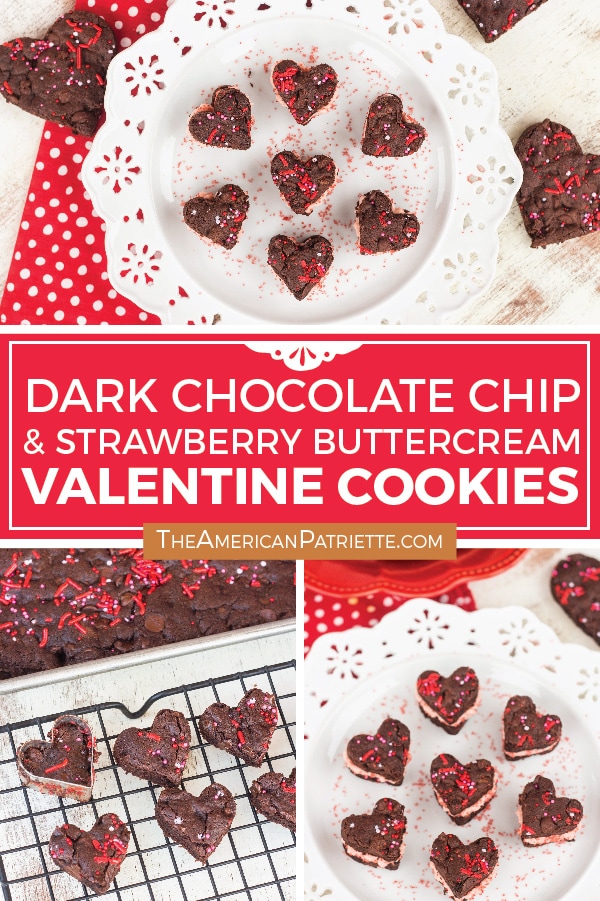 Dark Chocolate Chip & Strawberry Buttercream Valentine Sandwich Cookies
Yield:
About 30 small cookie sandwiches or about 15 medium-sized cookie sandwiches
Additional Time:
15 minutes
These heart-shaped dark chocolate chip & strawberry buttercream Valentine sandwich cookies are a fun and easy homemade treat!
Ingredients
FOR DARK CHOCOLATE COOKIES
2 sticks unsalted butter, softened
2/3 c granulated sugar
2/3 c packed light brown sugar
1 tsp vanilla extract
2 large eggs
2 c all-purpose flour
1/2 c unsweetened baking cocoa
1/4 c dark chocolate unsweetened baking cocoa
1 tsp baking soda
1/2 tsp salt
2 c dark chocolate chips
Valentine sprinkles
FOR STRAWBERRY BUTTERCREAM FILLING
1 stick butter, room temperature
2 c powdered sugar
1/2 tsp vanilla
1/3 c strawberry jam or preserves
Instructions
Instructions for baking the cookies:
Cream together 2 sticks butter, granulated & brown sugars, and 1 tsp vanilla extract until well-blended.

Add eggs one at a time, mixing between each addition.

Gradually mix in flour, cocoas, baking soda, and salt.

Once the dough is completely blended together, fold in the dark chocolate chips.

Cover bowl with cling wrap and place in refrigerator for at least 30 minutes.

Preheat the oven to 350.

Once the dough is a bit chilled, empty it from the bowl and place it onto a large rimmed baking sheet (see my recommendations for the best cookie sheets ever). Using your fingers or a spatula, press dough evenly across baking sheet. It's ok if it doesn't reach all the way to the edges of the sheet, but try to press it as evenly across as possible.

Sprinkle Valentine sprinkles all over the dough, and gently press them in using your fingers, just to ensure they bake into the dough rather than sit on top of it.

Place pan in preheated oven for 10 minutes.

Remove baking pan from oven and set aside to cool for about 5-10 minutes. You want the baked cookie to "set" a little bit before cutting the shapes, but you still want it to be pretty warm in order to prevent the shapes from breaking as you're using the cutter to cut them out.

While the cookie pan is starting to cool, whip up the strawberry buttercream filling. Using a stand or a hand mixer, cream together the ingredients for the buttercream filling (1 stick butter, 2 c powdered sugar, 1/2 tsp vanilla, 1/3 c strawberry preserves). Blend together until everything is thoroughly mixed - about a minute or so. Set buttercream filling aside.

Now it's time for the fun part! Get out a cooling rack and your heart-shaped cookie cutter. Begin cutting heart shapes out of the baked cookie dough and place the shapes on the cooling rack. Try to cut them as close together as possible so you can maximize the number of cookies you get out of the pan!
Once you've finished cutting out all of the hearts, remove all of the "in-betweens" - the remaining pieces on the pan - and store them to munch on later. (They make great topping for vanilla ice cream!)
Allow the cookies to fully cool. Once they're at room temperature, turn half of the cookies over (sprinkle side down) and either pipe the icing on using an icing bag & tip, or, to make it even easier, you can put the icing in a large plastic gallon zipper bag, cut the tip out of one of the ends, and pipe the frosting on that way. Since you're covering it up with another cookie, you won't be able to see too many imperfections in the icing. 🙂 Once you've frosted half of the cookies, top them off with their other cookie halves. A match made in heaven right there in front of you!
For an extra garnish, quickly sprinkle some Valentine sprinkles on the outer edges of the frosting.
Enjoy with people you both like & love!
Notes
Regarding the cookie pans: These are seriously the absolute best cookie pans on the face of the planet. Hands down, my favorite that I've been using for years, have never had to replace, and I'll never use anything else! You'll want to hug them every time you bake - you will LOVE them!
About the amount of cookies this recipe makes: The amount of cookies that you produce from this recipe depends on the size of cookie cutter you use. Since these are rather rich with the buttercream filling, I decided to make mine small, so I used about a 1.5-inch heart-shaped cookie cutter. With a small cookie cutter like that, you can expect to get about 60 cookies (so, 30 sandwiches) out of this dough. However, if you use a larger cookie cutter, you'll get fewer than that, so just keep that in mind as you plan out this recipe!
About the strawberry buttercream filling: When you make strawberry buttercream with preserves/jam instead of fresh strawberries, it will taste more "candy-ish," but because these are cookies for Valentine's Day rather than a frosted cake, the candy-like flavor works for this recipe. However, if you want to make fresh strawberry buttercream for these cookies, that will also taste delicious!
Recommended Products
As an Amazon Associate and member of other affiliate programs, I earn from qualifying purchases.