Cottage Chic Farmhouse-Inspired Valentine's Decor Ideas with Printables
Looking for some cottage chic farmhouse-inspired Valentine's decor ideas? Get some tips on how to decorate with printables to get that vintage look for Valentine's Day! Don't forget to snag your free sample pack of 5×7 rustic floral Valentine's decor printables at the bottom of the page!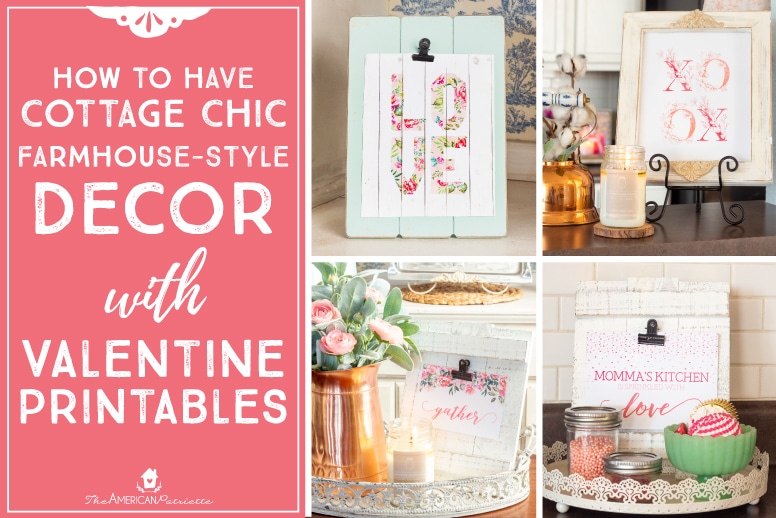 If you're looking for some easy rustic Valentine's decor ideas, you're in for a treat! Decorating with printables is one of the easiest ways to bring in some seasonal charm to your home.
It's so fun to do a little home refresh for the different seasons without getting carried away, and since printables take up like zero storage space (can I get an Amen?!), since you can display them using frames you already have, and since you can pick and choose different designs that fit well with your style and personality, they're really such a great quick and simple (and gorgeous!) solution for easy holiday decor!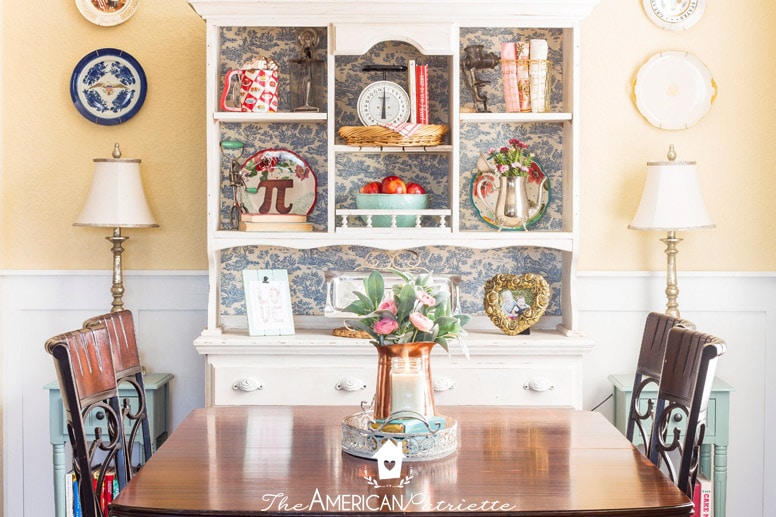 Because I know gals like us absolutely love that floral farmhouse, cottage chic decor look, I created a collection of Valentine's decor printables for us to use in our homes to decorate for the holiday.
You Want Chic Decor, not Cheesy Decor!
However, you may be wondering how to display printables in a way that enables you to get that cottage chic, farmhouse-style charm you're going for, and in a way that isn't, well, cheesy. Right?
Me too.
My punny humor is a little cheesy, and I love my food a lot cheesy, but I'd rather not have cheesy home decor. If you're the same way, let me walk you through some simple ways to get that gorgeous rustic look for Valentine's Day with these four tips about decorating with printables.
After you walk through these quick steps, make sure to snag your free sample pack of 5×7 rustic Valentine's decor printables at the bottom of the post!
Tip 1: Display Printables on a Rustic Frame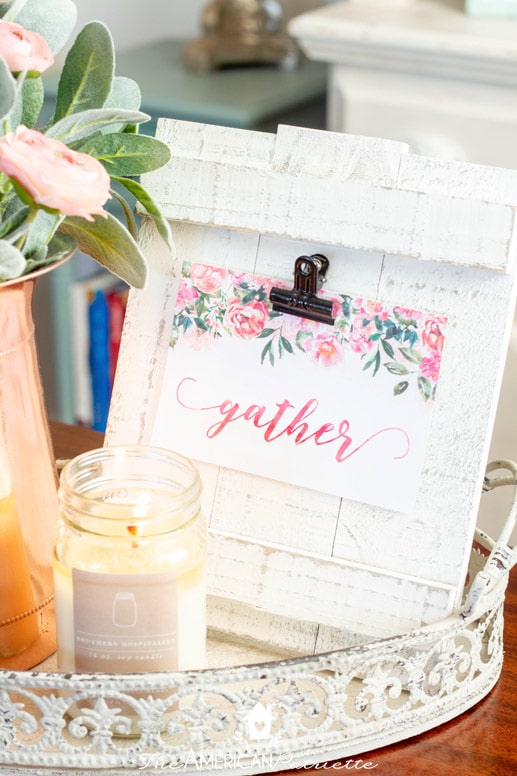 One way to get that vintage look with printable decor is by displaying the printable on a rustic frame.
I know, not rocket science. But, seriously – it makes a huge difference!
I used to use this clip board frame to display a photograph, but after using it to display printables, it almost seems as if it were made to showcase a gorgeous quote with flowers, doesn't it?!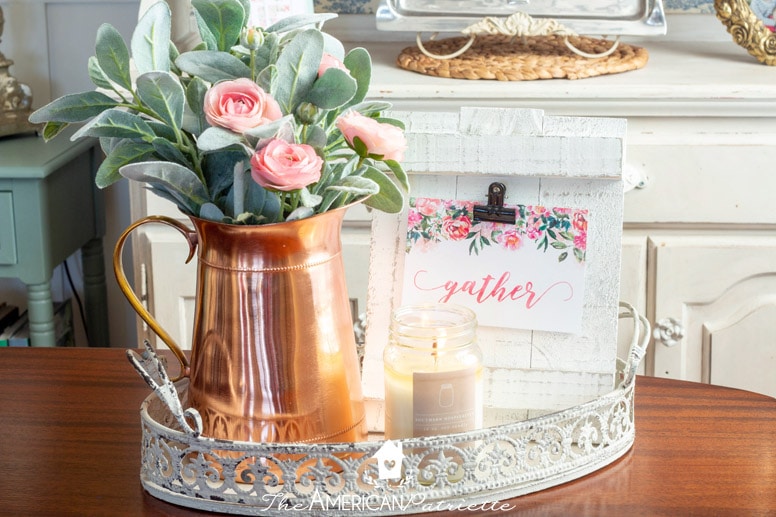 As you'll notice from the photos throughout this post, all of my printables are displayed on or in rustic, farmhouse-style frames – the pieces really compliment each other. The frame helps display the printable, and the printable gives new life to the frame while also bringing in that seasonal cheer to your home.
Go through your house and find a frame or two that would be perfect to display gorgeous printables. You'll be amazed at how great they look together and decorate that space of your home!
And if you're loving what you're seeing, I got the clip frame at Hobby Lobby, and I repurposed the frame you see with the wooden embellishments. It's a wooden frame that was brown, so I painted it that antique white, sanded it a little to bring out that natural wood, and then added the wood embellishments that I bought from Hobby Lobby and painted gold.
You can totally do that, too! 🙂
Tip 2: Display Printables Next to Flowers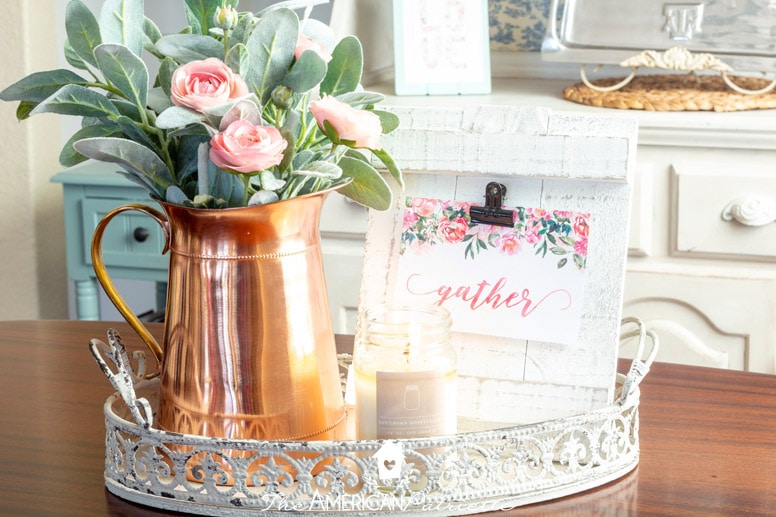 Farmhouse stems and vintage blooms really help to compliment the other similarly-styled decor around it. They bring a little life into the area (even when they're fake, like all the ones you see in this post! ?), and they almost complete, in a way, the printable decor you display next to them!
Treat yourself (and your house!) to some fresh blooms or go get yourself some faux ones from Hobby Lobby! You can easily create simple, lovely vignettes with them. 🙂
Tip 3: Display Printables Next to Candles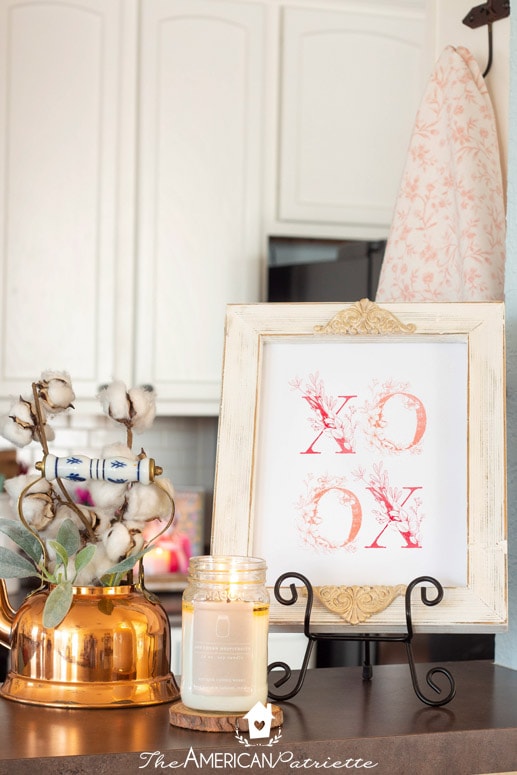 I know, I feel like this suggestion is a bit ironic – decorating with paper near fire. Always a good idea. ?
But, seriously! Candles always bring some extra life and coziness into a room! Just as I suggested with the flowers, you can create yourself a little farmhouse-style vignette with adding candles, too. Easy and gorgeous display!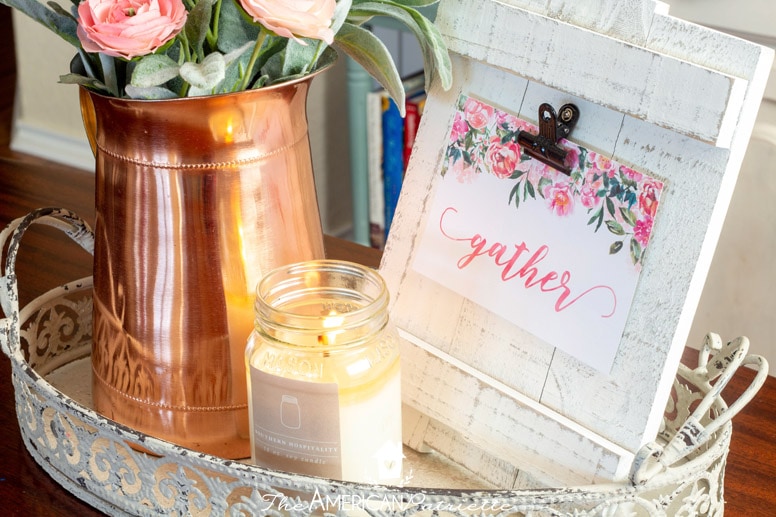 Decorate with pink, red, or white candles – bonus points if you can find some seasonal scents! You probably have a surplus of candles in your house (are you a fellow good-smells addict?) – rearrange them and display them next to the printables you decide to frame. It'll look beautiful!
Tip 4: Display Printables in a Collage Next to Other Meaningful Items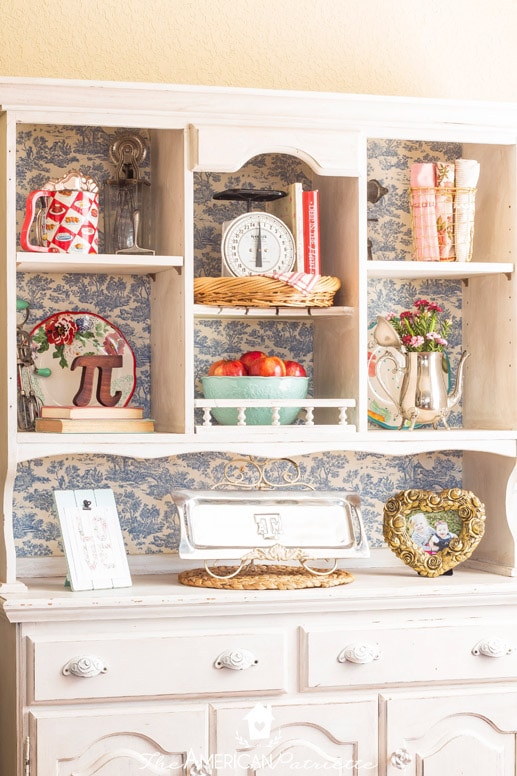 Beyond the printable vignette idea, display your gorgeous printables next to other vintage, farmhouse-style pieces of decor. They'll all coordinate together so well and help tell your story together!
You can see here that I displayed this sweet, floral "LOVE" printable in my hutch next to several other items that mean a lot to my family.
I love how the colorful vintage flair of the printable helps add to the Valentine's look I'm going for, and it coordinates so well with everything else. Find a spot in your home where you have a display of meaningful items, and put up one of your Valentine's printables along with everything else.
In a slightly different fashion, I put this kitchen printable next to some Valentine baking goodies – such a fun way to display a seasonal printable next to useful items.
You can do the same thing – I literally just went through my pantry to find some baking items I could use for this display. Didn't need to buy anything extra!
Now that you've got some extra inspiration for how to decorate with farmhouse style Valentine's printables, you can go snag a couple of your own 5×7 prints to use in your home!
Get a few of the gorgeous printables for free in the 5×7 sample pack!
Let's get you started with some gorgeous farmhouse-style Valentine's decor! You can snag a few free 5×7 printables by filling out the form below. Your house is going to look so pretty!!
Check out the Full Farmhouse-Style Valentine Printables Collection!
If you love those farmhouse-style Valentine's printables and want to check out the entire collection of both 5×7 and 8×10 prints, you can click here or on the image below! They would be such a great addition to your home!
In the entire collection, you can get instant access to all 17 designs in both 8×10 and 5×7 format! YAY!
Looking for more inspiration?
And if you're looking for more farmhouse-style Valentine's decor tips, be sure to head over here to get some inspiration on how to add some cottage chic charm to your Kitchen for Valentine's Day!
Love these ideas and want to remember them for later? Be sure to pin this to your favorite Pinterest board!