5 Simple Tips to Help You Prep for Last-Minute Guests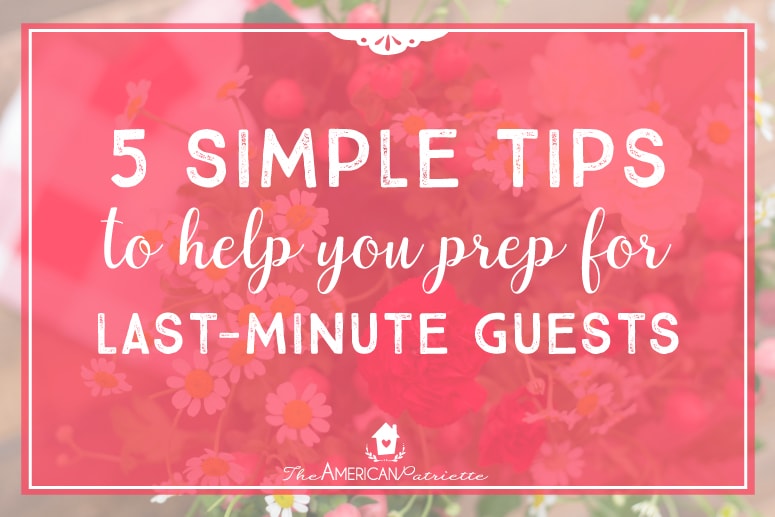 One of my favorite things to do is plan for company and gatherings of all types – casual gatherings of just sitting down with folks around our supper table, game nights, hosting long-time friends for the weekend, and planned celebrations like showers and birthday parties. I love the gathering itself, but I also really enjoy the planning process – what snacks we're going to have, what new main dish I'm going to try (or what favorite dish of ours am I going to re-make), and in the cases of celebrations, what kinds of decor I'm going to prepare to make the atmosphere fun and festive.
You get me, don't you?! That stuff is fun to plan for!
But, if I'm going to continue to encourage the importance of hospitality – the act of opening our homes to gather with others – I need to remember (especially for myself) that the ultimate goal is the hospitality itself, not the planning part of it. As much as I know how important it is for us to express our gift of welcoming others, it's very easy to get wrapped up in the details and to rank them more important than the actual act of welcoming others into our home. You know what I mean?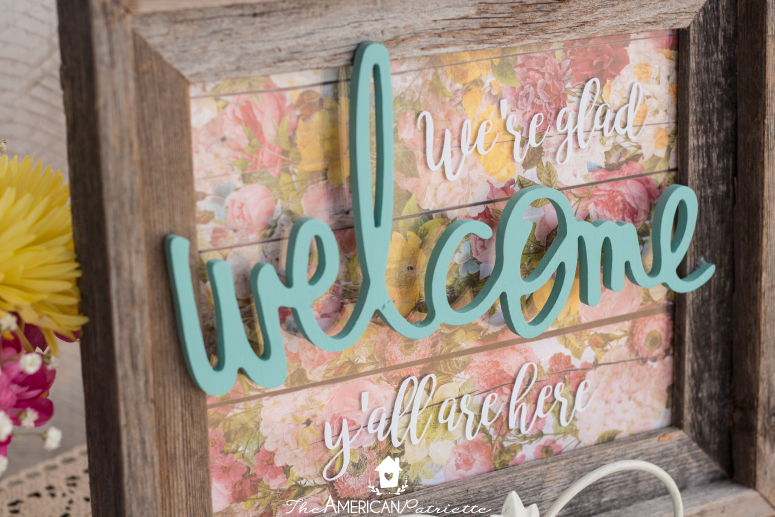 While gatherings are so fun to plan and prepare for, if the ultimate goal is hospitality – expressing warmth to others and welcoming them in – sometimes that means I need to open my doors to last-minute guests. You know, the kind you don't plan for.
I know, sometimes the idea of last-minute guests makes our palms sweat a little, huh?
Regardless of the time I do or don't have before people arrive, I've found there are a few things I can quickly do to prep for company in order to make some room for them, help them feel a little more welcomed, and give me a boost of confidence as I'm greeting people across my threshold. I figured if these tips are helpful for me, they might be helpful for you, too!
This post contains affiliate links for your convenience. You can read my full disclosure policy here. 
Here are 5 Simple Tips to Help You Prep for Last-Minute Guests: 
(these aren't necessarily in order – I prioritize based on the situation!)  
Check the guest bath
This is typically the first thing I do in my routine! I just take a quick look and wipe down the sink and the mirror if it needs it, as well as turn on the little lamp that we have in there. I also make sure there's enough extra toilet paper in the cabinet – that's a biggie! I change out the hand towel, take out the trash bag and put in a new one (if I have time), and do a quick clean of the toilet if it needs it.
Pick up the clutter in the main areas
I'm a bit of an anomaly: I'm not a big fan of messes, yet I am fantastic at making them. Please tell me you are, too? Plus, you add some kiddos and a dog to that equation, and, well, you know where I'm going with this. 🙂  I usually do a quick sweep of the main area – my living/dining/kitchen area – by putting toys in bins and picking up other items and setting them in the rooms where they belong. In doing so, I'm trying to make space for extra people to be in our house – I want them to be able to freely sit in our living area or at our kitchen table, have a place to set their stuff down, and for extra things to not be in the way if I can help it. Your guests do not expect your house to be immaculate. (And believe me, you'll notice your own messes far more than they will – they're not coming with white gloves to do an inspection on your baseboards!) However, I definitely feel better if I've tidied up a bit, and even when my house is really messy, just because of the way we store things, picking things up in the main area doesn't take too long.
Light a couple of candles and turn on some lamps
It's amazing how much some lamplight and candles can transform a room into a warm, welcoming environment. Even when my house seems chaotic, if I turn on some lamps and light some candles, I feel like a sense of peace just flows right through the crazy. It doesn't take me but a minute or two to go through and turn on lamps in our main area and guest bathroom (and the guest room if folks are spending the night) and light a couple of candles. I know when I walk into a home with lamps and candles, I automatically feel so welcomed and invited, so I want to create that same environment for our guests, even if they're dropping by with little time to prepare for their arrival!
Prepare a snack and/or a drink
Depending on how much notice we've been given before we have company (or even if we've known for a long time that we were going to be having guests but we just weren't able to start cooking as early as I would've hoped), I always try to have some drinks – typically sweet tea and lemonade – and a snack prepared as folks arrive. Believe me, this doesn't always happen, but I sure try! It's easy to offer a drink and a snack to people while they hang out with me in the kitchen and chat while we finish getting the main meal ready. I very rarely have a meal ready right when guests walk through the door – for one, I just don't have that great of timing, but two, with our two kiddos to wrangle, there's always something I need to tend to that delays me from getting a meal going, so if I have an easy snack (chips and salsa is usually my go-to!) and some pitchers of tea and lemonade prepared, it's easy to tie people over with those until the main meal is finished. This isn't my biggest priority, but if I'm able to do it within time constraints, I sure try!
Peruse my pantry for meal ingredients
Sometimes folks are just stopping by on their way through town, or perhaps just dropping in to borrow something of ours, but sometimes we're hosting guests a bit last minute who are staying with us for a few hours or even overnight. If they're staying for a meal and I haven't had time to go to the grocery store before their arrival, I'll peruse my pantry (and my fridge and freezer) for ingredients to whip up something for us. I've had to learn to not let this drive me nuts – I love planning meals. But I've learned that the random, thrown-together ones are often even more delicious! You'd be surprised what all you can make from things you already have on hand that you didn't plan ahead! I'll figure out something to do with the veggies we already have (in the fridge or freezer), see what meat we might have in the freezer, what sauces we have in stock – pasta sauce, pesto, etc., the grains we have like pasta, rice, or quinoa, and anything else to add some flavor – spices, cheese, condiments, etc. I promise, you can get more creative than you think. 🙂 Now that I'm finally the owner of an Instant Pot (wahoo!), I think this process is going to get even easier!
Again, I don't follow those steps to a T, that's just typically my go-to list of things that I'll do when we find out we're having some people drop by. Now that I'm in a bit of a rhythm, I feel much more confident when we host sporadic and spontaneous guests. I definitely think figuring out this list and how to make my routine work for me helped me not only get less anxious about last-minute guests, it's also helped me get more excited about the whole hospitality part – just the part that entails us spending quality time with them and welcoming them into our home. I hope this list helps you, too!
If you're looking for more tips, especially ones that'll help you plan for company, grab my free Gathering Guide at the bottom of this post! You'll love it! 🙂
Want to make sure to remember these tips for later?! Pin this to your favorite Pinterest board!