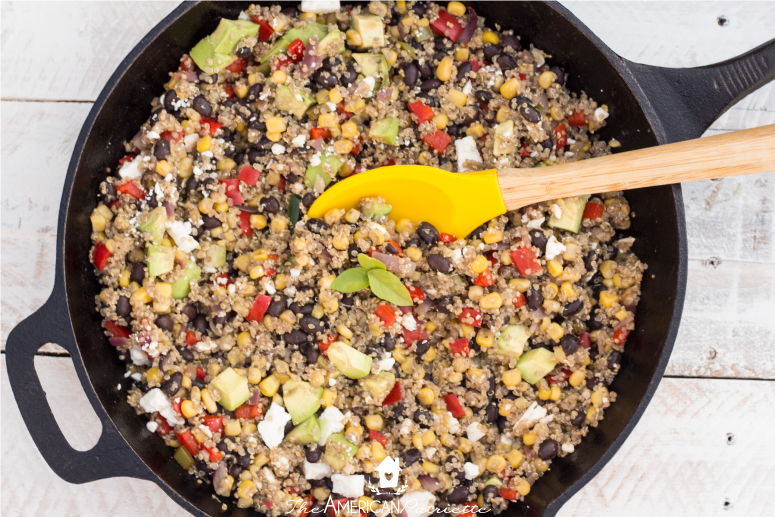 Zesty quinoa salad makes a delicious and hearty side dish, but it's certainly hearty enough to turn into a main dish! It's packed with fiber, protein, and vitamins, not to mention flavor!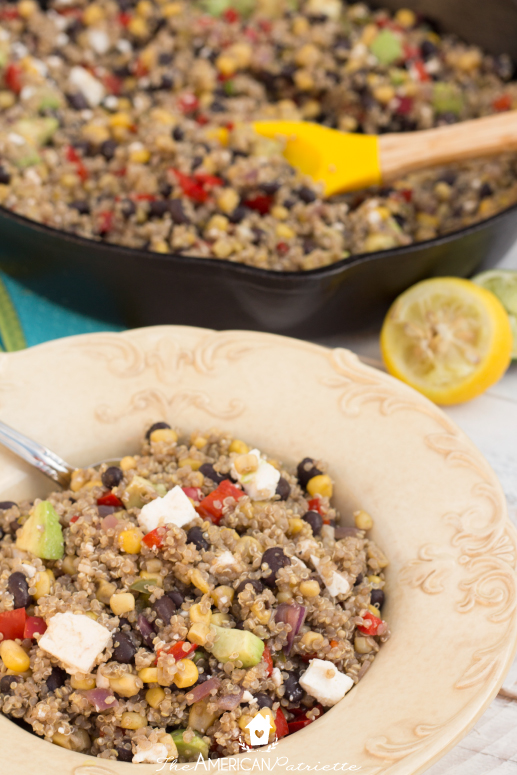 Serve it as a side with enchiladas, grilled steaks or pork chops. Or, add some chopped cooked chicken breast and you can easily turn this salad into a one-bowl main meal!
You can also serve it warm or cold – I think it's delicious both ways!
With this dish's versatility, it is clearly not the best dish for indecisive people to prepare.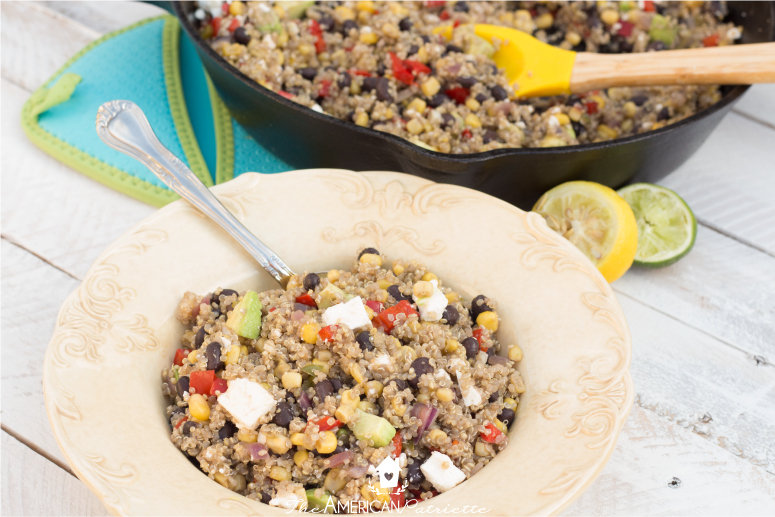 Just prepare it and eat it all those different ways and then decide which one's your favorite!
Glad I can be here to solve your food dilemmas.
Enjoy with your friends & fam!

Zesty Quinoa Salad
Ingredients
¾ c dry quinoa
1 ½ c water
Juice from ½ lemon
1 tsp cumin, divided
2 tsp olive oil
1 red bell pepper, diced
1 jalapeno, diced (remove seeds)
½ c diced red onion
Juice from 1 lime
2 cloves garlic, minced
1 15oz can black beans, rinsed and drained
1 15oz can corn, drained
Dash of salt (to taste)
1 avocado sliced
1/3 c feta cheese
Instructions
Pour quinoa & water in sauce pan over medium heat. Squeeze in lemon juice. Bring to a boil.
Immediately reduce heat and stir in ½ tsp cumin. Cover the quinoa and cook for about 7 more minutes (or until quinoa is soft).
In a separate skillet, pour in oil and warm skillet over medium heat. Add bell pepper, jalapeno, and onion and saute for about 10 minutes. Squeeze lime juice over vegetables and add minced garlic. Continue to saute (stirring regularly) until vegetables are soft (about 5 minutes). Stir in cumin.
Mix in the black beans and the corn.
Pour the cooked quinoa into the skillet with the vegetables.
Add salt to taste.
Remove skillet from heat and allow to cool for about 10 minutes.
Add sliced avocado and feta cheese.
Serve as a tasty side dish or add some meat and serve as an easy main dish!
Notes
If you're serving this as a side dish, this recipe will feed about 6-8 people. If you want to turn this into an easy main dish by adding some cooked chicken breast, it'll serve about 4 people.