Winter Olympic Cupcakes with Candy Snowflakes
Looking for a fun, festive treat to make while cheering on Team USA in the Winter Olympics?
These Winter Olympic Cupcakes with Candy Snowflakes are so fun & simple to make – I know you & your family will love them!
This post contains affiliate links for your convenience. You can read my full disclosure policy here.
Here are the materials you need to make the candy snowflakes and Olympic rings:
Flat baking sheet (one that's small enough to fit in your fridge or freezer for a few minutes)
Wax paper
Plain M&Ms (or any M&Ms that are the same shape and size as the plain ones)
6-8oz of white baking bark (this is what I always use when I'm doing any kind of candy coating, but if you don't have this brand in your store, just try to use white baking bark rather than white chocolate chips. I think it melts a lot easier.) Also, that amount assumes you're making 24 cupcakes. If you're making more, you'll probably need more candy bark than that.
Small microwave-safe dish
Zipper sandwich bag
Pair of scissors
USA Flag Toothpicks (I got mine at Hobby Lobby, but I checked and you can also find them on Amazon. These are so fun!)
How to make the candy snowflakes and Olympic rings:
Step 1: Set up your work station
Place the sheet of paper with the snowflake & Olympic Ring shapes on the baking pan, and then cover the sheet of paper with a sheet of wax paper.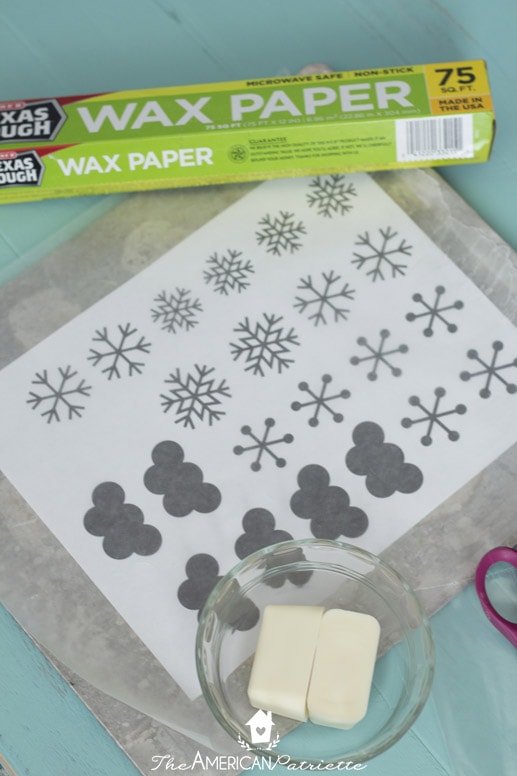 Step 2: Melt the almond bark/candy coating
Place the baking bark into a microwave-safe dish and heat for 45 seconds. Remove from microwave, stir, and place back in the microwave for another 45 seconds.
You shouldn't need to microwave more than 2-3 times to get the baking bark completely melted.
Let the melted bark sit in the dish for about 5 minutes – not too much longer than that. Just enough to let it not be soooo runny.
Step 3: Pipe the white candy coating to trace the snowflakes
Cut a small hole in one of the tips of the plastic bag, and use a spoon to scoop in a little bit of the baking bark into the bag. I forgot to take a picture of this, but you can see what I'm talking about in the photos below:
Then you just start tracing the snowflakes with it. You might need to do a few before you get comfortable with the bag, but you'll get the hang of it quickly.
It takes a second to get used to holding the bag and tracing the snowflakes. If you mess up, no big deal. Just change out the wax paper and start over!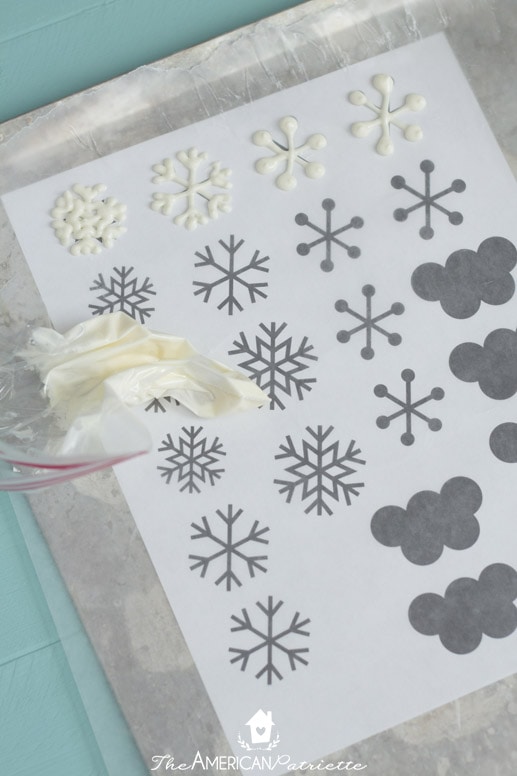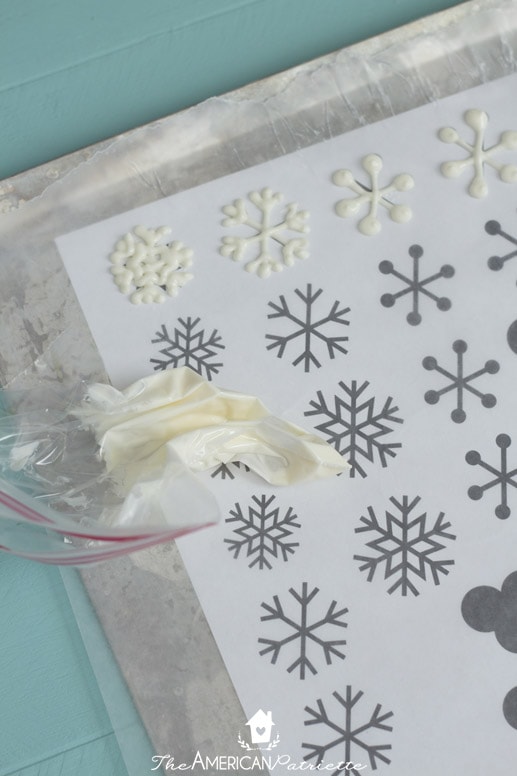 Step 4: Trace the rings & add the M&Ms
Once you're finished with the round of snowflakes, you'll start working on the rings.
Use those thick black dots as guides, but you don't need to be exact. See pictures below: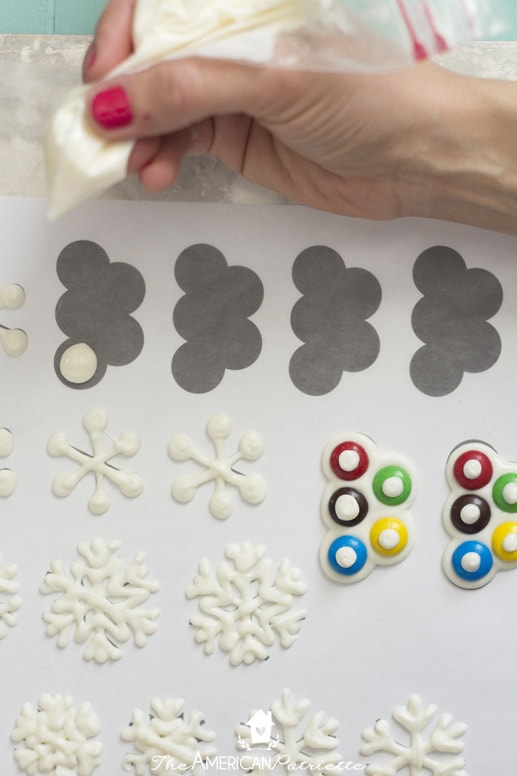 You just need to make the dots large enough that when you press down the M&Ms, they'll push out enough candy coating to connect from one dot to the other. See?
See how when I pushed them down, the dots connected?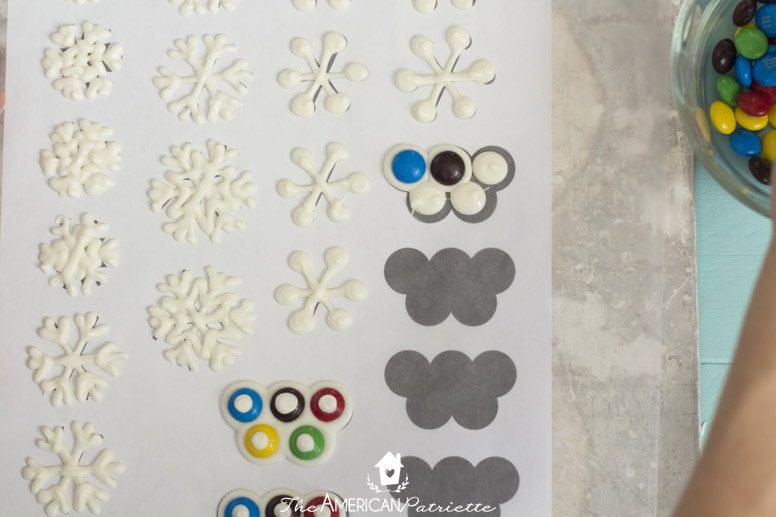 This is pretty fun once you start going!
After you press all 5 of the M&Ms down, you'll go back over and put a white dot in each one so they look more like the Olympic Rings.
Look how fun and festive! I am so excited for the Winter Olympics!!
Here's a note: If your baking bark begins to get a little stiff in the baggy, place the baggy in the microwave (with the baking bark inside) for about 5 seconds. It'll soften it right up. You can see below how clumpy the rings turned out when the bark got too cold. Unless you're working in a really cold environment, this shouldn't happen too quickly. You should be able to work quite a bit with the baking bark before you need to give it a quick zap in the microwave.
Step 5: Allow them to set
Once you've finished that sheet of snowflakes and rings, you'll place the baking sheet in your freezer for about 5 minutes or your fridge for about 10 to help the candy coating set.
Then you'll remove the pan and begin taking the elements off of the wax paper and setting them on a different pan (or right into the cupcakes if you've already made and frosted them).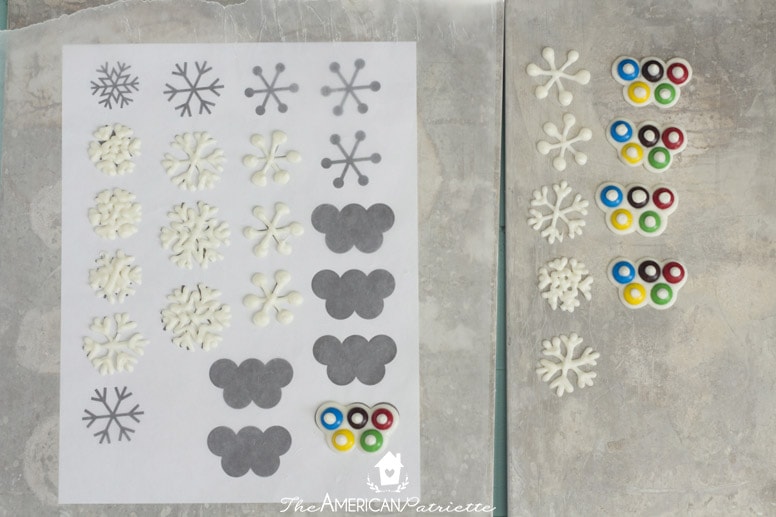 Tip: Sometimes the snowflakes break, so be aware of that and make some extras. I made several extra – it hardly takes any time – so I'd have plenty for topping off my cupcakes.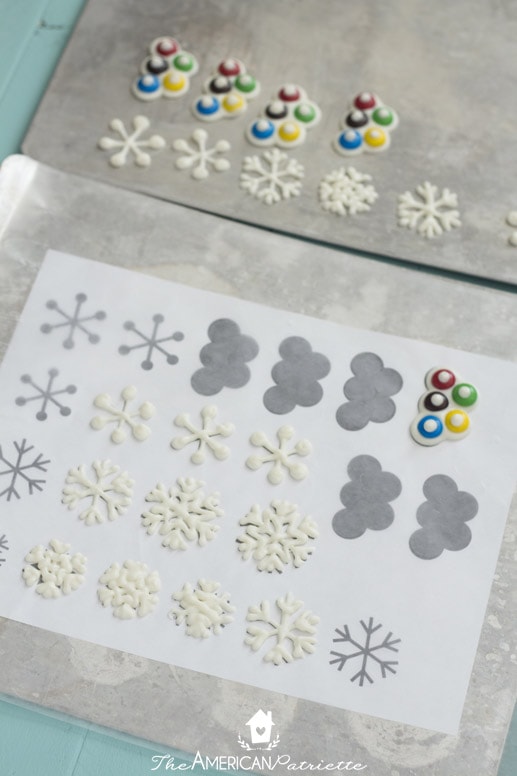 Then, depending on how many cupcakes you're making, do however many more rounds you need to make enough snowflakes and Olympic Rings. Just keep using that same stencil – no need to print more than one, and you probably don't even need to replace the wax paper since the candies come right off!
These are just so fun and festive! I can't wait for you to enjoy them with your fam while you watch the Games!
Like I mentioned, you can use any cupcake recipe you'd like for these, but if you want to use my lemon cake recipe below, you will not be disappointed. 😉
Happy gathering with folks and watching the Games! Go Team USA!
And once again, here's the paper template you'll need for making the snowflakes & Olympic rings. Enjoy!!
Winter Olympic Cupcakes with Candy Snowflakes
Additional Time:
20 minutes
Ingredients
For the lemon cupcakes:
1 box yellow cake mix
5.1 oz box instant or Cook & Serve vanilla pudding
½ c vegetable oil
4 large eggs
½ c whole milk
8 oz sour cream
6 tbsp fresh-squeezed lemon juice
Zest from 1 lemon
For the lemon buttercream frosting:
2 sticks unsalted butter, room temperature
4 c powdered sugar
4 tbsp lemon juice (juice from about 2-3 lemons)
Zest from 1 lemon
For the topping:
1/2 c sweetened shredded coconut
4-6oz white baking bark
Plain M&Ms
Instructions
Preheat oven to 350.
Using a stand or a hand mixer, blend cake mix, pudding mix, and oil together.
Add eggs one at a time, mixing between additions.
Pour in milk and continue to mix.
Add sour cream, lemon juice, and zest.
Mix until everything is thoroughly blended together, but DO NOT over mix.
Pour cake batter into gold cupcake liners in cupcake pan, and place pan oven for 20 minutes.
Check middle cupcake with a toothpick; if it comes out clean, remove the pan from the oven, but if not, let them bake a couple more minutes.
Remove cupcakes from oven. Allow to cool for about 5-10 minutes before removing the cupcakes from the pan. Place cupcakes on a cooling rack, and then make the second half of the cupcakes using the remaining batter.
For the icing, cream together the butter and powdered sugar in a stand or a hand mixer for about 2-3 minutes. Add lemon juice and zest.
Once you're finished mixing the ingredients together for the icing, pipe icing onto completely cooled cupcakes, sprinkle on the coconut, and then follow the instructions in this post for making the candy snowflakes and Olympic Rings.*
Top 'em off with an American flag, and enjoy watching the Games with family and friends!

Notes
*Click here to download the snowflake/Olympic rings paper template