Sweet Potato Chipotle Chili
I'm fairly convinced that Sweet Potato Chipotle Chili gives reason for cooler weather to even come around on the calendar. This meal is absolutely one of our favorites when the temperature dips below, what, 85 degrees?
It doesn't take much of a temperature drop to excite some Texans, that's for sure.
I've made this dish umpteen times in the last few years – sometimes I make it just for us to enjoy around our dinner table, sometimes I make it to freeze it and have for later, and sometimes I make it for a big potluck gathering we're having. It's absolutely a crowd-pleaser!
The prep is pretty simple, so let's get started!
First, peel and chop the sweet potatoes, place them in a large soup pot, and add enough water so they're submerged.  Cover the pot and place it on the stove top over medium heat – cook until the potatoes are nice and soft.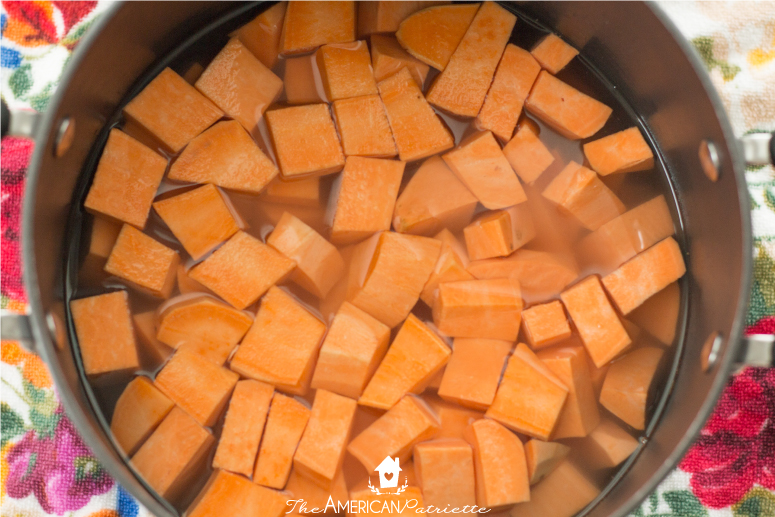 While the potatoes are cooking, you can begin browning the meat. I usually use half of a pound of lean ground turkey and half of a pound of lean ground beef, but if it's easier for you, you can stick with one or the other. I've adapted this recipe throughout the years to what it is today, and the time that Aaron said, "This is the best one yet!" was the time I happened to do half and half with the meats, probably because that's what I had in the freezer at the time. So, based on Aaron's recommendation, you'll want to do half and half, but I'm certain it would be delicious if you don't want to deal with that and just want to use one or the other!
Once the meat is about halfway cooked, add the onion and bell pepper and continue to saute until the meat is fully cooked and veggies are getting soft.
Once the potatoes are done, drain the water from the pot & leave the potatoes in there. Set aside for a few minutes.
Once the meat is fully browned, add the minced garlic, chopped chipotle peppers, adobo sauce, and seasonings. Saute for another couple of minutes. I think this helps the flavors really blend together.
Pour the meat and veggie mixture, as well as all the other remaining ingredients – the corn, beans, tomatoes, BBQ sauce, and broth – on top of the sweet potatoes in the large soup pot.
Stir it all up, cover the pot, and place over low to medium heat on the stove for about 30 minutes.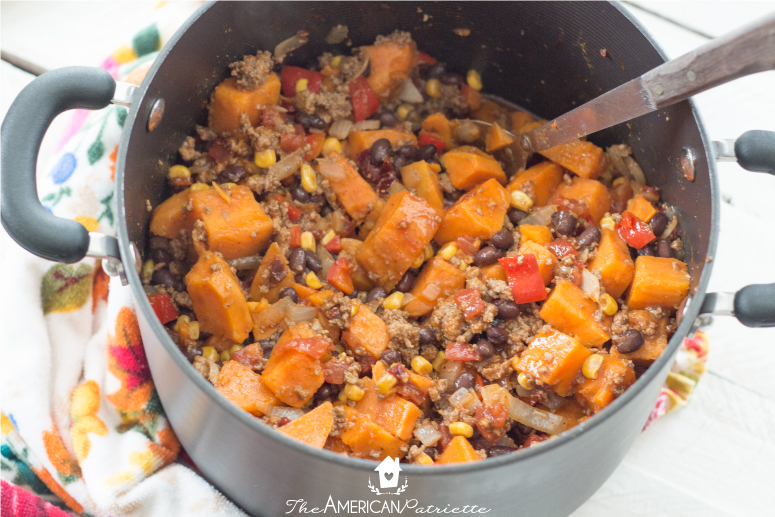 After about half an hour of all of these tasty ingredients cooking together, your sweet potato chipotle chili is ready to eat!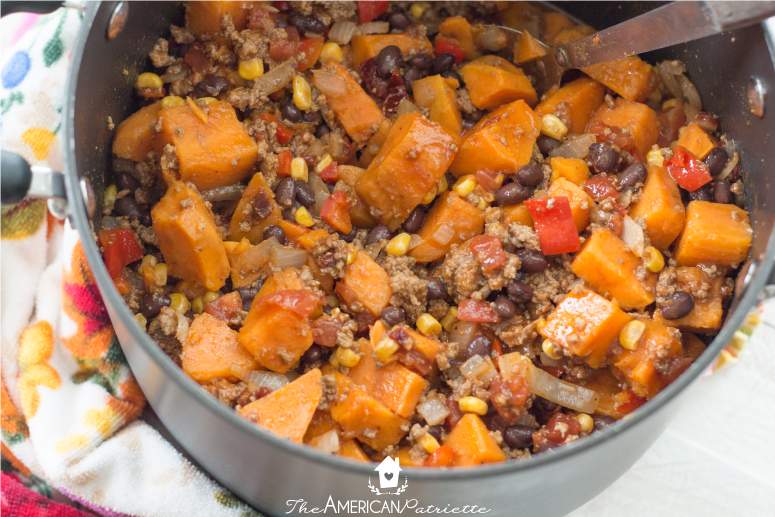 Look at all that beautiful color and texture!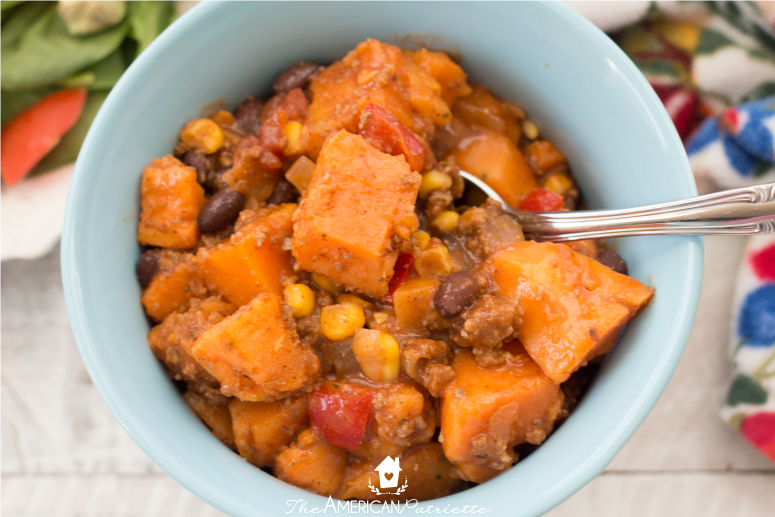 You know, I really love this chili. The flavor and heartiness are definitely two of the main reasons, but I think the other reason is that it just reminds me of spending time with people. Since I have made it so many times for group gatherings, it reminds me of fond memories I have of all of us sitting on my living room floor (because we didn't have enough kitchen chairs for everyone…we still don't…we're working on that), hanging out, shooting the breeze, and living life alongside each other. And even when I just make it for Aaron and myself to enjoy (and Elizabeth, now, too, since we think she's old enough to handle the spice!), it's so fun to sit around our table and munch on this together for supper, even if it means we're just taking a 10 minute break in the midst of a totally nutty day to reconnect over some food.
I really enjoy eating, and I really enjoy making other people happy by feeding them.  Is that a love language?
I hope and pray this same dish brings some sweet moments to your home, too!

Ingredients
4

peeled and diced sweet potatoes

bite-sized pieces

1/2

lb

lean ground turkey

1/2

lb

lean ground beef

1

sweet onion

peeled and diced

1

red bell pepper

diced

2

large cloves of garlic

minced

1

tbsp

chili powder

2

tsp

cumin

2

chipotle peppers in adobo sauce

finely chopped

1-2

tsp

adobo sauce from the can of chipotle peppers

1 14.5

oz

can diced tomatoes

chipotle style

1/2

c

Sweet Baby Ray's Honey Chipotle BBQ Sauce

2

tbsp

Worchestershire sauce

1

tbsp

Frank's or Louisiana Red Hot Sauce

2

c

frozen corn

1

can black beans

drained

1.5

c

beef broth
Instructions
Put sweet potatoes in a large soup pot and add enough water to the pot to cover the sweet potatoes. Cover and place over medium heat on the stove top. Cook until potatoes are soft, about 20-25 minutes.

In the meantime, begin browning meat in large skillet until it's only halfway pink. Add onions and bell pepper to the meat and continue to saute until meat is fully cooked and veggies are getting soft, about 5-7 minutes.

Add minced garlic, seasonings, chopped chipotle pepper and adobo sauce to meat and veggies. Continue sauteing for 2 more minutes.

Drain water from the potatoes after they're finished cooking. Keep the potatoes in the large soup pot.

Add meat mixture to pot with potatoes and add remaining ingredients - tomatoes, BBQ sauce, Worchestershire sauce, hot sauce, corn, beans, and broth.

Cover pot and place on stove top over low to medium heat for 30 minutes.

Remove from heat and serve in soup bowls.

Enjoy!