Strawberry Nutella Valentine Puppy Chow
Strawberry Nutella Valentine Puppy Chow will win over anyone's heart this Valentine's Day!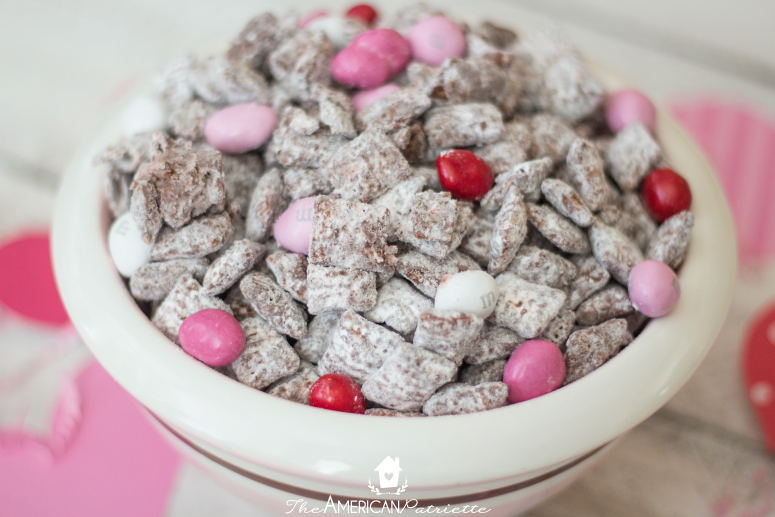 While traditional puppy chow is absolutely divine, this twist on the recipe is so yummy and definitely worth a try, especially if you're looking for a fun and easy sweet treat to serve at a Valentine's gathering or to package up in cellophane and deliver to some special people!
The secret to the deliciousness of this sweet snack is in the Nutella & the strawberry cake mix – paired together, they make this treat absolutely irresistible!
Such a fun treat to give to others!
Get the recipe below to make some to give out as your Valentine's Day treat this year (and don't forget to snack on some while you make it). 🙂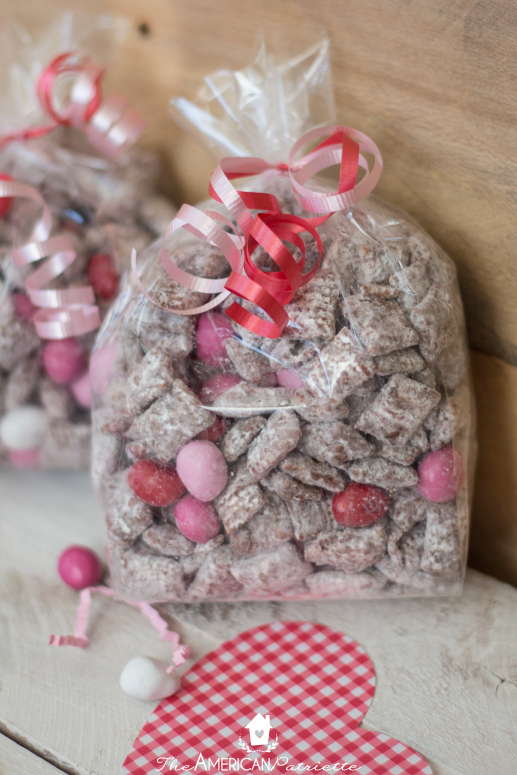 Doesn't this sound SO GOOD?! Be sure to save it to your favorite Pinterest board so you'll remember the recipe for later! Happy chomping! 🙂
Ingredients
4

tbsp

butter

1

c

semisweet chocolate chips

½

c

Nutella

10

c

Chex cereal

1 ¼

c

powdered sugar

¼

c

strawberry cake mix

the cake mix straight from the box

1

c

Valentine M&Ms
Instructions
Melt butter in large saucepan over medium heat.

Add chocolate chips and stir until fully melted.

Once chocolate chips are melted, add Nutella and stir until it's fully mixed with the melted chocolate chips.

Remove pan from heat. Add cereal and carefully stir to evenly coat with melted chocolate mixture.

Pour chocolate cereal mixture into a large plastic container or large plastic zip bag, leaving room to shake around in the container/bag.*

Add powdered sugar and powdered strawberry cake mix (straight from the box) to the cereal mixture and shake until it's evenly coated.*

Allow to fully cool before stirring in Valentine M&Ms.

Package in baggies to give as gifts or store in an air-tight container.
Notes
*Depending on the size of plastic container/plastic bag you use to coat the chocolate cereal mixture with the powdered sugar and cake mix, you may need to do half the batch at a time. You want to have plenty of room to shake the chocolate cereal with the sugar and cake mix. If you need to do this in batches, add half of the batch of chocolate cereal mixture to the container and half of the powdered sugar & cake mix, shake to evenly coat, and then pour into a separate bowl so you can use that container again to coat the 2nd half of the mix.