These spicy jalapeno, turkey, bacon, and avocado sliders are a mouthful to say, and they're also a delightful mouthful to take in. They are SO GOOD! These easy-to-make mini sandwiches are perfect for an easy weeknight dinner, a hearty appetizer for a dinner party, or a fun recipe to prepare for a potluck!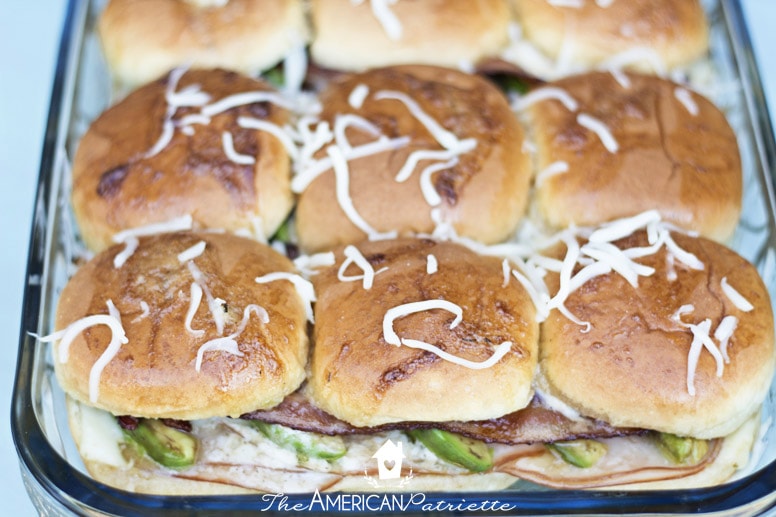 They're rich, flavorful, and spicy, but you can adjust the level of spice depending on who you're preparing these for. When I made this batch, I put pickled jalapenos on one half of the sliders and left them off on the other. As much as we're training our kiddos to love spicy foods like we do, I didn't want to go too far. 🙂
This post contains affiliate links for your convenience. You can read my full disclosure policy here. 
Cooking tip: definitely, definitely, definitely bake the bacon in the oven on a cookie sheet (these are the ones I always use – I am SO LOYAL to these cookie sheets. They are the absolute best!). You'll get the most perfectly-cooked bacon EVER if you bake the strips on a cookie sheet in the oven!
I love this method of cooking sliders in a casserole dish – such an easy way to make 12 sandwiches at a time. Y'all, they're so good. You're going to love 'em!
Have fun gatherin' round with others to gobble up these yummy sliders! If you're serving these up as a dinner party appetizer, here are some other easy snack and appetizer recipes to go along with 'em. If you want to serve these as the main dish for lunch or dinner, this strawberry spinach salad is the perfect side dish to go along with them!
Save this recipe to your favorite food board on Pinterest so you've got easy access to the recipe: 
Spicy Jalapeno, Turkey, Bacon, Avocado Sliders
Ingredients
12 oz uncooked bacon strips
1 package of 12 slider buns (I used Pepperidge Farm Sliders White Buns, but you can use whatever kind you want. If you don't want them too sweet, just make sure you don't buy sweet slider rolls.)
9oz package of sliced turkey (sandwich meat)
2 8oz packages of sliced pepper jack cheese
2 avocados
1/4-1/2 c sliced pickled jalapenos (you can use sliced fresh ones if you'd prefer)
1 stick butter, melted
2 tsp Worcestershire sauce
1 tbsp Ranch dressing
Instructions
Preheat oven to 400.
Line bacon strips side-by-side on large (rimmed) cookie sheet. Cook bacon in oven for 15-20 minutes (until crispy). Remove from oven and set aside to cool a bit. Turn oven heat down to 350. Transfer the bacon strips to a plate lined with some paper towels to absorb some of the grease.
Now we're going to start assembling the sliders. The package of slider buns will likely be connected in 2 sets of 6 buns. Slice each set of buns in half (like a hamburger bun), and set the bottom half of the 12 buns in a 9x13 casserole dish.
Layer turkey slices evenly across the buns, then layer half of the cheese (8oz) on top of the turkey.
Peel, pit, and thinly slice two avocados, and layer the avocados evenly across the cheese.
Place the jalapeno slices evenly across the cheese between the avocado slices.
Layer bacon slices across avocados and jalapenos, and then add a final layer of cheese on top of the bacon.
Place the top halves of the slider buns on top of the cheese.
Melt butter in a microwave-safe dish (or on the stove top if you'd prefer), and then stir in the Ranch dressing and Worcestershire sauce. Drizzle sauce over tops of sliders.
Place casserole dish in the oven at 350 for 10-15 minutes, or until the tops of the buns are turning golden brown.
Remove from oven and serve as a delicious appetizer or as a meal with a side salad or roasted veggies. Enjoy with family and friends around your table!