I learned a trick from my husband's side of the family for really adding some texture, beauty, and flavor to a regular 'ole fruit salad, and I just can't keep it to myself any longer!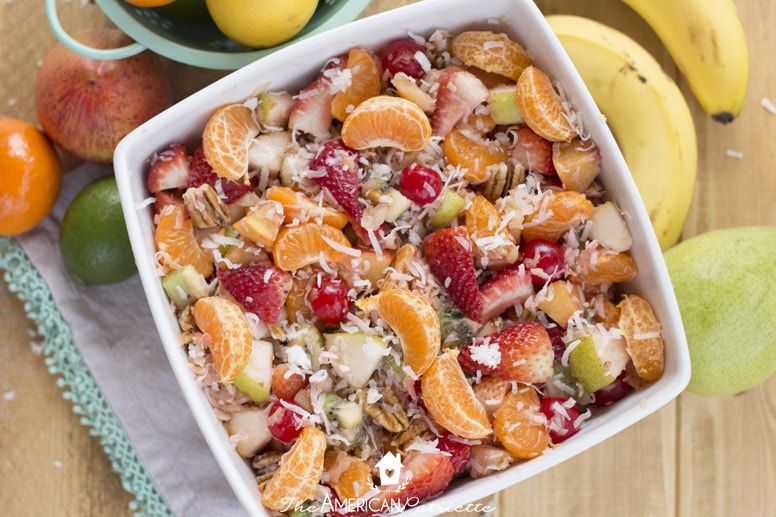 Adding four simple ingredients helps turn any bowl of fruit into a beautiful salad.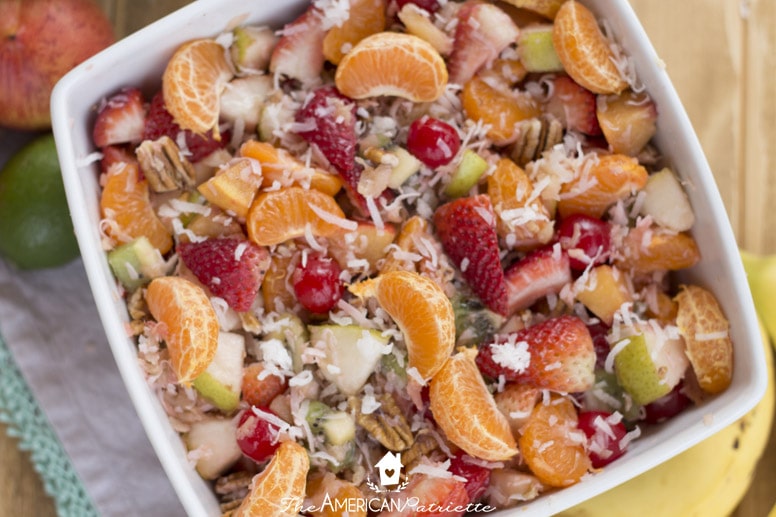 And it couldn't be easier! Just add these four ingredients to make a simple fancy fruit salad: maraschino cherries, sweetened coconut flakes, pecans, and some crushed pineapple.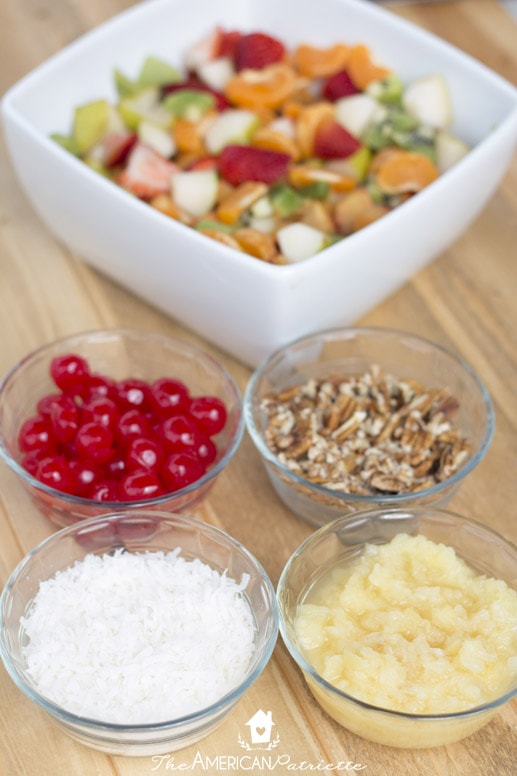 Hardly any prep work involved to add these ingredients! You just pour 'em out of the jar/can/package and pour 'em right into the fruit salad you've prepared!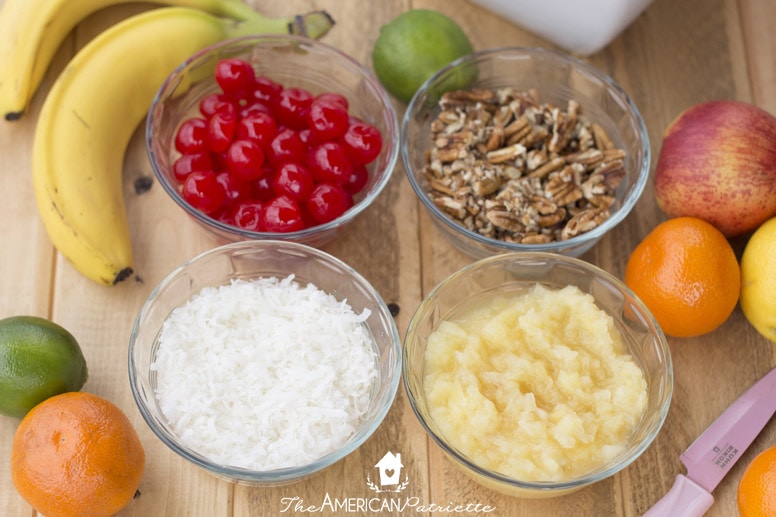 Here's the fruit salad before…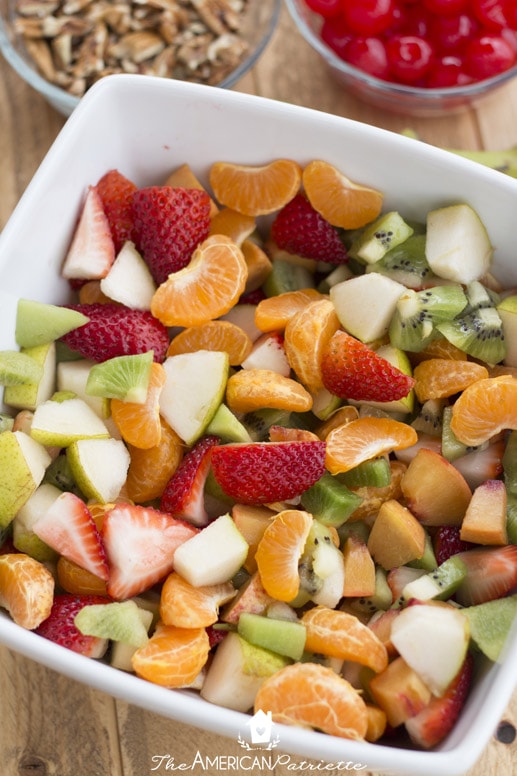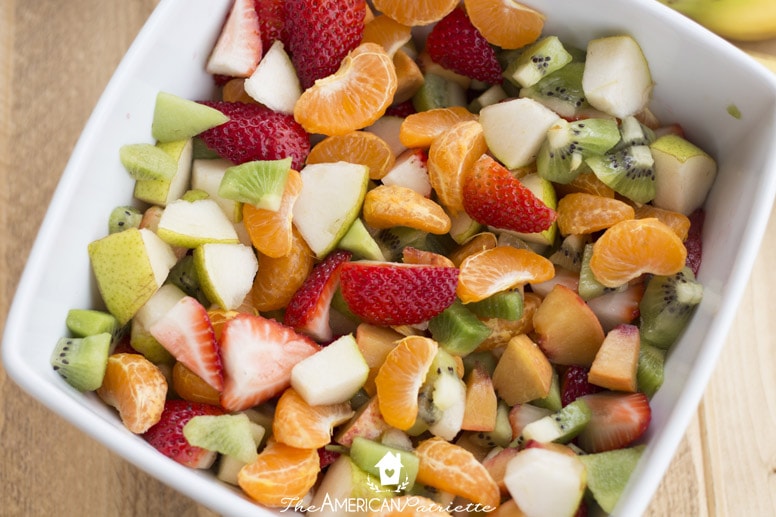 And after! Look how much those ingredients dress it up! And oh my, the flavor. So good. You can use pretty much any fruit you want in the salad – I just use whatever is in season. Those four ingredients go well with just about every fruit!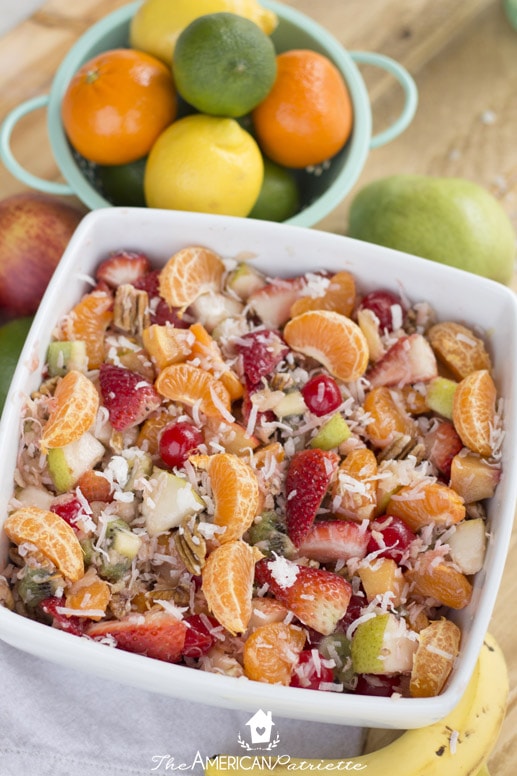 I don't know about you, but texture in food is a big deal to me. I love it when it's easy to accomplish. 🙂
This is the perfect way to dress up a fruit salad for a lovely brunch, bridal shower, baby shower, or to have something a little extra special (with only a little extra effort) for breakfast when company comes to visit.
Just a note before you make this: wait until you're almost ready to serve the fruit salad before pouring in the four extra ingredients. The coconut and pecans will soak up the juices from the fruit and won't give the salad the same texture and beautiful pop of color if they soak in the salad for a while before serving.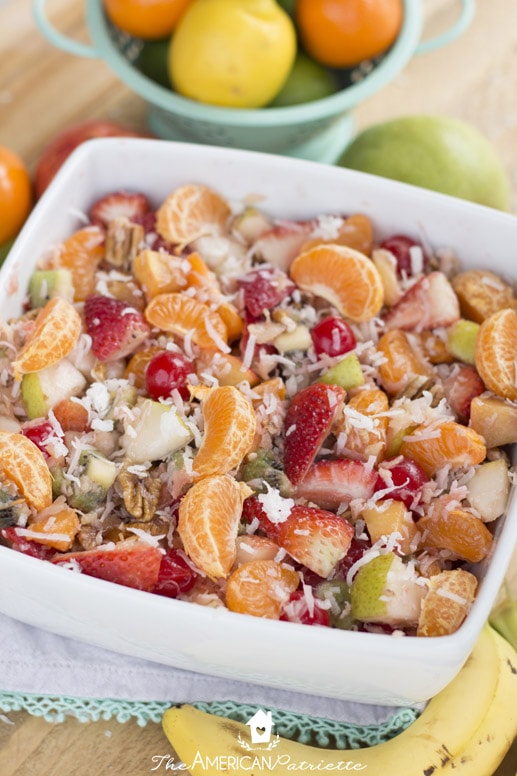 Gather 'round and enjoy some fun conversation while you munch and brunch. I love finding simple ways to dress up foods!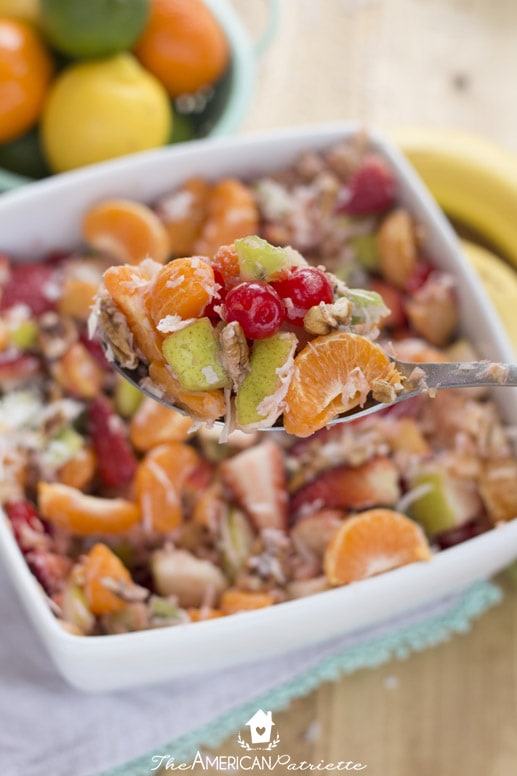 Simple Fancy Fruit Salad
Ingredients
About 6-8 cups fruit salad (fresh fruit salad made from any combination of seasonal fruit - apples, oranges, kiwi, grapes, peaches, nectarines, mangos, strawberries, blueberries, blackberries, pears, melon, bananas, etc.)
1 c chopped pecans
1 c sweetened shredded coconut
1 c maraschino cherries (without extra cherry juice)
1 c canned crushed pineapple
Instructions
Prepare fruit salad with any kind of seasonal fruit you want.
Pour in extra ingredients: chopped pecans, coconut, cherries, and pineapple just before serving.
Notes
Depending on the type of fruit you use in the salad, you can prepare part of the salad ahead of time, but don't add the other ingredients until you're about ready to serve the dish. The coconut and pecans will really soak up the juices in the fruit and won't have as much crunch/texture if it sits in the bowl with the chopped fruit for several hours.