Red Velvet Texas Aggie Cookies
Howdy! If you're not an Aggie, have you ever met one? Believe me, you would know if you had. They would have surely told you. We Aggies really love being Aggies, and Aggies are going to love being Aggies even more after making and eating these red velvet Texas Aggie cookies! They're easy to make, absolutely delicious, and they come out of the oven MAROON. #theonlycolorthatmatters
My toddler likes to draw more than she likes to do just about anything else. I got new colored pencils for us to use the other day, and that pack happened to come with a maroon pencil. Guess what she calls it? Not burgundy, not maroon, but "Aggie color."
Let's get started on how to make some "Aggie color" Gig 'em-shaped cookies! (And I'll show good sportsmanlike conduct here: if you don't happen to be an Aggie, my deepest sympathies to you, but take heart because you can apply this same technique to making cookies that celebrate your university, too. I use a different cookie recipe for this one since I want them maroon, but I use the exact same method of making these cookies as I use to make my chocolate chip M&M Texas cookies). Also, need these special cookie cutters?! See the bottom of this post – I've gotcha covered!!
Here we go! Preheat the oven to 350. Prepare your cookie dough (recipe below) and place the entire slab of dough on a non-stick cookie sheet (mine is about 17″ x 12″).
Spread it out as much as you can using your hands or a spatula. If you look at the picture below, you'll see that there are small holes here and there in the dough – that's ok. They'll fill in when the dough expands as it bakes.
Sprinkle some powdered sugar over the top.
And place the pan in the oven for 12 minutes.
Of course I bake my Aggie cookies for 12 minutes. #12thMan
Once your big pan of cookie comes out of the oven, allow to cool for about 5 minutes (but you don't want to let it cool for too much longer or else it'll be more difficult to cut with the cookie cutters). Gather your Fightin' Texas Aggie cookie cutters and let the fun begin!
Press your cookie cutter into the cookie…
…and that shaped cookie will likely come right off the pan! If not, as you see below, press the cutter all the way into the cookie, wiggle it a little bit so the shape separates a bit, and then you can pick it up with a spatula. Place the cutout cookies on a cooling rack.
Yum! In-betweens! My favorite reason to make cookies using this method! (More about the delightfulness of in-betweens here.)
Look at all those fun Aggie cookies!
After you cut them all out, you can absolutely choose to leave the cookies just as they are, but I like adding the white outline & the block ATM with some melted white baking bark. This is what I always use when I need to use baking bark for anything – candy, truffles, candy-coated popcorn, etc. It's usually the least expensive option, it melts REALLY well, and it's delicious.)
I melted one block of the baking bark, scooped it into a sandwich baggie, cut a small hole in the tip of the bag, and went to town with decorating. Once you get the hang of it down, this is very easy to do – you just need a steady hand.
And naturally, I may have snacked on some in-betweens while I decorated the cookies.
Whoop! There you have it! Make these cookies for a tailgating party, a Ring Day get-together, or a graduation party! Or, really, make them for anything – we don't really need to have a specific reason to celebrate. It's always a good time to celebrate being an Aggie.
This post contains affiliate links for your convenience. You can read my full disclosure policy here. 
If you love this recipe, try out my lemonade cake mix cookies, too. The recipes are very similar to each other. The lemon ones are melt-in-your-mouth delicious! If you make these Aggie cookies, be sure to take a picture and share it with me on Instagram – I'd love to be part of your Aggie celebration!
Looking for your own Aggie or Texas cookie cutter? Here are some options for ya!
Not an Aggie? I'm sorry. 🙂 Here are some sports-shaped cookie cutters. Use the search bar to search for shapes more specific to your alma mater!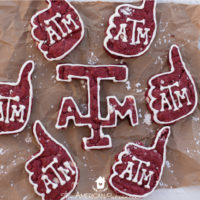 Ingredients
1 16.5

oz

box red velvet cake mix

1

stick unsalted butter

softened

2

eggs

1

c

white chocolate chips

1-2

tbsp

powdered sugar
Instructions
Using a stand or a hand mixer, mix together the cake mix and the butter.

Add eggs one at a time and mix between each addition.

Scrape the sides and bottom of the bowl using a spatula and continue to mix until those three ingredients are fully blended together.

Pour in the chocolate chips and stir until they're evenly mixed in.

Place all of the cookie dough in the center of a non-stick cookie sheet (mine is about 17"x12") and evenly spread with hands or a spatula to cover most of the pan with the dough.

Sprinkle powdered sugar (start with 1 tbsp, but you can use 2 if you'd like) over the cookie dough.

Place pan in oven for 12 minutes. Do not over bake!

Remove pan from oven and allow it to cool for about 5 minutes.

Begin cutting cookies with Aggie cookie cutter - if the dough is sticking well to the cutter, you can transfer the cookies straight from the cookie cutter to a cooling rack. If not, then use the cutter to cut the shapes out of the dough, but remove the shapes with a spatula once the cookies have cooled a bit more. (I usually don't have any issues getting the shapes from the pan to a cooling rack, but it's occasionally easier to remove the in-between pieces before transferring the shapes to the cooling rack).

Continue cutting them until you run out of cookie on the pan.

Decorate with white baking bark if desired and enjoy!*
Notes
The prep time: probably about 10 minutes to prepare the dough for baking and about about 20 minutes to cut all of the cookies out & decorate them.[br][br]*If you want to decorate with baking bark, I use "Ambrosia White Candy Bark" from HEB, but you can use any brand you'd like. I melt one cube of it, place it in a sandwich baggie, cut a small hole in the tip of the baggie, and then pipe out the melted candy bark to outline the cookie and then draw the block ATM. One cube of melted candy bark should be enough to decorate all of the cookies in the batch.