This dish of pesto orzo with chicken, broccoli, and beets is so easy to put together for a delicious, healthful meal!
Plus, just look at that color combination! Don't tell me you don't love a meal even more when the food is beautiful. I'm a big fan of colorful food, and not just in the form of M&Ms.
Here you can see all of the texture in there without the Feta on top. I would definitely recommend serving this with Feta cheese, though – it packs that perfect savory and salty punch.
This does contain a controversial food: canned beets. But gosh, they just make this dish so tasty and beautiful. I was one of those weird kids that really loved eating canned beets. I've also always been obsessed with olives – I remember grabbing a jar from the pantry or fridge and snacking on them like potato chips while watching cartoons.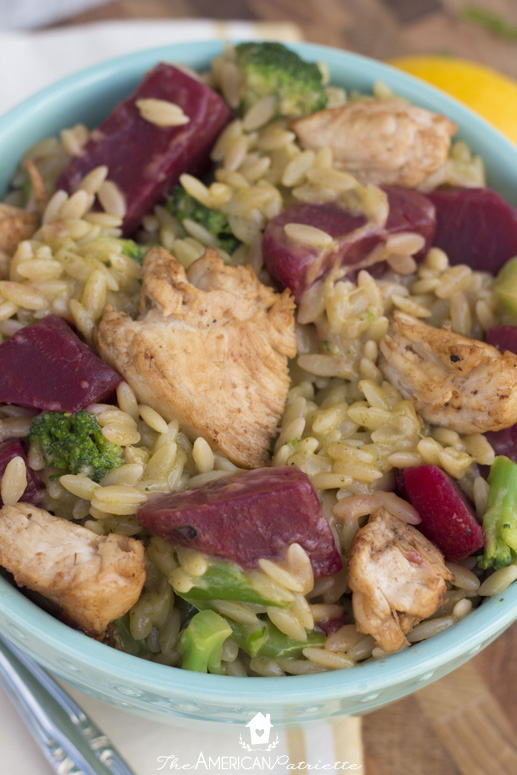 I know what you're thinking. You're so sad you missed out on being friends with me when we were younger.
I still love olives, but good golley, now that I know how much a jar of olives costs, you will not find me feasting on them like I would a bag of popcorn in front of a great movie.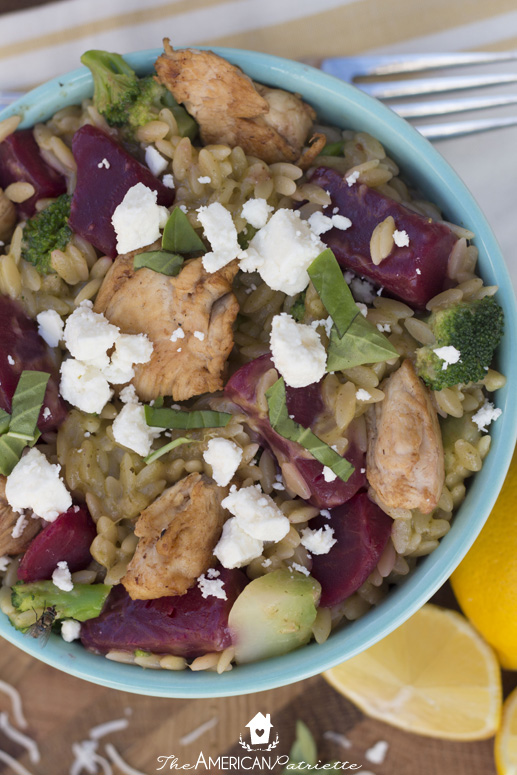 Anyway. I was playing around in my kitchen the other day and came up with this concoction. It's yummy, easy to throw together, and so healthy for you! It doesn't call for a zillion ingredients, and most of these I'd have in my pantry or my fridge anyway, so again, just an easy weeknight meal to throw together.
My 2.5-year-old digs for the beets in her bowl when I make this recipe. #mamasgirl
Enjoy this delightful meal with your family around the dinner table!
Serve it alongside this delicious strawberry spinach salad and you're sure to get lots of hugs by the end of supper! 🙂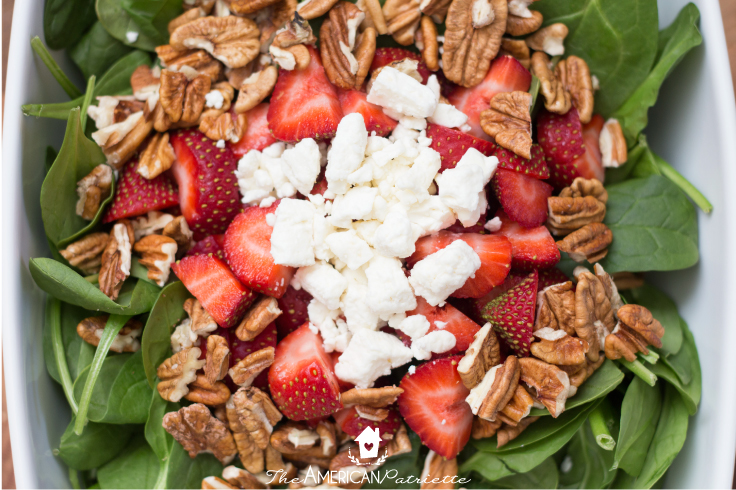 Pesto Orzo with Chicken, Broccoli, and Beets
Ingredients
2 c chicken broth
1 c dried orzo
1 tbsp butter
Juice from 1 lemon
1 lb raw chicken breast
1 tbsp basil pesto
1 c shredded Mozzarella cheese
1 15oz can cut beets, drained
16 oz steamable bag frozen broccoli*
Feta cheese for topping
Instructions
In a saucepan over medium heat, bring 2 c chicken broth to a light boil. Add orzo and cook for 15 minutes or until orzo is soft, stirring intermittently. The orzo should soak up all of the chicken broth.
Meanwhile, melt butter in a skillet over medium heat. Add chicken breast and brown on both sides. Squeeze lemon juice over chicken and continue to cook until chicken is no longer pink in the middle. Set aside.
When the orzo is finished cooking, remove saucepan from heat. Stir in pesto and Mozzarella.
Steam broccoli in bag according to package directions. (If you're using fresh broccoli, steam broccoli until tender.)
Add cooked broccoli and drained beets to orzo mixture and stir.
Cut chicken into bite-sized pieces and add to orzo mixture.
Spoon pasta mix into bowls and top with Feta cheese.
Notes
*You can also use fresh broccoli for this, but to make this dish even simpler to assemble, frozen broccoli in a steamable bag is just fine!