When life gives you lemon cake mix, make lemonade cookies! Mmm-mmm! These cookies will make a perfect addition to your Memorial Day celebration this weekend!
In consideration of Memorial Day this weekend, I wrote a post on how to send these via snail mail to loved ones – go check it out if you're interested in sending these cookies (or other cookies!) to brighten someone's day!
Let's get started! Here's what you'll need (full recipe is at the bottom of the page):
Using a stand or a hand mixer, cream the butter and cake mix together. Add eggs one at a time and then fold in the white chocolate chips.
I managed to forget to take a picture of the bowl of cookie dough before moving onto the next steps. Use your imagination?
Using your hands, scoop out a little bit of the dough.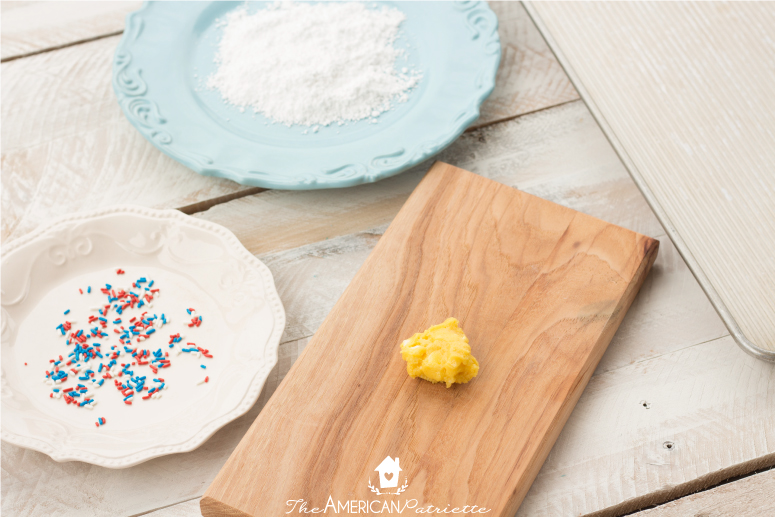 This picture cracks me up a little bit. Such a lonely looking little piece of dough.
Roll the dough into a ball and then roll it in some of the sprinkles on the plate. You only need sprinkles on the top part of the dough ball.
But I don't think anyone will be overly upset if you cover the entire cookie in sprinkles.
Next, roll the ball of dough in the powdered sugar.
I roll the dough around in my hand a little bit to shake off some of the excess sugar.
We try to watch our sugar intake around here, people.
And let me tell you, I've made a couple of batches of these cookies this week and I've watched my husband intake a lot of sugar.
I messed up the first batch of these cookies for photos so I had to do a redo for this post.
I cried.
Aaron rejoiced.
So. Many. Cookies.
Once you've got your cookie pan full, pop it in the oven for about 8 minutes and then they're ready to eat or deliver!
These cookies will perfectly compliment any BBQ or backyard shindig this weekend for Memorial Day!  As we celebrate freedom this weekend, let's take a moment to remember those who fought for that precious gift. And it is so precious.
And I am so thankful.
Cake Mix Lemonade Cookies
Ingredients
1 stick (8 tbsp) unsalted butter, slightly softened
1 box (16.5 oz) lemon cake mix
2 eggs
1 c white chocolate chips
1/3 c powdered sugar
red, white and blue sprinkles (optional)
Instructions
Preheat the oven to 350
Using a hand or stand mixer (use the paddle attachment if you use a stand mixer), begin creaming the butter
Add cake mix to the butter and blend for about 10-15 seconds
Beat in eggs one at a time
Once the dough is thoroughly combined, gently mix in or fold in chocolate chips until they're evenly combined throughout the dough and turn mixer off
If you're using sprinkles on the cookies, pour the sprinkles onto a plate and set aside
Pour the powdered sugar onto a plate or in a shallow bowl and set aside
Going back to the cookie dough, use your hands to scoop out a small piece of dough and roll into a ball
Roll dough ball to lightly cover it in sprinkles
Roll dough ball in powdered sugar. Using your hands, brush or roll of excess sugar and place dough ball on nonstick cookie sheet.
Repeat steps 8-10 to fill the cookie sheet (12 cookies). Place in oven for 8 minutes.
Continue until you run out of dough! This recipe makes about 2 dozen cookies.
Enjoy as a delightful summertime treat!