Looking for fun board game ideas for family game nights or to add to your collection when you're planning game nights?! Here's a list of our favorites!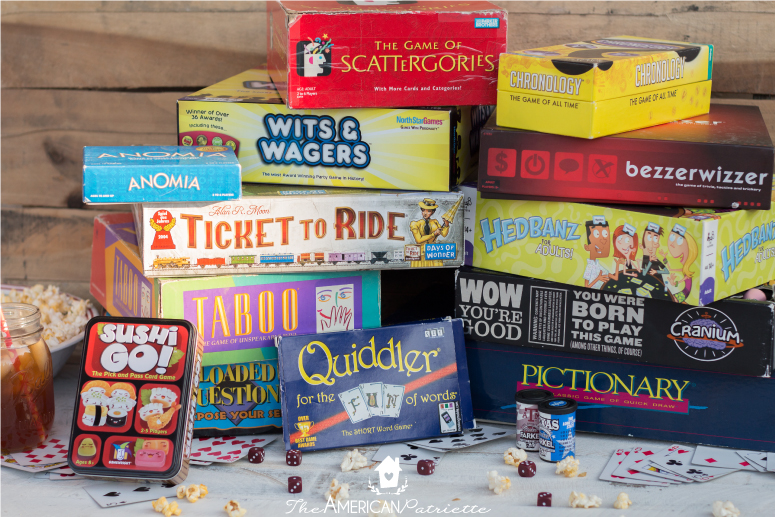 If you're looking for a game to play with friends and family, here are our 14 favorite group board games to play. Most of these are fairly competitive, while some of them are just enjoyable to play but don't necessarily require tons of strategy or competition. While Aaron and I really enjoy playing dominoes (particularly 42) and certain card games, we also really enjoy board games – they're great for groups and for conversation and connecting with others! Here's the list of our favorites!
This post contains some affiliate links for your convenience. You can read my full disclosure policy here.
This post has been updated to include our VERY FAVORITE board game right now: Codenames. I'm telling you, you NEED THIS GAME. IT IS SO FUN, and it is a BLAST to play with people. Perfect for all ages (above about 12 years old) and such a fun game to play over and over (AND OVER!).
We got this game after I wrote this original post, so it's not included in any of the photos. But, it's one of the only games we play now when we're with people…it is THAT fun! Go get yourself a copy on Amazon Prime!
Ok, onto the regular list…:)
Quick & fun games that don't require a lot of strategy:
Looking for fun games that don't require you to hire someone to read the rule book to you? All of these games are pretty simple to understand and don't take a lot of time to play. Great to incorporate into a big to-do of a game night, but also great for just a quick game on a weeknight if you're looking for something entertaining to do with your family after supper!
3-6 players
Ages 10+
A quick and fun word association game where players compete against each other to offer the quickest and most creative answer. It probably takes 15-30 minutes to play, but you can play over and over again – we definitely played over and over again the first year we got the game! You can play with as few as 3, but I think it's more fun to play with more people. Great family or party game!
2+ players
Ages 10+
A game full of fun trivia about history. It's definitely a bonus if you're a history buff, but because there are so many random tidbits of information in the game, even those who aren't incredibly familiar with history can enjoy it. This is a more mellow game if you're looking for something to enjoy each other's company and pass the time, but not get too carried away with energy levels! Depending on how many people are playing, this probably takes about 20-30 minutes to play.
2+ players
Ages 8+
A simple gambling-with-your-score dice game. Incredibly simple concept, but there is enough strategy to make it fun and entertaining. Each player's turn goes by quickly, so you can play a hand of this game, depending on how many people are playing, in 15-20 minutes.
2-6 players
Ages 8+
Such a fun card game! Once you get the hang of the game, a full game (three rounds) only takes about 15-20 minutes. Very easy and fun for lots of ages! Instead of reading the directions, you can look up a YouTube video for a quick way to learn how to play – I bet it wouldn't take you more than a few minutes to learn the rules that way! Here's one that I found – it's less than 5 minutes long, and you don't even need to watch the first or the last minute of the tutorial!
Games that require a little more time & strategy:
Each of these games probably takes at least half an hour to play, but one of the great things about them all is that you can easily get up to get refills on snacks/drinks and chat between rounds. These are all fun and stimulating to play, but they're also great for interacting and spending time with the other players!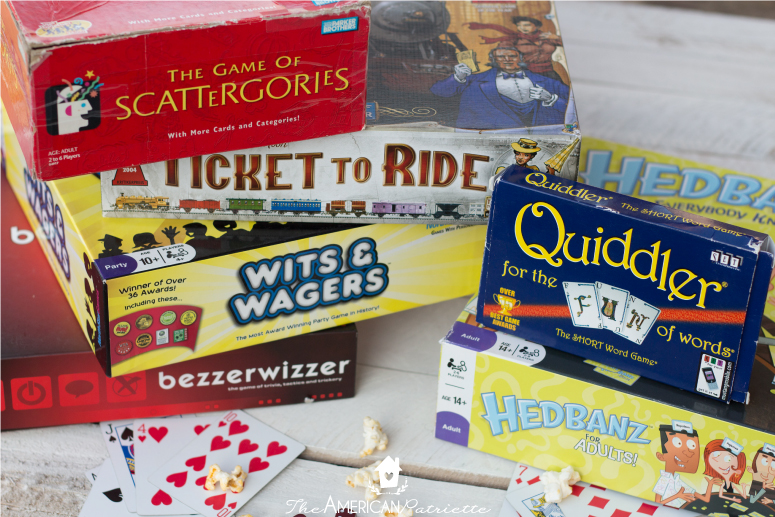 The game would say this is for 2-4 players, but you can actually easily play with more than that and just choose to make teams. We almost always make teams of 2-3 for this game when we play.
Ages 10+
This game is full of random trivia from numerous categories (art, history, sports, entertainment, culture, food and drinks, literature, media, politics, etc.), but it's way more fun and the trivia is much more reasonable than other trivia games out there. The rules of the game also allow for more interaction between players/teams. This game probably takes about 30-45 minutes to play.
The box says 2-6 players, but you can easily play with more!
Ages 10+ (unless you play the kid version)
This game is essentially 20 questions in a box. My husband loves this game, and because of the nature of the game, the players can be up moving around throughout the entire game (i.e. it doesn't require you to sit still around a table for the entire time). This is a great game if people want to play but know they're going to get distracted during the game (maybe they're cooking supper for the group, keeping an eye on kiddos, etc.) – they can easily play in the midst of doing some other things!
2-8 players
Ages 8+
Quiddler is a super easy-to-learn game that simply requires you to make words from the letter cards you draw. With each successive round, you gain an additional card in your hand (so round 1 you start with 3 cards, round 2 you have 4 cards, round 3 you have 5 cards, etc.). This game is also conducive to conversation and doesn't require a ton of concentration, but it is still challenging and competitive.
2-6 players (though you can play with more if you want – players can just share the category cards and go without a little game tablet to hide their answers)
Ages 10+
I'm sure most, if not all of you, have played Scattergories before! I definitely think this is a traditional family/group game that's been around for a while, but it's really fun! This one does require more concentration since the rounds are timed and you can't talk with others during a round. It's a great competitive game that requires you to think outside the box, if you will (someone please appreciate this pun).
2-5 players
Ages 8+
I bought this game for my husband for Christmas a couple of years ago when we were expecting our first daughter. She was due just before Christmas, and I knew with a newborn, we weren't going to be getting out much! I heard this was a fun game for just two people, so I got it to keep us entertained in the house as we simultaneously lost sleep and lost our minds with being clueless first-time parents! It's proven to be a really fun game for just the two of us, but we also played a lot with others when they came over to meet our new daughter! We've played numerous times since then. Overall, the concept of the game is easy to grasp, but the game play is a fun challenge.
3-7 players
Ages 10+
There's a reason this game has earned so many awards! It's a great group game – makes you think, but it's also very friendly to having conversation and just hanging out with your family/your guests who are playing. It's packed with fun trivia, some of which players might know, but most of which is not necessarily common knowledge. The trivia is fun to guess and learn. This game is very entertaining!
Quintessential party games:
You play on teams for Cranium, Pictionary, and Taboo, and play solo for Loaded Questions, but all of these games are really fun, a great way to get multiple people involved, and are incredibly interactive and competitive. These are definitely our favorite board games for groups!
4+ players
Ages 12+
This game is a conglomeration of other games – it requires some drawing, charades, trivia, and other guessing-type activities. It's a really fun group game and a great way to connect with not just your teammates, but the other players. Easy to learn, fun to play, and quite competitive!
4+ players
Ages 12+
This is probably my favorite board game for game night! We played this a lot in college – for our game nights with our friends, and also for our game nights with Aaron's side of the family. You play as individuals in this game, but everyone has to interact with each other. It's really fun for a group of people who know each other well, and it's actually pretty fun (and funny) to play with people who don't know each other well – there's a lot of guessing going on in the latter group! This game requires you to guess what other people would put down for their answer to a specific question. It's a blast, and we've had tons of laughs playing this game throughout the years!
4+ players
Ages 12+
Super competitive drawing game! Yet another common game I'm sure most have played at some point. I played this game with my aunt and uncle a ton as I was growing up, and I've played this a lot with Aaron's family. It can get really competitive since the game cards require you to compete not only against the timer, but also against other teams so often throughout the game. This game brings back a lot of memories and it's still one of my favorites!
4+ players
Ages 10+
I feel like Catch Phrase has kind of taken over as the replacement for Taboo, but I much prefer Taboo! It's a timed word-guessing game, and I love the challenge that it brings! It's great for a large group of people – you could play with several teams and several players on each team.
AND! If you're looking for additional ideas for really fun and interactive group games that don't require any kind of game board (or purchasing anything at all!), head over here to get ideas for 4 more fun games that require items you probably already have in your house! I created a free printable that includes the instructions for each game – just download it, print it out, and figure out which one(s) you want to play at your next get-together!
What are your favorite board games that we need to add to our collection? We are always on the hunt for new fun ones to play, so if you've got a favorite that I haven't mentioned, please share it in the comments!