Must-Have Kitchen Gifts for Your Christmas List
I love this time of year – the smells, the weather (when Texas weather does actually cooperate and get the memo that it's supposed to be below 90 degrees), the festivities, the colors, and THE FOOD. It's all so fun! This is the time of year when we probably spend even more time in the kitchen, and this is also the time of year when people are asking what you want for Christmas, and you're not really sure how to answer that question.
Because we spend so much time in the kitchen preparing foods for those we love and gather at our tables, it's important to have items you love to use that help you prepare those nourishing meals and yummy treats. Here are the items in my kitchen that I use very regularly and absolutely love! If there's something on this list you don't already have, here's some help in building your own little Christmas list. Looking for Christmas gifts for mom or mother-in-law? Or sister/sister-in-law? Daughter? A friend? Here's my list and why I love each one!
This post contains affiliate links for your convenience. You can read my full disclosure policy here. 
This was our absolute favorite wedding gift several years ago. We use this thing ALL THE TIME in the summer, and even somewhat regularly during the winter months. People should not be allowed to make ice cream as often as we do! Modern ice cream makers are the best – so easy to clean and so easy to make ice cream. Absolutely no hassle! (It's almost just as easy to make the ice cream as it is to eat it!) This one is our ice cream maker – we've literally used it dozens and dozens of times and for years, and it's still going strong. I noticed that Cuisinart has since come out with an updated version, which means that the version we have is MUCH cheaper now. Bonus!
We make homemade ice cream for ourselves on occasion, but it's just such a great item to have for when we have company. Such a treat to make others homemade ice cream and share it together! I have two homemade ice cream recipes on my blog – pie-scream (easy homemade pie ice cream) and chai-scream (homemade chai latte ice cream) – and I have intentions of sharing a lot more next year! 🙂
WHAT WOULD I DO WITHOUT THIS THING?! My KitchenAid Stand Mixer is like an old friend. We've made so many things together. I've had mine since 2007 (and it was a refurbished one, so there's no telling how old this thing is), I've probably used it 1-2x per week since then, and it is STILL going. I know it's typically the cost that turns people away from these things, but I'm telling you (and believe me, I'm a thrifty gal), it is absolutely worth it. It's been such a blessing for my family and for so many others – because having it makes it so easy to bake, it's very easy to make cookies to brighten someone's day, whip up a quick cake for last-minute company, make some brownies to bring to a fun gathering, you name it!
Here are a few of the zillions of Fall/Thanksgiving & Christmas treats I've made with my mixer – Pumpkin Apple Butter Cupcakes, Triple Chocolate Peppermint Cookies, & Chocolate Red Velvet Poke Cake.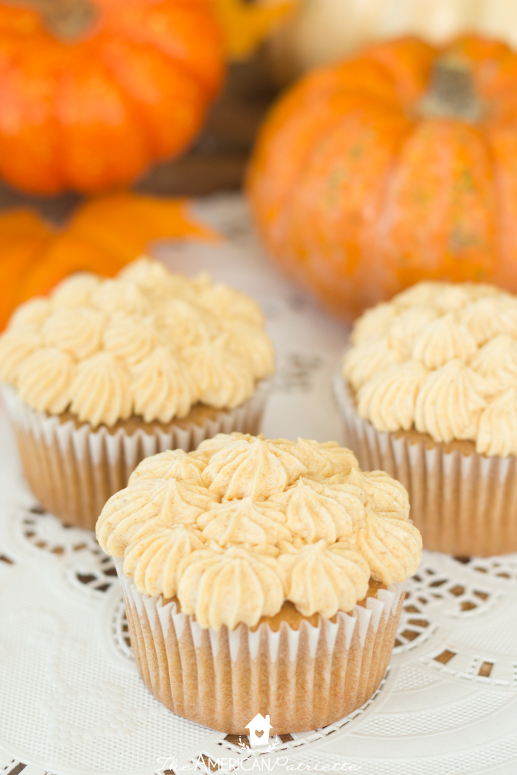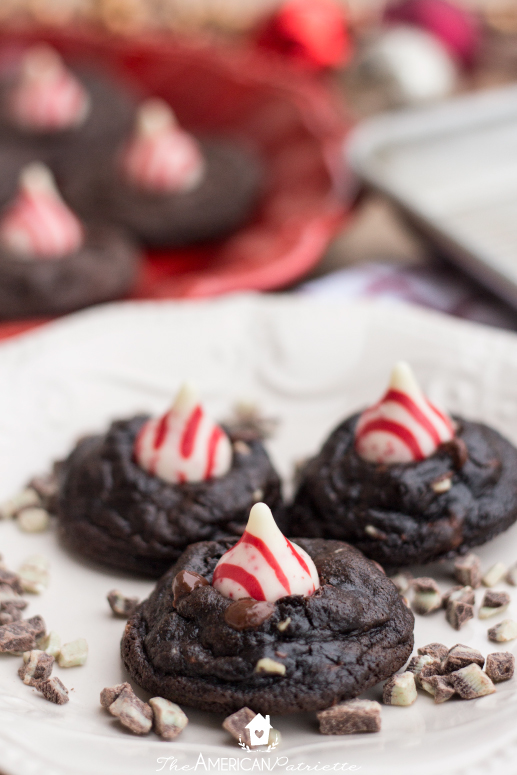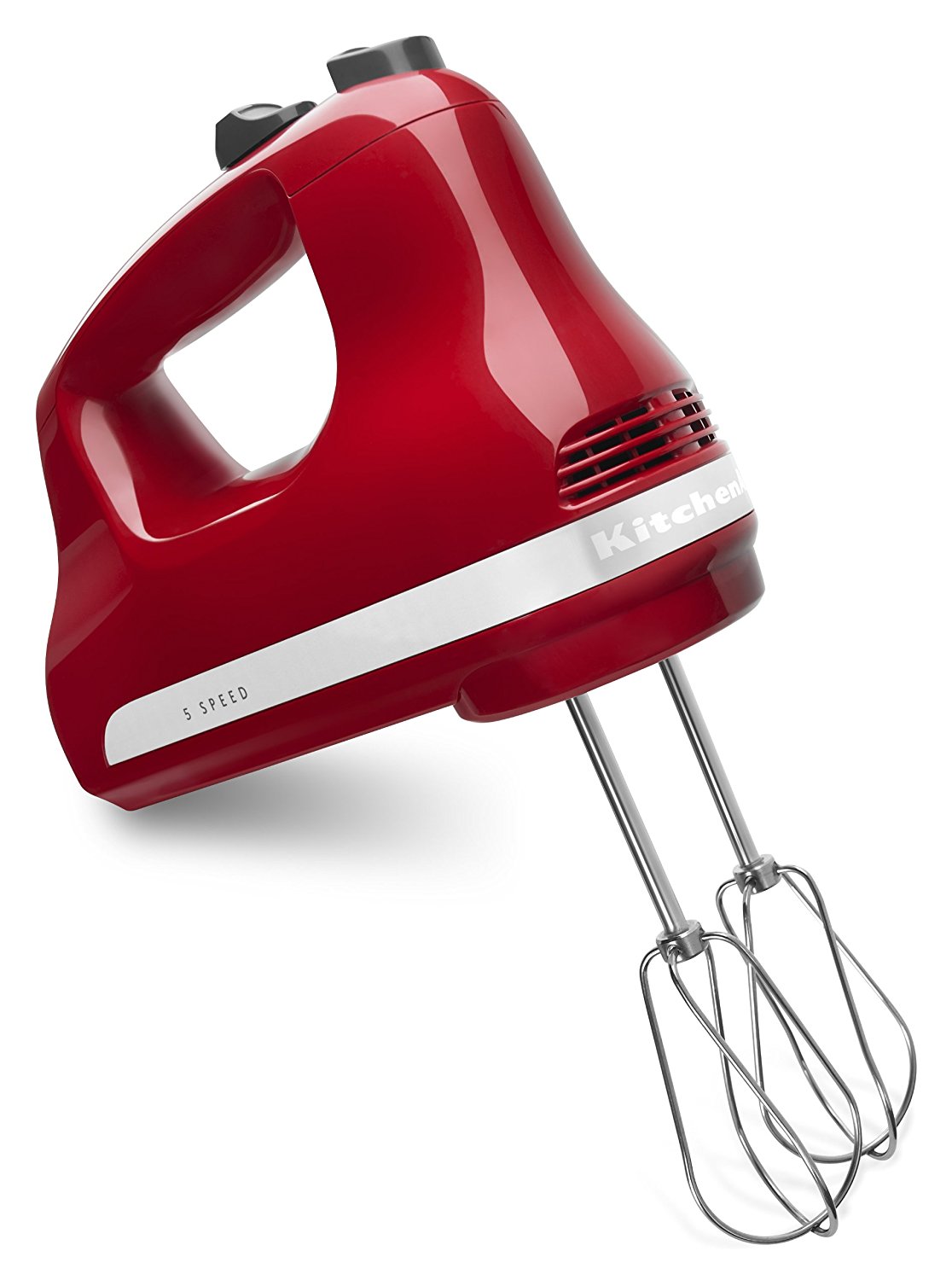 I know it seems a little excessive to have both a stand mixer and a hand mixer, but with as often as I cook and bake, I find having both of them so useful. For one, it's nice to have a hand mixer when I'm doing a lot of cooking/baking in one day, but two, I love having this smaller mixer when I'm making smaller things like icing, mashed potatoes, and guacamole. I use my hand mixer every time I make my guacamole, and it makes it so creamy! Having both is totally worth it to me and my kitchen!
4. Ninja Master Prep Food Chopper, Blender, and Food Processor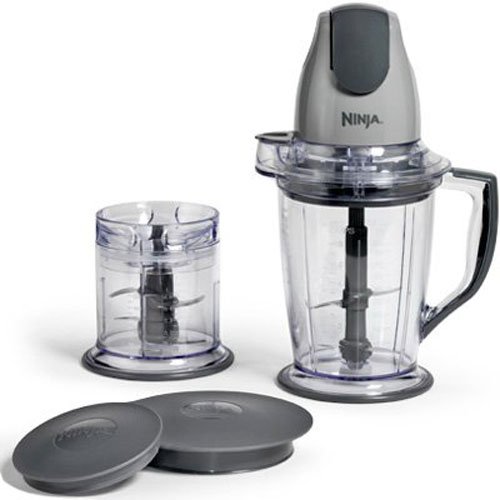 I LOVE MY NINJA. And y'all, it is so inexpensive on Amazon! It is, by far, the best blender I have ever owned, and I can use it for so many things! I use it to make smoothies, milkshakes, graham cracker crust for my pies, and to make my homemade salsa. I've used it countless times to make my kids' baby food. I have recommended this exact tool to everyone who's asked me about a blender or a tool to puree food – I absolutely love it, and I cannot get over how inexpensive it is!
Best. Baking. Pan. Ever. Oh my gosh, I absolutely love these baking pans/cookie sheets! Y'all, I make a lot of cookies, and these pans make it so easy to do so. I recommend them to EVERYONE. They're non-stick and cookies just pop right off of them. All of my cookies bake really evenly on them, too. Cookies come off really chewy, and they leave NO mess. Absolutely no scrubbing required when cleaning these pans – you run a washcloth over these and they clean right up. I have two that I've had for years, and they're just as durable today as the day I got them. (And bonus: they're made in the USA!) You can see how cleanly my Texas cookies came right off the pan after I cut them out. Take it from me, these pans are awesome. 🙂
6. Hamilton Beach Flex Brew Coffee Maker
Oh my goodness, this coffee maker is so fun! We were really wanting a coffee maker that brewed K-Cups for when we had company (it's so fun for us to offer choices for people), but I cherish my counter space and didn't want to have two different machines. We weren't willing to give up our carafe – we brew too much coffee to just use K-Cups. Our regular coffee maker was on its last leg, so I started doing some research on combination machines (that didn't cost us our life savings). I found this one for such a good deal and we've absolutely loved it! It brews 12 cups of coffee in the carafe, you can brew K-Cups in the single serve, and you can also brew loose grounds in the single serve side in the refillable single-serve unit. You store the single-serve unit in that little compartment on the single-serve side – so handy!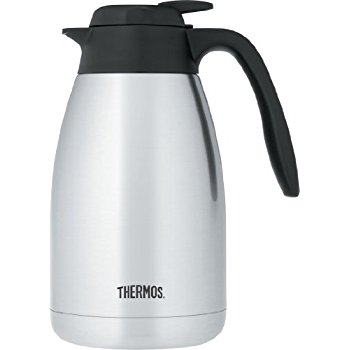 Speaking of coffee, we have a coffee thermos carafe that is great to use when we have overnight guests and are going to be brewing a lot of coffee. We use these all the time at our family gatherings! When you've got several people drinking coffee, 12 cups in a carafe just isn't going to cut it. So, we'll brew 12 cups, immediately pour that into the thermos carafe, and then brew another fresh pot, that way we can all be hanging out and drinking coffee at the same time. (We just have a plain 'ole silver one, but look how cute this pink one is!)
If we had more cabinet space, we'd probably have like 10 of these. We love our cast iron skillet. I didn't start cooking with one until about 4-5 years ago, but now I use it almost exclusively when I'm cooking meat or sauteeing veggies on the stove top. I've heard a lot of people say that they don't use cast iron because they're intimidated with the cleaning process, but really, it is so easy to clean them. I use mine all the time and it's not a hassle. The only things I don't use it for are eggs or pancakes, but other than that, I make just about everything in here – soups, spaghetti sauce, stir fry, rice dishes, steaks/chicken/pork chops, chili, cornbread, etc. I even use it to make cobbler!
We have a 12″ one that is large enough most of the time. Sometimes I could use one that's a bit larger, but that's what my dutch oven is for, so I just turn to that when I need something larger. We had a very large lid from another pot that fits our cast iron, but if you don't have a lid that'll fit, I would definitely recommend buying one with a lid. You'll use it a lot – it's worth it!
This is what I use when my cast iron skillet won't be large enough for the dish I'm making. I love this thing – it's an enamel-covered cast iron and it is very sturdy. You can use this on the stove top and in the oven. Because I make different types of soup so often, this thing gets a lot of use in our house. I have the lovely blue one, but it comes in some other fun colors, too. Brings such cheer to anything I make and serve in it!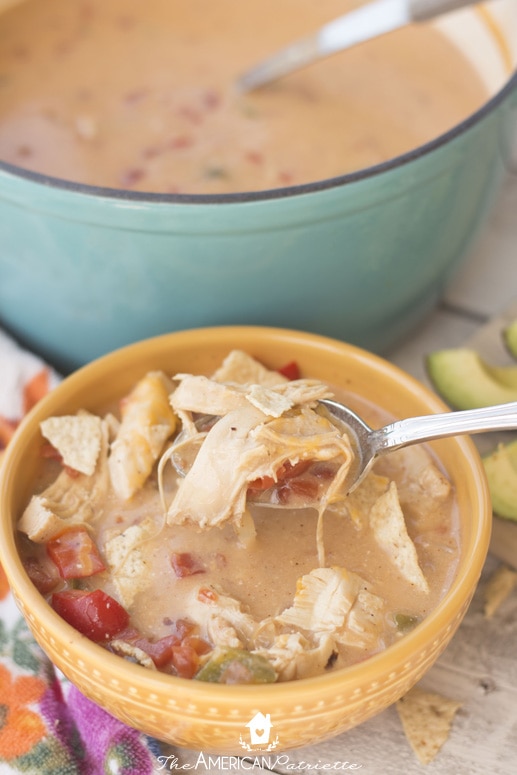 I asked for this last year for Christmas, and it has been so handy! I use it fairly regularly when I make soups and it works really well. I just use this directly in the hot soup pot, pulse it for a few moments to puree the soup, and I'm done! You have a lot of control on how much/little you want to puree the soup when you use it. It's very easy to store, too – it's pretty compact! This is the one we have and I love it, but when I was looking for it on Amazon, I came across this one that has extremely good reviews. Might be worth checking into!
I feel like a Crock Pot is one of those kitchen appliances that everyone has, but just in case you don't, or just in case someone doesn't who you know could use one, the programmable ones are the way to go! I use my Crock Pot several times per month, especially when the weather around here gets below 90 degrees. They're great for everyday use for us, but they're also great to use when we're having company and I want to prep supper before people arrive. We love ours! Mine is probably outdated (I can't find it online!), but this one looks like the updated version of the one I have.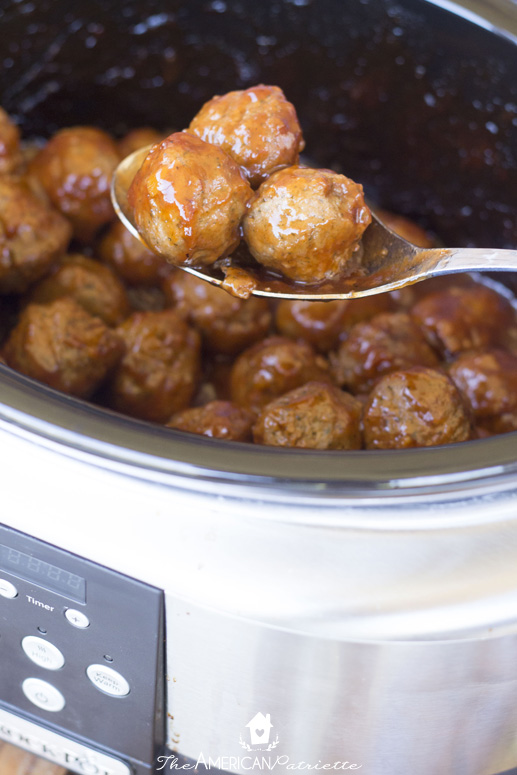 12. Pyrex Dishes
Baking dishes + lids are the way to go. I use my Pyrex dishes all the time – several times per week. The lids are really sturdy and make for easy stacking in the refrigerator. The lids also make for easy transport – we often make food to bring to some kind of potluck event, so they get a lot of use! We have this set with several different sized baking dishes and bowls, plus the little glass bowls and pie pan. I use all of them all the time. They are so handy and durable!
13. Instant Pot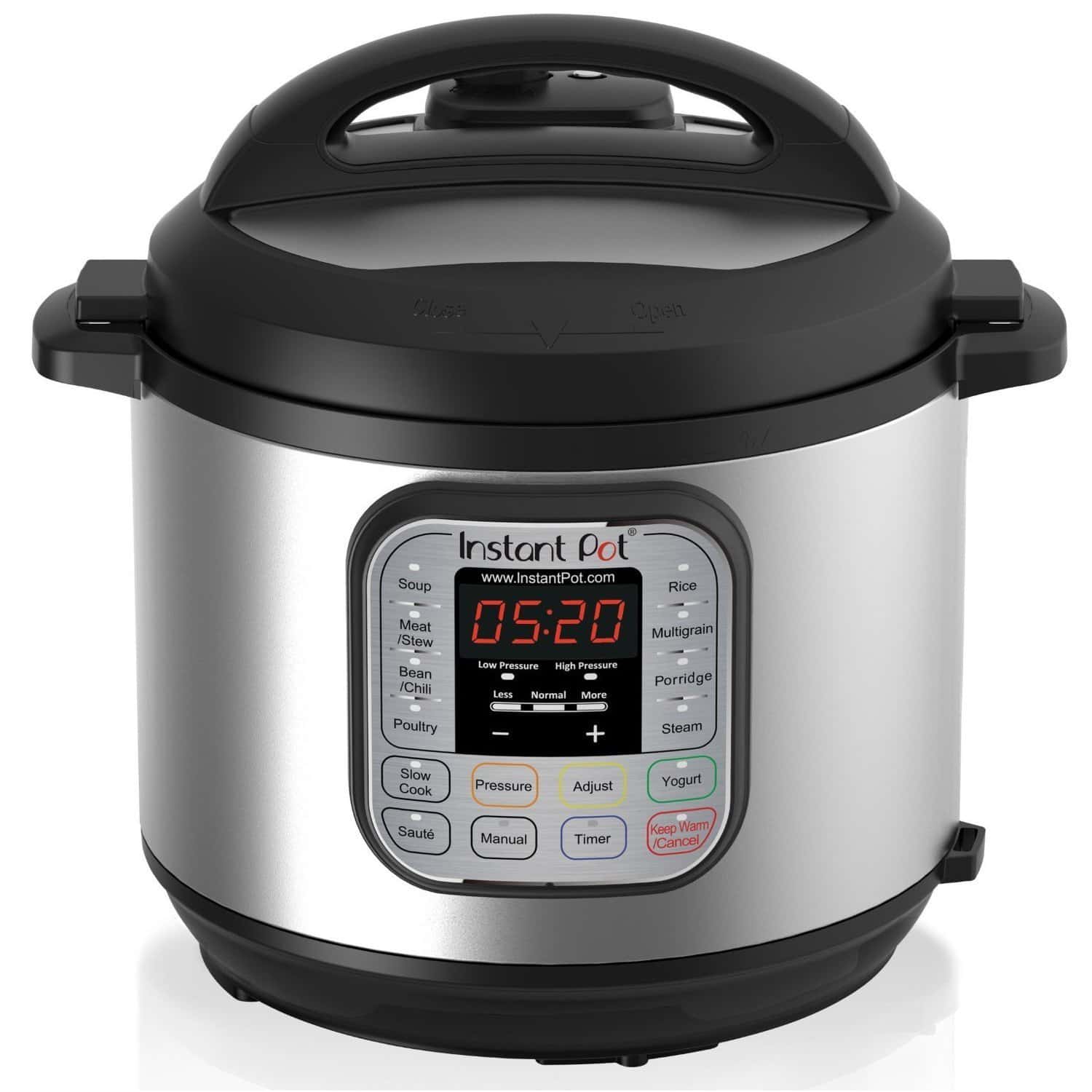 I don't have one of these yet, but THIS is what's going on my Christmas list this year! I included it on this list because I keep hearing such good things about the Instant Pot, and I'm absolutely convinced I have to own one. From everything I'm hearing from folks, if you spend any time in your kitchen, you need one of these! Look at all the things it can do!
Once I get mine, I'll be sure to use it and report back on how much I love it! 🙂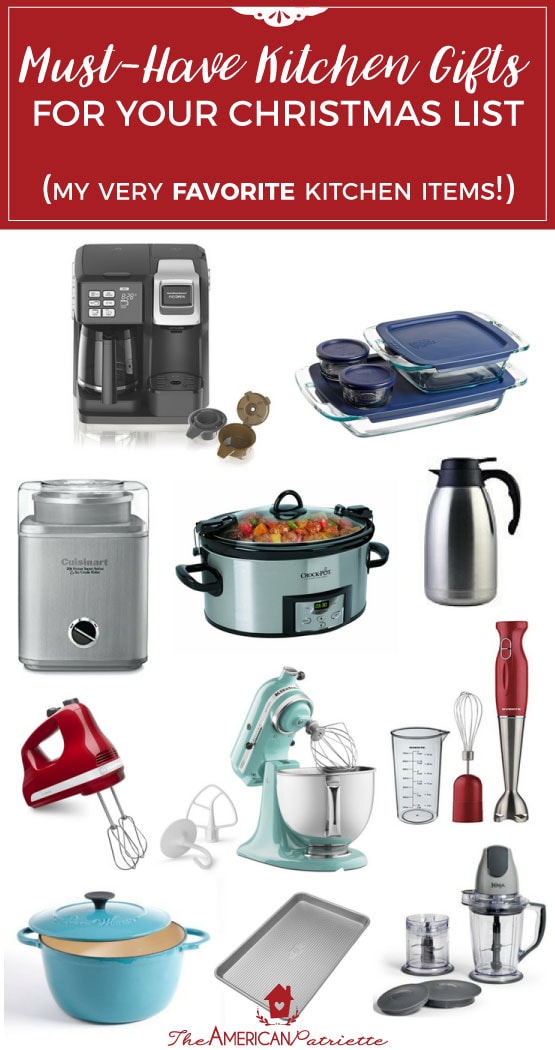 These are my very favorite kitchen items, friends! What else do I absolutely have to have in my kitchen?!