Meal Ideas to Make from Leftovers
Check out some different ways for how to reuse leftover food to make meals!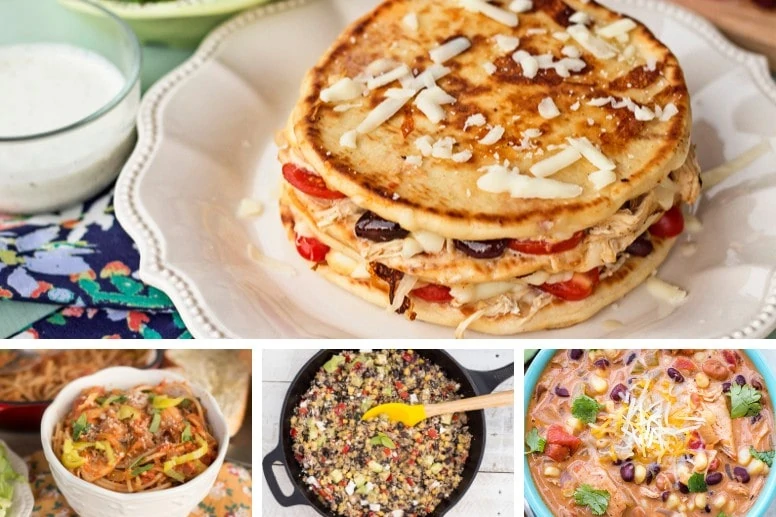 While I love to have a regular plan of meals each week, I also intentionally leave a couple of days unplanned so that we can use up the inevitable leftovers in our fridge, pantry, and freezer. Making "throw together" meals from leftovers is so fun & helpful!
Let me talk you through that process!
Meal Ideas To Make from Leftovers
There are a few things we do before we actually start to assemble a full meal:
Figure out what all we have in the refrigerator (and perhaps some produce on our counter/pantry that looks like it needs to be used up quickly), and then prioritize what needs to get used. We'll check expiration dates on items, check on little bits of leftovers from meals I had made sometime during the days prior, look at our produce in our fridge drawers, etc.
Decide from there: can we make a full meal out of these items, or do we need to go check in the freezer and the pantry to bulk up the meal? Maybe meat from the freezer or pasta/quinoa from the pantry.
Then, we'll start making a plan for the meal we're going to throw together!
Here are the most common meals we'll create using a combination of leftovers in the fridge + staples in the freezer and pantry:
Quesadillas
Just as with all of these meal ideas I'm going to suggest, there are no rules here! We almost always have tortillas in stock, usually in our fridge, but if not, in our pantry, so we'll get those out and then figure out what we can use to fill them with.
Here are things we'll put in quesadillas (not necessarily all at once, but we'll put together something that makes sense using a combination of some of these ingredients):
Some kind of cheese, of course (and you can get creative with this – whatever you happen to have on hand! Whether it's shredded or sliced cheese, either one works. We've used cream cheese, before, too!)
Beans (if I have some leftover from a meal I made earlier in the week, or we'll use canned beans)
Some kind of meat – whether it's lunch meat, meat leftover from earlier in the week, or meat from the freezer. We've even used pepperoni and made quesadillas with an Italian flare before!
Veggies – we'll rummage through the drawers in the fridge and figure out what needs to get eaten, but we'll use pretty much anything: broccoli, zucchini, squash, onions, avocado, tomatoes, bell peppers, etc. Typically we'd saute the veggies before adding them to the quesadilla (except for tomatoes and avocado: those would go on fresh).
Eggs (typically we'll scramble them and then add them to the quesadilla)
Sandwiches
Just like with tortillas, we almost always have some kind of bread in our fridge. When we make sandwiches from leftovers, we almost always make them hot sandwiches by either cooking them in our cast iron skillet or by using our panini press.
Here's what we'll often look for to put in our sandwiches:
Some kind of meat (bacon, deli meat, cheese, tuna)
Sliced or shredded cheese
Veggies that we can layer on – things like avocado, tomatoes, lettuce, fresh spinach leaves, or peppers
Sauces (sometimes we'll just stick with regular mayo and mustard, but you can get creative with this and jazz 'em up a little bit by using pesto, honey mustard, or some kind of creamy salad dressing)
Eggs (and then we'll either hard-boil them or fry them before adding them to the sandwich)
If we don't have veggies to use up, sometimes we'll make our own version of a Monte Cristo: a hot sandwich, cooked in a skillet with some buttered bread, stuffed with cheese & ham (or turkey), and then topped with some sweet jam, typically strawberry or blackberry. YUM.
Pasta Dishes
The options with pasta dishes seem to be endless! You can make hot or cold pasta dishes with leftovers. I'll just figure out what I have on hand, and then decide which direction I'm going to go.
Here are the main variations of pasta dishes I'd typically choose between:
A warm pasta dish with pesto sauce – we almost always have a jar of pesto in the fridge or in the pantry.
A warm pasta dish with cream sauce – if we have some heavy cream in our fridge, I can easily whip up a sauce using the cream + some cheese, and then flavor it with seasonings, tomato sauce, or lemon juice.
A warm pasta dish with marinara sauce – basically some semblance of regular 'ole spaghetti.
A cold pasta salad with Italian dressing.
So, I'll first figure out what we have & then what sauce I'm going to make, and then I'll decide from there what all I'm going to put in it. If we have meat on hand, I'll use it – chicken, sausage, hamburger meat, or bacon. If not, no big deal.
Then, I'll determine what veggies we have that would make sense in that type of pasta dish. If we have fresh veggies to use up and I'm making a hot pasta dish, I'll saute the veggies first. If we don't have fresh veggies for a hot pasta dish, I'll dig around in my freezer to see what we have – usually broccoli, cauliflower, or squash. If I'm making a pasta salad, I don't usually bother cooking the veggies – I'll just add them in fresh.
You can check your pantry for add-ins, too: olives, pepperoncinis, nuts (for pasta salads), bacon bits, etc.
Omelets
These are easy to whip up! When we make omelets from leftovers, they typically turn into "kitchen sink" omelets where it basically looks like we threw in everything except the kitchen sink!
Before scrambling the eggs, we'll look to see what we can add:
Any kind of cheese
Deli meat, ground sausage, or bacon
Beans (usually black beans)
Veggies (peppers, onions, tomatoes, avocados, spinach, cilantro) – we'll saute peppers and onions beforehand; for the spinach, we'll just throw the fresh spinach in with the eggs while we cook them; and for tomatoes, avocado, and cilantro, we'd typically chop them up and then add them on top of the omelet once it's finished cooking.
Salads
As long as you have some fresh greens, you can make a main dish salad using pretty much anything!
Here are some ideas:
Taco salad – if you have beef, chicken, or pork to use up, you can season those with things like cumin, chili powder, and garlic powder. Then add anything else that makes sense from what you have on hand: canned corn, canned beans, shredded cheese, lime juice, fresh veggies like tomatoes, avocados, onions, etc.
Club salad – hard boil some eggs, and then add them to the greens with deli meat, cheese, and any fresh veggies you have.
Chicken-topped salad – shredded chicken + shredded cheese or feta + any veggies you've got
Dig through your pantry to see what else you might be able to add: canned garbanzo beans, nuts, olives, sundried tomatoes, dried fruit, seeds, etc.
Soups
As long as you have enough broth on hand, you can make a soup from just about anything!
Once you've perused your fridge, pantry, and freezer to see what items you have, then you can decide which way you're wanting to go with your soup – whether it's a Tex-Mex flavor, a regular chicken & veggie soup, potato soup, some kind of tomato-based soup, etc.
Here are some ideas you can make from leftovers:
Chicken (shredded chicken, regular cooked chicken, or just raw chicken from your freezer) + chicken or veggie broth + veggies (either frozen veggies or fresh veggies that need to get used up) + seasonings (you can add pasta or rice to this, too!)
Pasta sauce + beef broth (chicken broth is ok) + ground sausage/link sausage, ground beef, or meatballs + veggies (you could add pasta to this!)
Chicken or ground beef + chicken or veggie broth + canned veggies like corn, beans, and tomatoes + spices like cumin, chili powder, and garlic powder
Tortellini + broth + veggies + seasonings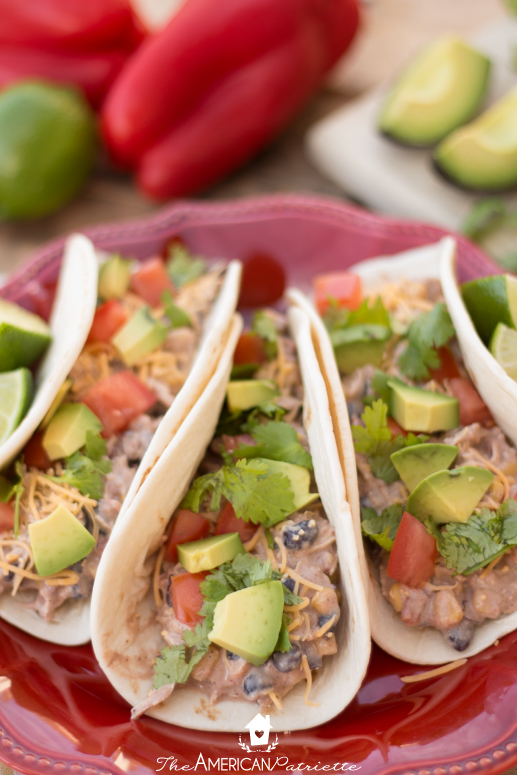 Once you've got all of your leftover ingredients out from your fridge, you'll be surprised how many filling meals you really can come up with using those items by pairing them with other staples you've got on hand! You can get pretty creative! And who knows, you might even accidentally come up with a meal idea you LOVE and plan for next time!
Happy cooking! 🙂