How to Make Candy Fall Leaves
Get an easy step-by-step tutorial for how to make these beautiful and realistic fall candy leaves! Easily create gorgeous fall cupcake toppers in minutes!
I wrote a blog post about a month ago with pictures of a fall-themed baby shower some sweet friends and I threw for another dear friend of ours, and since then I've been wanting to add some additional how-to posts because so many of the little things we did for that shower were just too fun not to share! I'm excited to share how to make candy fall leaves for cupcake toppers – one of the fun things I did for Shelle's shower!
I remember brainstorming incessantly for that shower (I needed some serious crafting breaks during grad school), and so when I thought up these candy fall leaves to coordinate with the shower theme, got the stuff for them and made them for the first time, I couldn't get over how easy they were to make and how well they turned out. ANYONE can make these with a little time and patience. No perfection necessary. Kids can even help with these!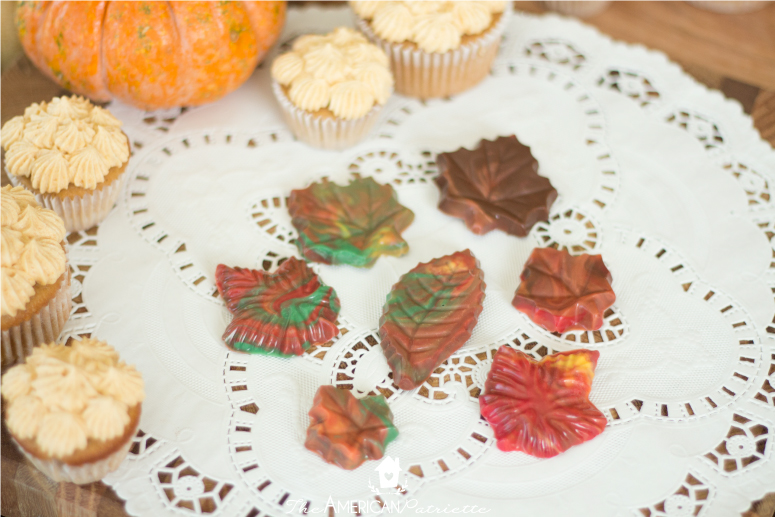 As you can see from some of the photos, I ended up attaching a lollipop stick to them to place them in the cupcakes, but you don't have to do that – you could just stick the candy leaves themselves right into the frosting of the cupcake, or perhaps use them to top off cookies, brownies, etc. What an easy, cute, and festive addition to any dessert to bring to a baby shower or bridal shower, or some other little fall celebration or gathering! Or maybe even just to have a fun treat at home with the kiddos!
Ready to get started?
This post contains affiliate links for your convenience. You can read my full disclosure policy here.
Here's what you need:
Candy melts (You'll need red, yellow, green, and brown (chocolate). I am not particular on brand at all – use whatever you want! You can get the colored candy melts at Walmart, Hobby Lobby, or Michaels. As you can see from the picture below, I didn't get brown candy melts; rather, I used chocolate baking bark from HEB – works JUST fine!)
Several bowls for mixing (you want to make sure these are microwave safe)
A few spoons for mixing and pouring colors
Plastic leaf candy mold (I think I got mine on Amazon – this is the one I have. You can use whatever leaf candy mold you want, but you want to make sure it's plastic, not metal)
Optional: lollipop sticks & ribbon for embellishment
Like you see in the photo above, pour in candy melts of each color into different bowls. I start out with a small handful in each bowl and then add the candy melts as I need them depending on how many leaves I end up wanting to make.
To melt the candy, put 1-2 bowls in the microwave for 40 seconds (no more than that at a time – if you put them in there for longer without stirring, the candy will likely clump together and won't have a smooth consistency). Remove from microwave, stir, and repeat. You probably don't need to microwave them for more than a couple of 40-second increments before they're completely melted. Do this with each bowl of candy melts.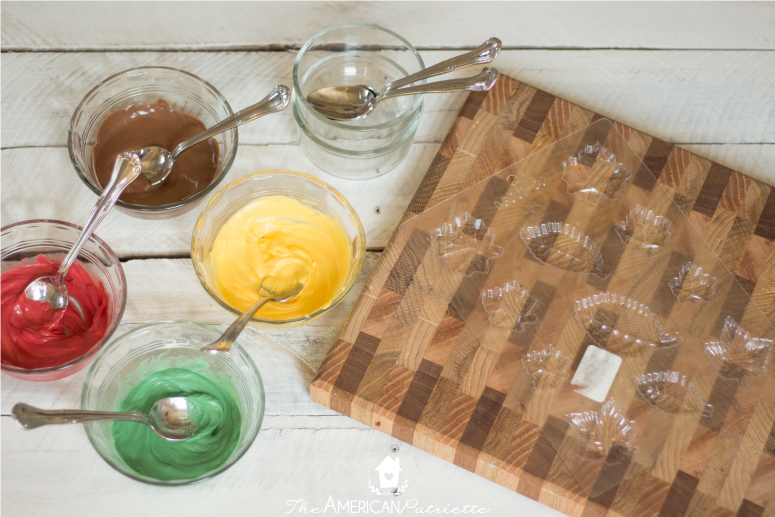 Here comes the fun part! Grab some extra empty bowls and begin mixing. As you can see, I don't buy orange candy melts since I can just make orange by mixing yellow and red together. Once I've got the colors I want, I dab a bit of each one into a bowl…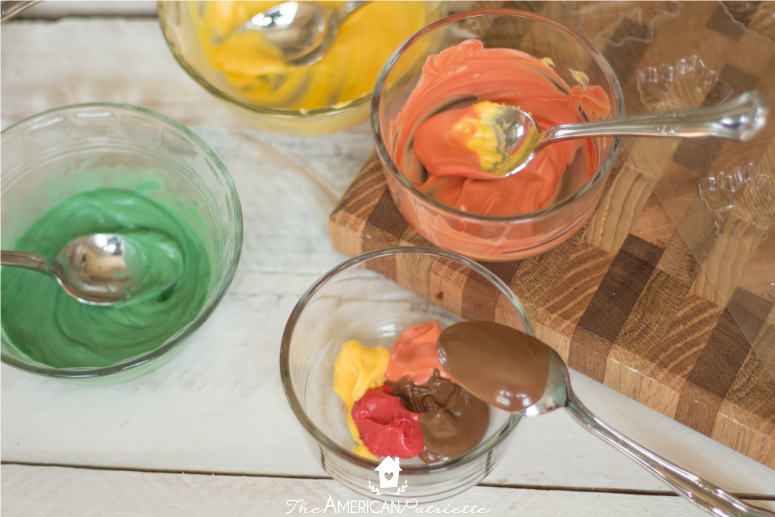 …and give it just a couple of swirls with the spoon to have a marbled effect.
Then scoop up some of the candy from the swirled bowl and put a dollop in one of the molds.
Use however much you need to fill the cavity and then spread it around evenly with the spoon so the candy somewhat levels off at the top.
And then just keep going with mixing colors, swirling, and pouring into the molds.
Look at all these fall leaves! How fun. I didn't fill that middle leave because it was a bit big (you can't really tell from this picture) and I didn't want a leaf to stick out that much on a cupcake.
Once you've filled all of the molds you want, place the candy mold in the freezer on a flat surface for about five minutes. That's about all you'll need in order for the candy to harden and set – it's a quick process!
Remove the tray from the freezer and begin popping out the candy leaves. Easy peasy.
This next step is optional. If you want to turn them into lollipops, here's how I do it. Turn a leaf over so the back side is facing up.
Place a small amount of melted candy wherever you want to place your lollipop stick.
Gently (but completely) press the lollipop stick into the melted candy.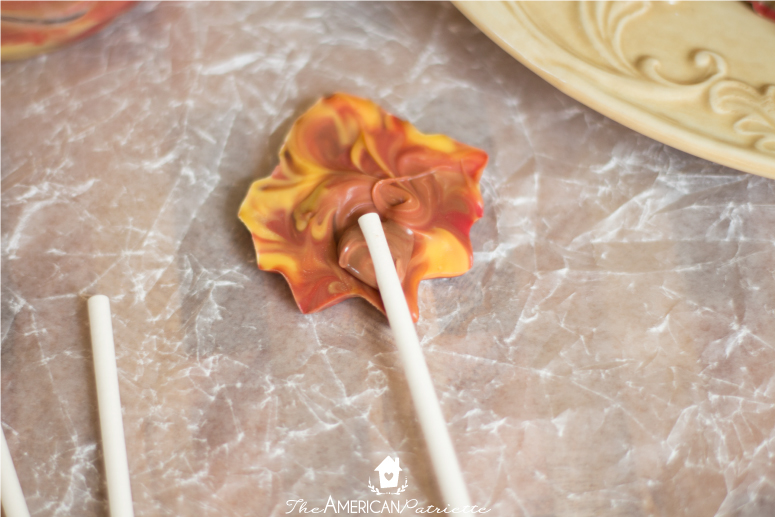 And then dab a little bit more melted candy on top to secure it.
Easy! I don't think I even put these with the lollipop sticks on them in the freezer to set – the candy hardened on its own since it was such a small amount. But, if you find you do need to put them in the freezer to set, just make sure you lay them flat on a cookie sheet or something so that the stick doesn't get displaced from the candy.
Tie a ribbon on it and stick it in a cupcake! Look how pretty!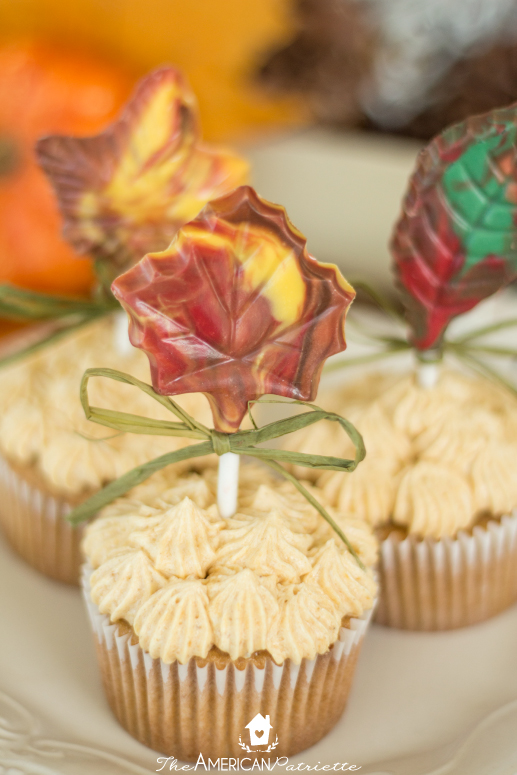 The cupcakes in these photos are perfect for any fall get-together. They're apple butter cupcakes with pumpkin buttercream frosting. YUMMY. Here's the recipe for them if you want to make them, too!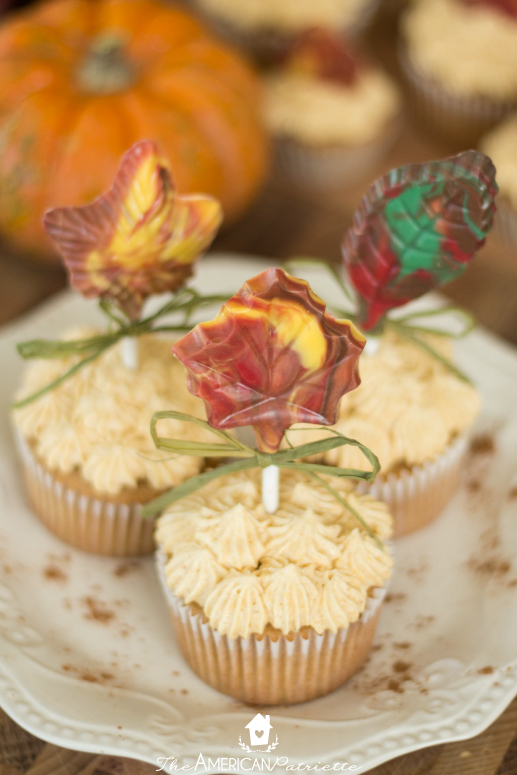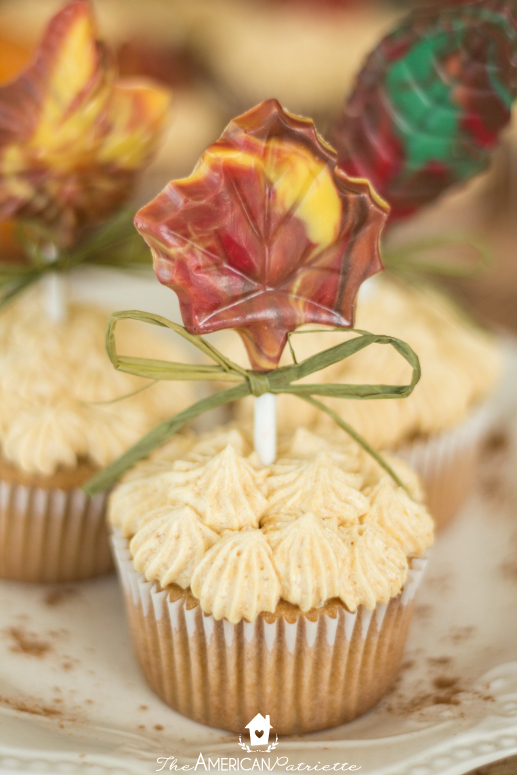 Have so much fun making these! If you want more ideas for throwing a fall celebration, whether it's a baby shower, bridal shower, or just a fun gathering, head over here and take a look at some of the other little things we did for my friend Shelle's fall-themed baby shower.
Happy Fall, Y'all! 🙂
Want to save this fun and easy DIY tutorial to remember for later?! Be sure to save this to your favorite Pinterest board!