How to Easily Install Kitchen Cabinet Hardware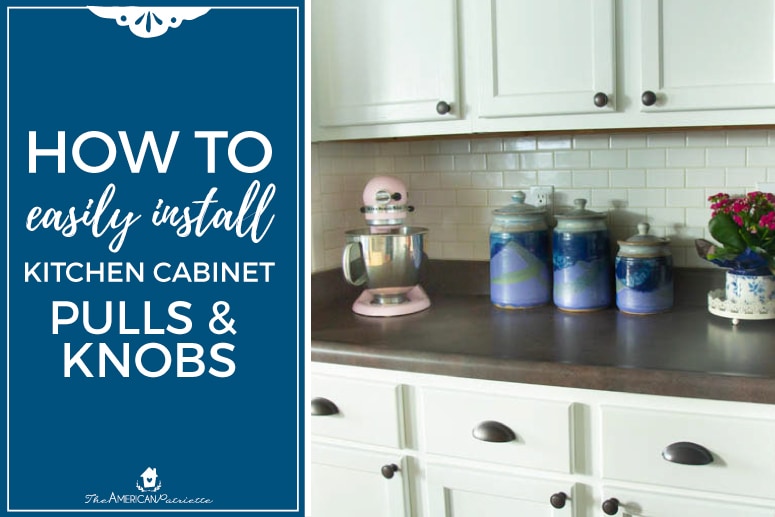 If you're coming over here from Part 1 of my series on how we painted our kitchen cabinets, welcome! Can't wait to teach you how to easily install kitchen cabinet hardware to go along with the freshly painted cabinets! If not, here's a little background on our cabinets before we jump in:
When my husband and I repainted our kitchen cabinets in our builder-grade kitchen, we couldn't get over the difference it made in brightening up the space. Our cabinets didn't originally have hardware, but since we were already doing an overhaul on them with paint, we figured we'd go ahead and dress them up (and make them more user-friendly) by adding some knobs and pulls. We had a small budget for our kitchen makeover – about $300 (including doing the subway back splash) – so I knew I needed to find a budget-friendly but still lovely hardware option for them.
I like a somewhat farmhouse/cottage-style look, so when I was looking around for that kind of hardware, I realized I could find some in that style that coordinated with our counter tops and help tie them in. Originally, because I disliked the counters so much, we were looking for zillions of ways to makeover our counter tops on a budget, but we just couldn't find any good options within what we'd be willing to spend, so I just had to decide to get over it and understand I'd just need to accept the counters for what they were.
Friends, I found hardware for about $50 (TOTAL!) – enough for 20 cabinet doors and 8 drawers – that was in the style I liked AND completely tied the originally ugly counter tops in with the cabinets! Now I don't despise our counters anymore!
Here's a picture right after we finished painting the cabinets and before we installed the knobs/pulls: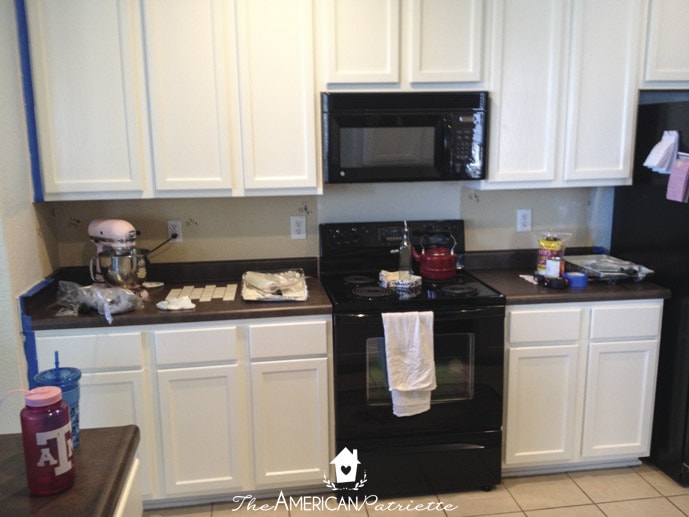 And here's the finished product including the knobs and pulls:
I know this isn't your kitchen, so I don't really expect you to raise your hands, throw your head back, and bust out in a hallelujah chorus, but that's about how I feel every time I walk into my kitchen and think about what it used to look like and how it looks now. I still can't believe we did it on such a small budget with a little bit of elbow grease! (If you're thinking about re-painting your cabinets and making some simple updates like adding hardware, you won't believe the difference it'll make!)
Anyway, you're here to learn how to easily install kitchen cabinet hardware, not necessarily to hear me sing the praises of some simple kitchen updates, so let's get to work!
This post contains affiliate links for your convenience. You can read my full disclosure policy here. 
  Here's what you'll need to easily install your cabinet hardware: 
Knobs & pulls for cabinet doors & drawers if you're getting new ones. We used these knobs and these pulls to help give off the cottage/farmhouse look and to match our counter tops. SUCH a good deal!!
Battery-powered drill (for removing cabinet doors from cabinets, for removing & reinstalling the hardware, and for installing the knobs/pulls)
Drill bits (for installing the knobs/pulls if you didn't already have hardware on your cabinets)
1 Piece of cardstock (you can use regular printer paper, but the durability of the cardstock is helpful with this project)
Measuring tape
Ruler
Pencil
Piece of string (probably 8-10″ long)
Alright, let's learn a hack or two on how to easily get those knobs and pulls on the doors and drawers without measuring every single one of 'em! 🙂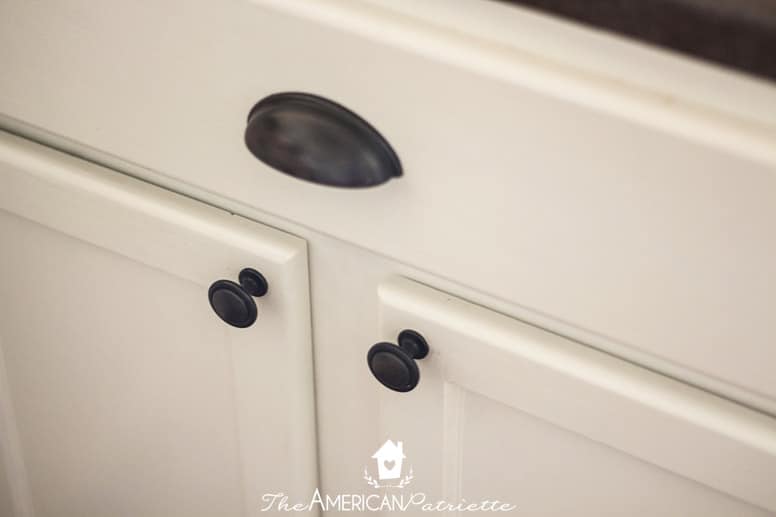 How to Easily Install Cabinet Door Knobs
Ok, let's learn Hack #1 – how to easily install cabinet door knobs with only measuring one door. You may have to slightly revise this method depending on the shape and structure of your cabinet doors, but this method should apply to most cabinets.
First, measure the corner of one cabinet door to each of the adjacent edges where you want to put the knob:
Then, mark that square on a piece of card stock:
Cut it out, and then line up the paper square on the cabinet corner. You can see below that because our cabinets curve inwards, I didn't place the square completely flush with the cabinet. I placed it flush with exactly where the cabinet stopped curving and was completely flat. I just did this to make sure the square matched up perfectly with that square in the cabinet. It's hard to tell because my finger is covering it in this picture, but I want that top right of the square to touch the bottom left corner of the molding of the cabinet. You can see it better in the next photo:
Once you've made sure your square fits perfectly and you don't need to trim anything on the paper, fold the paper in half both ways to easily find the center point and then mark it:
Poke a hole, make sure it's lined up with the cabinet, and then mark your hole with a pencil.
Now, all you have to do is take that same little square around to every single cabinet (I used the same square for the bottom cabinets, too), mark the point with the pencil, and then start installing the hardware. Love that I only have to measure once!
If you have a drill gauge, use that to determine the gauge of the screw that goes with the hardware you're using.  Use a drill bit one size smaller than your screw, so that when you screw into the door, you still have a little bit of wood left around the diameter of the screw for the threads to bite into and be nice and snug.
Make sure this will work for you and your cabinets, but we found it much easier to drill the holes for the knobs with the cabinet doors closed. We made sure we wouldn't be drilling into anything but the doors before we did this. Once you've used the drill bit to drill the hole, you're ready to start installing the knobs.
So, just drill the screw right in there:
And then screw in the knob.
Easy peasy! We definitely found it much easier to install the hardware after we installed the doors/drawers back into the kitchen after painting them, so we'd recommend doing that. you'll need to vacuum up the tiny dust piles that'll form when using the drill bit to screw holes into the cabinets, but the mess wasn't big at all, so that was a quick five-minute chore after doing all the drilling.
How to Easily Install Cabinet Drawer Pulls
And now Hack #2 – how to easily install cabinet drawer pulls by only taking one simple measurement of each drawer, even if many of your kitchen drawers are different sizes (like ours are). With our method, all you have to do is identify the center of each drawer with a simple measurement, and your handy dandy cheat sheet takes care of the rest.  Most of this section of the tutorial will show you how to create this cheat sheet for any shape or size hardware or drawer:
First, get a piece of card stock (doesn't matter how wide it is, as long as it's just a little wider than the pulls themselves):
Fold it in half:
And mark the center on the fold:
Now get one of the pulls, and determine about where you want to place them on the drawer. DON'T worry about perfectly centering it from left to right, just figure out where you want it to be placed in relation from top to bottom. This all depends on the pulls – with the way ours are shaped, you couldn't really center them from top to bottom without them looking odd. So, we just eyeballed it to determine where we most liked it placed.
Once you've determined the top-bottom placement for your drawer pull, get a piece of string to measure the distance from the screw holes on your hardware to the top of the back of the drawer.  Because we're using the top-back of the drawer face as a reference from which to place the holes, we used a string for this measurement to account for the approximately ½" or so of the thickness of the drawer face that, so we wanted something flexible to bend around the top of the drawer.
Our string (and therefore the distance from the top-back of the drawer face to where we will put our screw holes) was 3 ¾" long.
With your card stock laying length-wise horizontally, measure this distance from each of the top two corners, and mark that distance
Then, fold that top edge down (kind of like hot dog style, but you likely will not fold your paper exactly in half) along the horizontal line indicated by your two marks.  Make a crease.
Now, your card stock should have two creases.  One indicating your center line and the other indicating the distance from the top of your drawer to the horizontal line where you will make your holes for fastening your hardware:
Measure the distance between the two screw holes in your drawer pull.  Ours were 3″ apart (so now we know that each hole will be 1 ½" from the center of the drawer).
On your cardstock, measure half the total distance between your screw holes for your hardware from the center fold on your cardstock.  Since our hardware screw holes were 3″ apart, we know that our screw holes will be 1 ½" from the center line.  Mark these two spots on the horizontal line created from your second fold (the fold you measured using the string that indicates where the screw holes should be in relation to the top of the drawer).
And voila!  Your cheat sheet is done and all you have to do is take this from drawer to drawer to quickly find exactly where you should drill your holes for your drawer pulls.
Next, pick one drawer in your kitchen and measure the width of the top of the drawer with the tape measure:
And mark the center point on the inside of the drawer:
Now, have the marked center of the card stock match up with the marked center on the drawer. See how Aaron made sure to wrap the top of the card stock on the top of the drawer?
Then, being sure to keep the card stock in place, draw those marks directly onto the drawer itself.
Remove the card stock and drill your two holes.
Push one screw in through the back of the drawer and tighten it into the hardware.
Do the same with the second screw, and you're done!
All that's left to do is measure each drawer's center point, mark that place, line up the center of the drawer with the center mark of the card stock, and let your cheat sheet do the rest of the work for finding your hole placements!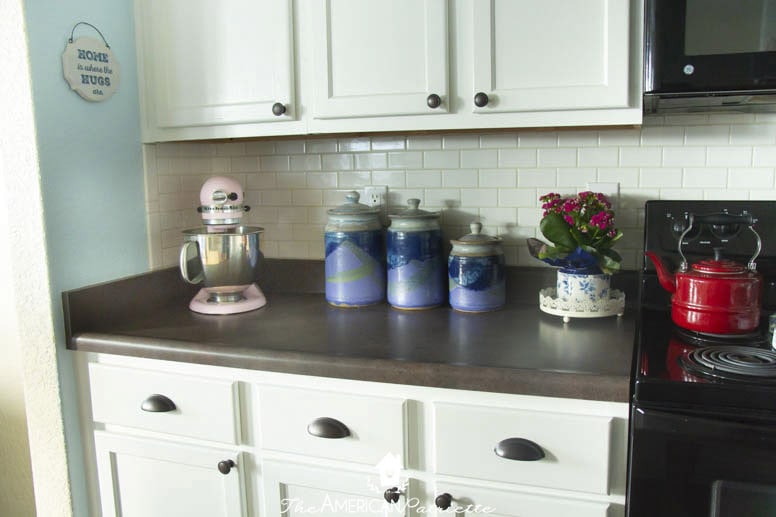 Then you get to enjoy your beautiful updated cabinets that look like a million bucks (and cost nowhere near that)!!!
I can't believe the difference it made in just adding some simple hardware. You can get a good view of the counters here – can't believe how well this hardware ties 'em in:
Want to know how these cabinets are holding up two years after we painted them? Head over here to get the rundown!
Want to save these hacks to remember them for later? Be sure to save this post to your favorite Pinterest board!