Four Fun Game Ideas for Adults at Parties and Celebrations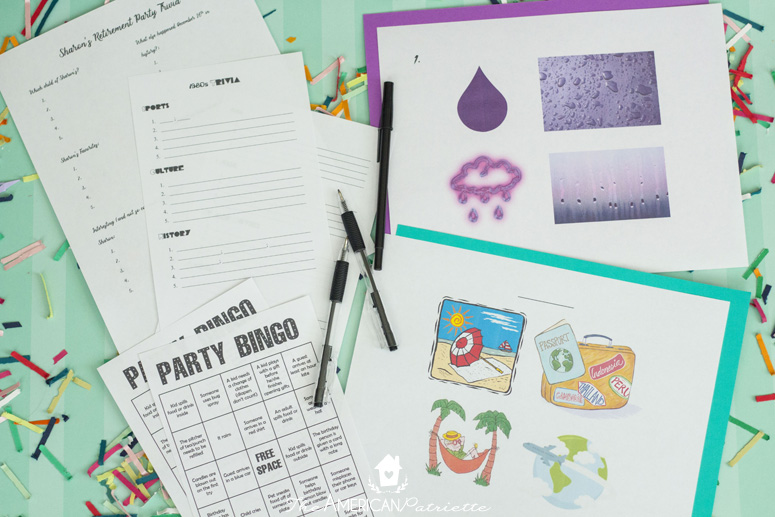 When I'm planning some kind of gathering, whether it's a birthday party, retirement party, baby/bridal shower, or some other kind of group celebration, I almost always plan some kind of activity for folks. For one, I absolutely love games – they're just fun to play! But two, I think group activities help people more easily engage with each other and they help build community into the celebration.
However, sometimes it's difficult to think up games for adults to play that are actually fun (and not super cheesy), AND that don't require tons of coordination. Let's be honest, activities with tons of rules, strategies, and coordination are really difficult in large groups. But, you don't have to sacrifice fun and entertainment in order to have an easy game to play – I have four fun game ideas for adults at parties and celebrations that I think you and your guests will love at your next gathering!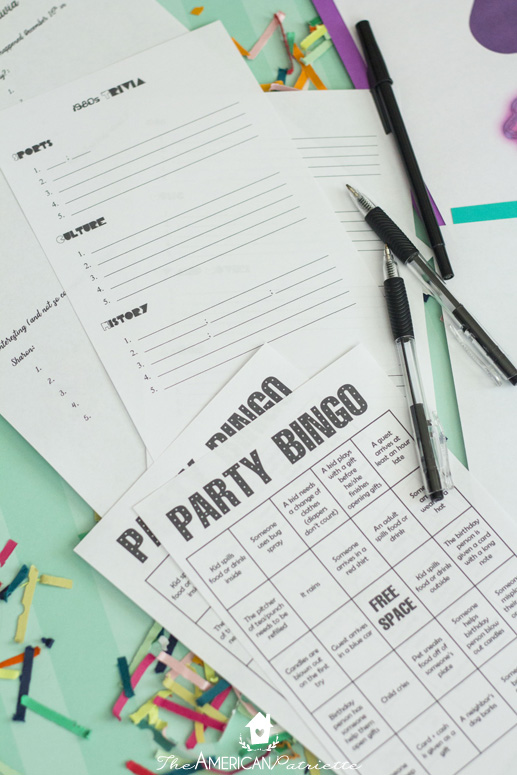 These four ideas take a little prep work, but I promise, I think each of them will be well-received and will be so entertaining for everyone. Three of the games are passive (they don't require much coordination – guests can play them on their own time at a gathering and then turn in their answer sheet whenever they're finished), and one is a group game that's active (you play the game all at once), but none of these require difficult-to-understand rules.
I really like passive games (that again, are actually fun and perhaps a bit challenging) in larger gatherings because they give something for guests to do at the gathering, especially when there are quite a few people who may not all know each other well (maybe at a milestone birthday party, retirement party, graduation party, office party, etc). My husband and I each have huge families, and we also have friends from all walks of life, so it's AWESOME to provide activities that become somewhat of a conversation piece for folks as they're milling about, waiting for food to be served, waiting for the guest of honor to open gifts, etc.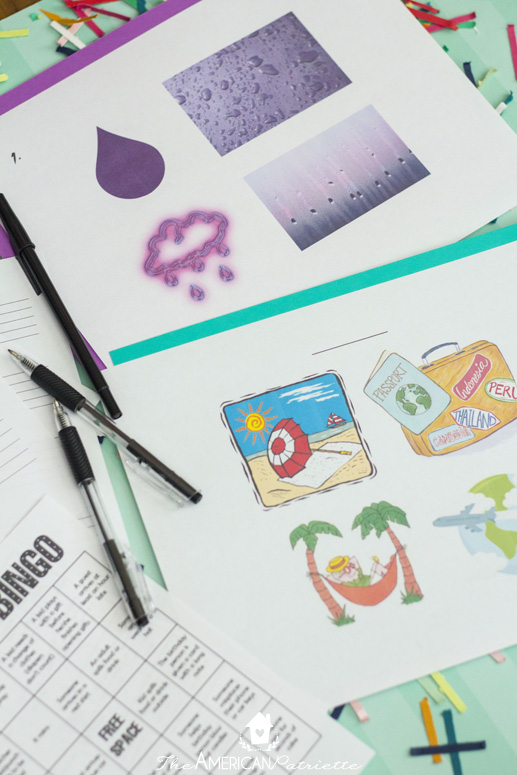 Anyway, below is my list of 4 ideas! I hope they give you some inspiration for activities at your next celebratory event!
1. DIY Trivia/Homemade Jeopardy! Game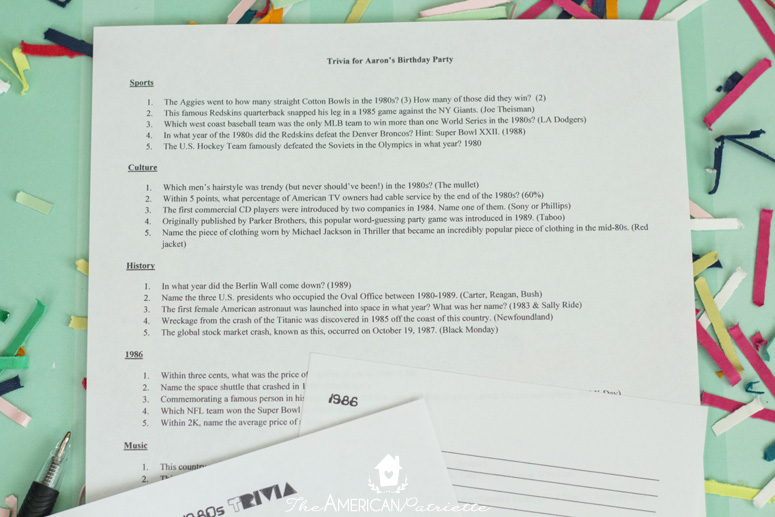 My husband and I have created a few of these trivia/Jeopardy! games for various occasions and they are SO FUN. The guests have always really enjoyed playing the game. This is the one "active" game on this list that requires a tad bit of coordination since you'll need an emcee to announce the questions and since groups will be working together to provide their answers, but it's VERY easy to coordinate at a party.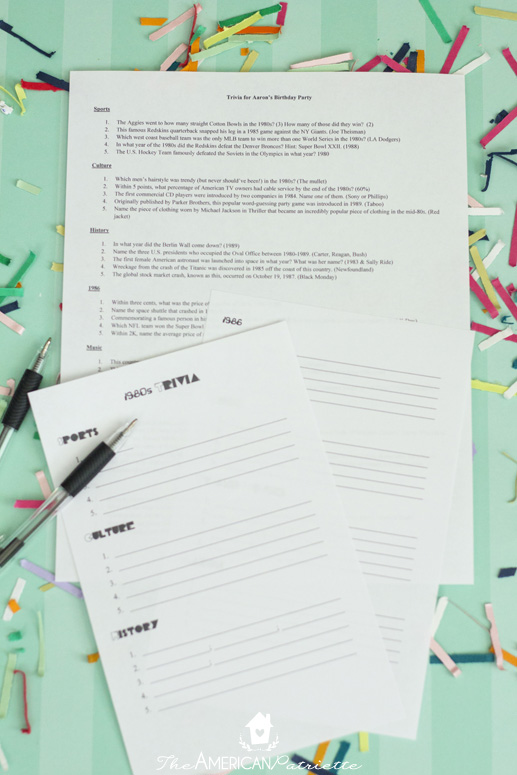 You do the prep work beforehand in creating clues/questions for folks to answer, and then at the party, you just have fun watching everyone work together as they try to think up their best response! It's so fun to create the categories and questions – you can really customize them to the event/person you're celebrating. You can choose to organize this one of two ways – 1) You can do it trivia-style where you announce questions and groups talk among themselves and then write down their answers, or 2) You can do it Jeopardy!-style where you announce the "answer" and groups race each other to provide the correct question for the answer.
We've found that trivia-style works best in larger groups, but the Jeopardy!-style is fun when you have a group of like 8-15 people. When you do the trivia-style, you just create answer sheets like these for groups to fill out:
I used Microsoft Word to create answer sheets – easy peasy!
Or, if you decide to do a more Jeopardy!-style trivia, you can create a super simple board like this one below. Go check out this post for way more details on creating your own DIY trivia/Jeopardy! game and to get tons of ideas for categories/questions as you create your game. 
2. Four Pics and a Term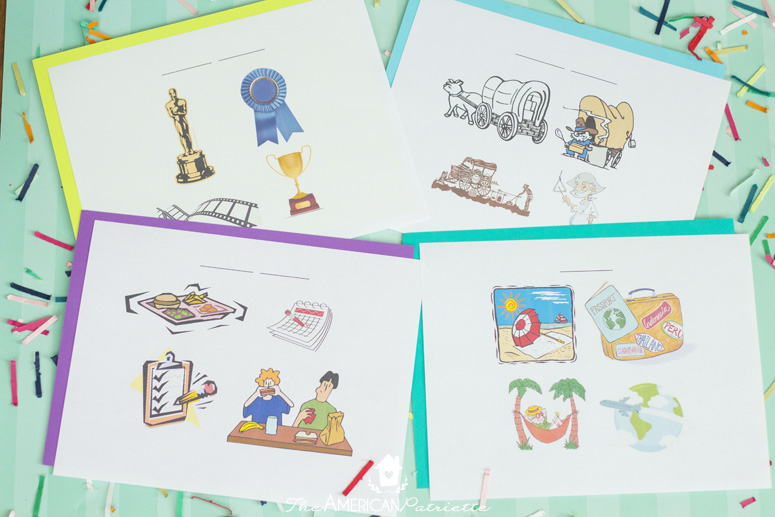 This was a popular game several years ago – I think it was maybe an iPhone App? Or maybe it was a Facebook game? I don't remember, but I remember it being really popular, and I ended up creating my own version of it for my husband's students (he teaches high school government) to rehearse the unit terms they had learned in his recent lesson. They had SO MUCH FUN with it! (I mean, I'll be honest, so did I!)
I realized this would be a GREAT game for parties and celebrations – you can customize it to the celebration (think about the theme of the party – is it a beach-themed party? A movie-themed party? A western-themed party? A graduation party? Whatever!), create these clues and then post them around the room/hall (wherever you're having your party), and then guests can grab an answer sheet and write down their guesses. The basics of creating the game: You find 4 clip art images that might resemble one term, organize them on one sheet of paper, and then make maybe 10-15 of those for folks to guess. Like I mentioned, you can easily customize this game based on the party theme or person you're celebrating.
I create these documents in PowerPoint (I know, seems so retro, but it's so easy that way). Let's say you're planning a graduation party – maybe you'll create a bunch of these that are related to high school, college, the particular university where the graduate is attending, etc. (Terms like "credit hour," "dormitory," "walk the stage," etc.) Can you guess the one below?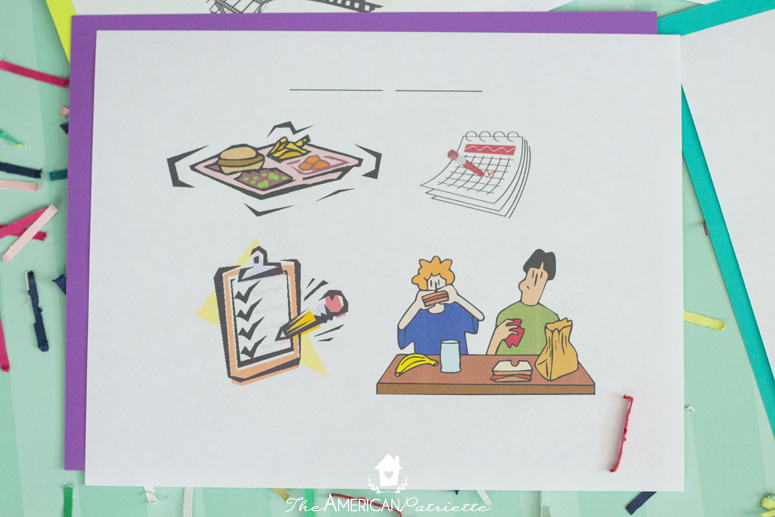 Answer: Meal Plan! You know, the meal plans that are responsible for causing Freshman 15. 🙂
You can put lines above the images to indicate how many words are in the term, that way people have some kind of hint. You don't have to do that, but I think it's helpful.
Can you guess the one below for a beach-themed party?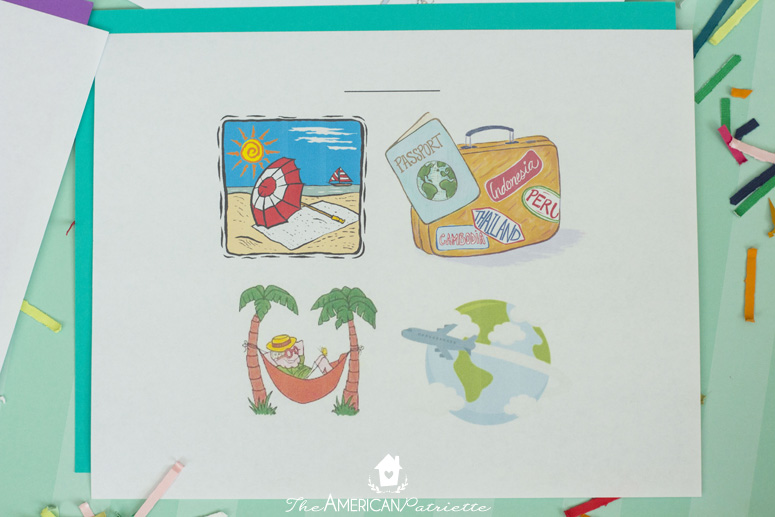 Answer: Vacation. Maybe for a retirement party, too?
What about this one?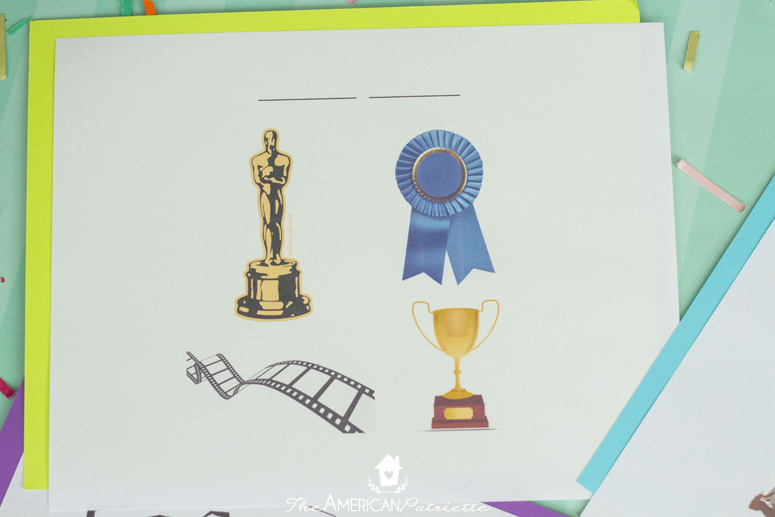 Answer: Academy Award. For a movie-themed party?
And this one?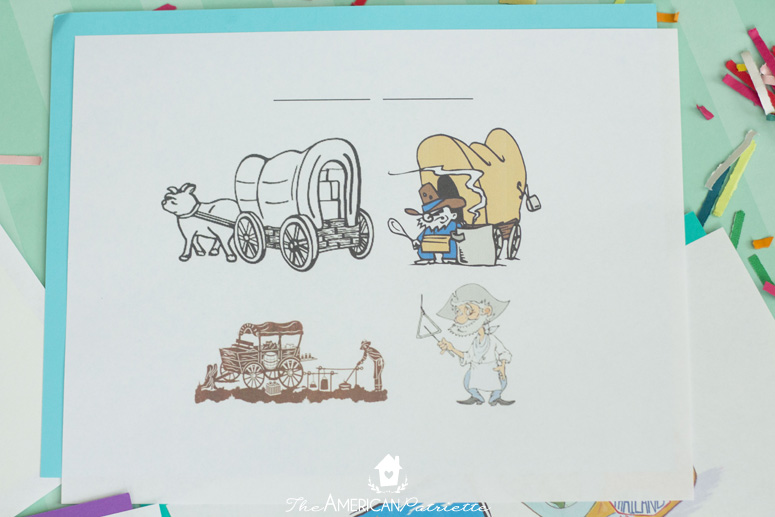 Answer: Chuck Wagon. For a western-themed or ranch-themed party? Are you having a birthday party for your kiddo where all of the parents are also coming? Think about the theme of your kid's birthday party and then make this game up for the adults to do while they're there. I mean, kids' birthday parties are fun and all, but I know I'm probably not going to do pin-the-tail-on-the-donkey. This would be so fun for adults to enjoy!
Here's how I have it set up in PowerPoint: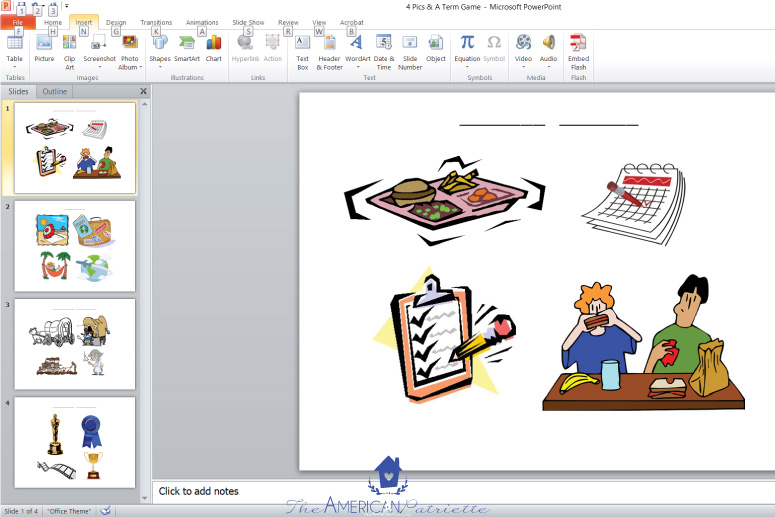 Then you create answer sheets that people can fill out as they make their guesses and then turn in whenever they're ready.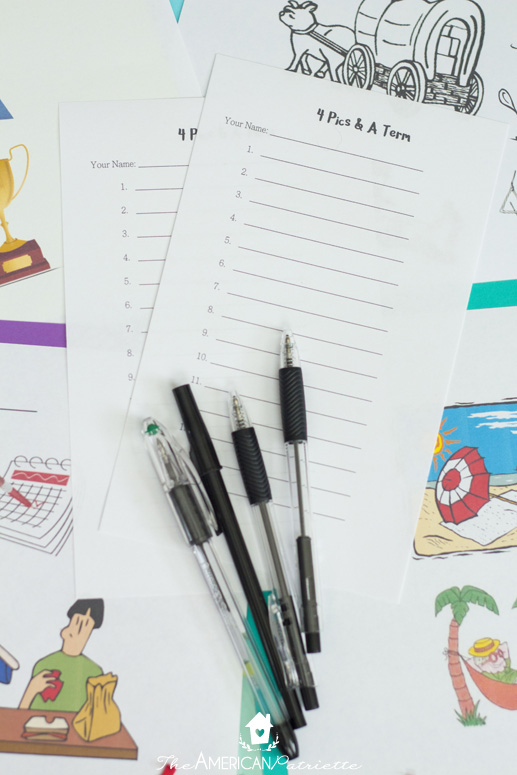 Have a prize for the person who has the most correct guesses!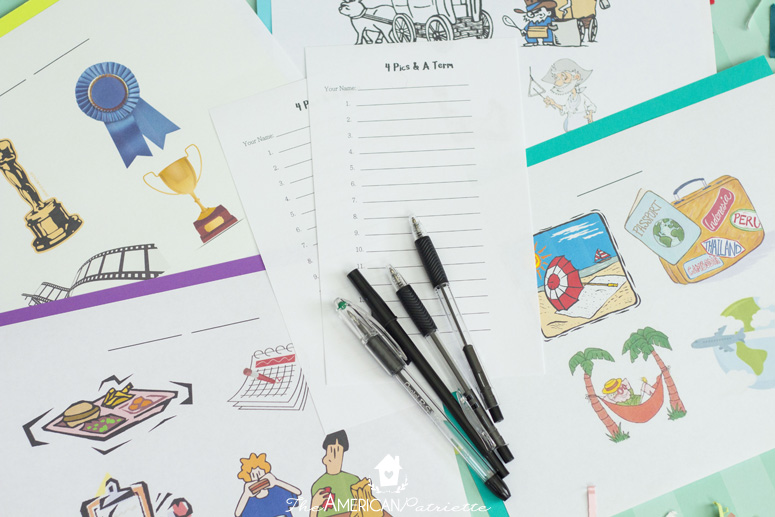 3. Four Pics and a Song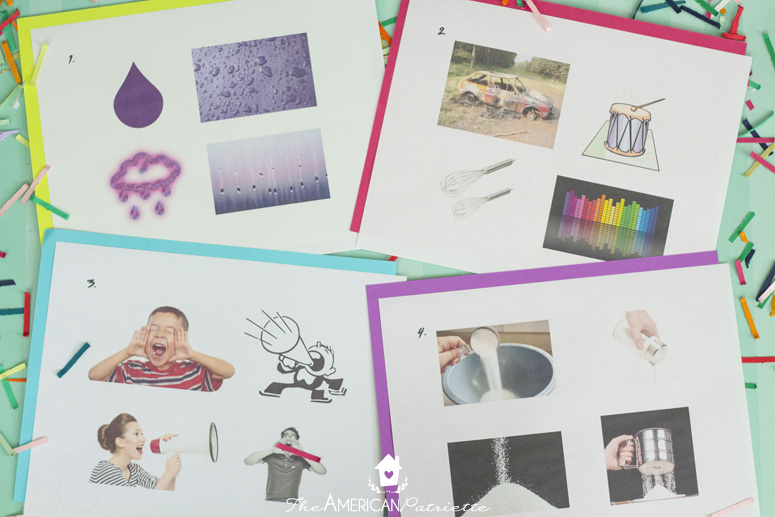 This game is exactly like the previous one, except instead of using terms, you use song titles. I helped throw my husband a 30th birthday party last year. He was born in the 80s, so we had an 80s theme for his 30th – it was so fun! And, because the 80s has such memorable music, it was soooo easy to come up with about 15 songs to use for this game!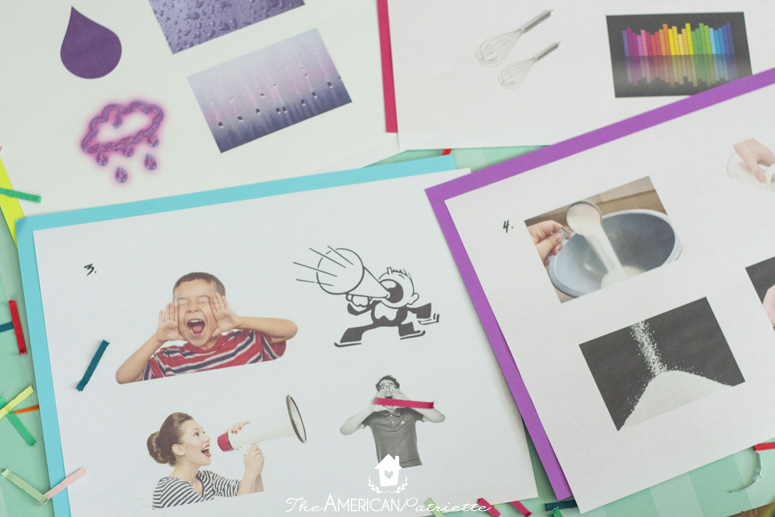 However, you don't have to have a decade-themed party to do this. Maybe it's just a regular 'ole birthday party but you go ahead and do songs from the decade in which the birthday person was born? Maybe it's a retirement party and you do songs from the decade that the honoree began working at their job? Maybe it's a graduation party and you do songs from the current decade?
Can you guess the 80s songs in the clues below?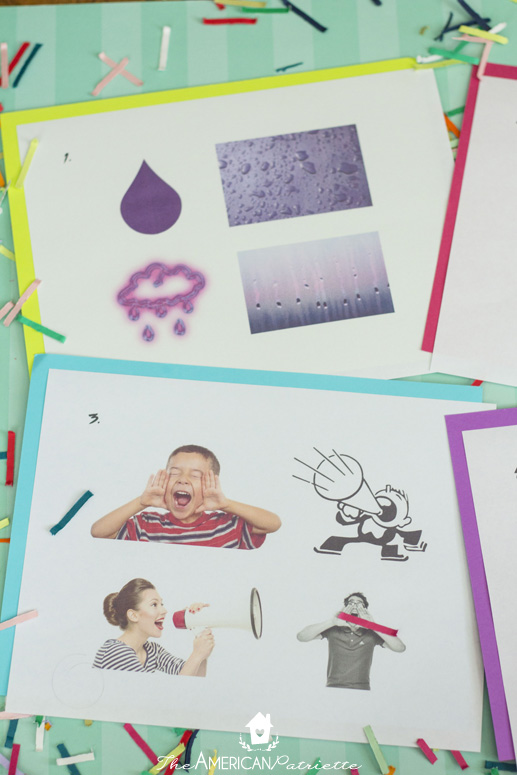 (Answers: Purple Rain and Shout)
And these?
(Answers: Beat It and Pour some Sugar On Me)
Same thing again – just create an answer sheet and folks can mill about the room, look at the pictures and come up with their answers. Then they can turn them into one central location.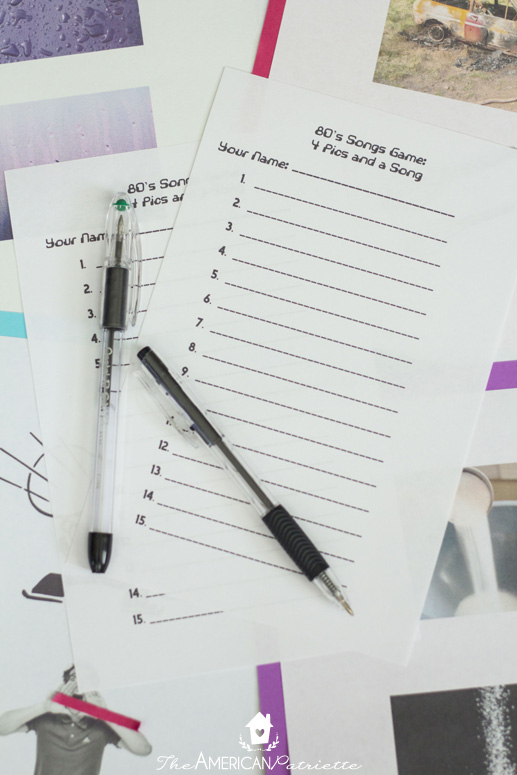 When we did this for my husband's birthday party, it was a huge hit (pun totally intended). People really enjoyed it, and it got people talking. We encouraged people to not work together and to try to come up with answers on their own, but I'm sure some did. It doesn't matter – they had fun! And whether or not they talked about their answers, they definitely talked a lot as they walked around the room looking at the clues, and I know it made it easier to socialize!
Same thing again – I created this game using PowerPoint. So easy.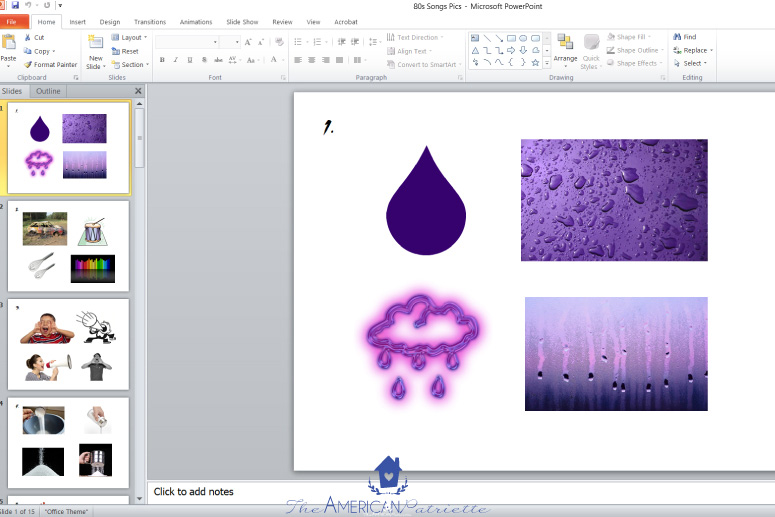 4. Party Bingo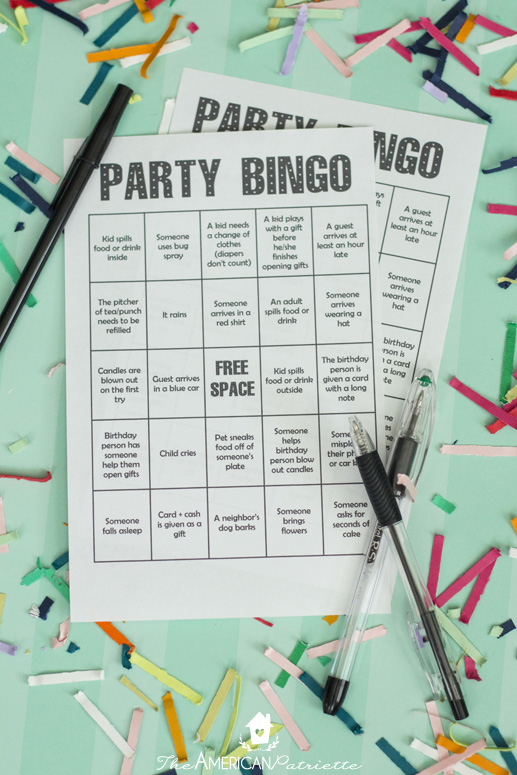 This one is all my husband's idea, and I was absolutely cracking up as he was talking about it. I just LOVE IT. I think this would be especially entertaining at a kid's birthday party where parents are going to be accompanying their kiddos.
Party Bingo works like this: come up with 24 things that could possibly happen at the party (i.e. a kid spills food or drink outside, someone arrives to the party wearing a red shirt, a neighbor's dog barks during the party, you hear a car horn honk outside sometime while you're at the party, etc).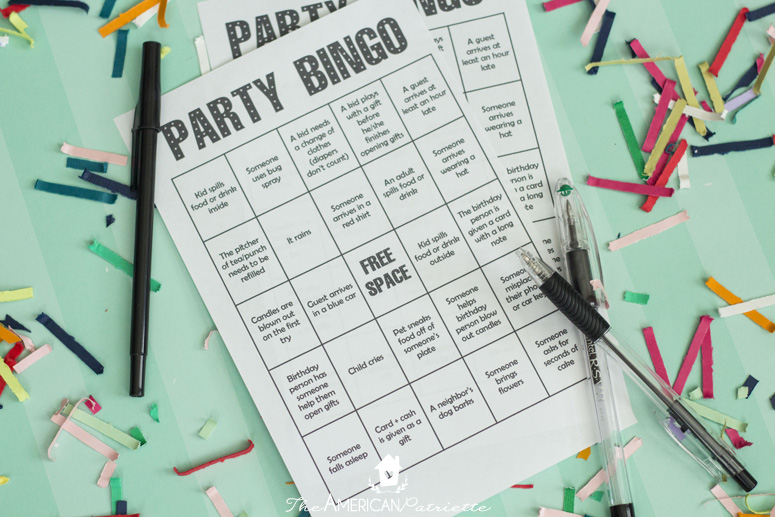 Then put them on a Bingo card, and then you'll need to scramble them up and make various cards so everyone doesn't have the exact same cards – you might get 15 people saying "BINGO!" at the same time that way!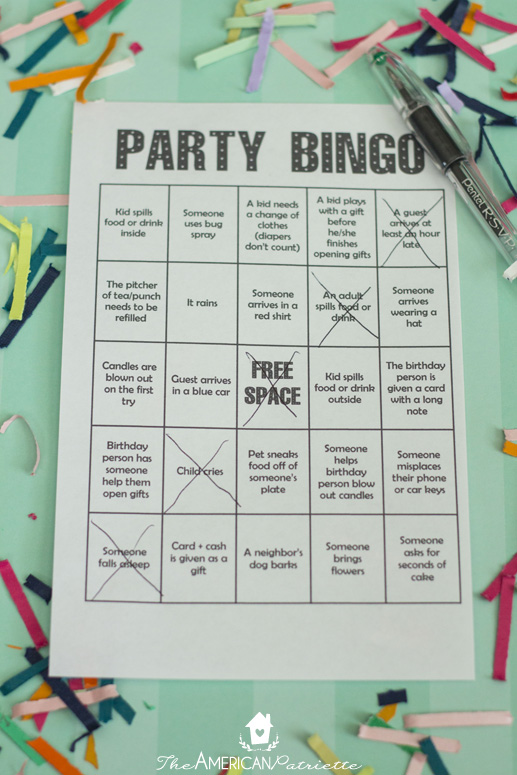 Just have them available for adults to pick up and fill out as the party goes on. It's completely passive, but oh my gosh, you can probably make this game pretty hilarious!
I created these Bingo cards using Microsoft Word. No fancy technology necessary!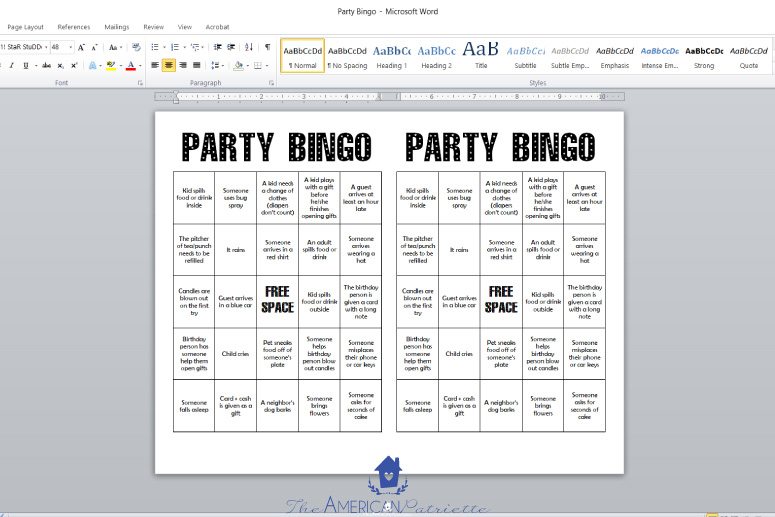 How fun are these!? If you have any additional ideas for fun party games for adults that are in the same vein – that don't require a lot of coordination but are really fun – PLEASE share! I'm always looking for new ideas, and I'm sure those of you who are reading this are always on the hunt for new and fun ideas too!
Go have fun celebrating and gathering with folks! 🙂