Free Weekly Meal Planning Printables with Tons of Easy and Healthy Weeknight Family Dinner Ideas
Want to make your weekly meal planning easier?! Check out these free weekly meal planning printables with tons of easy and healthy weeknight family dinner ideas!
I can't believe it's already that time to think about it, but as we gear up for back-to-school and try to get ahead of the game (I mean, we can try to get ahead, right? Try?), I'm gettin' together with some fellow blogging friends of mine (they're amazing!) to help you get ready for the back-to-school season!
We've got all sorts of fun stuff up our sleeves – articles on how to save money on school supplies, simplifying the process of organizing school clothes, helpful books, fun printables, meal planning ideas (that's me!), and soooo much more! I've linked to all of them at the end of this post, so be sure to check 'em all out – I'm certain you'll get some great ideas!
Ok friends, let's get down to meal planning business!
Let's face it. I don't know about you, but even though I really enjoy cooking (and eating), it is often such a struggle to plan our weekly meals. I find myself taking far too long to get organized, decide on meals I'm going to make for the week, make my grocery list (without forgetting anything…why is this so challenging?), and then venture out to the grocery store with my munchkins in tow.
After thinking about it, I realized that the majority of the battle (and thus time spent) is in deciding what to make for dinners on a given week. Because I'm such a strong believer in the power of regular family meals, I really want to make it easier to get all of us around the table. So, since deciding what to make for dinner often consumes most of my time and thus seems to be the biggest challenge of meal planning, I decided I could make this a lot easier on myself by creating some basic meal categories – like casseroles, soups, and one-pot meals – and adding a ton of recipe ideas under each category. So, meal planning would then look more like this:
Meal Planning Steps
Look at the calendar and think through what we have going on that week. Any busy evenings that need a really quickly-prepped meal? Are we having company for dinner? Are we going out of town and need to have some meals planned for when we return?
Then, I just use the basic categories I've created and put a category for each day I want to cook. I never cook all 7 days of the week – I always plan for leftovers!
Once I've put in the category, then I can look at my handy-dandy bank of meal ideas and just start filling in a meal for each theme I've chosen that week! Hardly much thought involved!
Once I've decided on the meals, if I don't already have recipes for some of them on a recipe card or in one of my cookbooks, I'll quickly go look on Pinterest for specific recipes, and then save the ones I want to use that week to my "Make This Week" board. This way I can easily reference them when it comes time to make my grocery list and then actually make the meal once I've got all the ingredients.
If you think this process would help you simplify your weekly meal planning efforts, check out these free pretty meal planning printables I've created for people like us who love to cook but need some help getting organized!
Fill out this form to get 'em delivered to your inbox!
Get your Free Weekly Meal Planning Printables with Tons of Easy and Healthy Weeknight Family Dinner Ideas! Remember these meal planning ideas & share 'em with others – be sure to pin this to your favorite Pinterest board!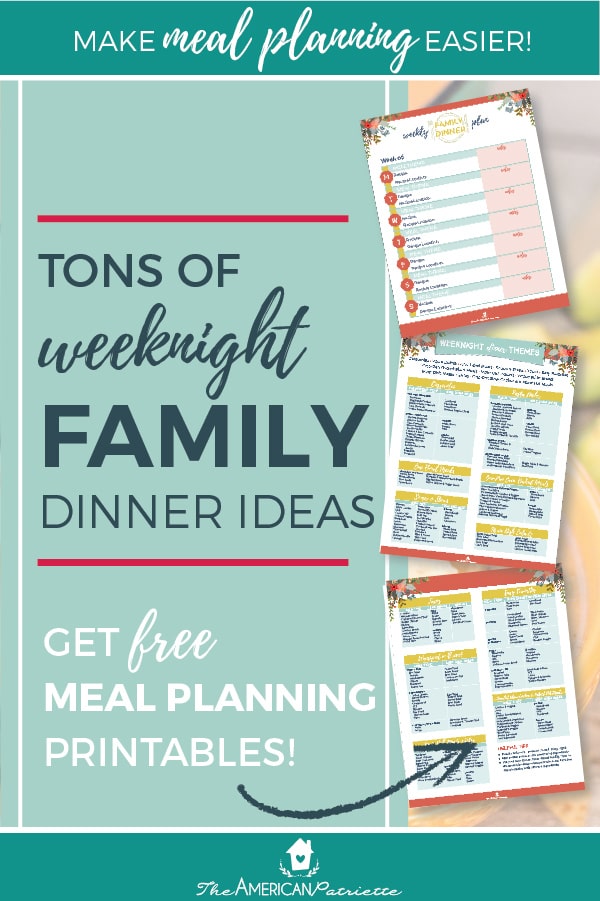 Check out all of the other awesome ideas from my bloggin' friends to help you get ready for back-to-school! You're going to love 'em!
Oh, and don't forget to cherish these sweet fleeting moments of summertime with your family before the craziness of the fall begins! 🙂
10 Ways to Save Money on Back to School Shopping
A Complete Back-to-School Supplies Checklist (With Free Printable)
How to Make a Back to School Shopping Plan that Saves You Money
10 Unconventional Back-to-School Books Your Kids Will Love
First and Last Day of School Free Printable Signs
Save Time Every Morning With This Easy Way to Organize School Clothes